10 Best Family Resorts in Maldives 2019
Most Popular Kid Friendly Hotels in Maldives
Update January 2019
Maldives is better known as best romantic getaway for couples, but beautiful beaches, the turquoise sea and fabulous islands also have a lot of fun for families. Children's clubs are relatively rare, especially among luxury hotels, but they are ... like children's pools, kid's food and family accommodation.
There are many questions from families - where to stay with a child in the Maldives ... and what are the best family hotels. We will open for you the best of the best! Here is a list of Top 14 most popular resort in Maldives, which guarantee an unforgettable vacation for the whole family.
Every year, Meeru Island Resort is possible satisfies more people than any other hotel. With 286 rooms and suites, including 106 water villas, the Meeru Island Resort is one of the Maldives' largest 4-star All inclusive resorts, and it has more overwater rooms than any other resort in the Maldives. The island is always full and after people have visited here, very often they come back again and again. The island is attractive for all ages: families have their own corner of the island, and couples have their own, hence there are two separate swimming pools, two buffet restaurants, and 2 spas. As a top rated Maldives' family resort, Meeru not only offers a family plan for an affordable holiday, but also fun facilities for children and teens. Families with children are offered to settle around the authentic center, where they will have The Komas Kid's Club, Dhoni bar and a swimming pool (with children's pool and daily water polo), Kakuni bar, café and the main Farivalhu buffet restaurant capable of satisfying the tastes and appetites of many families. READ MORE
Best Experience : Family, All Inclusive, Activities, for Couples, Value
With some of the most spacious, luxury villas in the Maldives, a superb kids club, a huge choice of activities and just a 35-minute speedboat ride from Velana (Male) International Airport, Anantara Dhigu Maldives Resort is a picture-perfect setting for your next tropical beach holiday with the family. With an excellent selection of spacious villas perfectly positioned to catch the sunrise or sunset, on the beach and over the water, or even with a private plunge pool – there is something to appeal to all families. From the moment you arrive at the resort's jetty, little ones will be ooh-ing and aah-ing in wonder as they peer into the crystal-clear waters to spy puffer fish, sting rays and baby reef sharks. With eight dining options each with a tasty children's menu, families are sure to find something to please even the fussiest of eaters. And they will be wide-eyed with delight as they discover the endless choice of activities, adventures and excursions that await! READ MORE
Best Experience : for family, activities
Check Availability and Prices in Anantara Dhigu Maldives Resort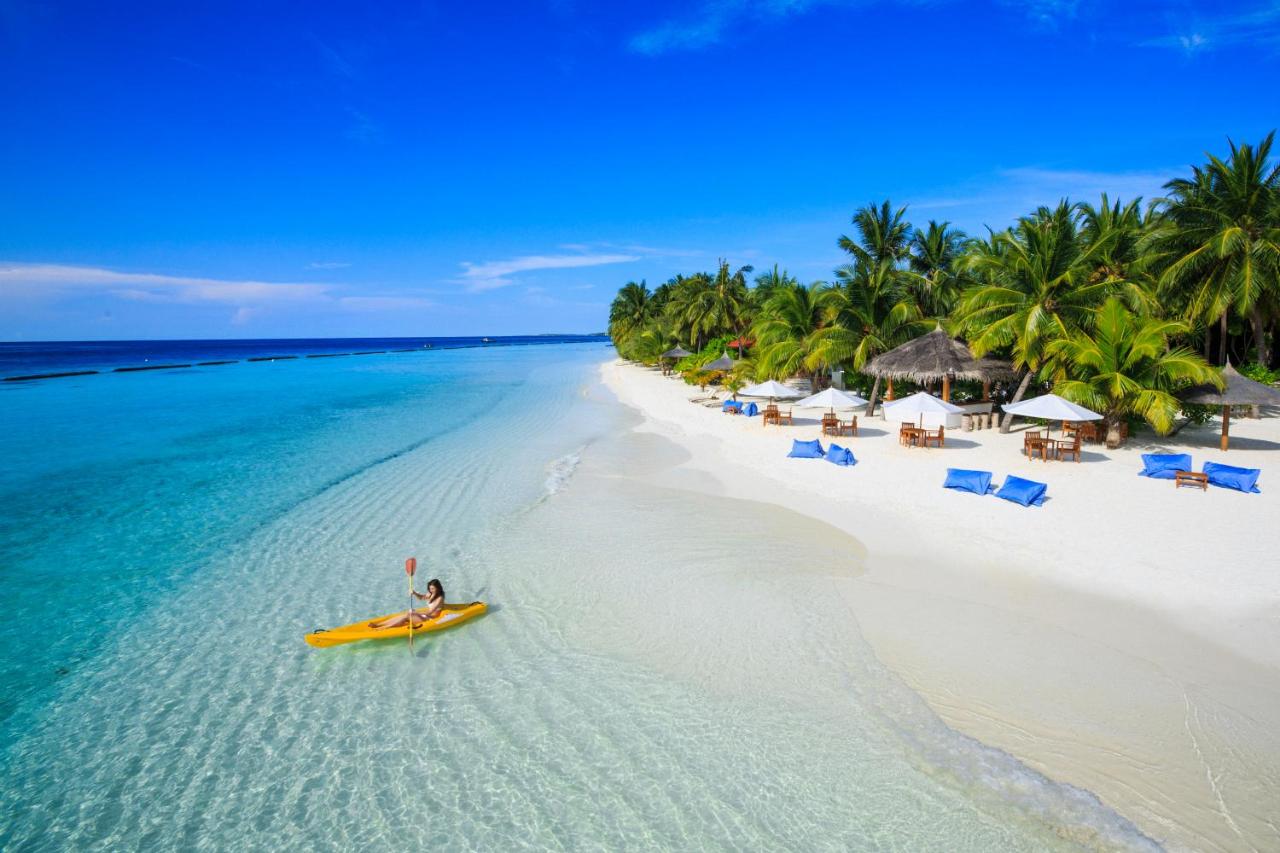 The multiple award-winning resort, the pioneer of the Maldives tourism industry, Kurumba Maldives is proud to announce they have been recognised as 2017's Best Luxury Family Beach Resort in the world by the World Luxury Hotel Awards. Kurumba was the very first private island resort in the Maldives when it opened its doors in 1972 in the Indian Ocean archipelago of the Maldives, celebrates its 45th Anniversary this year. Kurumba began with 30 huts built of coral and thatched with coconut leaves; the resort is set on a tropical island in the North Malé Atoll, conveniently situated a brief 10-minute speedboat ride from the airport. Today, the resort offers an array of eight styles of accommodation, ranging from comfortable Superior rooms to the spacious Royal Residence, spread among the island's lush tropical gardens with easy access to the beach. With eight different restaurants and four bars to choose from. Kurumba Maldives will charm you with its unparallel choice of a dining experience and a wide range of recreation activities and entertainment. All while maintaining idyllic spaces of relaxation to create the perfect balance for a holiday in paradise, perfect for honeymooners and family alike. READ MORE
Best Experience : for Couples, for Family, Value, Beach, All-Inclusive
Today, Lily Beach Resort and Spa ranks among the leading resorts in the country with Premium All Inclusive, which was the result of an excellent redesign and reconstruction of the hotel. Reopened in 2009 as a 5-star resort, Lily Beach is a romantic place for a family holiday with All Inclusive that includes food, drinks and various activities. The stylish and spacious rooms have open air bathrooms with hydromassage baths, outdoor terraces with direct access to the ocean or to the beach, as well as other facilities: from sunscreen and quality toiletries to the packed mini bars and large flat-screen TVs. The resort's family facilities include a kid's buffet in the restaurant, a swimming pool and a game club. Active guests can enjoy land and water sports, while couples have many romantic options and places to seclude. READ MORE
Best Experience : for Families, House Reef Snorkeling, All Inclusive
Check Availability and Prices in Lily Beach Resort and Spa - All Inclusive
The award-winning resort is located on a 35-acre private island with a soft, white sandy beach on the northern-most Haa Alif atoll and can be accessed via a 75-minute seaplane flight from Malé International Airport or speedboat transfer from Hanimaadhoo Airport. This hidden tropical paradise houses a total of 84 welcoming villas and suites all with private pools. Guests can also sample some of the world's finest cuisines across seven dining experiences on the island. Since JA Resorts & Hotels acquisition of the island, the property has established itself as an ideal honeymoon and romantic getaways, picking the awards for Best Luxury Honeymoon Hotel in the Indian Ocean at The World Luxury Hotel Awards. It also lends itself to the perfect destination for family holiday, with a variety of leisure activities and truly Maldivian experiences to choose from; including three main swimming pools, cooking classes, a PADI dive centre, water sports school, luxury spa, wellness pavilion, recreation activities on land, family entertainment area and dedicated kids club. READ MORE
Best Experience : Overwater Bungalows, for couples, family, Beaches, House Reef Snorkelling
Just 20 minutes by speedboat from Male airport, Sheraton Maldives Full Moon Resort & Spa is a five-pearl elite property with a rustic atmosphere and a sense of personal space. The small island is home to 176 villas, a beach spa, modern fitness center, tennis court, diving center, free non-motorized water sports, kids club and swimming pool, and a collection of dining options. Thanks to its close proximity to Male, it is an ideal resort (all inclusive) for those who want to mix their holiday with a visit to the capital, or simply stretch their vacation time as long as possible. Family accommodation is offered in two categories: Island Cottage or Beachfront Cottage, more spacious with a personal terrace with direct access to the beach. Children's Club Sheraton Adventure is a favorite spot for young guests aged 4 to 12 years. The club menu offers a wide range of entertainment and kid's programs: from Maldivian language mini-lessons to video games, traditional music and dances, as well as fascinating adventures and sports games. The hotel can get a children's pass SPG - a food program for the "All Inclusive", created for the youngest guests and their parents. For a fixed daily fee, children under 12 years of age can get unlimited access to a number of food options, including children's menus, a buffet and drinks. READ MORE
Best Experience : for Couples, family, activities, Value
Check Availability and Prices in Sheraton Maldives Full Moon Resort & Spa
This luxurious and sophisticated Maldivian resort is located on two idyllic islands combining the best beaches and over-water accommodation, both with dense vegetation and palm trees that create a natural tropical paradise. Suitable for couples and families alike, Conrad is all about glamorous splendor in a luxury setting with some of the most exciting underwater adventures in the Maldives. The two private islands connected by a 500m bridge and both are designed for true enjoyment. A wine and dine destination itself, Conrad Maldives is a true epicurean experience with a choice of 12 restaurants and bars, including Ithaa, the world's first all glass underwater restaurant. On a delicate theme - what to do in Conrad Maldives - guests do not have a headache, every day is filled with fun activities and busy with exciting entertainments. Conrad Maldives Rangali Island has many excellent facilities to offer including a fully equipped gym, a spa, infinity pool, eight restaurants, three bars, a library, yoga, PADI dive centre, water sports centre, and a Kid's Club. Located in the South Ari Atoll, Conrad Rangali is accessible by a 30-minute seaplane flight or a short domestic flight to a nearby island, followed by speedboat transfer. READ MORE
Best Experience : for Couples, for Families, Beach, Spa, Dining
Check Availability and Prices in Conrad Maldives Rangali Island
Grand Park Kodhipparu, Maldives is a new luxury 5-star resort in 20 minutes by speedboat from Male airport. The stunning private island promises its guests an unforgettable Maldives experience offering a new landmark in luxurious hospitality. Located in North Male Atoll, Grand Park Kodhipparu was designed by the world famous Hirsch Bedner Associates company providing a fantastic experience as luxurious as its incredible natural surroundings. 120 idyllic beach and water villas including 65 with private pools, large infinity swimming pool overlooking the turquoise ocean, starry culinary options in three restaurants, world-class spa, excellent house reef snorkeling, fully equipped water sports center and dive center, beach club and children's club provide guests with everything they need for an unforgettable holiday in the Maldives. READ MORE
Best Experience : for Honeymoon, Family Holiday, Activities
Check Availability and Prices in Grand Park Kodhipparu, Maldives
Perfect for your romantic getaway or family vacation, Bandos Maldives offers 250 rooms in 6 categories on a beautiful island only 15 minutes by boat from Male airport. Recently completely renovated, Bandos is known as one of the best resorts for family holidays in the Maldives and you can safely relax while your kid is keenly spending time with friends around professional caregivers who have many exciting children's programs and entertainment.We do not recommend you the island if you want a romantic holiday in a quiet place. Bandos is ideal for families with children and is peppered with a large number of games and animations including a full-time babysitter, a children's playground, two children's pools and a large selection of activities that can be practiced. In Bandos, where rest is the king, kids can not be bored. READ MORE
Best Experience : for family, Activities, house reef snorkeling
Developed by Per Aquum (Huvafenfushi) and co-owned by Anantara, Niyama Private Islands Maldives is a resort with a rich ancestry. Sharing design and quality of service of both resorts, what distinguishes Niyama is a lot of various entertainments and activities. Set on two pristine islands on Dhaalu Atoll in the Maldives, newlyweds and active couples love the place, but it is also ideal for families. Always delighted with the water, your children will be here in their element. Children's Club Explorers - for kids of all ages, although teenagers will get the most out of this activity. The best family rooms: One and two-room beach pavilions with a swimming pool offer more space for extra beds. Families with young children do not recommend overwater accomodation. Endless breathtaking views of the Indian Ocean, boat trips, diving and water sports are additional benefits of this a luxury 5 * Indian Ocean resort. READ MORE
Best Experience : Watersports, Two Pristine Islands perfect for Family & Couples, Luxury Surfing
Check Availability and Prices in Niyama Private Island Maldives
With one of the longest water villa jetties, luxurious facilities for families and 5-star diving, Constance Halaveli has everything you would expect from a luxury resort in the Maldives. With a shape of a curved dhoni (a traditional Maldivian boat), where white sandy beaches in combination with turquoise water, perfectly contrast with the emerald of green vegetation, the resort elegantly drifts in North Ari Atoll. The beauty of Constance Halaveli is matched by the exceptional hospitality renowned of the Constance brand. For a luxury family escape, Constance Halaveli is one of the best. Even the natural environment, with its gently sloping lagoon and wide beaches, will suit little ones. The "Kuda Club" welcomes children aged from 4 to 12 years with age-related activities, both outdoor and indoor. For accommodation, there are Family Beach Villas (great for younger families, with a kids' bunk room) and Double Storey Beach Villas with 2 bedrooms. There is a children's menu available in all restaurants as well as in-villa dining. Babysitting can also be arranged. READ MORE
Best Experience : Family, Beach, Diving, Spa
Featuring more flexible approach to tropical island luxury, Amilla Fushi offers a luxurious 'island home' for both couples and families in the Maldives. Younger, hipper, with a fresh and contemporary accomodation, the resort has so much to offer, from high design and inventive dining options, to stylish villas and amazing snorkelling and diving. Located in the Baa atoll, UNESCO Biosphere reserve, this might just be the most family friendly resort in the Maldives. Family villas have been designed to ensure that both the parent's and children's bedrooms are in the same building. The villas are very spacious, and unlike many two bedroom options you might find elsewhere, the second bedrooms are large and so also work very well for families with older children. The Sultan's Village kids' club at Amilla Fushi is terrific – all palm tree swings, finger painting and beach games – teens can play billiards and X-Box, and all childcare, including baby-sitting, is complimentary. There is also a children's pool and beach club close by if parents wish to relax in close proximity to the Kids Club. In 2018, Amilla Fushi has been recognised as the leading family resort in Maldives. READ MORE
Best Experience : Family, Couples, Dining, Diving, Spa
The Sun Siyam Iru Fushi, the flagship property in The Sun Siyam Resorts' collection, is located in the northern Noonu Atoll, and is accessible by a 40-minute seaplane ride from the Maldives main Malé Airport. Surrounded by seemingly untouched environs of the scenic Noonu atoll, this 221-room resort offers what is arguably the best local resort in the country, including 2 swimming pools, diving center PADI , and the awarded largest spa in the country. On the 21-hectare island you can enjoy water sports and there are interesting excursions for all ages, as well as dive school, and for couples there is a detached swimming pool "for adults only" and a romantic dinner at candlelit fine restaurants.
Families should note that this is one of the few luxury resorts in the Maldives that has a kids club and babysitting services. The well-run Koamas Kidz Paradise Kids Club is a rare feature among the luxurious resorts in the Maldives for children aged three to 12 years, offers exciting activities and has a separate children's swimming pool. Nearby there is also an excellent game room for teenagers. Children are always welcome here, there are many special facilities, kids menu at the main restaurant, kids spa treatments, Indoor recreation center with board games, PS games, library and favorite children's snacks including ice cream in various cafes. READ MORE
Check Availability and Prices in The Sun Siyam Iru Fushi Luxury Resort Maldives
Outrigger Konotta Maldives Resort, set in the unspoiled Gaafu Dhaalu Atoll, offers luxurious accommodation, superb dining options and friendly staff in picturesque surroundings. Accessible via a 55-minute domestic flight from Malé, Outrigger Konotta offers a sense of complete privacy and remote luxury and features spacious stunning beach and overwater villas, all with private pools. Even entry-level villas are enormous, while outside your room, there's fantastic diving and house reef snorkeling, an impressive spa and a great kids' club.Comprising 29 Beach Pool Villas, 21 Ocean Pool Villas, two Lagoon Pool Villas and the three-bedroom Grand Konotta Villa the 5-star resort offers exceptional privacy making it perfect for a romantic getaway or a magnificently relaxing vacation for the family.
Is the resort family-friendly? Very: Whereas the two and three bedroom villas are perfect for groups or families, parents will be happy to know there is an amazing children's club, which offers various activities, games, face painting, indoor and outdoor playgrounds and childrens' pool. There are children's menus in every restaurant and two hours of complimentary babysitting every day for children aged up to two in the resort. The experienced and joyful staff of the Kids club will make sure your children are well looked after and are having an unforgettable holiday. READ MORE
Check Availability and Prices in Outrigger Konotta Maldives Resort
Hideaway Beach Resort & Spa at Dhonakulhi is a luxury island hideaway in the untouched Haa Alifu atoll in the north of Maldives. Boasting with long white sandy beaches on each side of the island, crystal-clear waters, and beautiful turquoise-blue lagoon, Hideaway Beach offers guests the luxury of space and privacy across 297,000 square metres. With some of the largest villas in the country, all 103 luxury villas and residences fall into ten categories ranging from beachfront to over-water. Each villa is carefully positioned to offer peace, comfort and privacy to guests. To ensure the absolute absence of stress during your holiday, each of the villas is assigned a butler, to deal with anything from unpacking luggage to food, activity and transfers.
Including Family Villas with Pool the entire resort is great for families. The Family Villas have been designed with children and family living in mind – set on a private stretch of beach, each with their own pool and space in abundance. There is a children's menu, a children's pool and a large shallow lagoon, ideal for swimming and water sports. Young guests will love the Tender Hearts Kids Club is for children aged 3 to 12 years that is fully packed with indoor and outdoor fun activities. There is a free water park suitable for children and adults who are children at heart. READ MORE
Best Experience : honeymoon, family, water villas, beach, snorkelng, diving
Check Availability and Prices in Hideaway Beach Resort & Spa
Related
Pages
First time in Maldives

10 Best Maldives Luxury Hotels

Top 10 Best Snorkeling Resorts

If you're first time im Maldives and unsure about your upcoming trip, this section will put you at ease. Planning the first trip to the Maldives can be not an easy task: 26 atolls and 1,192 islands sparkle Read More
The best luxury hotels in Maldives are idyllic retreats for wealthy travellers, offering world-class accommodation, fine dining options, luxurious facilities, and impeccable services for a fulfilling tropical holiday Read More
Today, the main theme is house reef snorkeling - the easiest way to explore the abundance marine life of the Maldives. Located in the top 10 list of the best world's destinations because Read More
Top 10 Maldives Boutique Hotels

10 Best New Resorts in Maldives

Budget Maldives Ultimate Guide

Boutique resorts in the Maldives are the rule, not the exception, and many boutique resorts offer less than 100 ... or even less than 50 rooms. Add to this the fact that almost every hotel owns Read More
The new is always the best, and the wave of new hotels in the Maldives proves once again that nowhere else in the world is the ideal combination of sea, sand and splendor, as on these islands in Indian Ocean Read More
Budget travellers choose Maldives as their destination of choice thanks to the variety of affordable stays available, which range from budget guesthouses to backpacker-friendly hotels – there are all Read More
Sun Island Resort and Spa

Maldives New Hotels 2018-2019

Fairmont Maldives, Sirru Fen Fushi

Sun Island Resort And Spa is located in luxurious surroundings of South Ari Atoll. It's the largest in the Maldives, considering its size and its capacity. The resort is also among the cheapest, especially for Read More
A popular destination, the Maldives is looking forward to the opening of new hotels in the season of 2018 and early 2019, expanding its portfolio of luxury resorts. To support the growing number of tourists Read More
Fairmont Maldives, Sirru Fen Fushi is a new luxury resort with a delirious mix of substantial villas, large private pools and cool open spaces of the Secret Water Island. Situated in the Shaviyani Atoll Read More
The Residence Maldives

10 Family All Inclusive Resorts

Top 10 Norht Male Family Hotels

The Residence Maldives is an elite 5-star resort, which was designed and opened almost completely behind the scenes. Perfect for a honeymoon in the Maldives, it took a while to reveal all its merits. Read More
When it comes to family holidays in the Maldives, all inclusive is one of the most popular and cost-effective choices. The best All Inclusive family resorts in the Maldives have been tailored to be perfectly Read More
Maldives is the most popular destination for a romantics and a honeymooners, and families generally avoid the Maldives. However, in recent years the most beautiful islands in the Indian Ocean are becoming Read More
10 Best Maldives Cheap Resorts

10 Best Ari Atoll Family Hotels

Top 10 Budget Islands in Maldives

Our list of the 10 best cheap hotels in the Maldives will certainly be useful to all those who aspire to spend a budget holiday in these honeymoon islands of the Indian ocean, are afraid of the cost Read More
The first visitors to the Maldives remember the archipelago, as a destination for couples and newlyweds. Children were a surprise, and were usually not welcomed and in some resorts they were even banned. Read More
The 10 best Budget Islands give you the chance to get cheap everything what Maldives has to offer. These inhabited corners of the island nation certainly appeal to all those who prefer to spend their money Read More
Cocoon Maldives

Ayada Maldives

Vakkaru Maldives

Cocoon Maldives is perfectly сombining luxury, style and hospitality on an unspoilt island in the Lhaviyani Atoll. The 5-star family-friendly resort blends the stunning Maldivian beauty with the best of Italian design Read More
An ideal getaway for all inclusive luxury beach holiday, Ayada Maldives is a 5-star resort located amidst a pristine reef within the southern rim of the Gaafu Dhaalu Atoll in southern Maldives. It features Read More
Situated just a 30 minute seaplane journey from Male, Vakkaru is a resplendent paradise and located within the amazing UNESCO Biosphere of Baa Atoll. This newest luxury resort, secluded from the outside Read More
10 Best Beach Houses in Maldives

Looking for a luxury vacation by the beach in Maldives? For a romantic escape or some quality time with your nearest and dearest, booking your own private beach house is absolutely the best way to enjoy Read More
Maldives

Best Hotel

Deals