Top 10 Best Hotels near Male Airport 2019
Best Maldives Resorts Accessible by Speedboat from Male Airport
Updated April, 2019
The white powdered sands of the sprinkled atolls that make up the Maldives have, for some time, enthralled travelers seeking peace and luxury in stunning surroundings. The most phenomenal resorts in the country are located further away from Male (Velana) International Aiport and can only accessible by a seaplane transfer. But for holidaymakers looking to get to their beautiful, secluded Maldivian paradise as quickly and easily as possible the resorts that can be reached by speedboat present an appealing option.
Upon arrival at Male international airport, guests are met and immediately swept directly from the terminal to the boat and whisked to their island resort in as short a time as 30 minutes, regardless of the time of day or the weather conditions. The resorts accessible by speedboat transfer from Male airport are ideal for visitors who want to make the most of their time in paradise since the boats can be scheduled in line with return flights, allowing for maximum time spent paddling in warm crystal waters. What's more, these resorts are closer to the capital city of Male, that may attract travelers seeking a little taste of authentic Maldivian culture.
We chose our 10 favourite Maldives resorts accessible by speedboat from Male airport in under an hour. Have a look to see which resort suits your needs whether you're looking for luxury, budget, family friendly or adult only accommodation.
Grand Park Kodhipparu, Maldives is a new luxury 5-star resort in 20 minutes by speedboat from Male airport. The stunning private island promises its guests an unforgettable Maldives experience offering a new landmark in luxurious hospitality. Located in North Male Atoll, Grand Park Kodhipparu was designed by the world famous Hirsch Bedner Associates company providing a fantastic experience as luxurious as its incredible natural surroundings. 120 idyllic beach and water villas including 65 with private pools, large infinity swimming pool overlooking the turquoise ocean, starry culinary options in three restaurants, world-class spa, excellent house reef snorkeling, fully equipped water sports center and dive center, beach club and children's club provide guests with everything they need for an unforgettable holiday in the Maldives. READ MORE
Best Experience : for Honeymoon, Family Holiday, Activities
Check Availability and Prices in Grand Park Kodhipparu, Maldives
With the incredible Atmosphere INDULGENCE ALL INCLUSIVE HOLIDAY PLAN, including diving the new OZEN by Atmosphere is a home away from home found among the paradise islands of South Male Atoll in the Maldives. Opening its doors in July 2016 - OZEN by Atmosphere offers discerning travelers an exceptional uniquely luxury all-inclusive experience. OZEN is the only resort in the Maldives where diving is included in the price offering a unique chance to explore a fantastic marine life below Indian Ocean's water surface without sacrificing the budget. The first impression you get already at Male airport; the OZEN team will escort you to a luxury speedboat that gets you to the resort located on beautiful Maadhoo within 35 minutes. The transfer is available 24 hours. READ MORE
Best Experience : A Luxury All-Inclusive Resort, Couples, Family, Beach
Check Availability and Prices in OZEN by Atmosphere at Maadhoo
No news, no shoes: this is the main rule in Gili Lankanfushi Maldives, where the only thing you worry about is whether the dolphins will appear when you go diving. Here the relaxation is taken very seriously: the magician "Friday", a quiet spa and delicious food. This is one of the main reasons why this place in the Maldives is the choice of many of the world of the rich and famous. In the Maldives there is no other such resort, and only a little in the world, I think, is better than Gili Lankanfushi. Gili Lankanfushi is widely considered the best resort in the Maldives, and not without reason. This stunning 46-villa, eco-friendly resort, just 20 minutes by boat from the international airport of Velana (Male), excels in providing a truly unpretentious, laid-back luxury. READ MORE
Best Experience : OverWater Bungalows, Honeymoon, Beaches
Before stay there, Reethi Rah for the island resort seems a bit conservative. Smooth, majestic, but perhaps lacking some details of the bounty in Maldives rural style (call it what you like) that are in fashion today. Going ashore, you will realize that refusal to follow a fashion trend is the same point: you simply do not need it when you are the best. Reethi Rah adheres to his own One & Only style. Purposefully not 'trendy', in the development stage to the top level of luxury, specializing in high quality service to its guests, such an experience you would have hard to find somewhere else in the Maldives. READ MORE
Best Experience : Water Villas, for Couples
With incredible beaches, magnificent service and the world's first underwater spa, the unique Huvafen Fushi is a paradise in the Maldives. To say that the Maldives is like a dream means a dangerous plunge into the world of tourist cliches, but the spectacle of aquamarine waters with patches of white sand crowned with tall palms is just a miracle picture and we let ourselves go. And since we found Huvafen Fushi, a good Maldivian 5 * luxury resort,we say again: it's like a paradise. READ MORE
Best Experience : Overwater Bungalows, Undewater Spa, Beaches, House Reef Snorkelling
The adult only Centara Ras Fushi Resort & Spa Maldives offers luxurious beach and over-water living experience in the prestigious North Male Atoll. Opened in 2013, Ras Fushi is the second Centara in the country. With 64 water villas in addition to 76 island villas and suites, the Centara Ras Fushi is perfect for those who love choices. The Centara Ras Fushi Resort will differ from the other in not being fully all-inclusive, although their half-board deals seem to dominate the offerings. This is property with scuba diving, a long list of water sport options, and a luxury spa. Another of the more notable features here is the exellent location just west of Male airport, so it can be reached in a 15-minute speedboat ride at any time of day or night. READ MORE
Best Experience : All-Inclusive Resort, for Couples, Value
Check Availability and Prices in Centara Ras Fushi Resort & Spa Maldives
With 64 impeccably designed villas and suites, Taj Exotica Resort & Spa, undoubtedly is in the top range of Maldives luxury resorts. But even in thisexclusive group is getting crowded, and there is a sense in the unique offerings that this resort successfully offers better than anyone else. It is here, indeed sublime aspects of the Taj hotel chain - it's fine cuisine and a spa. Individually in the top 3 or 4 in the country, in the bosom of the Taj there are compelling arguments to make you to fly half the way around the world. Another advantage, though not quite unique is that the resort is just a 15-minute luxury speedboat ride from Male airport. This proximity also includes a special tour by seaplane, and easy access to Male metropolis for historical sightseeing tour. Casting an east flavors that really him to the face, Taj Exotica Resort & Spa has been full renovated in 2008, and today this piece of paradise offers luxury, quiet and a great value. READ MORE
Best Experience : Water Villas, Dining, Honeymoon, Spa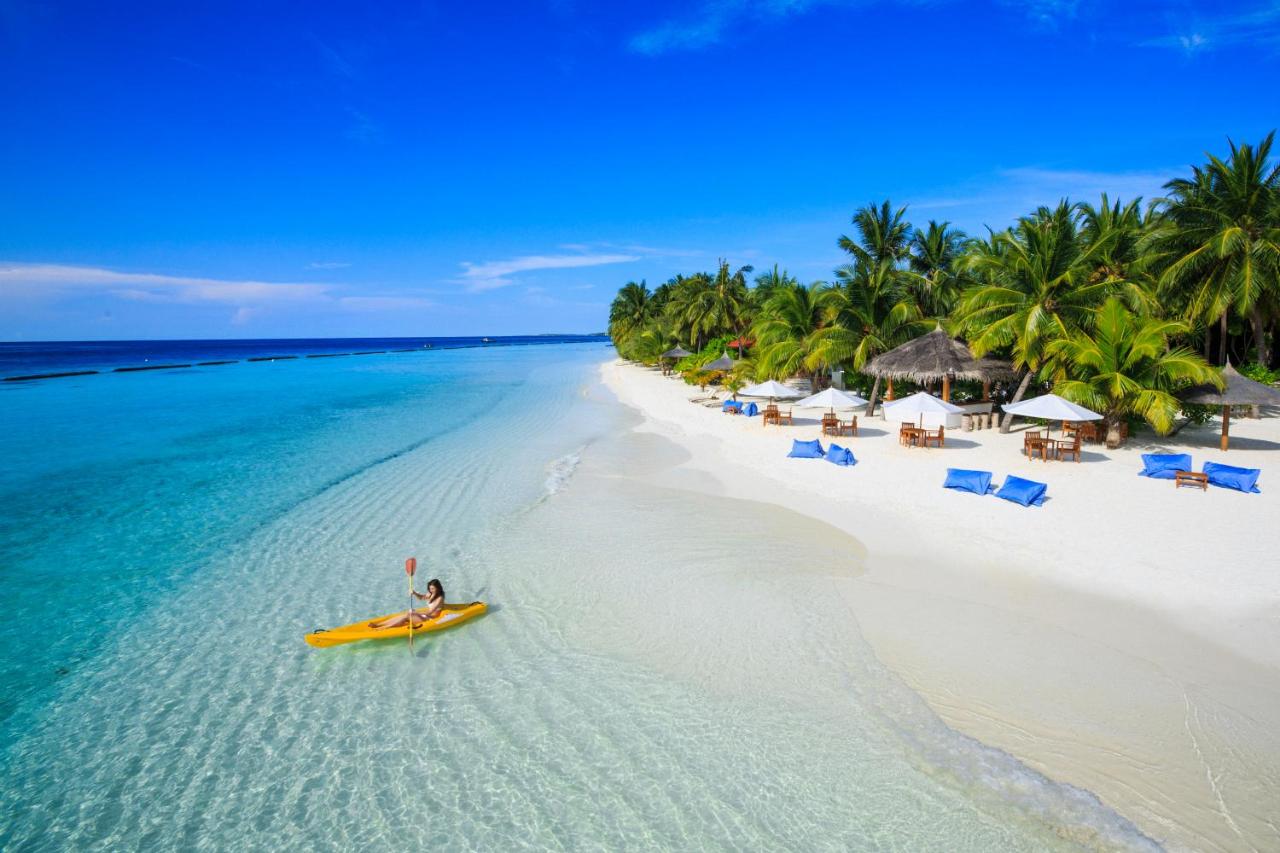 Just 10 minutes by speedboat from Male airport with boat transfers available 24 hours a day, Kurumba Maldives is set on a tropical private island in North Male Atoll. Offers luxury at great value, with a convenient location and superb hospitality Kurumba remains a central place in the amazing history of tourism in Maldives. It was the very first resort that opened in 1972. Its history and traditional style are evident but this compact village-like island also offers a host of more contemporary facilities. The choice of dining is superb – there's a restaurant for every night of the week with a poolside café to spare. Snorkelling on the house reef is just steps from the beach and diving packages are available to pre-book. Rooms sit in clusters around the network of paths, with traditional exteriors and more modern furnishings. READ MORE
Best Experience : for Couples, for Family, Value, Beach, All-Inclusive
For an unforgettable beach experience, like anywhere else, go to Anantara Veli Maldives - quite simply because the resort ticks all the boxes and brings the best of both worlds together. The hotel 'for adults only' is ideal for couples who prefer not to force children to interrupt their hard earned vacation. Not one, but two magnificent islands to relax with the healing properties of massage, facial and Ayurveda. A total of seven restaurants share your meals between them. Possibility to make the most of the water surroundings with surfing, deep-sea fishing and sailing. And, of course, there are ideal pristine sands, clear turquoise waters and iconic water bungalows, that makes the Maldives so desirable destination - all encompassed by five-star hospitality and luxury. And the last reason to book is an exellent location. Anantara Veli is 30 minutes by speedboat from Male airport. READ MORE
Best Experience : for Couples (only), Privacy and Tranquillity, Dining, Activities
Check Availability and Prices in Anantara Veli Maldives Resort
LUX* North Male Atoll, the second resort in the Maldives by Mauritius based hotel group LUX* Resorts, has officially opened on February 1, 2019. LUX * Resorts & Hotels promises to demonstrate the transformation of Olhahali Island with an area of six hectares, into the most innovative luxury resort in the Maldives. Accessible by luxury speedboat or a short 15 minute seaplane transfer from Velana International Airport, this intimate resort is ripe with eye-catching architecture and ocean-inspired interiors.
A visual banquet of nautical shapes and colors, the resort is elegantly decorated by the Singapore design group Miaja, a project that combines superyachts with the energetic spirit of southern beaches. Each of the 67 two-story residences is located either on the beach or above the water, whose guests will enjoy a minimum living area of 350 m2. Whether set on the beach or stilted over the crystal blue lagoon, every penthouse villa takes indoor-outdoor living to a new level of breezy sophistication. Big Green Egg Barbecue, Rooftop Bar, Cinema and SONOS, Yoga Pavilion, Star-lit Jacuzzi and Outdoor Games help create an unforgettable paradise lounge for people who love to enjoy life. READ FULL REVIEW
Best Experience : A Luxury All-Inclusive Resort, villas, Couples, Family, Beaches, Diving, Spa
Related
Pages
First time in Maldives

10 Best Maldives Luxury Hotels

Top 10 Best Snorkeling Resorts

If you're first time im Maldives and unsure about your upcoming trip, this section will put you at ease. Planning the first trip to the Maldives can be not an easy task: 26 atolls and 1,192 islands sparkle Read More
The best luxury hotels in Maldives are idyllic retreats for wealthy travellers, offering world-class accommodation, fine dining options, luxurious facilities, and impeccable services for a fulfilling tropical holiday Read More
Today, the main theme is house reef snorkeling - the easiest way to explore the abundance marine life of the Maldives. Located in the top 10 list of the best world's destinations because Read More
Top 10 Maldives Boutique Hotels

Budget Maldives Ultimate Guide

10 Best Water Villas in Maldives

Boutique resorts in the Maldives are the rule, not the exception, and many boutique resorts offer less than 100 ... or even less than 50 rooms. Add to this the fact that almost every hotel owns Read More
Budget travellers choose Maldives as their destination of choice thanks to the variety of affordable stays available, which range from budget guesthouses to backpacker-friendly hotels – there are all Read More
The best water villas in Maldives offer you a holiday experience with unique designs, luxury amenities, sense of privacy, and the added feature of doors opening to a sea views to-die-for. These are easily Read More
Top 10 Best Adults Only Hotels

Maldives New Hotels 2018-2019

10 Best Honeymoon Water Suites

Surprisingly, for such a romantic destination as Maldives, adult-only hotels are very rare. In fact, any resort is suitable for couples and only ones is devoted to holiday without children. Fortunately, in many Read More
A popular destination, the Maldives is looking forward to the opening of new hotels in the season of 2018 and early 2019, expanding its portfolio of luxury resorts. To support the growing number of tourists Read More
An epic water villas nestled over some of the most beautiful stretches of lagoons make up this list for the Maldives best resorts for over water honeymoon suites. These hotels offer accommodations that allow you Read More
Malahini Kuda Bandos Resort

LUX* North Male Atoll

10 Best Maldives Cheap Resorts

Malahini Kuda Bandos Resort is a tiny island in the North Malé Atoll that offers a great-value Maldivian escape. Accessible by short boat ride from Male airport, the resort has 82 beach rooms in two categories Read More
LUX* North Male Atoll, the second resort in the Maldives by Mauritius based hotel group LUX* Resorts, will officially open on February 1, 2019. LUX * Resorts & Hotels promises to demonstrate Read More
Our list of the 10 best cheap hotels in the Maldives will certainly be useful to all those who aspire to spend a budget holiday in these honeymoon islands of the Indian ocean, are afraid of the cost Read More
Топ 10 Luxury All Inclusive Resorts

10 Exclusive Resorts in Maldives

10 Romantic Resorts in Maldives

Combining style, comfort, and all-out opulence these Maldives luxurious all-inclusive resorts offer impressive Premium All Inclusive plans that're include accommodation, meals, beverages, spa treatments Read More
The Maldives is paradise destination that should be on the bucket list of every discerning travelers. There's a special breed of hotels there that cater to the most tasteful of luxury travelers Read More
Any of these romantic resorts in Maldives can serve as the perfect backdrop to your honeymoon or romantic getaway on the island. This hotels usually offer more space and a greater sense of privacy Read More
10 Best Beach Houses in Maldives

Looking for a luxury vacation by the beach in Maldives? For a romantic escape or some quality time with your nearest and dearest, booking your own private beach house is absolutely the best way to enjoy Read More
Maldives

Best Hotel

Deals