Where and What to Eat at Atmosphere Resorts in the Maldives
Maldives Restaurants & Dining
May, 2022
Maldives, the most popular destination in the Indian ocean, has a wealth of choices for dining options. Indulge in a gastronomical experience at Atmosphere resorts collection, with the best Maldives restaurants that bring the world to you on a plate through choicest gourmet experiences.
With generous Maldives all-inclusive meal plan offering an array of food and beverage options and unique experiences and much more every wish of yours comes true with bespoke service.
From M6m underwater restaurant to a candlelight dinner on the beach choose from the finest of global culinary creations with a touch of Maldives, soaking up postcard-perfect views while enjoying delicious food to create that special memory for the ages.
OZEN LIFE MAADHOO
M6m (Minus Six Meters) is the finest underwater restaurant with a degustation menu featuring exotic modern seafood cuisine and perfect wine combinations – six meters beneath the Indian Ocean. R.A.W focuses on light, nutritious Japanese cuisine and offers a sumptuous lunch of sushi plates and the latest raw food world trends. Every evening Tradition Peking takes guests on an authentic culinary journey through the mainland of China with dishes from Peking, Cantonese, Sichuan, and Hunan region. Traditional recipes from India & Sri Lanka await you at Tradition IndoCeylon, ranked amongst the best restaurants in the Maldives. Opened for breakfast, lunch, and dinner The Palms is the lavish buffet spans the globe, with a wide selection of delectable world cuisine and gastronomical delights! With a gorgeous family pool, pizzeria, and evening entertainment, Joie de Vivre is a vibrant 'Miami Chic' style bar at the heart of Maadhoo Island.
Check Availability and Prices
OZEN RESERVE BOLIFUSHI
Tradition Saffron serves a heritage recipes from India in the luxurious beachside surrounds of a Maharaja style garden. A stunning buffet with mesmerising views Vista Del Mar features Pan Asian cuisine interspersed by traditional classics and mouthwatering Maldivian delicacies. An ode to outstanding cuisine, the specialty of ORIGINƎ restaurant lies in the spectacular interplay between refined French dishes and the striking design element. Superbly crafted Mediterranean flavours are complimented by flawlessley understated service. The menu of Sangu Beach is inspired by Modern Arabic Cuisine featuring the finest recipes from Morocco, Tunisia, and Lebanon, with authentic mezze platters, aromatic tagines, shish-tawook that melt in your mouth, and grilled meat delicacies.
Check Availability and Prices
Atmosphere Kanifushi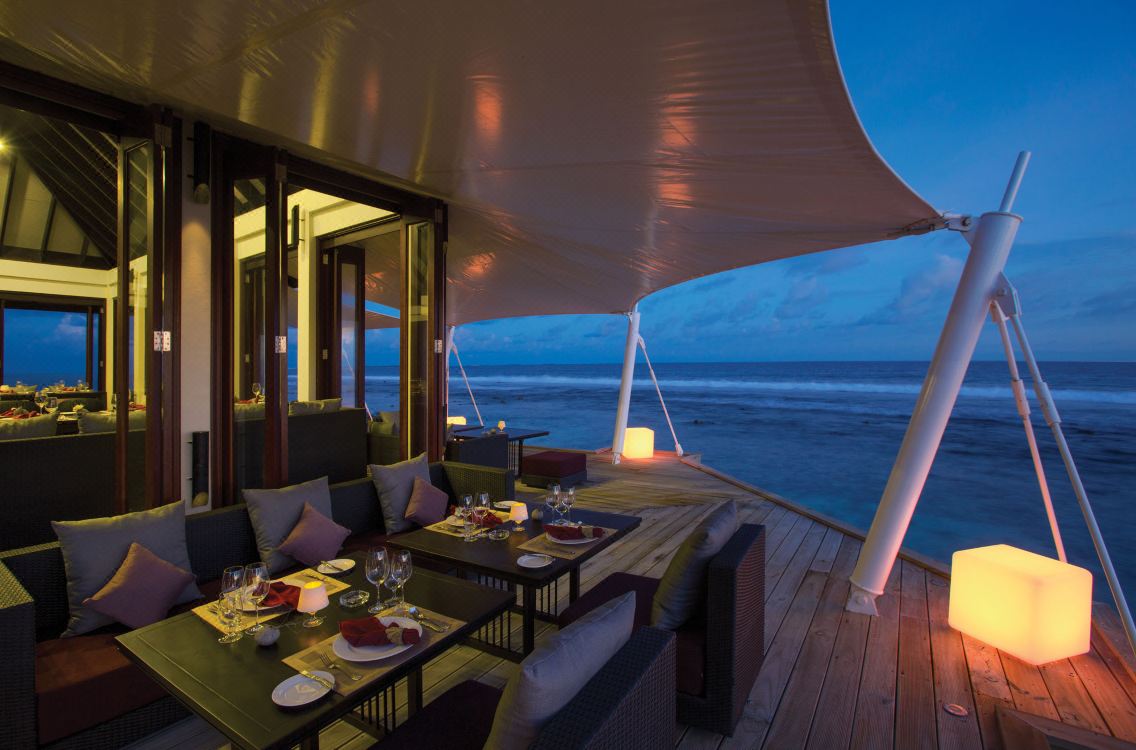 Redefining contemporary vegetarian cuisine JUST VEG is the trouvaille for Vegans and vegetarians. Even the avid carnivores sing praises of the dishes served the first vegetarian restaurant in the Maldives. The brand-new overwater restaurant, Pier Six offering an array of seafood specialties and Japanese Teppanyaki grill options. The eclectic menu offers something for every palate and an impeccable service enhances your dining experience. With the world cuisine and theme nights The Spice is the resort's main, all-day dining restaurant, serves sumptuous 'all you can eat' buffet-style breakfast, lunch, and dinner spreads featuring live cooking stations, grills, and delightful dessert spreads. Almost in the heart of the island, tucked amongst the dense trees, Ceylon Bliss is a place to go if you want to enjoy typical Sri Lankan Street Food while listening to the waves and observing the sunset. Share a table surrounding a large hot plate of Teppanyaki Grill and experience authentic Japanese fine dining. Savor the authentic Japanese flavors with delectable set menus offering outstanding value.
Check Availability and Prices
OBLU NATURE HELENGELI
The Spice is the Helengeli's main buffet restaurant offers a selection of freshly prepared local snacks, breakfast, lunch, and dinner. The assisted buffet service brings together a joyous blend of international cuisine and local Maldivian dishes, live cooking stations, and a bar serving fresh-cut fruits, a true feast for all your senses. Indulge in an intimate beach dining experience with your loved ones and relish aromatic grilled seafood and meats at just Grill in a mesmerising island setting.
Check Availability and Prices
OBLU SELECT Sangeli
The Courtyard is a main dining venue at OBLU SELECT Sangeli with a selection of freshly prepared and rich international buffet that changes daily, traditional Maldivian dishes, à-la-carte options from the menu, and live cooking stations. Join the festivities at the Indian Ocean Gala Dinner every Friday night with local delicacies and live performances. Speciality dining at 'ONE BANYAN' adults-only island, Just Grill serves fresh seafood and meat grills at the elegant, lagoon facing restaurant. The à la carte menu features gourmet dishes, fresh seafood and meat grills, accompaniments, beverages, and desserts. Simply Veg is the Maldives' first gourmet vegetarian restaurant. Experience contemporary vegetarian cuisine with delicious, original flavours and artistic presentation. After sunset, children are welcome too, and you can experience a sumptuous family dinner.
Check Availability and Prices
OBLU SELECT Lobigili
Ylang-Ylang boasting Global flavours with a spin on Italian cuisine is sure to win your taste buds over. Scoop the food from live cooking stations, tandoors and an extensive dessert bar, ranging from Italian delicacy tiramisu to coconut milk. The best tables are facing the beautiful lagoon. Only Blu is the largest underwater restaurant in the Maldives. Expect a welcome glass of sparkling wine is served on arrival, followed by a selection of the finest hot and cold appetizers served on a three-tier stackable platter. On the menu an impeccable modern gourmet fare and decadent desserts with a pairing of red and white wines, beer and beverages. Gaadiya 17 is an innovative dine option on traditional food truck meals. Dinners here are an informal, vibrant and indulgent affair with aromatic grills of certified, farm-raised game meat. You'll find an interesting assortment of meats including Venison, Wild Boar, Black Chicken, Duck, Ostrich, Rabbit, Quail, and Partridge. The Swing bar is all about an icy summer slushes, energising frappes, fragrant ice teas, and handcrafted, aromatised cocktails. Crisp fried Maldivian snacks, called Hedhika in the local dialect, are served in the evening.
Check Availability and Prices
Varu by Atmosphere
Opened for breakfast, lunch and dinner, LIME & CHILI offers diverse and generous buffets with the finest of culinary creations spanning from Europe to Asia and the Maldivian shores. A live cooking stations caters hot classics, elaborate salad and grill bars, classic pasta and pizza counters, freshest vegetarian, seafood and meat ingredients. Don't forget to leave space for desserts that deliver on the taste too. With the intoxicating aroma of char-grilled meat and seafood the gourmets will love Charcoal. The menu features a wide selection of appetizers, salads, kabab platters or classic entrees like Filet Mignon, Sirloin Steak, Ribeye, or Bourbon Baby Back Ribs. Kaagé is VARU's Maldivian fine-dining restaurant, where you can experience local flavors presented with a progressive twist, which are taken up a notch with unique artistic presentations by resort's skilled chefs. In the spirit of its beguiling name, NU celebrates the magical beauty of the Indian Ocean. Savour the best of Mediterranean, Italian, and French cuisine paired with the best wines at this elegant fine dining restaurant. Pre-booking required.
Check Availability and Prices
OBLU XPERIENCE AILAFUSHI
Element X (All-Day Dining) - Self-assisted buffet spread with delightfully flavoursome feasts from modern West, Central Asia and Far East, eye-popping delicious salad and dessert bars, and live cooking stations. A show cooking kitchen laid out in five sections: Western, Eastern, Central, Cold Starters and Pastry, and Bakery. Guests can also dine at Only Blu underwater restaurant. On the menu an impeccable high-quality world cuisine and decadent desserts with a pairing of red and white wines. The Copper Pot Truck - A refreshing Surf & Turf food truck experience featuring choicest fresh seafood and meat grills, to be relished on a soft sandy beach beneath the starry sky.
Check Availability and Prices
Atmosphere Hotels & Resort
Atmosphere Hotels & Resorts is a dynamic and fast-growing international hospitality company. Currently, the company is operating six resorts within the Maldives and is set to further expand in India, Sri Lanka, Nepal and Bhutan. AH&R's distinguished portfolio comprises THE OZEN COLLECTION, COLOURS OF OBLU, and By Atmosphere, with a rich diversity of experiences within each of these brands. The company had two new COLOURS OF OBLU resorts: OBLU SELECT Lobigili opened on 24 March 2022 and OBLU XPERIENCE Ailafushi set to open on 19 May 2022.
Read More
Maldives
Best Hotel
Deals