Cruise Saudi Launches Arabian Cruise Experience: Aroya Cruises
Luxury Cruise Guide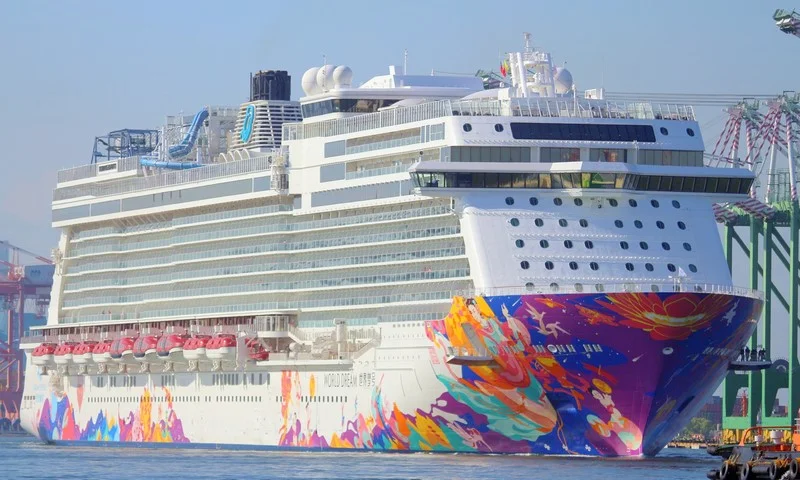 23 June, 2023
Cruise Saudi, a 100 per cent Public Investment Fund owned business, has announced the launch of its own cruise line, AROYA Cruises.
Combining the words "Arabian" & "roya" (meaning vision or dream), AROYA Cruises will offer Saudi nationals, expatriates, and regional guests a unique opportunity to explore the wonders of Saudi from the sea, the company said.
The line is expected to start operating with the former 3,500-guest Genting World Dream, which it purchased at auction late last year.
With a commitment to showcasing Arabian experiences, AROYA Cruises will reflect the country's rich cultural heritage, natural beauty, and warm hospitality, providing an immersive journey, designed and tailored to reflect its brand values of inspiration, enrichment, generosity and respect.
AROYA Cruises is committed to an exceptional passenger experience and will offer the highest standard of service, facilities and shore excursion program culminating in a unique offering in the region.
"This momentous step marks a historical milestone in Cruise Saudi's ambitious strategy to create a premium cruise ecosystem in Saudi, in line with Vision 2030," said Lars Clasen, CEO of Cruise Saudi. "AROYA Cruises will be operating as an autonomous brand within the Cruise Saudi portfolio, aiming to provide experiences and services specifically designed to embrace Arabian preferences."
The launch of AROYA Cruises' will be led by Ghassan Khan. The brand will be managed as a separate business unit supporting the fulfilment of Cruise Saudi's strategic goals of welcoming 1.3 million cruise visitors by 2035 and providing 50,000 direct and indirect jobs.
Ghassan Khan added: "This is an extremely exciting time. It is a privilege to bring this cruise line to launch as a core element of Saudi's development as an international cruising destination."
AROYA Cruises itineraries and packages are currently under development and will be announced at its commercial launch to be held in the coming months.
Related stories
CruiseDirect
CruiseDirect is a leading online cruise travel company dedicated to providing customers with better deals than any other cruise website and access to great deals on cruise vacations. Offering special rates and savings on cruise bookings with some of the most popular cruise lines in the world, we are so confident in our cruise packages that each and every deal is backed by a price guarantee. You won't find these prices on other cruise booking sites.
Since 2001, we've helped our customers find the perfect cruise packages and book dream cruise vacations for less. We are a cruise finder and booking website committed to helping you research all your cruise travel options to find a cruise that fits what you're looking for. After you find a cruise the perfect cruise, make your reservation with our cutting-edge booking engine. We are the best site to book a cruise with because we are driven by our passion for cruise ship travel. Book a cruise today and enjoy the excitement of cruising the world with us!
Find Great Cruise Deals
Maldives Luxury Guide
Here's the best of Maldives for luxury travellers. We've compiled the finest recommendations of places to stay, ranging from the most celebrated five-star resorts to luxurious private islands Read More
Maldives Romantic Guide
The ultimate 'flop and drop' and honeymoon destination, the Maldives is the playground for the most amazing and finest utilization of each second of this extremely valuable and hopeful time with each other in tota Read More