Maldives New Hotels 2018-2019
New Resorts in the Maldives to Check Out in 2018-2019
Updated May, 2019
A popular destination, the Maldives is looking forward an abundance of new hotels are set to open throughout 2018 and into early 2019, expanding its portfolio of luxury beach resorts.
To meet the growing demand of visitors, following a government strategy to dramatically increase the number of hotel rooms in the Maldives, the president promised to open 50 new resorts in a five-year period, creating 18,000 new workplaces.
Since 2013, opened 20 new resorts and after the opening of Kandima Maldives, Finolhu, Fushifaru Maldives, Reethi Faru and Mercure Maldives Kooddoo Resort at the end of 2017, the opening of the 2018 and 2019 season is hotly expected, including Mӧvenpick Resort & Spa Kuredhivaru Maldives, Emerald Maldives Resort & Spa, Carpe Diem Beach Resort & Spa, Italian Baglioni Resort Maldives, ultra-luxurious Waldorf Astoria Maldives, LUX * North Malé Atoll and 4-star OBLU SELECT at Sangeli.
A new hotel in the Maldives is always the best, innovative, and most important is an affordable rates, deals and special offers. Do not miss this chance! Below is a list of new hotels from the end of 2017 - early 2019. The newest properties are being added to our list regularly, so watch for updates.
1. Fushifaru Maldives, Lhaviyani Atoll: Opened November 2017
An idyllic island retreat with a powder soft sands, Fushifaru Maldives is a new 5-star resort located in Lhaviyani Atoll. Opened in October 2017, the beautiful island of Fushifaru is a home for an unusual landscape above and below the waterline. With "Fushi", that means "island" and "Faru", which means "reef" in Dhivehi, Fushifaru is an ideal reflection of its name. If you need little more than a sensational beach and a comfortable bed, this little laid-back resort might be the one for you. Facilities are few, although there is a watersports centre, swimming pool and spa – but really it's all about the beach. READ MORE
Best Experience : for Couples, Beach, Diving, Quiet and Private
2. Mercure Maldives Kooddoo Resort, Gaafu Atoll:
Opened October 2017
Stylish mid-scale hotels in the Maldives are hard to come by. So Mercure's new family-friendly beachfront Maldives resort is opened in February 2017. Offering an affordable accommodation in Gaafu-Alifu Atoll, Mercure Maldives Kooddoo Resort is first-class getaway on a private island in 55 minutes by air from Male Airport. It ticks a lot of boxes: think overwater villas, tennis courts and a dizzying roster of watersports, from jetskiing to pedal boats. The buildings are conjured from local materials and splashed with bright colours all of which reflect the traditional Maldivian culture and the spirit of travel. The dining options – serving tapas and pan-Asian cuisine – overlook the translucent green lagoon. READ MORE
3. Reethi Faru, Raa Atoll: Opened
November 2017
The "beautiful reef" in Dhivehi, Reethi Faru is surrounded by stunning white beaches, coconut trees and lush vegetation. Along with the stunning house reef, the 4-star resort offers guests a laid-back vibe, exceptional service, a wide range of activities, as well as delicious food and drinks. Located on the private Maldivian island of Filaidhoo in Raa Atoll, special attention has been paid to the design and location of each of 150 villas in order to give you the perfect stay at the resort. From family-friendly accommodation to perfectly situated romantic hideaways, you will find a fully serviced villa that meets all your needs and desires. The five restaurants and four bars, created by Executive Head of Food and Drink, Chef Sreekant, and his international team, offer the most delectable, authentic Maldivian dishes, alongside live grills, boutique international cuisine, wood fired pizza and tandoori ovens. Water sports over and under water, boat cruises or excursions to nearby islands, spa treatments or body workouts in our sports complex, Reethi Faru Resort has all the facilities and activities to ensure our guests have a memorable stay in the Maldives. READ MORE
With the unique All Inclusive Serenity Plan, OBLU Select by Atmosphere at Sangeli Island is the newest luxury ALL INCLUSIVE resort in the Maldives. Located just 50-minutes by speedboat from Malé Airport this idyllic tropical paradise is perfectly suitable for couples and families, promising a beautiful island chic and it's a delightful addition to Maldives' deluxe resort segment. A completely hassle-free experience with their signature SERENITY Plan™ and range of standalone Beach & Water Villas, restaurants and luxury facilities spread out over the two islands, OBLU SELECT at Sangeli offers discerning travelers a comprehensive, carefree beach experience in the Maldives.
Opened on July 2018, the 4-star a premium all-inclusive hotel offers a wide selection of modern individual beach and water villas and suites to choose from, some with private pools. An another feather in Atmosphere Hotels & Resorts cap of luxury Maldivian retreats, the resort has 137 villas in six categories, many modern amenities, a selection of restaurants and services, amongst some of the best diving and snorkeling spots in the entire Kaafu atoll. The resort is a short scenic speedboat journey allowing guests to start and end their stay experiencing the full beauty of the Maldives. READ MORE
Set to open in 1-st September 2018, Carpe Diem Beach Resort & Spa will be the first resort opening for Carpe Diem Maldives, one of the only hospitality brands in the Maldives to offer both liveaboard cruises and resort stays. Located in Raa Atoll, on one of a trio of uninhabited islands on the edge of Baa Atoll, the resort's vast lagoon will be home to 115 Pool Villas, a spa, a selection of restaurants, and a private water park of inflatable slides. The Carpe Diem name has become renowned in the travel industry for diving and leisure, and the current portfolio includes three high-end liveaboard cruises, each catering 20 guests at a time. Introducing a new room category to the Maldives market, five Over Water Pool Villas are dedicated to solo travellers looking to share twin bed accommodation, omitting the need for a single supplement. A full-board stay for all guests at Carpe Diem Beach Resort & Spa includes house wines and beer, as well as access to an inflatable water park in the private lagoon. READ MORE
Situated on the remote Kuredhivaru Island in Noonu Atoll, Moӧvenpick Resort & Spa Kuredhivaru Maldives will be the brand's first resort in the Maldives when it opens during the last quarter of 2018. The planned 105-unit luxury resort will provide guests with a choice of 32 Beach Villas and 70 Over Water Villas, all designed with both comfort and style in mind. While intended as a destination for relaxing and rejuvenating escapes offering a high degree of privacy, the resort will also feature an array of onsite recreational facilities to entertain a wide range of guests, from honeymooners to adventurous families. The waters surrounding the resort are also rich in marine life and the first Marine National Park in the Maldives is just a 15-minute speedboat ride away, providing guests with excellent diving opportunities. READ MORE
Italian-owned Baglioni Resort Maldives, located on Maagau in Dhaalu Atoll, will offer a piece of island paradise when it opens in November 2018. Its comprehensive comforts will offer an unforgettable stay with a blend of sport, relaxation and mouth-watering gourmet dining. The 96-villa resort's elegant Italian design will be complemented with the Baglioni Spa, which along with a yoga pavilion, will offer guests a deeply relaxing experience via a host of deluxe natural treatments in a lush, tropical setting. Meanwhile, beach volleyball, the beach gym and a range of watersports will keep the more active guests entertained. Dreamily resplendent on the island of Maagau in Dhaalu atoll, a 40-minute hop by seaplane from the capital, Malé, this remarkable resort is awash with tropical natural beauty. Its comprehensive comforts offer an unforgettable stay with a blend of sport, relaxation and prestigious gourmet dining to suit its exclusive international clientele. It is a piece of paradise in true Baglioni Hotels style. A dive centre with resident marine biologist offers child-friendly scuba experiences too. READ MORE
Sheduled to open in 1st June 2019, Emerald Maldives Resort & Spa will boast 60 beach villas and 60 over the water, all including contemporary and tropical touches. Platinum all inclusive 5-stars Deluxe Resort is located in Raa Atoll and guests will be able to reach the island via a 40-minute scenic seaplane journey from Malé. Emerald Maldives Resort & Spa is a collection of private beach villas and overwater bungalows, many with their own pools and Jacuzzis, combines contemporary creature comforts with warm tropical flourishes. Along with a spa and gym, Emerald Maldives Resort & Spa will have four restaurants, including a grill restaurant, which will be situated on the beach, and a South American-style steakhouse. READ MORE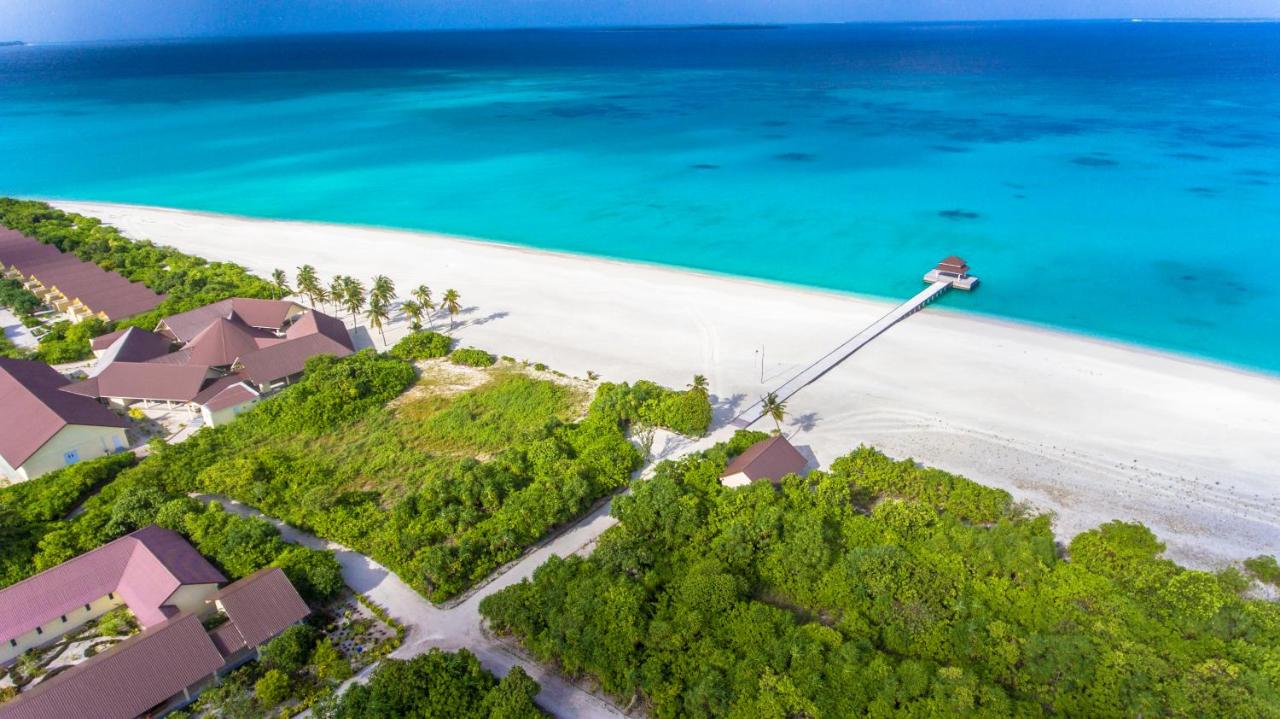 Hondaafushi Island Resort opened in March 2018, becoming the first resort in the northern Haa Dhaalu atoll. Today, the 4-star Hondaafushi offers its guests 80 rooms in two categories: Superior Beach Bungalows and Deluxe Beach Bungalows, all accommodation is located on the beach. The island, two kilometers in length and 500 meters in width, is accessible by domestic air, the journey time is 55 minutes from Velana international airport to Hanimaadhoo airport, following 10-minutes speedboat ride. The island will add about 100 rooms each year, with plans to accommodate at least 400 villas over the next five years. The resort has a buffet restaurant, spa, fitness, swimming pool, and diving & water sport center. READ MORE
Fairmont Sirru Fen Fushi is a sophisticated bubble of tropical perfection, with diamond white beaches, jewel-like coral reefs and a showpiece underwater art gallery – the first one in the Maldives. The resort is found on an exclamation mark of shocking white sands painted on the western rim of the Shaviyani Atoll, and is reached via a sensational one-hour seaplane flight from Malé. Sirru Fen's 120 villas have a chic, understated Maldivian look; they're decked out with champagne woods, coral-shaped crochet rugs, rope and glass bauble chandeliers, and black and white macramé cushions. Restaurants on the island include an international dining hall called Raha Market, open all day; There is also a Japanese surface restaurant, a sushi bar and a sea lounge Kata; and a gourmet restaurant over the water, Azure. Families will find an especially warm welcome here. There's a play garden and shallow pools for toddlers, and a kids' club for four to 12-year-olds. There's complimentary use of non-motorised watersports and a number of free daily activities. READ MORE
Situated just a 30 minute seaplane journey from Male, Vakkaru is a resplendent paradise and located within the amazing UNESCO Biosphere of Baa Atoll. This tropical island, secluded from the outside world, is abundant with mature coconut trees and features 125 villas, suites and residences to suit any guest's needs. Enjoy international cuisine with a Maldivian twist, contemporary Italian dishes and Asian delicacies, all paired with some of the finest wines from around the world at Vakkaru's four restaurants. Guests will be spoilt for choice with what to do in their free time with experiences and facilities such as a luxury over water spa, over water gymnasium, recreation room and all weather sports field, featuring two tennis courts, a badminton court, and volleyball court. There also an extensive range of water sports, including snorkelling, jet skiing, catamaran sailing, kayaking, wind surfing and paddleboats. . READ MORE
Kudadoo Maldives Private Island by Hurawalhi, the latest addition to the portfolio of leading hospitality group Crown & Champa Resorts, has officially opened. As the first top-end five-star, truly all-inclusive resort in the Maldives, Kudadoo ensures a secluded getaway purposefully crafted for the more discerning guest — all accessible by a 40-minute scenic journey aboard a private seaplane. An island defined by the philosophy 'Freedom Reimagined', the private island, located in the northern Lhaviyani atoll, comes alive with effortless adventures as the resort endeavours to offer anything, anytime, anywhere. Personal butlers are available 24 hours a day to assist in making this possible by facilitating authentic experiences that capture the senses. Kudadoo is a small, secluded island, surrounded by a beautiful lagoon with a good house reef and a magnificent sandy beach. The private island will be served by Hurawalhi Maldives, that is only five minutes by boat from the island allowing guests to take full advantage of all the facilities of the sister's resort including Hurawalhi's signature "5.8" underwater restaurant . Kudadoo promises the best escapism on the island, which will not leave even the most discerning travelers indifferent. READ MORE
13. Pullman Maamutta Maldives: Opening in 2019
Accor announced today that it will manage a 120-villa Pullman Maldives Maamutaa Resort located on a one – resort island which is slated to open in late 2018. It will be located 10 minutes away by speedboat from the new Kooddoo Airport. When the resort opens, you would be able to enjoy five-star service and facilities in one of the 80 spacious bungalows set over water or the 40 dotted around the pristine beach. Other facilities include two swimming pools, a lounge, an all-day dining restaurant, a specialty restaurant, a sunset bar perched over the lagoon, spa and fitness centre, organic gardens, tennis court, kids club, beach play ground, a dive centre and watersports centre.
Following the successful re-launch of LUX* South Ari Atoll in September 2016, LUX* Resorts is pleased to announce the opening of its second resort, LUX* North Malé Atoll. Blessed with a pristine reef teeming with sea life, the innovative resort is set to redefine island hospitality when it opens in early 2019. A short transfer from Malé by luxury speedboat, LUX* North Malé Atoll will disrupt the mould by replacing traditional thatched villas with over-sized, penthouse residences. With sweeping ocean views and a fleet of luxury yachts, this is a one-of-a-kind escape for confirmed epicureans. READ MORE
Marriott International is set to launch its Westin brand in Maldives with the opening of The Westin Maldives Miriandhoo Resort in 2019.
Scheduled to open in February 2019, The Westin Maldives Miriandhoo Resort is being developed on the uninhabited island of Miriandhoo in the central Baa atoll. The island is accessible by a scenic 40-minute seaplane flight from Velana Airport or a domestic flight to Dharavandhoo airport followed by a further 20-minute speedboat ride. The resort located in the Maldives first and only UNESCO Biosphere Reserve, will have 70 luxurious villas and suites, the fully-equipped Westin Workout that maintain and maximise the guest workout routine, with the brand's world-class fitness studio, Gear Lending with New Balance and local running maps. The Heavenly by Westin Spa at The Westin Maldives Miriandhoo Resort will be designed to awaken the senses, with services and amenities that are relaxing and rejuvenating in order to leave guests feeling fresh, energised and focused. READ MORE
The Nautilus Maldives, a privately-owned island in the heart of a UNESCO biosphere reserve, has announced its opening in early 2019. Offering an intimate selection of 26 houses and residences, each equipped with its own private pool as well as living area, every guest begins their journey at the VIP Terminal of Velana International Airport, before being whisked off via a scenic 35-minute seaplane ride to their luxurious abode for what The Nautilus promises will be a "transformative experience". Designed ala "tropical, boho-chic-whimsy" for the new generation of luxury travellers, the resort is derived by House Captains (butlers) who take care of even the most minute details of one's stay, neither the spa nor the three restaurants require prior booking and have flexible hours. It has been created for the new generation of luxury travellers who expect transformative experiences and activities that they can share. READ MORE
17. Centara Grand Muthaafushi Resort & Spa Maldives, Baa Atoll: Opening in 2019
Centara Grand Muthaafushi Resort & Spa Maldives would be the fourth beach resort managed by Centara Hotels and Resorts – one of the leading Thai hospitality groups. The new resort is expected to see its soft opening late 2018, and the grand opening early 2019. Under the agreement, Centara Hotels and Resorts would operate and manage the new property, comprising of 24 beach villas, 77 water villas, an array of international restaurants including an underwater restaurant, a floating cinema, a dedicated Thai spa, a fitness centre, and other facilities expected in a Centara Grand resort.
18. JOALI Maldives, Raa Atoll: Opened October 2018
A new landmark for glamor and sophistication in the Maldives, JOALI is an ultra luxury resort that will open in October on Muravandhu island, the Raa atoll. Celebrating the "Joy of Life" with high skill, artistry and sustainability in its very essence, Joali promises a non-standard and exceptional island experience for its guest This chic family option will offer a stellar selection of child-friendly amenities and activities, such as a treehouse, spa for kids, junior cookery school and ice-cream shop, plus treasure hunts and native storytelling sessions around a campfire. The smallest accommodation option sleeps three; some villas come with two pools and theres's one four-bedroom beach duplex. Adults will appreciate the four restaurants (including one serving freshly caught Japanese-Peruvian fare), a whisky lounge, ESPA spa, flower garden and artist's studio and gallery. Activities include dhoni excursions, waterskiing, snorkelling and diving. READ MORE
Rock 'n' roll heads to paradise. Hard Rock International, globally recognized as a world-class entertainment and lifestyle brand, has announced plans to expand its portfolio with Hard Rock Hotel Maldives and Hard Rock Café Maldives. The two are scheduled to be opened in October 2018, as part of Crossroads project – the country's first multi-island integrated resort project. Hard Rock Hotel Maldives will be one of three hotels in the development currently being built in Emboodhoo Falhu, one of the largest lagoons in the country. It aims to 'cater to more than just newlyweds', and follows hot on the heels of other non-honeymoon-focused properties on the island, such as super-family-friendly Kandima, which opened last year. The style will fuse tropical architecture with the musical memorabilia which has become synonymous with the brand – as with their other outposts, the use of Fender guitars and Crosley record players will be available. READ MORE
Waldorf Astoria Hotels and Resorts—Hilton's luxury brand—is set to return to the Maldives in 2019 with the Waldorf Astoria Maldives Ithaafushi. Located on South Malé Atoll, the resort will occupy three islands. It will be reachable via a 20-minute speedboat ride from the capital's Velana International Airport. The resort will offer 138 guest villas, ranging from one, two and three-bedroom villas and four-bedroom presidential suite, carefully positioned and orientated to guarantee guest exclusivity and privacy and unsurpassed views over the ocean. Each villa will be equipped with private outdoor pool, Jacuzzi and lounge deck area, with usual five-star amenities. The resort will feature a wide variety of F&B outlets; the elevated Tree house for a dining experience of "Terra", to the "Rock" cave like private dining and wine cellar below, to the modern Arabic cuisine of Mahal, and the contemporary Chinese menu of "Chinoise". The laid back atmosphere of "Amber", the resort's beach champagne bar is where guests can relax on the beach and enjoy cocktails while watching the sun set over the horizon. It will also offer a 2,000-square-meter spa that will include a gym, an outdoor fitness centre, aqua spinning classes and an overwater yoga platform.
READ MORE
JW Marriott Maldives Resort & Spa will be opening on Vagaru island, Shaviyani Atoll, in January 2019. The 61-villa property will be headed up by renowned general manager Marc Gussing and will bring fierce competition to the Maldives with highlights including a private pool with every villa, a treetop restaurant, an and expansive wine cellar. The hotel will be a scenic 55-minute seaplane flight from Velana International Airport, Male. Guests will have a choice between five villa categories ranging from 234sqm to 638sqm, all of which come with private pools and spacious wooden decks. There will be 29 secluded one- and two-bedroom beach villas nestled amongst the island's lush greenery, each with its own private beach area. The hotel will have five F&B outlets, three full service bars, an interactive wine room, in-villa and destination dining options, and a cigar and shisha venue. The offerings include Furamas, Japanese Teppanyaki cusine; Lonu, the resort's grill room fine-dining experience; Rum Bar & Kitchen, which will serve meals tapas-style; Raha, Italian cuisine, and Kaage, its all-day dining venue.
The property will also feature a JW Marriott signature, Spa by JW. The resort will have a library, boutiques and 'Lounge 18', for those aged 18 years and above. READ MORE
Designed to give guests privacy and peace during their stay, Sun Aqua Iru Veli is newest Sun Siyam's resort in the Maldives. Sun Aqua Iru Veli is a five-star resort that has 125 villas and suites with private pools. Located on a private island in the South Nilandhe Atoll, 40-minute seaplane ride from the capital Male, the hotel has an infinity pool, a fitness centre, the overwater Sun Spa with six treatment rooms, and seven gourmet dining venues. Back of house operations and staff members' accommodation is located on a separate nearby island. The island resort's upscale facilities cater for all ages and include a large swimming pool, a fully-equipped fitness centre, a kids' club, and a water sports centre where guests can go kayaking, windsurfing, jet-skiing, and take catamaran cruises. READ MORE
23. Heritance Aarah - All Inclusive Resort, Raa Atoll: Opened Dec 2018
Offering the perfect combination of exclusivity and comfort, Heritance Aarah is all about exclusive luxury with a touch of Maldives traditions. This Premium All-inclusive resort is located on a private island in Northern Maalhosmadulu Atoll and is a 40-minute by seaplane from Velana international airport, Male. By claiming to be one of the best luxury resorts in the Maldives, the main attractions of Aarah are beautiful white beaches, crystal clear turquoise waters and a diverse marine life on a home reef. The resort's services and facilities include 157 beach and water villas with private pools, food and drinks in six restaurants and bars, a luxurious spa, a diving school and a water sports center. Heritance Aarah offers perfect privacy and an ideal tropical getaway on a paradise island. Opened in December 2018 - the first resort from the luxury hotel brand Aitken Spence Hotels and Resorts from Sri Lanka, Heritance in the Maldives READ MORE
24. You & Me by Cocoon, Raa Atoll: Opened February 2019
You & Me by Cocoon Maldives is the brand newest luxury, "adults only" resort for honeymooners and couples, is set to open on February 1, 2019. Set on a private island in Raa Atoll of the northern Maldives, You & Me by Cocoon offering a secluded, romantic hideaway in luxurious, "rustic-chic" style surroundings. With the spacious 109 Villas - 99 are over water and 10 are on the beach, six dining options provide world class cuisine in stunning settings, the over-water Orchid Spa, the large swimming pool and water sports centre, the resort offers one of the hottest go-to spots for honeymooners. If you're looking for five star standards and service in a lush world of unsurpassed tropical beauty, look no further. READ MORE
Located in a remote part of Raa Atoll, Faarufushi is a scenic 50 minute seaplane ride away from Velana International Airport. The resort is set to welcome guests from 15 December 2018 with 10 Beach Bungalows, 37 Beach Retreats with Pool and 39 sleek Ocean Retreat with Pool stilted over the azure lagoon of Faarufushi. The three Ocean Suite with Pool & the Island Residence with Pool offers guests the ultimate sanctuary with an expansive infinity pool overlooking at its very own stretch of the Indian Ocean. READ MORE
A paradise for divers and beach lovers, Innahura Maldives Resort, the latest addition to the portfolio of leading resort operator Crown & Champa Resorts, is set to open in November 2018. The brand new 3-star island resort is located on Innahura island in south-east edge of Lhaviyani atoll. The 25-acre private island that is 600 metres long and 180 metres wide, is accessible by a scenic 40-minute seaplane flight from Male Airport. Innahura offers accommodation in 78 rooms, including 33 Sunset Beach Bungalows and 45 Sunrise Beach Bungalows, with four designed as adjacent bungalows for families. A great dine and drink options, spa, dive and water sport center - all in all promises an unforgettable beach experience. READ MORE
SAii Lagoon Maldives, the first Curio Collection by Hilton hotel in the Maldives, is set to open in 2019. Slated to open in February, the 198-room luxury resort will be located in Emboodhoo Lagoon – an enchanting natural wonder surrounded by white sands and cerulean seas. The resort will be 15 minutes by speedboat from Malé International Airport and offers easy access to CROSSROADS, the first and largest integrated tourist destination in the Maldives developed by leading Thai developer Singha Estate. SAii Lagoon Maldives will offer modern travellers a private sanctuary enhanced by creative art and design, artisanal cuisine, a soundtrack of curated music and heart-made hospitality. The modern resort will feature spacious deluxe rooms, beach villas and overwater villas complemented by comfortable social spaces, quality restaurants and access to the super-hip beach club brand, Café del Mar. READ MORE
27. Raffles Maldives Meradhoo Resort: Opened Dec 2018
Sheduled to open in late 2018, the Raffles Maldives Meradhoo Resort will be a first for the renowned Raffles brand in the region. AccorHotels took over management of the property, previously known as the Jumeirah Dhevanafushi, in September 2017 with plans to reposition it as a Raffles resort after a top-to-bottom renovation. Access to Raffles Maldives Meradhoo Resort is via a 55-minute flight from Male International Airport, then a 15-minute speedboat transfer.
Located in the southern end of the Maldives—a jetsetter's paradise composed of more than 1,000 islands in 26 atolls in the middle of the Indian Ocean—the Raffles Maldives Meradhoo will have 21 island villas and 16 ocean villas with private pools. Expect 24-hour butlers on call and private chef service. Facilities will include an overwater spa, fitness center, three restaurants and a cocktail bar overlooking the crystal-clear waters surrounding the resort. From the PADI-certified diving center, guests can partake in snorkeling and scuba diving adventures, exploring the coral reefs for which the Maldives are known. There will also be a yoga program and numerous water sports options.
RIU Hotels & Resorts has announced summer 2019 opening dates for its newest properties in the Maldives with 5-star Hotel RIU Palace Maldivas and 4-star Hotel RIU Atoll. Both all inclusive resorts, Hotel RIU Palace Maldivas and Hotel RIU Atoll will be set on the pristine islands of Kedhigandu and Maafushi, part of the Dhaalu Atoll, connected by a walkway. Its location near Kudahuvadhoo domestic airport will make transfer to these two resorts a breeze. The Hotel RIU Palace Maldivas will have 176 land-based villas with direct access to the sea, and water villas with a private terrace and stairway leading to the sea, some of them equipped with private pools. Hotel RIU Atoll, on the other hand, will provide a total of 264 rooms with spectacular sunset views over the ocean. With a choice of gourmet, Asian and Italian cuisines in the Krystal, Yu Hi, Sofia, Palm and Dhooni restaurants along with three different bars and a Beef steakhouse on the offer for its guests, the resorts are certainly not short of dining options. Jacuzzis, spas, gyms and all the modern amenities one can come to expect from a world class brand such as RIU will be available at the resorts, with luxurious fresh-looking décor and privacy having a strong influence in the design of the rooms. READ MORE
30. VARU by Atmosphere
: Opening in Octoder 2019
Atmosphere Hotels & Resorts has unveiled its latest property — the five-star VARU by Atmosphere, set to open in October 2019. 'Varu' is a term in local Dhivehi language meaning strength, resilience and life in abundance, and the resort will offer a truly Maldivian experience by incorporating aspects of local traditions and cultures.
Located in the north-west edge of Male atoll and easily accessible by a 40-minute speedboat journey from the main Velana International Airport, VARU by Atmosphere will feature 108 luxurious villas. Thirty-nine Beach Front Villas will have spacious interiors and outdoor decks, surrounded by lush green vegetation and just a few metres from the white sandy beach, while 69 Overwater Villas will have signature Maldivian-style interiors and direct access to the turquoise lagoon from the deck. Both villa types offer minimalistic design styles with splashes of vibrant colours, and come with the option of private pools. Additional resort facilities include a dive and water sports centre, ELENA spa, gymnasium and kids club.
The resort island's reef is known to be home to mantas and other vibrant wildlife species, which will allow guests unique snorkelling and diving experiences unlike others on offer in the Maldives. READ MORE
31. InterContinental Maldives Maamunagau Resort
: Opening in September 2019
Set to open in September this year, InterContinental Maldives Maamunagau Resort will be the first InterContinental Resort in the Maldives and one of the most exclusive InterContinental hotels in the world. The resort is already building a strong team of distinguished professionals to deliver an exceptional luxury service. Located in the secluded Raa atoll, InterContinental Maldives Maamanugau will comprise of 81 Villas and Residences designed to seamlessly blend with the breath-taking natural environment with a unique emphasis on sustainability and wellness. Unique and tempting dining experiences where culinary artistry is complemented by endless views of the Indian Ocean, will be found at each of the six restaurants and bars. The luxurious resort promises delights of all kinds, with detailed interiors, chic vibes and moments to cherish. Featuring six restaurants and bars, exclusive and personalised butler services as well as many underwater and thrilling adventures. InterContinental Hotels Group has opened reservations for InterContinental Maldives Maamunagau Resort ahead of its opening on September READ MORE
Check Availability and Prices in InterContinental Maldives Maamunagau Resort
The Residence Maldives at Dhigurah is nestled in the Gaafu Alif Atoll, will be adjacent to The Residence by Cenizaro's first property in the island nation, The Residence Maldives at Falhumaafushi. The brand new resort is expected to open in June 2019, enabling guests to travel between the two resorts through a custom-built bridge – and forming one of the largest resort offerings in the Maldives. The Residence Maldives at Dhigurah will offer 173 beach and water villas, each featuring its own private pool. It will also use locally-sourced materials, designed to capitalise on natural lighting. Catering to families, the resort will provide 12 two-bedroom beach and water pool villas, with more on-land options, designed for younger children. Dining options include all-day dining at The Dining Room, the resort's beachfront restaurant and Li Bai, the resort's signature Cantonese restaurant, serving classic Chinese dishes. Other resort highlights include a 42-metre infinity pool, Dive & Watersports Centre, relaxation reading lounge, fully-equipped gym, two complimentary bicycles per room for all guests, and a diverse range of water sports and land-based activities. READ MORE
33. Rahaa Resort: Opening in July 2019
Come July, Laamu atoll will get more exciting with a new entrant, Rahaa Resort. Sporting architecture and design that fuses traditional Maldivian elements with modern simplicity, Rahaa aims to make the Maldives more accessible to all classes of travellers who want to experience its pristine white sand beaches and crystal clear waters. This a destination in itself — a unique island with its own natural lake, in an atoll which offers perhaps the most comprehensive glimpse into the history and heritage of the nation. The four-star resort offers accommodation in two categories: Deluxe Ocean View Villas and Lake View Villas. Characterised by spaciousness, modern interior, and bright colours, each villa has an en-suite bathroom that are fully equipped with a bathtub and an outdoor shower. There is an all-day dining restaurant serving buffet-style meals for breakfast, lunch and dinner, as well as a Dhirun bar. Whether you are craving for your regular coffee dose or your favourite cocktail, the bar is your adored spot by day and night! Other facilities on the island include a spa, water sports centre and dive centre. READ MORE
Related
Pages
First time in Maldives

10 Best Maldives Luxury Hotels

Top 10 Best Snorkeling Resorts

If you're first time im Maldives and unsure about your upcoming trip, this section will put you at ease. Planning the first trip to the Maldives can be not an easy task: 26 atolls and 1,192 islands sparkle Read More
The best luxury hotels in Maldives are idyllic retreats for wealthy travellers, offering world-class accommodation, fine dining options, luxurious facilities, and impeccable services for a fulfilling tropical holiday Read More
Today, the main theme is house reef snorkeling - the easiest way to explore the abundance marine life of the Maldives. Located in the top 10 list of the best world's destinations because Read More
Top 10 Maldives Boutique Hotels

10 Best New Resorts in Maldives

10 Best Water Villas in Maldives

Boutique resorts in the Maldives are the rule, not the exception, and many boutique resorts offer less than 100 ... or even less than 50 rooms. Add to this the fact that almost every hotel owns Read More
The new is always the best, and the wave of new hotels in the Maldives proves once again that nowhere else in the world is the ideal combination of sea, sand and splendor, as on these islands in Indian Ocean Read More
The best water villas in Maldives offer you a holiday experience with unique designs, luxury amenities, sense of privacy, and the added feature of doors opening to a sea views to-die-for. These are easily Read More
10 Romantic Resorts in Maldives

10 Best House Reefs in Maldives

Top 10 Best Ari Atoll Hotels

Any of these romantic resorts in Maldives can serve as the perfect backdrop to your honeymoon or romantic getaway on the island. This hotels usually offer more space and a greater sense of privacy Read More
House reef snorkelling is a great bonus to your Maldives beach experience. The best house reefs for snorkelling in Maldives are generally readily accessible; you only need to don a mask, a snorkel and fins Read More
Located in a vast lagoon of oval shape dotted with beautiful islands, Ari Atoll is located 100 km west of the capital of Maldives and is famous for its magnificent beaches and world-class diving. Read More
Top 10 Best Kaafu Atoll Hotels

Топ 10 Best Beaches in Maldives

10 Best Resorts near Male Airport

The North and South Male Atolls together with the Gaafaru atoll and Kaashidhoo island forming Kaafu Atoll, the home of the best and most popular hotels in the country, and all the resorts accessible by speedboat Read More
The Maldives is sprinkled with some of the most beautiful beaches in the world. But an experienced visitor knows that the best of them do not have clear borderline (not permanent). Sand moves Read More
The white powdered sands of the sprinkled atolls that make up the Maldives have, for some time, enthralled travelers seeking peace and luxury in stunning surroundings. The most phenomenal resorts Read More
Beach or Water Villa?

Maldives Hotel Reviews

10 Exclusive Resorts in Maldives

Maldives is home to the famous over-water villas and beach villas, and you can wake up to a view of the crystal clear Indian Ocean or sun-kissed beaches, but which option is perfect for you? Read More
Some of the best hotels and resorts in the Maldives are already included in this list, and the good part of them offers the best prices. We will constantly add new hotels, so regularly check for the best deals Read More..
The Maldives is paradise destination that should be on the bucket list of every discerning travelers. There's a special breed of hotels there that cater to the most tasteful of luxury travelers Read More
Maldives

Best Hotel

Deals