Thoddoo
Maldives on a Budget
Updated August, 2020
The emerald in the setting of golden sand, Thoddoo is one of the populated islands of North Ari atoll in the Maldives. Located 67 km from Male airport and 20 km north of Thulusdhoo Island, Thoddoo is a good budget option for the Maldives experience. With over 30 guesthouses and economy hotels and surrounded by warm turquoise waters and pristine sea life, the beautiful island offers unlimited options for snorkel, diving, water sports and cheap excursions, including island hopping and a picnic on a sand bank.
Thoddoo is considered one of the largest producers of agricultural products in the country, and is mainly known for its sweet watermelons. Fruit and vegetable paradise with echoes of the Buddhist past, Thoddoo is also beautiful nature, diverse marine life and an extensive white sandy bikini beach ... of course for tourists. With a population of about 1800 people, the green island is linked to Male city by regular public ferries, speedboats and by air. The residents of Thoddoo are kind, peaceful, hospitable people who will welcome you with an open heart.
How to Get: Transfers
There are three ways to get Thoddoo Island from Male and back: by a public ferry, by speedboat and by seaplane. Public ferries and speedboats run daily (except Friday), according to the schedule, that can change depending on the weather conditions. When booking flight tickets to the Maldives consider the FRIDAY so as not to lose an extra day in Malé. In most cases, immediately upon arrival at Velana International Airport you will be met a staff to help with the transfer to Thoddoo island, whether it will be a ferry, speedboat or seaplane.
There is an ATM on Thoddoo, but just in case take the cash in Malé. You can coordinate the traffic schedule and the transfer type in advance with your guest house's staff (recommended), or check here
Public ferry direct to Thoddoo:
From Male at 23:45, daily (except Friday), travel time 5 hours, price $10, one way.
From Thoddoo: daily at 23:45 (except Friday), the price for the trip is $ 10, travel time is slightly more than 4 hours.
By public ferry MTCC via Rasdhoo:
Departure from Male at 09:00 every Mondays and Thursays, Arrival to Rasdhoo at 12.10. From Rasdhoo departure at 15:10, arrival in Thoddoo 16:30. Price is $3 one way. Learn More...
From Thoddoo at 06:30 on Sundays and Wednesdays. Arrival in Rasdhoo at 10:40. From Rasdhoo to Male departure at 11.00, arrival in Male at 14:10.
You can also travel to/from Thoddoo via Rasdhoo to other North Ari's islands by LOCAL INTER-ATOLL FERRY SCHEDULE .pdf.
Transfer by public speedboat (via Rasdhoo, and often with a stopping at Male airport):
Schedule: Tuesday, Thursday, and Sunday. In high season the speedboat runs daily (except Friday), sometimes twice a day. From Male at 16:00. Arrive at Thoddoo at 5:15 pm.
From Thoddoo to Male at 07:00 (sometimes an hour earlier on your request). The price is $50 per person, one way.
Private speedboat transfer:
Possible on request, daily (private transfer is recommended for groups of 5 or more people); travel time from Male 1 hour 15 minutes, price $ 650 / boat, one way. It is always useful to agree with the hotel your schedule in advance, in order to catch a more convenient transfer for you, since these speedboats often have vacant seats.
Seaplane
Transfer by seaplane, another, not exactly a budget option to get to Ukulhas. Nevertheless, this scenic transportation option can be book through your hotel in Ukulhas at least 4 days before your arrival to the Maldives. Direct flight by seaplane to the nearby Kuramathi resort will give you a lot of positive impressions. Good to know that seaplanes operate only during the daytime from 06:00 to 17:00. If you order a seaplane transfer, local staff will meet you at Malé airport upon arrival, and will escort you to TMA terminal. The flight time is 20 minutes, the price is about $ 350, the children's half of the cost. The authorized baggage is 25 kg + $ 5 / kg for overweight. In Kuramathi you will be board a speedboat to Thoddoo island.
The Island
The oval-shaped island, 20 kilometers in perimeter, dressed in lush vegetation, Thoddoo is located in the furthest, northern edge of Alif Alif Atoll and is known as a major producer of watermelons, fruits and vegetables in the Maldives. On the island there are two mosques, a hospital, a school, a gym, several souvenir shops, restaurants and cafes, and a football field. Today, in addition to fishing the island has become a popular budget travel destination thanks to affordable hotels, a white sandy beaches and a warm crystal sea, offering an cheap holiday among the richness of fruits and vegetables!
Situated on the west side of the island, Thoddoo's tourist private beach is one of the most beautiful and iconic in the country where foreign guests are allowed to wear a bikini and there you can admire the stunning sunsets over the Indian Ocean. The bikini beach has a separate entrance with the road winds through plantations and orchards, and along the entire length is dressed in dense thick vegetation with a lot of shady places and hammocks for guests. Along the beach line there are also some simple sun loungers with bright umbrellas. Sugar-white sand is very soft and does not heat up in the sun, which allows you to walk along the shore barefoot, without risking children to burn feet. The beach area for swimming is surrounded by buoys, followed by a house reef that abounds in colorful marine life and is ideal for snorkeling. Inside the buoys you can safely swim in crystal clear water, while the outer space is suitable for water sports, including motorized ones. Long approximately 100m, clean white beach is regularly cleaned, and in 2016 local authorities decided to give tourists more sand, expanding the beach recreation area.
Things to Do
Considering the rather large size of the island, it is quite difficult to walk and roam around all the sights outside the bikini-beach on foot and over the sun heat, so the best way to explore Thoddoo is to rent a bicycle. Many guest houses provide bicycles for free.
When was the last time you feasted on exotic tropical fruits that had just been torn from the trees? The island offers fruit tours to fruit plantations, where a local guide will show you the garden and entertain stories of exotic fruits while you eat them.
You will learn how to properly carve and prepare fruit for eating, what to separate, and what is useful to eat. Some of them are seasonal, and some are rare in markets and in big cities, because they are too gentle to transport. They just need to eat for a few days, after collecting from the tree. The island grows papayas, watermelons, passion fruit, melons, bananas, coconuts, pumpkin and much more.
The same excursions take place with vegetables. A vegetable farm tour will surprise you with the possibilities of growing herbs and vegetables in the atolls, and you will stock greens and herbs for your favorite salad.
Today, the island is home to the program of hydrophobic farms for the cultivation of fruit trees is also being implemented to conserve fresh water reserves, using a minimum water.
House Reef Snorkeling
If you are a non-diver, the beauty of the underwater world and its amazing inhabitants can be admired from the water's surface. Snorkeling experience in the Maldives is something you should not miss! Thoddoo's house reef boasts a multi-colored palette of bright healthy corals with schools of colorful fish, sea turtles and rays. Local snorkel experts are always ready to help first-timers get an unforgettable taste of marine life in Thoddoo's lagoon before moving to Medhu Muraka house reef. The latter has a great length and you will need good swimming skills to explore its underwater treasures.
The guide'll learn you about the house reef's features, teach at what time best to snorkel, explain the details of the reef and its ecosystem, and how faster and safer to reach colorful corals without harming yourself and the beautiful underwater world.
Many Thoddoo's hotels offer daily snorkeling excursions (for the first time free of charge for hotel guests) at the best North Ari's Atoll spots located around Thoddoo, depending on weather and season. However, watch a top marine creators such as turtles, sharks or Manta rays always require an element of luck; and you will never be guaranteed that these animals will appear in the right place at the right time!
The most popular excursions are Manta Point and Turtle Safari. Both sites are 20 minutes by boat from Thoddoo and offer exciting snorkeling with Manta or sea turtles.
Scuba Diving & Water Sports
If water is your element, then diving is an unforgettable way to explore the amazing Maldives' marine life. The warm waters around Thoddoo island are endowed with a fantastic fish life, including hammerhead shark, whale shark, manta rays, eagle rays, among many other unique species thriving in their natural habitat!
On Thoddoo there are two dive schools, one is set at Serene Sky Guest House. Both offer standard PADI courses, from Open Water to a dive master (DM), including Bubble Maker for children from 8 years. Prices for diving: from $ 40 (for a package of 10 dives) to 55 $ (for one dive). Diving shops also offer rental diving equipment.
In addition to fun diving, the menu of these centers: snorkeling excursions, jet ski, wakeboarding, parasailing, water skiing, sailing and other types of water sports.
Maldives ranks among the top five places on Earth for watching whales and dolphins. Over 20 different species call the Maldives home. These range from the mighty Blue Whale to the diminutive but highly acrobatic Spinner Dolphin. Addition to these hues of Orange over the blue sea is just spectacular.
Fishing & Resort Tours
Reefs around Thoddoo are teeming with fish, and fishing is the perfect break from the beach. The islanders are fishing with dhoni boat and local fishermen will teach you how to use simple fishing snacks. We recommend night fishing, where after, your catch will be cooked in the hotel according to your preference.
Big-game fishing, often referred to as offshore sport fishing, offshore game fishing, or blue-water fishing is a form of recreational fishing, targeting large fish renowned for their sporting qualities, such as tuna and marlin. Catching a marlin or a tuna is not difficult. You will need patience & a little help from local experts.
The nearest luxury resorts drift south of Thoddoo in Rasdhoo Atoll. Daytime all-inclusive excursions are offered to Kuramathi and Veligandu. These tours will allow you to enjoy with the unique beauty of island resorts, including their beaches, facilities and delicious lunch buffet, at least some of the islands.
Ari-Atoll is a big geographic atoll of more than 30 islands is one of the Natural atolls of the Maldives where you can explore the unique culture of islanders and can be able to experience the daily living of its citizen.
Madivaru is a picnic island neighboring a white sand bank. Surrounded by blue sea Madivaru sand bank is the best place for a sun bath. Spending your day with your lover, family or friends would be a unique and unforgettable experience.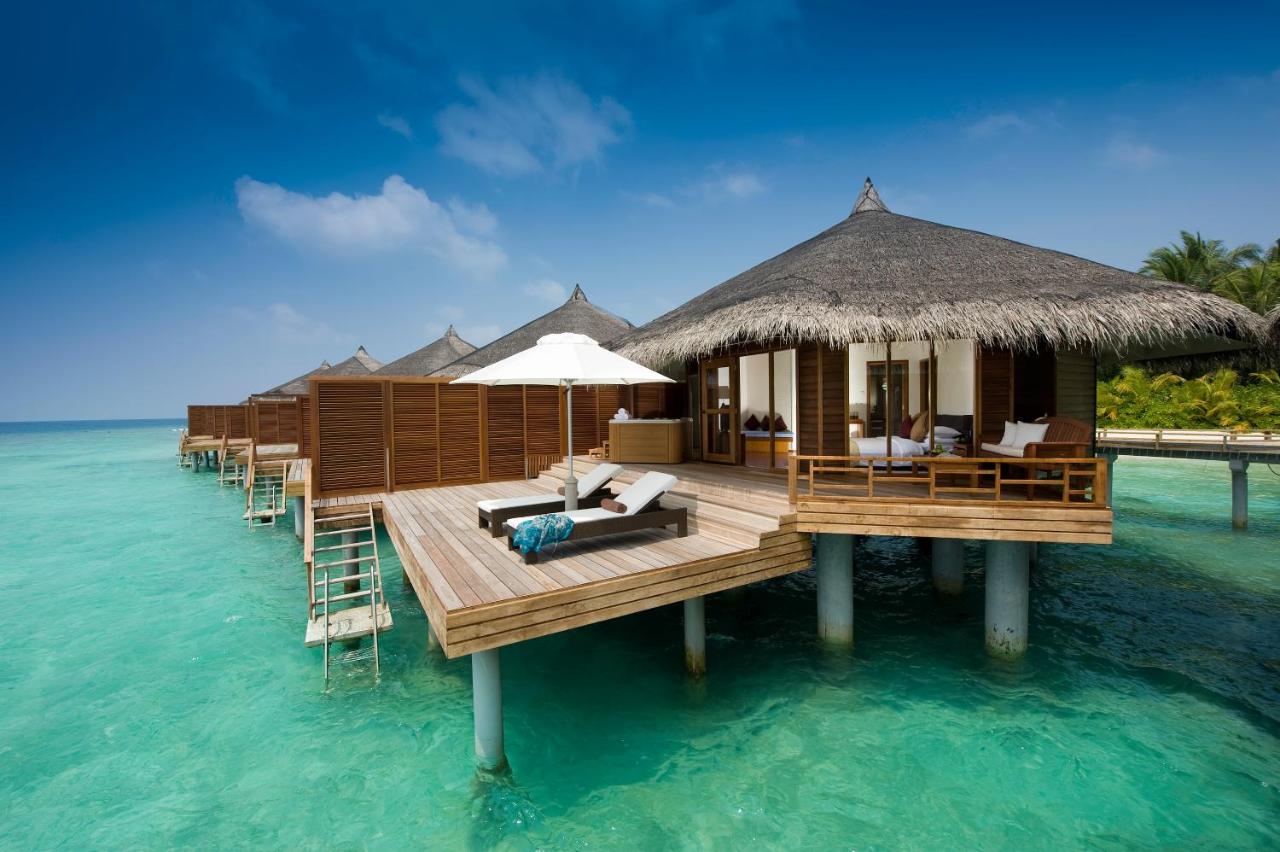 Food
'Mas-huni-roshi' is a delicious and hearty Maldivian's food, that you must definitely try for breakfast. This marriage of tuna with onion, coconut is eaten with a freshly baked roshi flatbread and sweetened hot tea. For vegetarians and vegans Thoddoo Island is a real paradise! A huge selection of fresh local vegetables and fruits, and quite inexpensive.
On the island, outside the hotel's dininfg options there are only 5 restaurants. The menu offers simple dishes including fish, seafood, rolls, fried pies, pasta, tuna and coconut milk soup, fried chicken and much more. Habitants, local residents draw from rice and vegetables. Low-calorie and healthy food. Thoddoo also has a some smal markets and a large supermarket where you can buy all the necessary products if you want something else ... drinks, ice cream or sweet.
Despite the modest choice of food, you, however, always have a choice: eat in local cafes with sandy floors or feast in your hotel, restaurants which offer more familiar to your tastes half-popular Western fare.
Dinner or BBQ at white sandy beach, soothing sounds of waves touching gently at the white sandy beaches is the most romantic experience of your life. A candle-lit dinner with your partner will make it unforgettable.
Where to Stay
Today, Thoddoo has 35 hotels and guest houses, and a few more are ready to open in the near future, so you have choice where to stay on the island. Located in the heart of Thoddoo, all these hotels offer spacious, comfortable accommodation, clean air-conditioned rooms, excellent service and often great discounts and hot deals. The rooms are packed with modern amenities, such as air conditioning, TV, wifi, mini bar and hot shower, in every hotel there are restaurants ... and most importantly - all properties not far from the beach. Check our list of Top 10 Best Hotels in Thoddoo
Maldives Luxury Guide
Here's the best of Maldives for luxury travellers. We've compiled the finest recommendations of places to stay, ranging from the most celebrated five-star resorts to luxurious private islands Read More
Maldives Romantic Guide
The ultimate 'flop and drop' and honeymoon destination, the Maldives is the playground for the most amazing and finest utilization of each second of this extremely valuable and hopeful time with each other in tota Read More