Vakkaru Maldives welcomes UK-based award-winning aesthetic practitioner Daisy Whitear
Best Wellness Retreats in The Maldives
24 April, 2021
Vakkaru Maldives welcomes UK-based aesthetic practitioner Daisy Whitear to the resort for a short-term beauty residency from 3 - 17 May. As the resort's first aesthetic practitioner, Daisy will provide opportunities for guests to explore their personal aesthetic goals with an array of aesthetic treatments at Merana Spa.
With over 30 years of experience within the medical aesthetic and beauty industry, the founder of Wilbury Clinic has a lifelong professional mission to help people feel beautiful both inside and out. At Vakkaru Maldives, Daisy will create personalised plans for guests keen to restore a more youthful glow.
Daisy is a fully trained aesthetic practitioner with over 30 years of experience in beauty, medical and aesthetic practice in the UK.
The founder of Wilbury Clinic - recently awarded the Best Aesthetic Treatments Clinic in Hertfordshire by SME News Service Excellence Awards 2021, Daisy has a professional mission to help people feel gorgeous both inside and out.
During her residency, Daisy will provide tailored aesthetic treatments to highlight her client's individuality while helping to restore more youthful and refreshed skin with flawlessly natural-looking results.
In addition to her successful private practice in Britain, which recently awarded the Best Aesthetic Treatments Clinic in Hertfordshire by SME News Cosmetic Treatments Service Excellence Awards 2021, Daisy also runs a training academy that provides medical aesthetics training from foundation level to masters level. A specialist in providing tailored aesthetic treatments, she is committed to celebrating and highlighting her clients' individuality. Vakkaru's guests can be assured they will be in the most experienced and considerate of hands.
Speaking about her upcoming visit to Vakkaru Maldives, Daisy said: "I have the best job in the world, helping people to feel gorgeous inside and out. My mission is to ensure every client who comes to see me leaves feeling taller, stronger, empowered and, of course, a little more lovely. I am delighted to briefly join the team at Vakkaru Maldives and am very much looking forward to meeting with guests in the spectacular beauty of their immaculate Baa Atoll private-island home.
About Vakkaru Maldives
Located in Baa Atoll, a UNESCO Biosphere Reserve renowned for its spectacular sea life, Vakkaru Maldives is a timeless sanctuary recently named the Indian Ocean's Leading Resort in the World Travel Awards. An awe-inspiring 30-minute seaplane ride from Velana International Airport takes you to this secluded reef island, shaded by coconut palms and blessed with calming ocean views and powder-soft white-sand beaches. Here 113 beautifully appointed Over Water and Beach Villas are elegantly designed to respect their surroundings, while exceptional dining experiences and amenities await. Among our industry-leading offerings is overwater Merana Spa, complete with an Ayurveda practice and a regular host to residencies by the world's most inspiring wellness practitioners. Children and teens are
For reservations and general information, please visit vakkarumaldives.com or contact [email protected].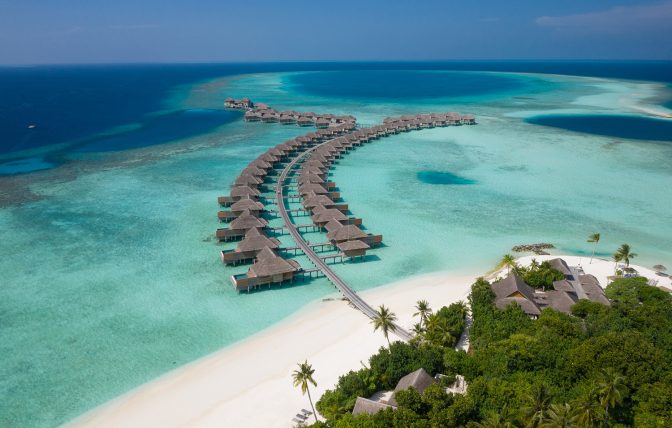 Check Availability and Prices in Vakkaru Maldives
Vakkaru Maldives
Best Experience: Couples, Families, Water Villas, Service, Beaches, Swimming with Mantas
Vakkaru Maldives is a brand new luxury resort located within the crystal clear waters of the UNESCO Biosphere Reserve in Baa Atoll. Vakkaru is a lovely island combined with a real Maldivian atmosphere and offers many high-end options in a comfy ambiance.
Surrounded by lush, vegetation, beautiful beach and stunning lagoon, the 5-star resort offers an extensive selection of luxury accommodation, with 125 beach and overwater villas and suites catering for couples and families alike, all come with butler service. A great choice of indulgent dining choices allow guests to enjoy flavours from Europe to Asia in four restaurants and two bars, all offering a delicious culinary experience and an amazing, talented, professional team of friendly staff. With an array of energetic or relaxing indulgent activities in and around this Maldives resort, it's an ideal place for both couples (romantic and idyllic with an adult-only area ) and as well families (kids club, family villas beach & overwater and nanny service). The island, with its pearl shores and ambundant marine life is just a 25-minute seaplane ride from Malé Airport. Read Full Review...