Regent Seven Seas Cruises Reveals New Designs, Features for Seven Seas Grandeur
Luxury Cruise Guide
11 Sep, 2021
Regent Seven Seas Cruises has unveiled a range of designs for its newest ship, Seven Seas Grandeur,including all 15 suite categories, from the Regent Suite to the Veranda Suite; restaurants Prime 7 and Chartreuse and a rejuvenated Observation Lounge . 
The inaugural season of the ship will begin in November 2023, with 17 voyages in the Caribbean and the Mediterranean, besides two transatlantic crossings, and itineraries ranging from seven to 16 nights. Reservations for Seven Seas Grandeur's inaugural season go on sale September 22, 2021.
Sister ship to Seven Seas Explorer and Seven Seas Splendor, Seven Seas Grandeur will host only 750 guests and have a gross tonnage of 55,500, providing a high space ratio and staff-to-guest ratio. Guests can enjoy unlimited complimentary shore excursions, round-trip business class air on intercontinental flights from the U.S. and Canada, gourmet cuisine in a range of specialty restaurants, premium beverages throughout the ship, entertainment, unlimited internet access, free valet laundry, pre-paid gratuities, ground transfers and one-night, and pre-cruise hotel packages (for those staying in Concierge-level suites and higher).
Miami-based Studio DADO was tapped by Regent to work on the interiors. The Regent Suite features a skylit, glass-enclosed parlor adorned with two chaise lounges. The 4,443-square-foot suite overlooks the bow of the ship, and has two bedrooms, two and a half marble and stone bathrooms, a living room with a personalized bar and a dining room. The in-suite spa offers unlimited complimentary treatments, plua. sauna, steam room and jetted bathtub.
Seven Seas Grandeur's Distinctive Suites include individualized butler service. At up to 2,108 square feet, the Master Suite offers two bedrooms, two marble and stone bathrooms, and up to 994 square feet of balcony space. There are four Master Suites on board. The Grand Suite, of which there are eight on-board, spans 1,836 square feet. Each of these HAS a large bedroom and two bathrooms. There are 16 Grandeur Suites on board, totaling up to 918 square feet, which includes a living room, bedroom and one and a half bathrooms. The Seven Seas Suite sports a spacious bedroom, marble bathroom and living room. There are four of the 814-square-foot suites on board, all with 237 square feet of balcony space.
Seven Seas Grandeur's Spacious Suites include the Penthouse Suite, Concierge Suite and Superior Suite. All offer amenities including bath soaps, lotions and a personalized minibar. Cool teal accents among warmer tones create a refreshing feel in the 55 Penthouse Suites onboard, which are up to 644 square feet with balcony space of up to 194 square feet. These offer a separate seating area from the bedroom. Amenities that distinguish the Penthouse Suite from the other Spacious Suites include butler service, daily canapés, and in-suite Windows tablet and Bose Bluetooth speaker. 
The Seven Seas Grandeur's up to 464-square-foot Concierge Suites have a large private balcony. Offering up to 464 square feet, Superior Suites include a walk-in closet and a marble bath, while the entry-level Deluxe Veranda and Veranda suites offer 361 square feet of space, including 108 square feet of balcony.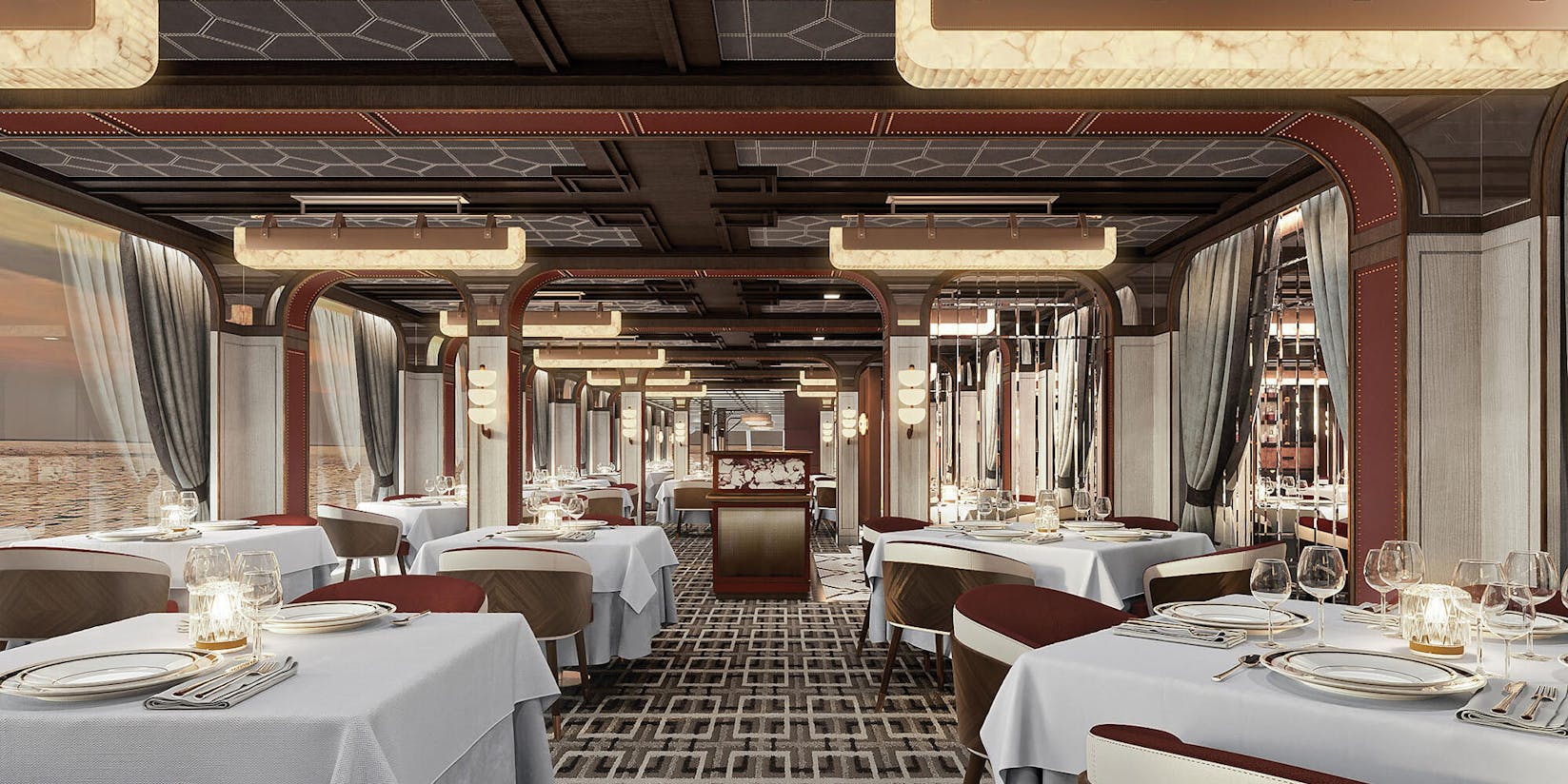 The new renderings unveiled for two more of Regent's dining venues besides the "reimagined" design of Compass Rose include the Prime 7 steakhouse and French Chartreuse. At theObservation Lounge, guests can enjoy ocean sunsets with cocktails under an organic Art Nouveau-inspired mesh crystal chandelier.
Seven Seas Grandeur's first sailing is scheduled for November 25, 2023. The 14-night transatlantic crossing from Barcelona, Spain to Miami, Florida, will include Seville (Cadiz), Spain; Funchal (Madeira), Portugal; and Bermuda.
From Miami, the ship will explore the Western Caribbean on a seven-night cruise which will include a stop at the line's private island, Harvest Caye, Belize. The festive period will primarily be spent exploring Central America which, following a transit of the Panama Canal, will visit ports in Costa Rica, Nicaragua, Guatemala and Mexico. The 16-night cruise will end in Los Angeles, California with Christmas Day spent in Cartagena, Colombia and New Year's Day in Acapulco, Mexico.
On January 8, 2024, Seven Seas Grandeur will begin a 16-night cruise back to Miami via Central America and the Panama Canal on a reverse of the prior voyage. A 10-night sailing on January 26, will allow further exploration of the Western Caribbean including Mexico's Costa Maya and Cozumel, and Roatan, Honduras plus Key West, Florida among other warm-weather destinations.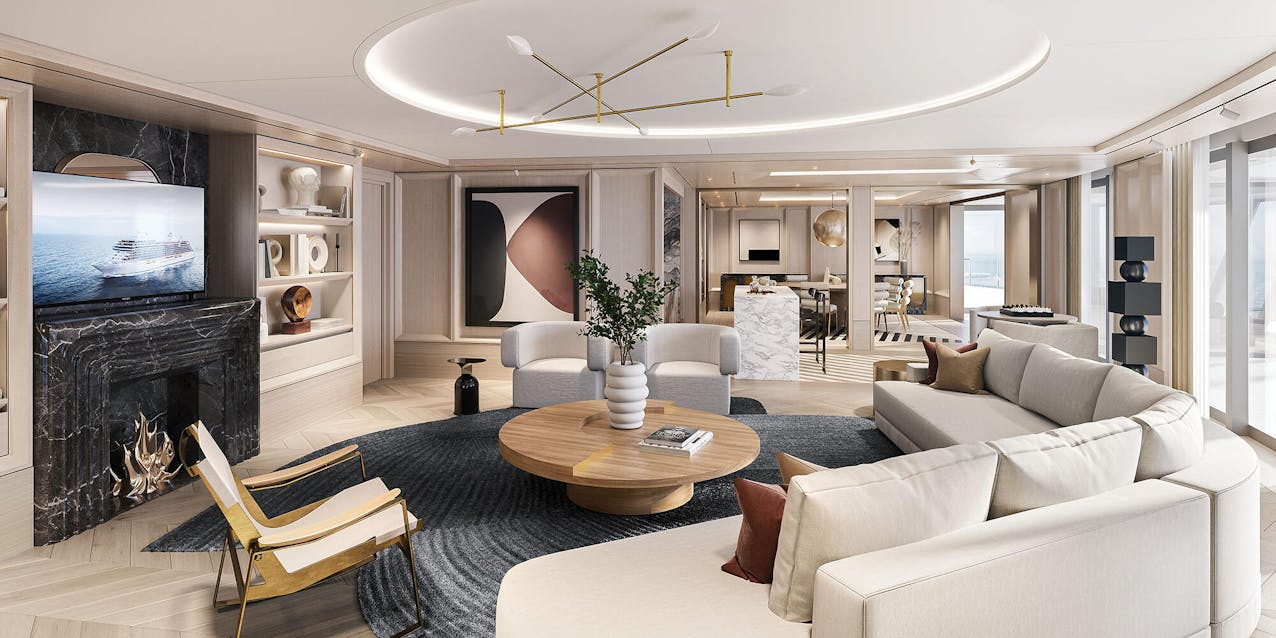 The ship will then head to the Eastern Caribbean, giving guests the chance to visit the islands of Aruba, Curacao and Bonaire on a 12-night voyage, departing February 5. Between February 17 and March 25 there are two Western Caribbean and two Eastern Caribbean sailings scheduled, all are seven-to-10 nights and round-trip from Miami, after which Seven Seas Grandeur will sail to New York. On its 16-night journey to the "Big Apple," the ship will make several stops such as Castries, St. Lucia and San Juan, Puerto Rico, as well as Charleston, South Carolina.
On its second transatlantic sailing—this time for 14 nights and leaving New York on April 24—the ship will discover the Azores and enjoy extended highlights of the Iberian Peninsula such as Spain's Valencia, Cartagena, and finally Barcelona.
From Barcelona, Seven Seas Grandeur's inaugural Mediterranean season will begin with two seven-night sailings to and from Rome, Italy on April 24, and May 1, respectively. The former itinerary explores the French Riviera with an overnight stay in Monte Carlo, Monaco, while the latter offers guests a chance to visit Sicily, Italy and Valetta, Malta.
A longer 12-night cruise on May 8 will continue to explore the ports of France and Italy's West Coast before sailing around "the boot" and stopping at Montenegro and Croatia en route. The ship will then turning its attention to the Eastern Mediterranean where, from May 20 until July 1, it will sail two cruises of 10 nights and two cruises of 12 nights—the first departing from Venice and the remainder sailing from Athens, Greece or Istanbul, Turkey. Of the four voyages, three will feature an overnight stay in Istanbul, Turkey and one will provide a two-night stay in Jerusalem, Israel. All four sailings will tour the Greek islands.
Find Great Cruise Deals
CruiseDirect
CruiseDirect is a leading online cruise travel company dedicated to providing customers with better deals than any other cruise website and access to great deals on cruise vacations. Offering special rates and savings on cruise bookings with some of the most popular cruise lines in the world, we are so confident in our cruise packages that each and every deal is backed by a price guarantee. You won't find these prices on other cruise booking sites.
Since 2001, we've helped our customers find the perfect cruise packages and book dream cruise vacations for less. We are a cruise finder and booking website committed to helping you research all your cruise travel options to find a cruise that fits what you're looking for. After you find a cruise the perfect cruise, make your reservation with our cutting-edge booking engine. We are the best site to book a cruise with because we are driven by our passion for cruise ship travel. Book a cruise today and enjoy the excitement of cruising the world with us! Find Great Cruise Deals