Diana Vergara appointed new resident marine biologist at Vakkaru Maldives
The Ultimate Guide to Diving in Maldives
20 September, 2022
Timeless sanctuary Vakkaru Maldives Resort has appointed Diana Vergara as the new resident marine biologist to enhance guest experiences and the private island's marine biology programmes. Diana's role includes raising environmental awareness among guests and researching and monitoring the house reef and the coral around the island. She will also lead snorkelling excursions and give informational lectures on conservation for adults.
Speaking about her new role, Diana said: "My goal at Vakkaru is to communicate, create awareness and share my passion with others and make them fall in love with this amazing underwater world. I'm so glad to be part of the team and look forward to working together to protect our ocean and nature, especially in the UNESCO Biosphere Reserve Baa Atoll. We will implement more marine education and activities for all guests, including kids. Even from simple steps, I always say, 'every seed counts'."
Growing up near the ocean, Diana had a passion for all animals, especially the marine types such as orcas, whales, turtles and sharks. Curious to know more about the behaviour of these animals and how humans could help preserve our biodiversity, she studied marine biology, getting a Master's degree in Marine Biology and Coastal Environments from the Universidade Federal Fluminense (UFF), Brazil. The Colombian national is also an experienced scuba diver certified as an Open Water PADI and Project AWARE instructor. In addition, she is also getting certified as an instructor in Enriched Air Diver, Deep Diver, Digital Underwater Photographer, Wreck Diver, and Fish ID.
"For the past seven years, I've been working in marine biology, performing ecosystem monitoring (coral reefs, mangroves and seagrass), analysis of the benthic community, invasive species, coral gardening and photo identification of some marine animals in Colombia, Brazil and Maldives," says Diana, who has worked at several resorts in the Maldives.
"As our new resident marine biologist, Diana will play a big role in enhancing our guest experiences through a variety of programmes that raise awareness about the oceans and the need for their conservation," said Iain McCormack, General Manager, Vakkaru Maldives.
Some of the programmes guests at Vakkaru can participate in include: - Coral Adoption, where they can do their bit to protect reef fish and sea species that live around the island by adopting a coral frame and planting it in a specially designed structure, then placing it in the coral nursery close to Vakkaru's house reef. Guests will receive a certificate upon completion of this programme, and regular updates from the resort on the growth progress and overall health of the coral.
- A weekly Marine Bio Presentation at Coconut Club and Parrotfish Club, covering a variety of topics from the Maldives and the Baa Atoll UNESCO Biosphere, to manta rays, sea turtles and how to spot the Baa Atoll 'Big Five'.
- Marine Biology Adventure A guided snorkelling or diving trip around the House Reef and beyond, where the resident expert accompanies the guests on a journey of discovery through the underwater world, points out the interesting features and unique marine life that resides. Upon completion of this snorkel or dive session, our Marine Biologist will provide a full de-brief on the encounters and share more interesting facts on the fish and corals.
Check Availability and Prices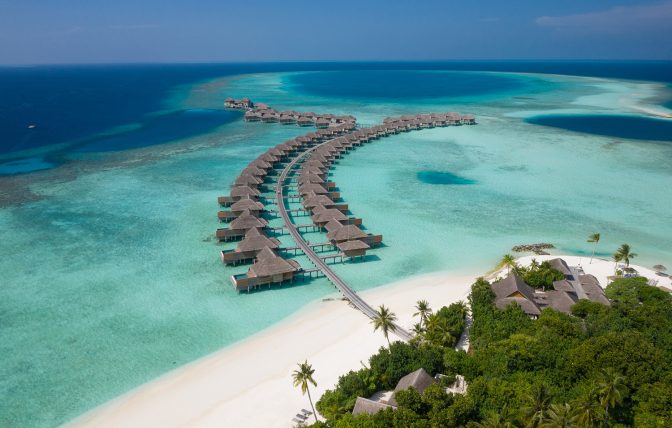 About Vakkaru Maldives:
Located in Baa Atoll, a UNESCO Biosphere Reserve renowned for its spectacular sea life, Vakkaru Maldives is a timeless sanctuary recently named the Indian Ocean's Leading Resort in the World Travel Awards. An awe-inspiring 30-minute seaplane ride from Velana International Airport takes you to this secluded reef island, shaded by coconut palms and blessed with calming ocean views and powder-soft white-sand beaches. Here 113 beautifully appointed Over Water and Beach Villas are elegantly designed to respect their surroundings, while exceptional dining experiences and amenities await. Among our industry-leading offerings is overwater Merana Spa, complete with an Ayurveda practice and a regular host to residencies by the world's most inspiring wellness practitioners. Children and teens are generously catered for in the Parrotfish Club and Coconut Club respectively, while guests of all ages can play against world-famous pros through a best-in-class coaching partnership with Tipsarevic Luxury Tennis. Threading all those services and facilities together, our unique hospitality concept Vakkare places a sincere, proactive commitment to care at the core of all we do.
Stay a minimum of six nights at Vakkaru during Oliver Steeds' residency. Prices start from US$1,185++ per night in an Overwater Villa, inclusive of breakfast and dinner, plus complimentary stay and meals for up to two children under 12 years old. For more information visit www.vakkarumaldives.com.
Vakkaru Maldives
Best Experience: Couples, Families, Water Villas, Service, Beaches, Swimming with Mantas
Vakkaru Maldives is a brand new luxury resort located within the crystal clear waters of the UNESCO Biosphere Reserve in Baa Atoll. Vakkaru is a lovely island combined with a real Maldivian atmosphere and offers many high-end options in a comfy ambiance.
Surrounded by lush, vegetation, beautiful beach and stunning lagoon, the 5-star resort offers an extensive selection of luxury accommodation, with 125 beach and overwater villas and suites catering for couples and families alike, all come with butler service. A great choice of indulgent dining choices allow guests to enjoy flavours from Europe to Asia in four restaurants and two bars, all offering a delicious culinary experience and an amazing, talented, professional team of friendly staff. With an array of energetic or relaxing indulgent activities in and around this Maldives resort, it's an ideal place for both couples (romantic and idyllic with an adult-only area ) and as well families (kids club, family villas beach & overwater and nanny service). The island, with its pearl shores and ambundant marine life is just a 25-minute seaplane ride from Malé Airport.
Read More
Maldives
Best Hotel
Deals