From Festive Season to FIFA World Club Celebration, It's a Fun-filled year-end getaway at Vakkaru Maldives
Activities & Experiences in the Maldives
25 October, 2022
Vakkaru Maldives resort is gearing up for two special upcoming occasions: the world's most anticipated sporting event, FIFA World Cup 2022 and the most cherishable time of the year, Festive Season.
The award-winning Vakkaru Maldives brings the beautiful game to its spectacular sandy shores with a special limited-time offer. Football fanatics can watch their favourite teams battle it out at the FIFA World Cup 2022, the world's biggest sporting spectacle, which kicks off on 20 November, while enjoying luxurious accommodation, first-class facilities and exceptional service at the island paradise.
Located in the pristine Baa Atoll, Vakkaru's powder-white beaches and timeless ocean views in fifty shades of blue make it the ideal getaway to watch the tournament or to relax and unwind after catching the live action on the pitches in Qatar. The FIFA 2022 Getaway Offer can be booked directly at vakkarumaldives.com using the FIFA22 code. Rates start from US$1,008 per night in an Overwater Villa and are inclusive of daily breakfast and complimentary daily dinner, 12% GST and 10% service charge. Families can also take advantage of our family benefits with complimentary stay and meals for up to two children, with a minimum stay of five nights. The offer is available to book until 15 November 2022, for stays until 22 December 2022
Cabana, the alfresco poolside lounge, will screen live telecasts of the thrills and spills at the FIFA World Cup 2022, where guests can enjoy exceptional food and beverage offers, fire and LED shows during the match break and fun games.
The Vakkaru team have also curated several exciting guest experiences for the whole family. The highlight is the FIFA Grand Opening Match between the Vakkaru Champions vs the Vakkaru Guests at the resort's football pitch. Other activities during the month include a foosball tournament at Coconut Club, beach soccer at Splash beach, a soccer camp for kids and teenagers at the Vakkaru Camp, a FIFA Family Fun Quiz at Cabana and a FIFA Fun Pool Party and Games in the Main Pool.
For reservations and general information, visit vakkarumaldives.com or contact
[email protected]. For real-time updates, follow the resort on Facebook at facebook.com/vakkarumaldives, Instagram @vakkarumaldives and Twitter@vakkarumaldives.
'Around the World' festive celebration at Vakkaru Maldives
With this year's Festive Season theme 'Around The World', we will take our guests on a whirlwind adventure, spanning Asia, Europe, the Middle East and everywhere in between. The journey allows everyone to reconnect and share unforgettable experiences together, from engaging recreation programmes for all ages, curated wellness and spa offerings, gourmet cuisine to ocean adventures and the spectacular New Year countdown. This year the world is your oyster as the timeless sanctuary gears up to take you on a whirlwind adventure, "Around The World".
From bespoke menus, wine journeys, and private dinners to kids' talent shows, sports tournaments and bespoke wellness programmes, this island paradise has something to get everyone of all ages into the festive spirit. Special culinary events include a Lobster & Champagne Dinner, Marakkesh Night, Robatayaki Dinner, and South African and Australian wine tastings. Those looking to make wellness resolutions for the new year can sign up for the daily yoga and meditation sessions with the resident yoga teacher. Additionally, there are workshops on coconut oil, head & shoulder massages, and the Secret of Healthy Living by Siddhalepa Ayurveda with Dr Kalani Perera.
Complementing your festive getaway is an engaging programme of leisure activities, including training by Tipsarevic Luxury Tennis, rejuvenating spa experiences, and calming yoga and meditation sessions. Explore beyond our resort's white sand borders and explore Baa Atoll's unique marine environment with Splash and our resident marine biologist. Additionally, superb entertainment with dazzling fire and light art shows, dance troupes, live bands and DJ performances make this year-end a festive season to remember.
Those looking to make health-related resolutions for the new year can book a consultation with Domingos Folgado, a visiting award-winning wellness practitioner, therapist, acupuncture expert and qualified personal trainer from Portugal. This will be the third time Folgado will visit our timeless sanctuary to motivate guests to change their lifestyle and improve their overall wellbeing.
Young islanders have not been overlooked. Activities for them include the Young Ambassador of the Ocean workshop – a bespoke programme for kids and teens designed by our recent visiting expert, Oliver Steeds, which inspire a love for the sea and coral reef, and a passion for protecting it. There is also plenty of fun things to do including Kids Tennis Clinic by Tipsarevic Luxury Tennis, chocolate mixology, Little Masterchef, Santa Parade, Movies Under the stars and Beach Olympics. In addition, older kids and families can participate in football matches, padel tennis fun, beach obstacle race, tennis tournament and more.
See Festive Brochure
The festivities kick off on 24 December with evening cocktails followed by a sumptuous Christmas Eve Gala buffet dinner featuring live cooking stations with specialities from around the globe, a live band, DJ and entertainers. On Christmas Day, meet and greet Santa Claus and enjoy plenty of fun games for the whole family, with prizes and giveaways to add extra festive cheer. In the afternoon, the main pool is transformed into a tropical oasis with pool games, signature cocktails from the pop-up bar and a groovy soundtrack from DJ Leila.
On New Year's Eve, we invite all guests to travel the globe in one fantastic night with our 'Around the World' Gala Dinner and party by the beach. Starting with a selection of signature cocktails at Isoletta Beach, then usher the new year amid some of the world's most famous landmarks as you enjoy culinary delights from Japan, India, Italy, Egypt and more. Funky entertainers and live acts keep the party grooving until the clock strikes 12 and the sky lights up with a spectacular fireworks display. Start 2023 in style with our fun pool party featuring DJ Leila, exciting pool games and your favourite cocktails to toast yet another smashing year.
Speaking about the festive calendar, General Manager Iain McCormack said, "This year, we want our guests to be swept up in the joyous spirit of the season as our private island sanctuary is transformed into a tropical wonderland celebrating our 'Around the World' theme. The team has worked hard to create exceptional, immersive experiences for all ages. Every last detail has been taken care of so our guests can relax and enjoy their time with those who matter most."
To experience the most cherishable time of the year at Vakkaru Maldives, guests can book our Festive Getaway Early Booker which includes up to 25% discount on luxury accommodation and daily breakfast. The offer is available to book until 22 December 2022, applicable for a minimum stay of 5 nights and stay period from 23 December 2022 till 11 January 2023.
For reservations and general information, visit vakkarumaldives.com or contact
[email protected]. For real-time updates, follow the resort on Facebook at facebook.com/vakkarumaldives, Instagram @vakkarumaldives and Twitter@vakkarumaldives.
Check Availability and Prices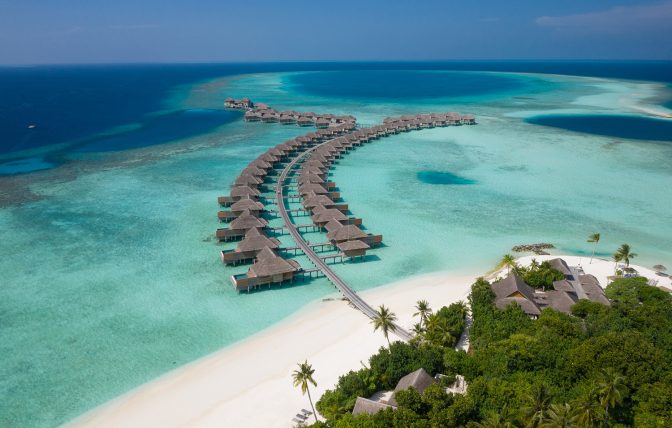 About Vakkaru Maldives:
Located in Baa Atoll, a UNESCO Biosphere Reserve renowned for its spectacular sea life, Vakkaru Maldives is a timeless sanctuary recently named the Indian Ocean's Leading Resort in the World Travel Awards. An awe-inspiring 30-minute seaplane ride from Velana International Airport takes you to this secluded reef island, shaded by coconut palms and blessed with calming ocean views and powder-soft white-sand beaches. Here 113 beautifully appointed Over Water and Beach Villas are elegantly designed to respect their surroundings, while exceptional dining experiences and amenities await. Among our industry-leading offerings is overwater Merana Spa, complete with an Ayurveda practice and a regular host to residencies by the world's most inspiring wellness practitioners. Children and teens are generously catered for in the Parrotfish Club and Coconut Club respectively, while guests of all ages can play against world-famous pros through a best-in-class coaching partnership with Tipsarevic Luxury Tennis. Threading all those services and facilities together, our unique hospitality concept Vakkare places a sincere, proactive commitment to care at the core of all we do.
Stay a minimum of six nights at Vakkaru during Oliver Steeds' residency. Prices start from US$1,185++ per night in an Overwater Villa, inclusive of breakfast and dinner, plus complimentary stay and meals for up to two children under 12 years old. For more information visit www.vakkarumaldives.com.
Vakkaru Maldives
Best Experience: Couples, Families, Water Villas, Service, Beaches, Swimming with Mantas
Vakkaru Maldives is a brand new luxury resort located within the crystal clear waters of the UNESCO Biosphere Reserve in Baa Atoll. Vakkaru is a lovely island combined with a real Maldivian atmosphere and offers many high-end options in a comfy ambiance.
Surrounded by lush, vegetation, beautiful beach and stunning lagoon, the 5-star resort offers an extensive selection of luxury accommodation, with 125 beach and overwater villas and suites catering for couples and families alike, all come with butler service. A great choice of indulgent dining choices allow guests to enjoy flavours from Europe to Asia in four restaurants and two bars, all offering a delicious culinary experience and an amazing, talented, professional team of friendly staff. With an array of energetic or relaxing indulgent activities in and around this Maldives resort, it's an ideal place for both couples (romantic and idyllic with an adult-only area ) and as well families (kids club, family villas beach & overwater and nanny service). The island, with its pearl shores and ambundant marine life is just a 25-minute seaplane ride from Malé Airport.
Read More