Spiritual and wellness guru Dawn Harlow returns to Vakkaru Maldives with 'Becoming Superwoman' transformative retreat
Best Luxury Wellness Resorts in The Maldives
02 October, 2021
Vakkaru Maldives, in collaboration with the renowned spiritual guru, kundalini yoga teacher, and life coach Dawn Harlow invites all women to relax, reset, heal and transform at a magical retreat in their timeless sanctuary from 13-20 November 2021.
The seven-day immersive retreat, "Becoming Superwoman", uses the divine feminine energy of kundalini yoga to enable women rewrite the story of their life in a beautiful natural setting with endless ocean views, white sandy beaches, laid-back luxurious accommodation, and exceptional service, and surrounded by the crystal-clear Maldivian waters.
This is Dawn Harlow's second residency at Vakkaru Maldives. Earlier this year, she spent a month on the island leading private and group sessions to provide guests with strength, clarity, calmness and purpose after the unprecedented events of 2020. The author of the soon-to-be-released book, Permission to Shine, Dawn, trained in Kundalini yoga in Rishikesh on the River Ganges in India and is a Kundalini Research Institute (KRI) certified Level 3 teacher. She has also dedicated her life to studying and mastering humanology (the science of understanding human nature). She works with clients worldwide through her company "Mission to Shine", empowering them to release deep-seated trauma, unlock unique gifts and talents, and step into their power and identity.
In anticipation of the spiritual guru's arrival, Vakkaru Maldives General Manager Iain McCormack says: "We are delighted to bring Dawn back to our timeless sanctuary. Her new retreat is perfectly aligned with the new standard in luxury hospitality we launched last year. Vakkare, which places the concept of care at the core of all that we offer, focuses on the physical, social, and emotional needs of guests. Dawn's immersive retreat will certainly help participants transform their lives, while they enjoy the other offerings on our private island."
At her upcoming "Becoming Superwoman" retreat, Dawn invites women to go on a lifealtering journey to become a more beautiful, more inspired, and powerful version of themselves. "Kundalini yoga is a powerful, transformational healing practice. It involves yoga asanas, powerful yogic breath, meditation and mantra with exquisite healing music. During the week, we will come together to immerse themselves in this magical practice. Our focus during this extraordinary journey will be to experience and fulfil the eight pillars of becoming Superwoman," Dawn explains.
The retreat starts on 13 November with an introductory session and group dinner, followed each day by Kundalini classes at dawn, in the morning and evening. On 19 November, the day ends with a Magical Full Moon Ceremony. After one-on-one sessions with Dawn, participants will be transported to a secluded sandbank for a sunset meditation. This is followed by a ritual to set one's intentions and dinner. The fire burning ceremony is a way of burning the past and letting go of memories, patterns and the life they no longer wish to experience. The subsequent powerful meditative full moon ceremony helps manifest goals, dreams and desires. It ends with each participant placing a tea-light on a coco palm signifying their wishes into the power of the Maldivian waters.
The retreat at the island resort will also be a unique vacation for participants with time for themselves and the many attractions of Vakkaru Maldives. The attendees can explore the underwater world around the island, discover the delicious culinary offerings, and pamper themselves at the luxurious Merana Spa. And so much more. Vakkaru Maldives is the place where the magic happens, a place you can rewrite the story of your life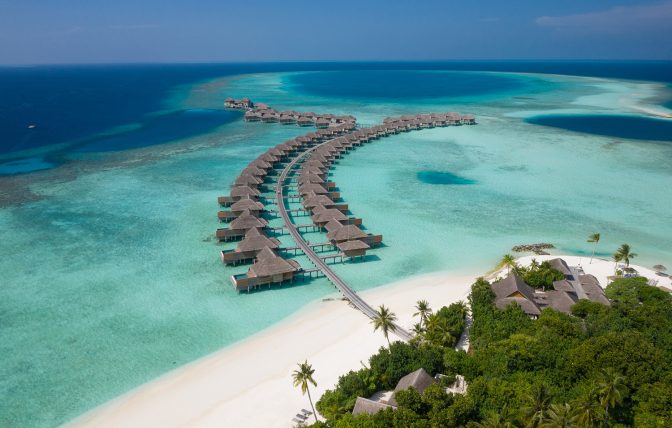 Dawn Harlow's 7-Day "Becoming Superwoman" transformational retreat is priced at: Over-Water Villa US$ 10,700 net per person (single occupancy) or US$7,900 net per person (double occupancy)
Beach Villa with Plunge Pool US$ 11,100 net per person (single occupancy) or US$8,100 net per person (double occupancy)
t is inclusive of:
• 7 day kundalini yoga retreat with Dawn Harlow
• 7 nights accommodation
• Complimentary welcome detox drink
• Complimentary seasonal fresh fruits and bottled water in villa daily
• Full board wellness spa cuisine (3 meals daily) • Non-alcoholic beverage package daily
• 1 x 60-minute body massage at Merana Spa with free-flow wellness teas
• Return seaplane transfer
• Merana spa turn-down amenity
About Vakkaru Maldives
Located in Baa Atoll, a UNESCO Biosphere Reserve renowned for its spectacular sea life, Vakkaru Maldives is a timeless sanctuary recently named the Indian Ocean's Leading Resort in the World Travel Awards. An awe-inspiring 30-minute seaplane ride from Velana International Airport takes you to this secluded reef island, shaded by coconut palms and blessed with calming ocean views and powder-soft white-sand beaches. Here 113 beautifully appointed Over Water and Beach Villas are elegantly designed to respect their surroundings, while exceptional dining experiences and amenities await. Among our industry-leading offerings is overwater Merana Spa, complete with an Ayurveda practice and a regular host to residencies by the world's most inspiring wellness practitioners. Children and teens are generously catered for in the Parrotfish Club and Coconut Club respectively, while guests of all ages can play against world-famous pros through a best-in-class coaching partnership with Tipsarevic Luxury Tennis. Threading all those services and facilities together, our unique hospitality concept Vakkare places a sincere, proactive commitment to care at the core of all we do.
For reservations and general information, please visit vakkarumaldives.com or contact [email protected]. For real-time updates, follow us on Facebook at facebook.com/vakkarumaldives, Instagram @vakkarumaldives and Twitter @vakkarumaldives
Check Availability and Prices in Vakkaru Maldives
Vakkaru Maldives
Best Experience: Couples, Families, Water Villas, Service, Beaches, Swimming with Mantas
Vakkaru Maldives is a brand new luxury resort located within the crystal clear waters of the UNESCO Biosphere Reserve in Baa Atoll. Vakkaru is a lovely island combined with a real Maldivian atmosphere and offers many high-end options in a comfy ambiance.
Surrounded by lush, vegetation, beautiful beach and stunning lagoon, the 5-star resort offers an extensive selection of luxury accommodation, with 125 beach and overwater villas and suites catering for couples and families alike, all come with butler service. A great choice of indulgent dining choices allow guests to enjoy flavours from Europe to Asia in four restaurants and two bars, all offering a delicious culinary experience and an amazing, talented, professional team of friendly staff. With an array of energetic or relaxing indulgent activities in and around this Maldives resort, it's an ideal place for both couples (romantic and idyllic with an adult-only area ) and as well families (kids club, family villas beach & overwater and nanny service). The island, with its pearl shores and ambundant marine life is just a 25-minute seaplane ride from Malé Airport. Read Full Review...