Vakkaru Reserve earns Wine Spectator's Best of Award of Excellence for third time
Best Maldives Wine cellars
13 July, 2023
A home to one of the most impressive wine collection in the Maldives Vakkaru has announced that its wine cellar, Vakkaru Reserve, has once again been recognised by the esteemed Wine Spectator magazine with the Best of Award of Excellence for 2023. This honour marks the third time the island sanctuary's cellar has earned this prestigious title, further solidifying its position as a leading destination for wine connoisseurs.
Wine Spectator's Restaurant Awards are designed to recognise restaurants whose wine lists offer interesting selections that complement their cuisine, appealing to a broad spectrum of wine enthusiasts. This "Two-Glass" title is given to establishments that present at least 350 selections of wine labels, offering a wide array of wine regions, styles, and vintage depth. Vakkaru Reserve's diverse and sophisticated collection and unwavering commitment to exquisite guest experiences were instrumental in securing this commendation. Among the 1,411 award winners in 2023, only four establishments in the Maldives were granted this title.
Housed in an elegant wooden building steps away from the ocean, the Vakkaru Reserve wine cellar, which opened in 2018, accommodates up to 10 guests for an intimate dining experience around a communal table. Surrounded by palm trees and beautifully illuminated by candlelight, the eight-seater outdoor dining table is a popular spot for guests looking for a special evening and those wanting to try the cellar's cigar collection. In addition to wine tasting experiences, private wine pairing dinners are also available, and guests can savour three- to five-course set menus, paired with wines curated by the sommelier.
Home to a careful curation of vintage and non-vintage wines from the Old and the New Worlds, the wine list covers 680 labels from 15 different countries. It includes rare vintages such as the 1974 and 1985 Château Cheval Blanc, 2002 Louis Roederer Cristal Brut, 2002 Krug Clos du Mesnil and 2009 Louis Roederer Cristal Rosé, the 1990 Tenuta San Guido Sassicaia Bolgheri, 2002 Chateau d'Yquem and Tiganello vintages running from 2006 to 2014.
"We are immensely proud and delighted to receive the Wine Spectator's Best of Award of Excellence for the third time. This award is not only a recognition of the diverse and sophisticated collection of wines we offer at Vakkaru Reserve, but it's also a testament to the unwavering commitment of our team to provide unparalleled guest experiences," said Iain McCormack, General Manager, Vakkaru Maldives.
"Vakkaru Reserve is more than just a wine cellar; it's a destination for connoisseurs and enthusiasts who seek an exquisite wine journey. As we celebrate this recognition, we are inspired to continue curating a world-class wine list and exceptional experiences that our guests have come to expect and enjoy."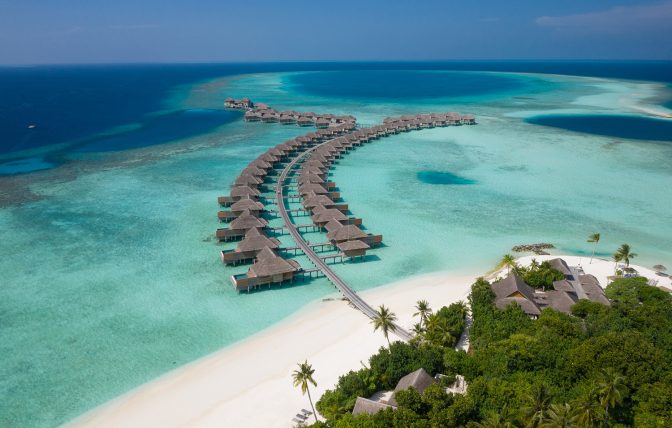 About Vakkaru Maldives:
Located in Baa Atoll, a UNESCO Biosphere Reserve renowned for its spectacular sea life, Vakkaru Maldives is a timeless sanctuary recently named the Indian Ocean's Leading Resort in the World Travel Awards. Here 113 beautifully appointed Over Water and Beach Villas are elegantly designed to respect their surroundings, while exceptional dining experiences and amenities await. Among our industry-leading offerings is overwater Merana Spa, complete with an Ayurveda practice and a regular host to residencies by the world's most inspiring wellness practitioners. Children and teens are generously catered for in the Parrotfish Club and Coconut Club respectively, while guests of all ages can play against world-famous pros through a best-in-class coaching partnership with Tipsarevic Luxury Tennis.
Check Availability and Prices
Related stories
Vakkaru Maldives
Best Experience: Couples, Families, Water Villas, Service, Beaches, Swimming with Mantas
Vakkaru Maldives is a brand new luxury resort located within the crystal clear waters of the UNESCO Biosphere Reserve in Baa Atoll. Vakkaru is a lovely island combined with a real Maldivian atmosphere and offers many high-end options in a comfy ambiance.
Surrounded by lush, vegetation, beautiful beach and stunning lagoon, the 5-star resort offers an extensive selection of luxury accommodation, with 125 beach and overwater villas and suites catering for couples and families alike, all come with butler service. A great choice of indulgent dining choices allow guests to enjoy flavours from Europe to Asia in four restaurants and two bars, all offering a delicious culinary experience and an amazing, talented, professional team of friendly staff. With an array of energetic or relaxing indulgent activities in and around this Maldives resort, it's an ideal place for both couples (romantic and idyllic with an adult-only area ) and as well families (kids club, family villas beach & overwater and nanny service). The island, with its pearl shores and ambundant marine life is just a 25-minute seaplane ride from Malé Airport.
Read More