Experience a Spa-Worthy day of pampering on Maldives' first Aqua Wellness Centre at Waldorf Astoria Maldives
Best Luxury Wellness Retreats in The Maldives
03 June, 2021
Waldorf Astoria Maldives Ithaafushi has enhanced the resort's wellness experiences with the opening of Aqua Wellness Centre.
Further elevating the luxury wellness experience available to guests, the expansive facilities feature a brand new Hydrotherapy Pool, Maldives first-ever wellness concierge as well as unique spa treatments, all surrounded by a lush botanical garden facing the Indian Ocean.
The brand new state-of-the-art 7,735 sqf elaborate Aqua Wellness Centre has a custom-built Hydrotherapy Pool, ice fountain, steam room and sauna.
Set above the crystal Maldivian waters, the 2,906 square-foot outdoor pool is designed in zones, where each station of the pool targets a different part of the body. The zones – which include jet bath, air jets, shower jets, and massage lounger – use varying levels of intensity and water temperature that aim to ease muscle tension, boost the immune system, increase blood circulation, speed up metabolism and improve deep sleep quality.
Guests can enjoy a specially curated healthy lunch in the garden and a choice of massage, meditation or yoga session following the pool experience. With a capacity of two people, reservations for the Hydrotherapy Pool are required.
Alongside the expanded experiential spa menu, Waldorf Astoria Maldives Ithaafushi welcomes a diverse range of leading wellness experts to the property who will guide guests through holistic and highly customized treatments in private sessions.
The lineup of experts from all over the world – with specialties ranging from holistic medicine to martial arts to crystal healing to ayurvedic doctors – is designed to help guests achieve wellness of the mind and body long after visiting Waldorf Astoria Maldives Ithaafushi.
"Now more than ever, travelers are looking for new wellness experiences to rejuvenate the mind, body and spirit. We are excited to expand our spa offerings and provide unparalleled wellness journeys for our guests. The Aqua Wellness Centre and Hydrotherapy Pool are harmonious havens of wellbeing and aim to quickly reset travelers' bodies so they can enjoy the Maldives to the fullest.
Through these new amenities, we will not only offer access to world-class facilities and spa therapists, but also globally celebrated experts, who are ready to pass on their wealth of knowledge. Furthermore, our new healthy menu designed in collaboration with our poolside restaurant, The Ledge by Dave Pynt, will be a place for our guests to nourish from within and complete their holistic wellness journey," said Etienne Dalancon, general manager, Waldorf Astoria Maldives Ithaafushi.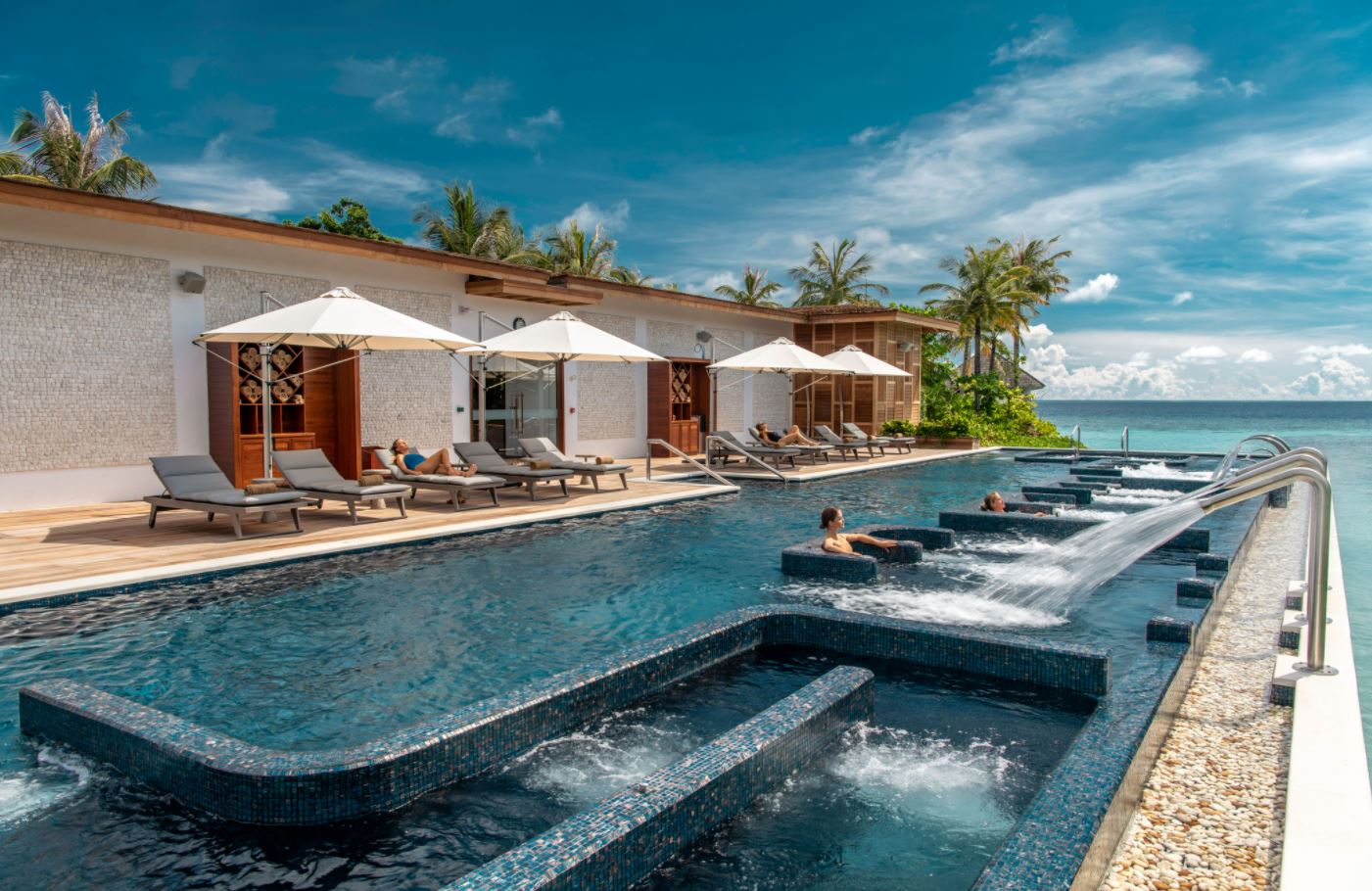 As leaders of wellness in the Maldives, Waldorf Astoria is known for its bespoke treatment menus that ignite a deep sense of relaxation and emotional connection to the pristine environment.
Standout treatments include the Signature Spa Journey — encompassing the different natural elements including earth, fire, water and metal. The offering guides guests through an immersive and holistic transformation, and the Starlight Ocean Massage — a rebalancing and healing treatment under the Maldivian Stars in the candlelit, overwater Spa Pavilion.
All spa journeys begin with a Wellness Concierge — offering a personalized consultation for each guest to find the journey that will deliver equilibrium in mind, body and soul.
Waldorf Astoria Maldives Ithaafushi operates with industry-leading standards of cleanliness and disinfection of the proprietary Hilton CleanStay program, while adhering to the Maldivian health and safety guidelines.
From arrival to check-in and throughout the entire stay, guests can experience an elevated standard of cleanliness and sanitation which builds upon Hilton's already high standards of housekeeping and hygiene where hospital-grade cleaning products and upgraded protocols are currently in place.
For more information about Hilton CleanStay, visit here
Check Availability and Prices in Waldorf Astoria Maldives Ithaafushi
Waldorf Astoria Maldives Ithaafushi
Best Experience: Overwater Villas, Service, Spa, Beaches, Gourmet Dining, Activities
Waldorf Astoria Maldives Ithaafushi is an exclusive 5-star resort that's bringing a "next level" to the luxury holiday experience in the Maldives. Opened July 1st 2019, the 5-star resort raises the bar in modern luxury travel catering to the individual needs of its discerning guests.
Spanning across three islands in the South Male Atoll, the breathtaking new resort is surrounded by a crystal clear water lagoon, which will play home to spectacular underwater life. Meaning "Pearl" in Dhivehi the resort will offer global travellers 138 luxuriously appointed villas in an inspirational setting, complemented by the iconic True Waldorf Service experience. Additionally, the resort will feature 10 truly unique dining experiences, including an unforgettable treetop restaurant boasting stunning views. An exclusive yet serene Spa and Wellness Centre, a wide array of water sports as well as extensive facilities for junior guests will also feature within the new Waldorf Astoria Maldives. Read Full Review...