World Doubles Tennis Ace Mate Pavic backs to Vakkaru Maldives
Things to Do in Maldives
07 November, 2023
Vakkaru Maldives resort is thrilled to announce the return of former World No.1 men's doubles tennis player Mate Pavic to the luxurious island paradise. For the second time, from 9 to 11 November, Mate Pavic will be offering the resort's guests the extraordinary opportunity to partake in an exclusive, once-in-a-lifetime tennis experience.
The Croatian tennis sensation has left an indelible mark on the world of professional tennis as a former world No. 1 in doubles. He has consistently showcased his remarkable talent on the court with an impressive record of six Grand Slam championships, including triumphs at the 2018 Australian Open alongside Oliver Marach and the 2020 US Open with Bruno Soares. In 2021, he teamed up with Nikola Mektić to win the doubles title at the Wimbledon Championships and an Olympic gold medal. Most recently, he won the mixed doubles title at the 2023 Wimbledon Championships with Lyudmyla Kichenok.
From 9 to 10 November 2023, Pavic will hold one exclusive tennis clinic per day for a few lucky guests who will get the rare opportunity to play and learn from the best. Additionally, Pavic will play one exhibition match against the resort's resident coach, Miha Plesnik, on 11 November.
This second collaboration with Mate Pavic reaffirms Vakkaru's position as one of the best destinations in the Maldives for guests looking for a world-class tennis experience. Since 2020, the resort has elevated its guest experiences with an intensive tennis programme in partnership with Tipsarevic Luxury Tennis – founded by former World No. 8 tennis player Janko Tipsarevic. The resort's cobalt-blue courts were recently refurbished and resurfaced by the same company responsible for the Australian Open tennis courts and other international-level courts worldwide.
During his stay at the island resort, Pavic will bask in a luxurious villa with panoramic ocean views and a private infinity pool. He will also enjoy top-tier amenities and the renowned Vakkaru hospitality that the island is celebrated for, including various wellness treatments at the Merana Spa, exquisite dining options, and a chance to explore the marine wonders of Baa Atoll, a UNESCO Biosphere Reserve.
For more information visit www.vakkarumaldives.com.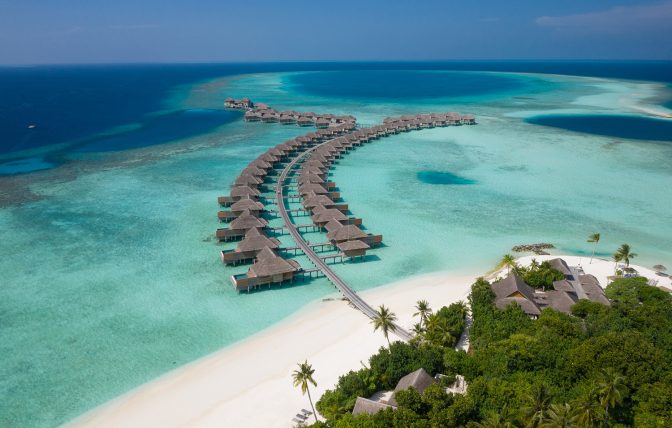 About Vakkaru Maldives:
Located in Baa Atoll, a UNESCO Biosphere Reserve renowned for its spectacular sea life, Vakkaru Maldives is a timeless sanctuary recently named the Indian Ocean's Leading Resort in the World Travel Awards. Here 113 beautifully appointed Over Water and Beach Villas are elegantly designed to respect their surroundings, while exceptional dining experiences and amenities await. Among our industry-leading offerings is overwater Merana Spa, complete with an Ayurveda practice and a regular host to residencies by the world's most inspiring wellness practitioners. Children and teens are generously catered for in the Parrotfish Club and Coconut Club respectively, while guests of all ages can play against world-famous pros through a best-in-class coaching partnership with Tipsarevic Luxury Tennis.
Check Availability and Prices
Related stories
Vakkaru Maldives
Best Experience: Couples, Families, Water Villas, Service, Beaches, Swimming with Mantas
Vakkaru Maldives is a brand new luxury resort located within the crystal clear waters of the UNESCO Biosphere Reserve in Baa Atoll. Vakkaru is a lovely island combined with a real Maldivian atmosphere and offers many high-end options in a comfy ambiance.
Surrounded by lush, vegetation, beautiful beach and stunning lagoon, the 5-star resort offers an extensive selection of luxury accommodation, with 125 beach and overwater villas and suites catering for couples and families alike, all come with butler service. A great choice of indulgent dining choices allow guests to enjoy flavours from Europe to Asia in four restaurants and two bars, all offering a delicious culinary experience and an amazing, talented, professional team of friendly staff. With an array of energetic or relaxing indulgent activities in and around this Maldives resort, it's an ideal place for both couples (romantic and idyllic with an adult-only area ) and as well families (kids club, family villas beach & overwater and nanny service). The island, with its pearl shores and ambundant marine life is just a 25-minute seaplane ride from Malé Airport.
Read More