5 things you don't know about Komandoo's villas
Best Adults Only Resorts in the Maldives
25 Jan, 2021
Komandoo Maldives' villas are idyllic hideaways in Maldives, holiday homes away from home that you will fall in love with, but which room type is perfect for you?
The adults only resort's 65 villas come with 5 types to choose from, and it's good to know what you're booking before you take the plunge and hit 'BOOK NOW'!
1. All comfy rooms have WiFi and air conditioning as standard, beach towels and robes and even a flat-screen TV and DVD player for cosy movie nights, it really depends on what you want from your bolthole in paradise.
2. Those who have always dreamed of a wooden villa perched on stilts atop a sparkling lagoon will love the Ocean Jacuzzi Water Villas and Jacuzzi Water Villas. These are a favourite for honeymooners, and afford spectacular views of the ocean with the sunrise being particularly magnificent when viewed from the Ocean Jacuzzi Water Villas. The private jacuzzi means you can spoil yourselves with a 'Jacuzzi Indulgence' too. An abundance of marine life is waiting just a few steps away and snorkelling straight from your villa steps means no sand to wash from your toes!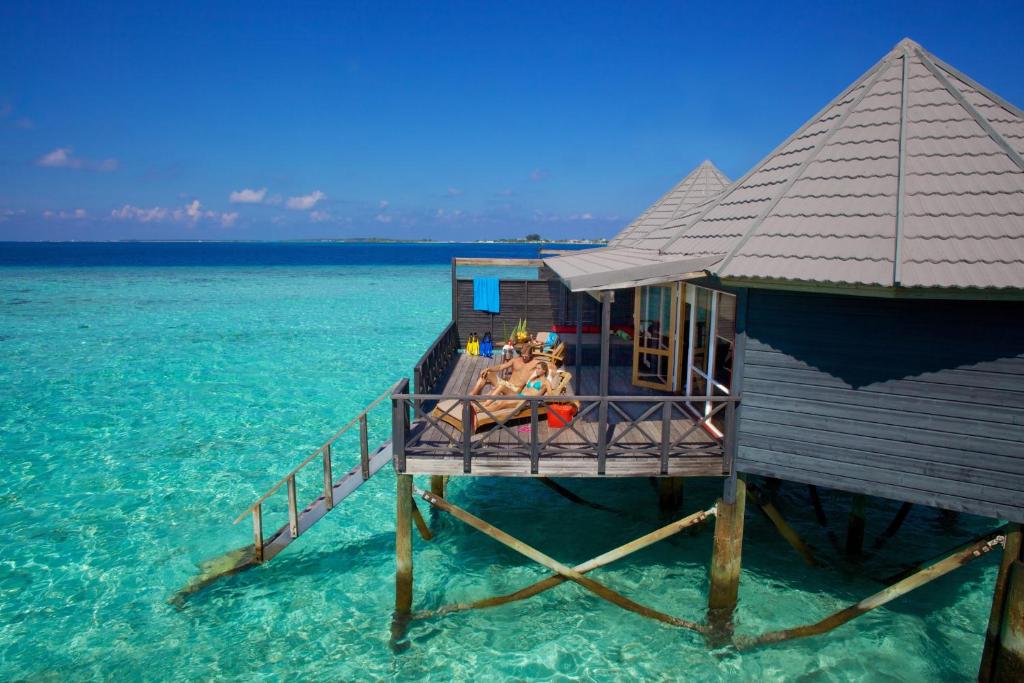 3. If a Jacuzzi Indulgence is definitely on your 'must-do' list, but you'd rather have the warm sand beneath your feet when you wander the few steps to the ocean, you can have the best of both worlds with Komandoo's Premium Jacuzzi Beach Villas and Jacuzzi Beach Villas. Your own spot of sugar soft sand, with the gently swaying palms overhead is what, for many, epitomises a tropical beach holiday. A stroll along the shoreline to watch the baby sharks and rays is captivating and with the Thundi Bar just a short walk away, a refreshing drink will be waiting!
4. For those preferring the ocean as their playground and the beach as their happy place, with no need for a jacuzzi at all, the Beach Villas will be all that are needed – still beautiful, right on the beach and with stunning views – the only thing you won't be able to have is a Jacuzzi Indulgence but a trip to Duniye Spa will take care of any pampering whims you may have!
5. And the final and most important thing - no matter which villa type you choose at Komandoo, your stay with be amazing, as long as your choice is Komandoo, the rest won't matter! Hop over to our Special Offers page to make your trip a reality.
Top tip
Although the King size double bed is perfect for two, each villa has space for an extra bed and can accommodate an extra adult if required – no excuse for not bringing a friend – although you might want to keep that piece of information to yourself or you'll have them queuing up!
Check Availability and Prices in Komandoo Island Resort & Spa
Crown & Champa Resorts
Each of the Crown & Champa Resorts is its private island paradise with sparkling lagoons, swaying palm trees and natural sandy beaches. With international tourism in the Maldives celebrated its 40th anniversary in 2015, this group of 4 to 4½ Star Resorts has earned an excellent reputation. While the Resorts have proudly been operating for many years, they have maintained their competitiveness through constant renovation and upgrades to maintain the highest international standards.
Crown & Champa Resorts diverse collection of resorts include Hurawalhi Maldives, Kudadoo Maldives Private Island by Hurawalhi, Innahura Maldives Resort, Komandoo Maldives, Veligandu Island Resort & Spa, Kuredu Resort Maldives, Vilamendhoo Island Resort & Spa, Meeru Island Resort & Spa, and one city hotel, Champa Central Hotel. Each resort offers guests an unforgettable experience and memorable moments, with beautiful sandy beaches, turquoise waters, beach dining options, water activates, dive centres and snorkelling in one of the most picturesque destinations in the world. Read More