Barceló Hotels & Resorts unveils its Inaugural Maldivian Jewel: Barceló Whale Lagoon Resort
Maldives New and Upcoming resorts
21 August, 2023
A new chapter in soft-club style destination is written as Barceló Hotels & Resorts proudly announces the opening of its maiden Maldivian resort — the exquisite Barceló Whale Lagoon Maldives. As the doors of this breathtaking paradise swing open, Barceló embarks on a journey of opulence, relaxation, and discovery in one of the world's most coveted travel destinations. Nestled amid the ethereal beauty of the Maldives, the Barceló Whale Lagoon Resort is a sanctuary that harmoniously blends natural splendour with refined service. Today, the resort celebrates the momentous occasion of its grand opening, extending a warm welcome to its inaugural guests who are destined to experience the epitome of hospitality.
" Santi Rodriguez-Bustelo, General Manager of Barceló Whale lagoon Maldives shared their excitement, stating, "The Barceló Whale Lagoon Resort marks a significant milestone in our global journey, representing our dedication to creating extraordinary experiences. This enchanting resort exemplifies the beauty and allure of the Maldives, offering a haven for discerning travellers seeking unmatched indulgence".
Guests embarking at the Barceló Whale Lagoon Resort can look forward to an array of unparalleled amenities and activities, including:
Elegant Retreats: Unique villas and suites thoughtfully designed to embody the essence of the Maldives, each providing sweeping vistas of the ocean and direct access to pristine beaches.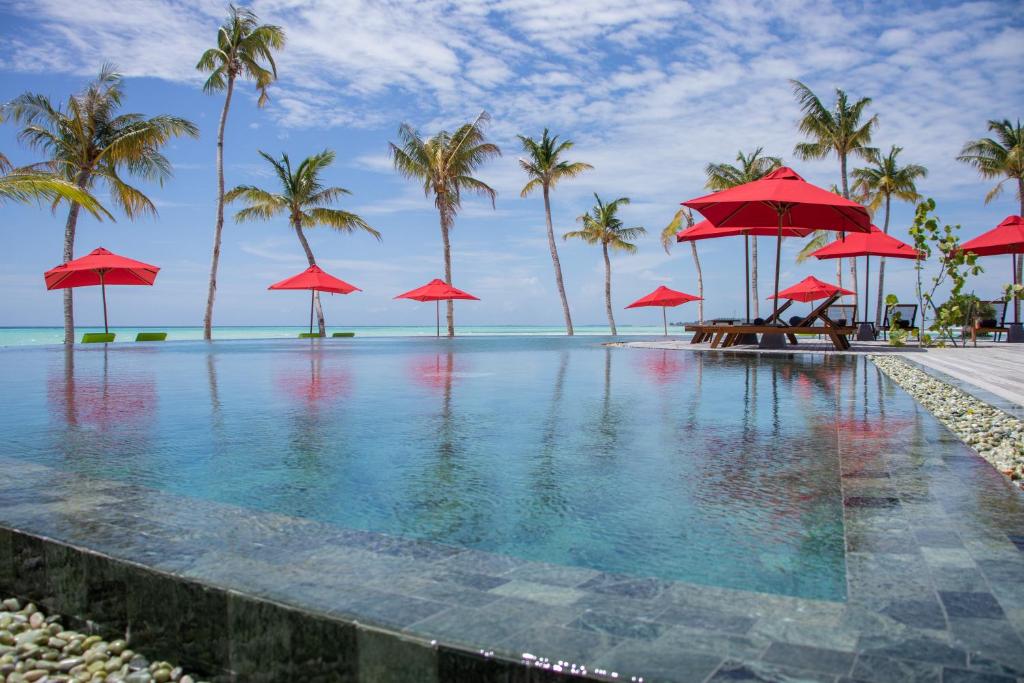 Culinary Excellence: A symphony of flavours awaits at the resort's distinguished restaurants and bars, where guests can relish global gastronomic delights, local delicacies, and inventive libations.
Spa: The resort's spa offers a haven of relaxation, delivering an assortment of treatments and therapies that nurture holistic well-being amidst serene surroundings.
Marine Adventures: A plethora of aquatic escapades, encompassing snorkelling, diving, and water sports, affording guests the opportunity to explore the vibrant marine life and resplendent coral reefs of the Maldives.
Cultural Revelry: Immersive encounters that honour the local culture and heritage of the Maldives, spanning traditional performances and curated excursions.
In harmony with its opening, the Barceló Whale Lagoon Resort is extending an exclusive Special Preopening Flash Offer to astute travellers seeking a remarkable getaway experience. This limited-time offer promises an unforgettable journey amidst the allure of the Maldives.
For media inquiries, please contact: Reservation e-mail: [email protected]; Reservation number: +960 – 6683000
Barceló Hotel Group, the hotel division of the Barceló Group, is the 2nd largest chain in Spain and one of the top 30 in the world. It currently operates more than 280 4- and 5-star city and holiday hotels, and more than 62,000 rooms, distributed in 25 countries and marketed under four brands: Royal Hideaway Luxury Hotels & Resorts, Barceló Hotels & Resorts, Occidental Hotels & Resorts and Allegro Hotels. It is also part of the Crestline Hotels & Resorts group, an independent hotel company with 130 establishments
BOOK NOW
Related Stories
Maldives Luxury Guide
Over a million tourists visit these islands every year for once-in-a-lifetime experiences. Now it's your turn to experience Maldives, the gem of the Indian ocean to discover plenty of hidden treasures. You can experience different experiences of luxury in Maldives best resorts, mingling with celebs in your best beachwear, dining in style, and falling in love with the underwater world. For those seeking romance, the Maldives offers enviably luxurious private accommodation and indulgent spas. Maldives makes the best holiday experiences year after year after year.
Read More