The More You Know: Discover New Chapter of Milaidhoo Stories
Best Luxury Resorts for Couples in The Maldives
07 Jan, 2022
Milaidhoo Island Maldives welcomes to Chapter Two of it's quarterly update on stories from the small island. From the Milaidhoo family, we wish you a very happy New Year.

It is we pleasure to share a few stories from Milaidhoo with you – new offers for guests as well as an insight into the stunning underwater world embracing a tiny island.
At the beginning of the New Year, the resort commence a new chapter and we're hoping very much that you will be a part of the island story this year. Enjoy reading this second chapter of Milaidhoo Stories.
Notes from the Connoisseur: Milaidhoo Tea Time
The tradition of Afternoon High Tea has been around for centuries and is observed throughout the world. Gradually the focus has shifted from the simple drinking of tea towards an emphasis on tea time food and the social aspect of the event. At Milaidhoo, we invite guests to enjoy tasting tea and learning about the tradition and preparation of tea.
Beginning in in the New Year, guests staying at Milaidhoo can dive deep into the tradition and roots of tea, learn about the history, the preparation and the art of making tea to best enjoy the flavour and benefits. Afternoon High Tea has evolved as a tradition and is no longer an event for high society to meet and catch up. It is enjoyed by a new generation that appreciates the health benefits, the moment of calm and reflection while enjoying a perfect cup of tea.
Ocean Stories: Is it a leaf? Is it a seahorse? It's a fish!
In the sea around Milaidhoo our divers regularly find something interesting and fun to see but it is not always the big guys like sharks, turtles or rays that make them stop and stare.
Recently they had a very rare and special encounter at our Milaidhoo Wall: a Halimeda ghost pipefish (Solenostomus halimeda). These are tiny fish and masters of disguise and not easy to spot at all.
Ghost pipefishes are named after their skill to blend in with the habitat they are used to. The Halimeda ghost pipefish floats almost motionless, face downwards near algae of the Halimeda family, a coralline algae with round calcareous leaves. With a maximum length of 6.5cm it is one of the smallest ghost Pipefishes.
Ghost pipefish are closely related to seahorses and belong to the order of Syngnathiformes, which means their snout is formed like a tube with which they can suck in tiny crustaceans.
Only a few species of ghost pipefishes have been described in the past and all of them were found in the Indo-Pacific region. They are a benthic species, meaning they live close to the ground, until they settle in a sheltered reef or lagoon to breed. You will only find them during a short period of time as they die after they have reproduced. Unlike seahorses and other pipefishes, female ghost pipefishes have transformed their pelvic fins into a breeding pouch in which they store the fertilised eggs until they hatch.
Wellness: 4 Mood Dining experiences at Milaidhoo
While staying in Milaidhoo Maldives you can benefit from new and improved 'Mood Dining' offerings – a series of dining and wellness packages based on the theory that certain foods can affect body chemistry and, in turn, alter a person's mood.
'Moods' include 'Rise and Shine', 'Get into the Milaidhoo Mood', 'Deep Sleep' and newly introduced 'Revitalise and Reset'.
Consisting of thoughtfully curated food and drink menus paired with wellness activities, the programmes will evoke energised moods, increase concentration and even help to tackle 'brain fog' and anxiety post Covid.
Meal settings also help to shape moods, with dining options on deserted sandbanks in the middle of the ocean, on the beach or in the privacy of your villa.
Read More
Special Offers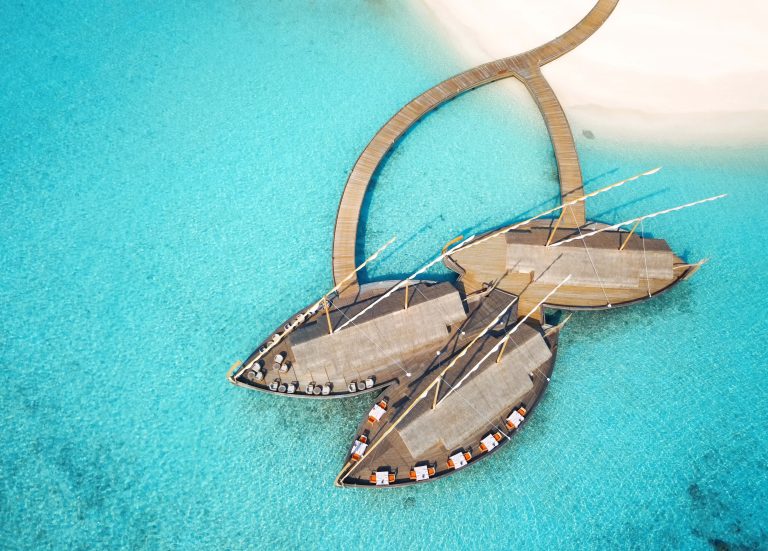 Start writing your Maldives holiday chapter with this special offer with up to 45% off on the best available rate. With a host of complimentary inclusions, this Milaidhoo Story is one of the best Maldives offers that you would ever receive.
Check Availability and Prices
Milaidhoo Island Maldives
Best Experience: honeymoon, beach, diving, swimming with mantas
Intimate and stylish, at Milaidhoo it's about enjoying the natural environment in understated luxury. Tucked in the heart of a UNESCO biosphere reserve, surrounded by powdery white sands and nestled beside a colourful coral reef, Milaidhoo Maldives is a luxurious natural wonder. Envisage upscale delights with a 'Reinvented Luxury' twist, where guests will experience an indulgent escape in the Maldives's most unique getaway. Committed to offering a unique and authentic Maldivian experience, this new child in the best Baa Atoll hotels collection that making waves with its refreshing contemporary twist on classic Maldivian style. Created for couples and romance only, Milaidhoo welcomes children above the age of 9 years only. What's more, it is only 30 minutes by seaplane from Male or a 15 minute domestic flight followed by a short speedboat ride. Read Full Review...
Maldives
Best Hotel
Deals