Cora Cora Maldives, Raa atoll to open as new contemporary resort on 1st October 2021
The Most Anticipated Luxury Hotel Openings in Maldives for 2021
09 March, 2021
Scheduled to open on 1st October 2021, Cora Cora Maldives is a 5*-star luxury resort located on the stunning Raa Atoll. Utterly idyllic, this new contemporary resort offers premium all-inclusive one-of-a-kind immersive experience of the Indian Ocean!
Cora Cora Maldives will be the one-of-kind resort in the Maldives to showcase a licensed art gallery and museum! With over 400 incredible local artefacts in the collection, guests can explore the rich history of the Maldives in its breath-taking natural surroundings.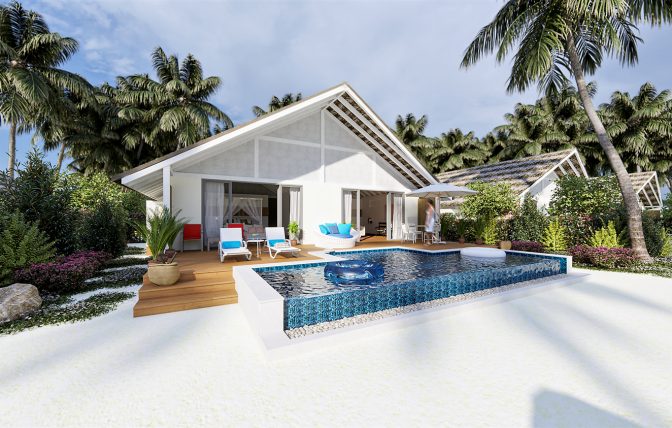 The resort's accommodation echoes contemporary Maldivian experience and features 100 beautiful villas that overlook the sparkling waters of the Indian Ocean. Four new restaurants, including a Japanese restaurant complete with traditional Teppanyaki table, an Asian Restaurant and an Italian Beach Club Restaurant as well as a Bazaar serving an array of international cuisine.
Catering for a wealth of foodie requirements, Cora Cora Maldives will also serve an array of healthy options and plant-based dishes, including home-made vegan ice cream created using fresh fruits and organic ingredient. These are all part of the Gourmet Meal Plan.
Guests can further dive into the spirit of the Maldives at the PADI certified diving school and water sport center.
Maldives Luxury Guide
Over a million tourists visit these islands every year for once-in-a-lifetime experiences. Now it's your turn to experience Maldives, the gem of the Indian ocean to discover plenty of hidden treasures. You can experience different experiences of luxury in Maldives best resorts, mingling with celebs in your best beachwear, dining in style, and falling in love with the underwater world. For those seeking romance, the Maldives offers enviably luxurious private accommodation and indulgent spas. Maldives makes the best holiday experiences year after year after year. Read More
Maldives
Best Hotel
Deals