Cora Cora Maldives - Premium All-Inclusive Resort
Best Experience for: couples, families, solo, foodies, all inclusive, diving, house reef snorkeling, activities
Updated July, 2023
Focus on All Inclusive vacation, Cora Cora Maldives is a brand new island resort amongst the turquoise waters of Raa Atoll.
Opened 1st October 2021, a contemporary 5-star retreat features 100 villas spread in lush vegetation and spread over an expansive blue lagoon, four restaurants, two bars, an luxury spa, dive & watersports centre, gym, yoga pavilion, outdoor cinema, kids' club and heritage museum.
Suited for couples and families alike, Cora Cora Maldives offers a vibrant, colourful holiday with an emphasis on excellent, healthy food, a lush interior landscape, and beaches, waters and reefs that are wonderfully preserved. And the Premium all-inclusive plan means guests can truly relax and enjoy the resort celebrate freedom, love, life and laughter.
Located on Raa Maamigili in the Raa Atoll, it's just 45 minutes by seaplane from Velana International Airport or 30 minutes by domestic flight followed by a 20-minute speedboat trip.
The Island
Located on a natural lagoon the island impresses with its lush, tropical vegetation. Measured 750 meters long and 500 meters wide, a short walk across the tropical landscape takes barely five minutes. The velvety white beaches are strewn with beautiful cowrie shells. Unlike the typical sandy beach, the white sand on the island is not quartz but crushed pieces of coral therefore it is as soft as flour and squeaks pleasantly under the foot.
Deeply rooted in the identity of the island nation a tall coconut palms provide shade and enhance the tropical atmosphere. Nearly 60 different plant species are native to the beautiful island. Frangipani, roses, hibiscus and anthuriums are just a few of the colorful plants that create an absolute vacation feeling. Also, the pink rose, which is considered the national flower of the Maldives, blooms on the island Raa Maamigili in full splendor. Each guest will be provided with a bike to explore the island.
Another highlight is the coral reef, which extends over 100 hectares and is completely untouched. The natural aquarium is home to countless colorful fish, rays, sharks and turtles that can be admired up close. The resort's memorable name – "Cora Cora" – is derived from this spectacular reef. Corals are symbolic for strength and beauty.
The resort's layout and location of villas will mean couples can relax in a tranquil setting while families can have fun in their own private space or at the island's kids' club.
Attributes that are reflected in the philosophy of the resort as well. Cora Cora Maldives is the one-of-kind resort in the Maldives to showcase a licensed art gallery and museum! With over 400 incredible local artefacts in the collection, guests can explore the rich history of the Maldives in its breath-taking natural surroundings. Guests will discover a traditional Maldivian wooden house, a 900 year-old bathing tank and much more.
The former Loama Resort at Maamigili, Cora Cora Maldives will boast with a completely new design and concept, where the rebranding is a key focus. The new concept is much more fun, light and colourful, with a completely new offering to appeal to the growing demand for affordable luxury all-inclusive concept.
If your aim is to travel 'greener' and to enjoy immersive experiences that allow you to connect fully with your chosen destination Cora Cora Maldives is the right choice. They offer eco friendly amenities with paper packages and non plastic accessories. The beauty products are also cruelty-free which definitely is a plus.
Today round 250 experienced employees from around 20 different countries look after the well-being of the guests. Countless languages are spoken at the resort, including English, French, German, Russian, Hindi, Arabic, Dutch, Sinhala, Thai and, of course, the local language, Dhivehi. Customized and individual service is the basis of the philosophy of Cora Cora Maldives Resort and is particularly emphasized. Staff and guests are meet at eye level. With their colorful uniforms, the employees provide splashes of color throughout the island.
Positioned as an affordable luxury all-inclusive resort with a unique cultural offering Cora Cora will appeal to couples and families from a wide range of destinations, including the UK, Europe, Middle East and Asia.
Location
Raa atoll is one of the northern, most visited atolls in the Maldives. Almost 70 km long and 30 km wide there are 88 islands in Raa atoll, 15 of which are inhabited. Raa atoll is home to a some luxury hotels include: Emerald, InterContinental and an ultra luxurious Joali Maldives. Raa Atoll's unique topographical and geographical features make it rich and diverse in marine life anв a wonderful collection of unexplored islands gives travelers fantastic opportunities for an unforgettable beach experience in the Maldives.
Cora Cora Maldives is located on Maamigili Island, a pristine, natural lagoon just 45 minutes by seaplane from Male or 30 minutes by domestic flight, followed by a 20-minute speedboat from Ifuru Domestic Airport.
Villas and Suites
The stunning accommodation, ranging from Beach Villas to Two-Bedroom Lagoon Pool Villas complete with slides, combines Maldivian luxury with elements of fun, and freedom encompassing the true spirit of Cora Cora Maldives.
Each accommodation options is created with comfort in mind and set between the tropical vegetation and sparkling waters of the Indian Ocean. The Beach Villas are positioned on a sugar-soft, white, sand beach offering a mesmerizing view while the Over-water Villas offer a truly romantic experience.
The villa contemporary interiors have a completely new visual aesthetic, with lighter and brighter colours. Working with a renowned local artists, the villas also feature original Maldivian artworks which reflect the setting and mood of the resort.
The resorts's 100 villas and suites are divided into nine categories, including beach, lagoon- and pool villas. Both type of rooms are spacious and very tasteful and calming decor with lovely touches like books to read, Coracora flipflops, beach bags and gym bags. Each villa has an exclusive panoramic view of the deep blue Indian Ocean. View resort map
28 Beach Villas are the perfect vacation accommodation for families, as they can be booked with two rooms as an option. The most beautiful and wide beaches can be found on the north and south sides of the island. For snorkeling fans we recommend the villas on the southeast beach where a house reef is on a short swim from the shore.
10 Beach Pool Villas are especially convincing for guests who are both beach and pool lovers. Here, twin rooms are available for families as well.
Those who are looking for an exclusive beach house will find the right accommodation in the two Beach Suites.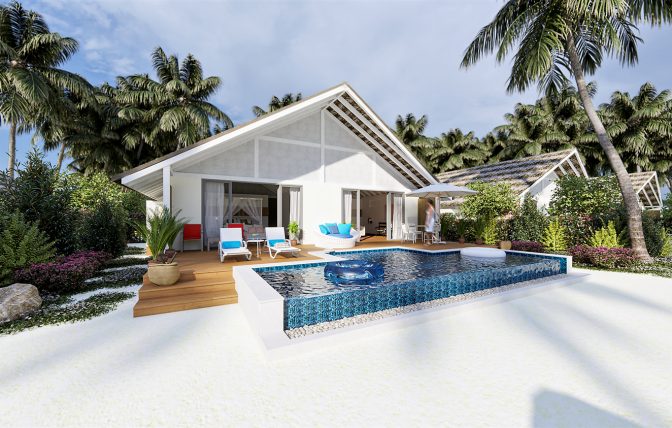 A perfect for romantics 37 Lagoon Villas invite guests to dream right above the Indian Ocean. A special highlight is also the Lagoon Pool Villas. Here, guests can enjoy swimming fun in private and do not have to leave their villa for a dip in the sea or a snorkeling adventure. The villas can also be booked as duplex or twin rooms.
All rooms are furnished in a relaxed-luxurious style and offer guests maximum comfort. The interior of the rooms is cozy and homey. The warm tile colors, modern decor, and impressive artwork transform Cora Cora Maldives Resort into a true "home away from home." The furnished terraces invite you to sunbathe extensively. Outdoor bathtubs, with which some villas are equipped, also provide special moments of well-being.
Restaurants and Bars
Exclusive food and drinks of the highest quality and finest taste await visitors in four restaurants, two bars and a café. The multifaceted gastronomic concept leaves nothing to be desired. The focus is on a healthy lifestyle. Superfoods are no stranger to Cora Cora Maldives Resort, and vegan and gluten-free options are offered in every restaurant.
Director of culinary is the renowned Italian chef Umberto Piccolini, who transforms every dish into a special experience. Along with his 80-member team, he relies on the freshest and finest ingredients. Creative menus and innovative drinks provide a special culinary experience.
Catering for a wealth of foodie requirements, Cora Cora Maldives will also serve an array of healthy options and plant-based dishes, including home-made vegan ice cream created using fresh fruits and organic ingredient. These are all part of the Gourmet Meal Plan.
Thanks to all the possibilities to choose balanced, tasty and various meals the vegans and vegetarians will feel that Cora Cora is very aligned with their values. There are a lot of vegan options for dining which can be appreciated by everyone since they really make an effort on the recipes. A wide range of nuts for breakfast with several labelled type of milk like cashew, almond, soy etc, various grilled veggies, vegan curries or various mezzes.
Umberto Piccolini has created a delicious range of authentic, local dishes, plant-based meals and drawing inspiration from across the globe, his creativity knows no bounds and this is reflected in the menus he has curated for each.
Tazää® all day dining (a la carte/buffet) is a tribute to the dishes created on the old spice route. A fabulous food culture stretching from Lebanon in the west, continuing along the route to the south of India, Sri Lanka and onwards down to Maldives. Typical Maldivian dishes are also served here,such as "Kandu Kukulhu Riha". The Maldivian yellowfin tuna fillet, traditionally rubbed in curry paste, is also known as "chicken of the sea".
Combining the elements of music, dining, entertainment, pool and beach into one vibrant destination, Acquapazza® is an Italian Restaurant & Beach Club lifestyle concept serving meals and drinks throughout the day. Among other things, the traditional Maldivian music "Bodu Beru", based on drums and reminiscent of the long relations with East Africa a few centuries ago, can be heard here. Special recommendation is the "Pizza Aquapazza", topped with cherry tomatoes, buffalo mozzarella and reef fish. The pizza is baked on a 0.5-meter-long dough plate in a stone oven and therefore tastes very aromatic.
Teien® is a Japanese restaurant (a la carte) that combines traditional Teppanyaki, Sushi and Kushiyaki styles of dining. The "Teien Kushiyaki Platter" with a selection of different skewers, cheese Maki, Enoki Maki, Ebi and Tebasaki is considered a recommendation of the house. Bonappetit!
Ginger Moon® – An Asian Restaurant offering the flavors of Asia's legendary markets. All meals here are prepared individually and freshly according to guests' preferences.Signature dish of the restaurant is "Geang Kati Puu Mhee Hoon", a savory curry of Phuket crab meat garnished on vermicelli noodles.
My Coffee® cafe and bar– flow of craft coffees, Maldivian snacks, ice creams and drinks. Blending rustic chic with modern style the outdoor eating spot is open 24/7..
Drinks are also included in the Gourmet Meal Plan® and provide special refreshment. For example, the "No-groni", a combination of three non-alcoholic drinks served on ice, provides cooling after a long day at the beach.
The so-called "Popsicle Punch" is also characteristic. Nothing screams summer more than a Popsicle instead of ice cubes in a refreshing mango strawberry lemonade.
Fans of the popular classic "Aperol Spritz" also get their money's worth at the resort and can toast an unforgettable vacation with their loved ones.
And if you're looking for something a little more unusual, Director of Culinary Umberto Piccolini recommends the "Rosemary Fig Teien Whisky Sour". Here, Japanese whiskey meets egg white, fig syrup, fresh lemon juice and a sprig of rosemary. Cheers!
What's Included
The resort's Gourmet Meal Plan® ensures absolute freedom. The premium all-inclusive includes all meals and all drinks, as well as excursions and activities.
Guests don't have to worry about any extra costs and can feast and enjoy as they please.
Cora Cora Maldives will also offer a very attractive Premium All-inclusive Meal Plan, created by Culinary Director Umberto Piccolini, who previously worked with Martin at Crossroads.
PREMIUM ALL-INCLUSIVE INCLUSIONS:
- Complimentary Meet, Greet & Escort service upon arrival in the Velena Airport by dedicated
team.
- Complimentary lounge access at the terminal and lounge offers complimentary WIFI, bottled
water, soft drinks, tea or coffee & snacks.
- TAZAA® the all-day-dining Restaurant, will serve Breakfast.
- Lunch served at TAZAA® and ACQUAPAZZA®.
- Dine around available in our four specialty restaurants GINGER MOON®, TEIEN®, TAZAA® and
ACQUAPAZZA® open for Dinner daily.
- Selection of snacks daily from 16:00-17:30 HRS at the My Coffee®.
- Premium brands of spirits, beer, liqueur available at Main Pool Bar and all other outlets.
- Unlimited cocktails & Mocktails, signature drinks, various juices, soft drinks, mineral water,
selection of tea & coffee available from the Premium All-Inclusive Plan Cocktails, Spirits & Beer
Menu.
- Wide selection of Premium wines from world-over & bubbles from the Premium All-Inclusive
Plan.
- In villa mini-bar stocked with beer/wines/soft beverages & selection of snacks – replenished
ONCE DAILY.
- COMPLIMENTARY selection of non-motorized water sports (Windsurf & Catamaran, Canoe,
Standup paddle board) during stay.
- 45 Minutes complimentary Spa treatment per person per stay for a minimum stay of 04 nights
and above.
- ONE Complimentary sunset excursion per guest per stay (weather permitting) for a minimum
stay of 04 nights and above.
- COMPLIMENTARY Snorkeling equipment for each guest for duration of stay.
- Access to the Sports & Recreation Center; fully equipped gymnasium, outdoor recreational
activities.
- An array of daily organized activities for Children & Young Adults will be available.
- Various other activities on a weekly & seasonal basis.
HONEYMOON BENEFITS with a minimum stay of 04 Nights:
- Romantic Bed decoration - once per stay
- Romantic candle-light dinner for the couple once during stay
- One celebratory cake
- Romantic Turn-down service – Aromatic bubble bath – one per stay (on request)
Child care
Families are especially welcome at Cora Cora Maldives Resort. Embracing freedom, there are no restrictions-Cora Cora Maldives is suitable for everyone from tots to teens to the young at heart.
Cora Cora Maldives guests have the freedom to do as little or as much as they desire. With a diverse range of incredible facilities at their fingertips, from five restaurants and bars; a seven-treatment room spa with an extensive range of therapies as well as a wellness centre and yoga platform; a dedicated PADI certified dive centre and exciting first-class kids' club and playground, the freedom of choice, has never felt so liberating!
In the Kid's club, a colorful and fun program is arranged daily for the smallest guests. This way, parents can also experience their very own moments of freedom at the resort.
Children also learn a lot about the special nature of their vacation red. In a child-friendly way, the smallest guests learn how to protect their sensitive environment, the coral reef, and the endemic fauna.
Things to Do
The countless activities are at the aim of Cora Cora Maldives Resort.
On the water, numerous activities provide feelings of happiness for enterprising guests. At the resort's water sports center, boredom is far away. Discover the aquatic world through house-reef snorkelling or diving excursions to nearby dive spots. Five of a total of seven species of sea turtles are at home here. The largest fish in the world, the whale shark, also has its official sanctuary in the Maldives.
Full PADI Certification is available for beginners and advanced divers. EXCURSIONS Sunset cruise, Snorkelling safari and visit to local island as well as non-motorized water-sports can be enjoyed, and it's even included in the Gourmet Meal Plan®.
Guests can also get to know their surroundings better and immerse themselves in the local culture during boat trips to neighboring islands. Couples can enjoy romantic moments during a sunset excursion in a traditional Dhoni boat.
On the island itself, a gym and facilities for boule, beach badminton and beach volleyball will make the hearts of sports enthusiasts beat faster.
The resort cares about today's people concerns and aspirations such as eco responsibility or well-being with decadent Moksha spa. A wellness journey of discovery awaits. Seven treatment rooms and professionally trained therapists are waiting here for the first visitors. Optionally, treatments can be performed over the water with expansive panoramic views or directly on the beach. Each treatment room is a haven of tranquillity and zen and each treatment is carefully crafted and delivered by professional therapists.
The spa doesn't limit their great treatments but offers healthy food options such as snacks, cake, detox drinks. Or activities like yoga which is pushed further with customized advices depending on your condition, further explanations about yoga postures and the yoga philosophy in general.
Reviews
Cora Cora is the epitome of a dream! If you are looking for fabulous villas, amazing views, top notch service, varied and delicious food, premium drinks look no further! We're highly recommend this Premium All-Inclusive resort to any family, group or couple wanting a honeymoon of a lifetime.
A Perfect Paradise; The best stay; Beautiful property, good food and drinks, excellent hospitality; Honeymoon at Cora Cora; Heaven on earth; Experience of a lifetime; Freedom Time is definitely here!; Incredible Resort; Highly recommended; A memorable stay; Amazing resort; food, accommodations, staff, and activities are too notch....
Pros: What's Guests Love
Great location
Very beautiful island

Brand new resort everything is new and clean

The hospitality is spectacular
Staff is exceptional with their genuine smile
All Inclusive is perfect - No additional costs
The villas are lovely, clean and spacious
The choice at the restaurants is amazing
Food and service isimpeccable
One of the best coffee in the Maldives in all restaurants
A successful combination of buffet and a la cart
The TGI dive team
A range of activities
The hammock in the bathroom is a big plus and gives a unique element to the Lagoon villa
House reef is a very wide variety of sea life
Good Value
What You Need to Know
BOOK DIRECTLY and be entitled to receive astonishing benefits from Cora Cora, one of the top hotels in the Maldives. We price-match for lower rates on hotel booking websites.
In December 2021 Cora Cora Maldives has appointed Justin Swart as general manager of the resort.
Transfer takes 45 minutes from Velana International Airport. Return transfer will be arranged on shared basis along with other hotel guests. Guests need to provide flight details at least 72 hours prior to arrival.
Children of all ages are welcome. Children 12 and above are considered adults at this property.
Water villas have a stunning view from the bedroom as well as the bathroom
Wi-Fi is perfect and speeds are very good everywhere
You can order grab and go food items from the various restaurants
The resort has App where guests can make all reservations for activities, spa, restaurants and also get to know the daily events taking place at the island.
Don't forget to experience their Moksha Spa
The massages are amazing, the masseuses understand their craft. definitely book because you don't get something like that at home.
The most convenient snorkeling spot around the southern tip of the island
You can book fishing trip and a tour to a nearby "ghost island"
There are several times a day guided yoga classes
The painter Shameem is just too talented and if you have kids you should book a painting session with him
Visit and explore resort's "Maldivian Heritage" where there tombs and a 130 yr old house
Due to safety and privacy concerns all in-house guest are prohibited from operating unmanned aerial systems or drones, on or above the resort by any of ur guests including model aircraft by recreational users and hobbyists.
Check Availability and Prices in Cora Cora Maldives
Maldives Luxury Guide
Here's the best of Maldives for luxury travellers. We've compiled the finest recommendations of places to stay, ranging from the most celebrated five-star resorts to luxurious private islands Read More
Maldives Romantic Guide
The ultimate 'flop and drop' and honeymoon destination, the Maldives is the playground for the most amazing and finest utilization of each second of this extremely valuable and hopeful time with each other in tota Read More