Flynas launches low fare flights from Riyadh to Male
Getting to the Maldives
27 March, 2023
Flynas, Saudi Arabia's low-cost airline, will add flights to Maldives from Riyadh on June 20, 2023.
The new route will depart from King Khalid International Airport three times a week on Tuesday, Thursday and Saturday at 00:05 GMT+3. The flights will arrive at Velana International Airport at 8:00 GMT+5. The return flight departs from Velana International Airport at 9:05 GMT+5 and lands in Riyadh at 13:00 GMT+3 three times a week on Tuesday, Thursday and Saturday.
Flynas announced it will fly to 10 new destinations, including the Maldives, during the 2023 summer season. Bander Almohanna, CEO of flynas, said the expansion, "Is in line with the objectives of the Saudi Vision 2030 and the civil aviation strategy to reach 330 million passengers, 250 international destinations, and 100 million tourists annually."
Saudia, the national airline of Suadi Arabia, is currently operating flights to Maldives twice a week on Mondays and Fridays.
In the first two months of 2023, Saudi Arabia ranked as Maldives' 23rd largest source market with 3,230 arrivals. The introduction of more frequent flights on a low-cost airline may lead to a significant increase in arrivals from this emerging market.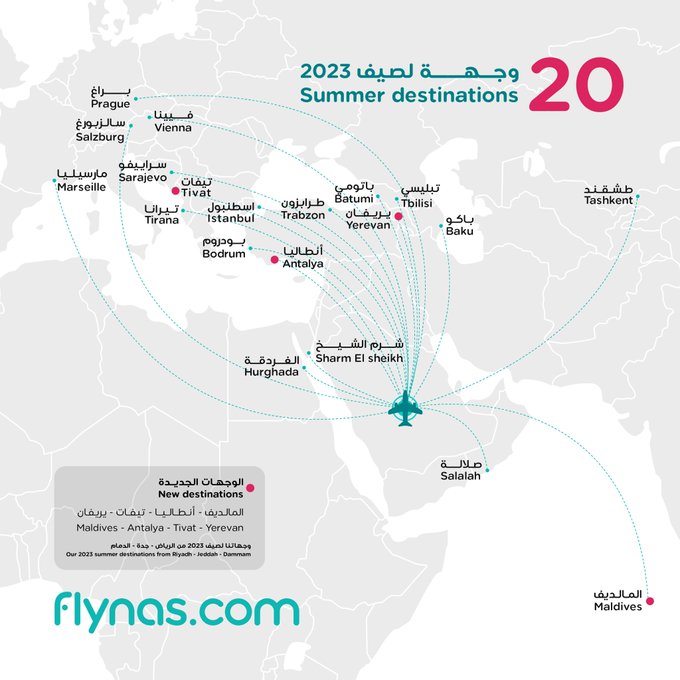 Maldives Airport
Maldives, the most dispersed country on the planet with 1,192 islands spread over roughly 90,000 square kilometres, already has 15 airports, including five international airports. Honeymoon islands with white sandy beaches and beautiful blue lagoons surrounded by turquoise waters of the Indian Ocean pleasing to the eye already on the airplane board before landing at one of the airports of the Maldives.
Over a million tourists from across the globe visit the Indian Ocean island nation every year to holiday in one of the 120 resorts and 300 plus guesthouses located in all corners of the country. The multi-billion dollar tourism industry, which is the country's main economic activity, relies heavily on the domestic transport infrastructure, especially air travel.
Read More