Fushifaru Maldives Unveils New Water Villas from 1st October
Best Romantic Resorts in The Maldives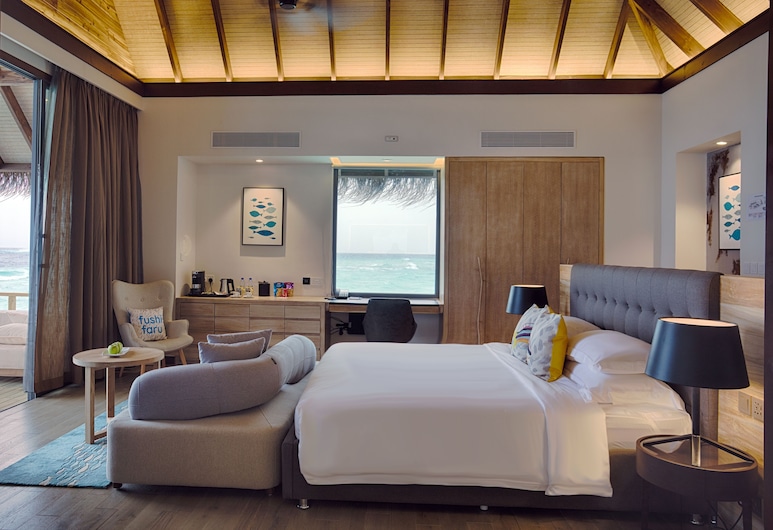 29 July, 2020
Fushifaru Maldives plans to re-open from 1st October 2020, with a new water villas to stay. Being able to accommodate more guests on its luxury secluded island, the resort has added 14 new water villas for its accommodation options.
Fushifaru Maldives is currently undergoing an exciting upgrade by adding 14 more stunning Water Villas to its portfolio, crafted with quintessential Maldivian design and modern aesthetics. Located across the idyllic, aquamarine lagoon of the Indian Ocean, the new Water Villas will be divided into sunrise and sunset categories and eight of them will feature pools looking out onto the imposing horizon.
Based on the increasing demand for Water Villas that the resort has seen since its opening in October 2017, Fushifaru Maldives is eager to meet travelers' desires and to grow its number of Water Villas from five to fourteen, making it a total of sixty-three villas, a combination of Beach and Water Villas. Fushifaru remains a small, boutique Maldivian chic resort and hopes to inspire more travelers to visit by providing more accommodation options.
Fushifaru Maldives will have a total of nineteen (19) private Water Villas: eleven (11) x 95m² Water Villas with outdoor Jacuzzi and eight (8) x 122m² Water Villas with Pool. The pools will have a length of 3 meters, a width of 2.4 meters and a depth of 1.2 meters. There will be four (4) Sunrise Water Villas with pool and four (4) sunset Water Villas with pool as well as eight (8) Sunrise Water Villas and three (3) Sunset Water Villas. All the Water Villas have chic and elegant interiors, with luxury amenities and spacious design.
The new Water Villas provide full privacy and will be ideally placed for house reef snorkeling and admiring the variety and diversity of colourful marine life.
Waking up to a clear blue ocean while a floating breakfast is delivered to your villa is one of the many amazing things typical of a holiday in Fushifaru. Book direct via Fushifaru website for the best price guarantee, plus complimentary value adds and experiences
Check Availability and Prices
Fushifaru Maldives
Best Experience for: Couples, Beach, house reef snorkeling, Diving, Quiet and Private
An idyllic island retreat with a powder soft sands, Fushifaru Maldives is a new 5-star resort located in Lhaviyani Atoll. Opened in October 2017, the beautiful island of Fushifaru is a home for an unusual landscape above and below the waterline. With "Fushi", that means "island" and "Faru", which means "reef" in Dhivehi, Fushifaru is an ideal reflection of its name. If you need little more than a sensational beach and a comfortable bed, this little laid-back resort might be the one for you. Facilities are few, although there is a watersports centre, swimming pool and spa – but really it's all about the beach. Nestled between a national Marine Protected Area and three of the Maldives' most iconic dive sites, Fushifaru Maldives is a boutique and intimate resort with an endless promise of adventure, excitement, discovery and serenity all in one diverse landscape.
Read More
Maldives
Best Hotel
Deals