Fushifaru Maldives
Best Experience for: Couples, Beach, Diving, Quiet and Private
Updated September, 2023
An idyllic island retreat with a powder soft sands, Fushifaru Maldives is a new 5-star resort located in Lhaviyani Atoll. Opened in October 2017, the beautiful island of Fushifaru is a home for an unusual landscape above and below the waterline. With "Fushi", that means "island" and "Faru", which means "reef" in Dhivehi, Fushifaru is an ideal reflection of its name. If you need little more than a sensational beach and a comfortable bed, this little laid-back resort might be the one for you. Facilities are few, although there is a watersports centre, swimming pool and spa – but really it's all about the beach.
Disguised by it's low-key luxury, smaller size and relative newness to the field (or more appropriately ocean! ) is Fushifaru. Sitting in the Lhaviyani Atoll, a swift 40 minute seaplane journey north of Malé, lies a pocket-sized paradise. It may come much smaller than most Maldivian resorts, however with it's white washed oceanfront, deep azure waters and abundant marine life, it's easy to see why this modest atoll is quickly becoming known through the vacationing elite.
The Island
Fushifaru is located in Lhaviani atoll that holds 54 islands and its capital is Naifaru. Maldives traditionally call this place "Faadhippolhu" without the addition of an "atoll". The resort is 35 minutes by seaplane from Male airport giving you a bird's-eye view of your lively island nation host. Fushifaru Maldives features endless promise of adventure, fun, discovery and tranquility all in one diverse landscape. View Resort map
Fushifaru is the gateway to the legendary atoll known among locals for the place where the best divers of the Maldives came from. The island is uniquely situated between two channels connecting the atoll's inner lagoon to the Indian Ocean. A large sand bank lies on one side. Vibrant and mysterious sea creatures swim around in a small triangle connecting three of the most distinctive dive sites named after the island in the bigger, southern channel. The larger of the two channels, Fushifaru Kandu is a national marine reserve abounding in marine life. Fushifaru Kandu is home to three iconic dive sites including the famous Fushifaru Thila, one of the most popular dive sites in the Maldives and a cleaning station where schools of fish cleaners attract such gentle giants as Manta Rays, whale sharks, turtles and others pelagics.
With an amazing atmosphere, the barefoot island is peaceful and quiet. It is rather small but it does not feel crowded, just the opposite. A tiny splodge of sand in the Indian Ocean, Fushifaru is so small you can kick off your shoes and walk around the entire island in a little over 15 minutes. The design is kept simple, based upon a Maldivian village, with coconut palms and sandy paths leading to peaked-roofed villas and public spaces. Wow-factor comes from the sensational broad white beach. Since no land is visible at a great distance on the ocean horizon, the views are quite amazing that makes this area very unstable and dynamic for the forces of nature.
Ethereveri or inner lagoon to the west of the island is a safe haven for small marine life. The island act as a barrier between the lagoon and the vast fetch of the Indian Ocean, making this space, quite tranquil and calm.
The channel hosts an array of marine species with an exceptional attraction towards the cleaner wrasse fish awaiting them at Fushifaru Thila. A diver's dream with exciting species at every turn. Maakandu or open sea to the east of the island is the vast Indian Ocean. As there is no landmass beyond it for a great distance, the fetch length is quite extensive, making this area, quite volatile and dynamic to natural forces.
Huraagandu is an elongated sandbank on the Northern side of the island. Few 100 meters from the island across the smaller channel Kandu-olhi.
From the moment you arrive to the last minute you stay on the island, everything is perfect. It compensates the long journey, with smooth transfers manage by the Resort. You may be afraid to come for such a small and isolated island, but there is more than plenty to combine relaxation with culture and fun. As with most places I have been to, the people make the difference and the staff at Fushifaru really excels.
Location
Famous for world class diving, Lhaviyani atoll is a charming collection of islands in the northern part of the Maldives, that offers the perfect mix of tranquility with excitement, comfort and adventure. The islands of Lhaviyani atoll are located about 130 kilometers north of Male airport by 40-minutes scenic seaplane transfer. Read More...
Only a 35-minute breathtaking seaplane flight away from Velana International Airport, Fushifaru Maldives is nestled between a national Marine Protected Area and three of the Maldives' most iconic dive sites. Fushifaru Maldives is a with an endless promise of adventure, excitement, discovery and serenity all in one diverse landscape.
Villas
Merging quintessential Maldivian design with modern aesthetics, this boutique Maldivian chic resort's 49 beach and water villas exude a sense of cosines yet luxurious in space and amenities. Each peak-roofed wooden chalet draws inspiration from their location on the island, ranging from beach, pool beach or a water villa; each with the option of sunrise of sunset. With simply furnished interiors each of the villas feature open-air bathrooms with indoor and outdoor showers, private verandas with dining areas and breath-taking views of the surrounding area – some villas feature private plunge pools.
In 2021 Fushifaru Maldives expanded its offering with the addition of Beach Duplex Villas and a Premium Beach Duplex Villa to provide more choice of luxe accommodation.
The rooms are small by the Maldives' usual standards, but all lead to the beach and have pleasant outdoor bathrooms with rain showers and bathtubs (18 of the beach villas also come with pools). Interiors feature pitched roofs, slate floors, wooden alcoves and some very drab brown curtains – although comfortable, you're unlikely to be Instagramming the décor.
The Water Villas are located facing the "Kandu-Olhi", the Channel and is furnished with an outdoor Jacuzzi.
All Villas feature: King-sized bed, attached open air bathroom with bath, indoor and outdoor shower, hot and cold water, hair dryer, ceiling fan,
air conditioning, in-room locker, mini bar, working desk with stationery, complimentary water, coffee and tea, IDD telephone, IPTV, iron and iron board, private veranda with dining area.
Restaurants and Bars
There are three outlets for food and drinks that offer guests an unforgettable gastronomic journey in Fushifaru. Breakfast is served in the main buffet restaurant all day long and includes all the basics - fruits, yoghurts, bread, cheeses and a chef, whipping omelettes, pancakes and waffles, although quality is doubtful and disappointing to see so much plastic on the display - straws, yoghurts, tiny bags of butter. If you are in one of the half-board or paid meals, this is where you will also have lunch and / or dinner; similar unappetizing "buffet" of sticky pizza slices, french fries and a salad-stick with local curries instead. The alternative is the pricey Raakani Grill, serving the likes of locally-caught tuna tartare and lamb chops with beetroot reduction and an asian recipes with an emphasis on the best and freshest local seafood. Salads, sandwiches and burgers are also available at the poolside Fanihandhi bar. Guests can also choose from a variety of other dining options, such as a private sandbank picnic, in-villa dining or even on the resort's private yacht. Your 'Resident' will not stop at anything, so that you will receive a truly unforgettable experience.
An ideal place for romantic tet-a-tet picnics, Huraagandu is an elongated sandy island near Fushifaru northern edge. Just 100 meters from the shore through the narrow Kandu-olhi channel. Kandu-olhi, the two channels located on either side of the island. The wider one, called the Bodu Kandu-olhi is significant especially for its marine ecosystem, and being home to 3 distinctive diving spots.
On May 2021, Fushifaru Maldives revamped its culinary experience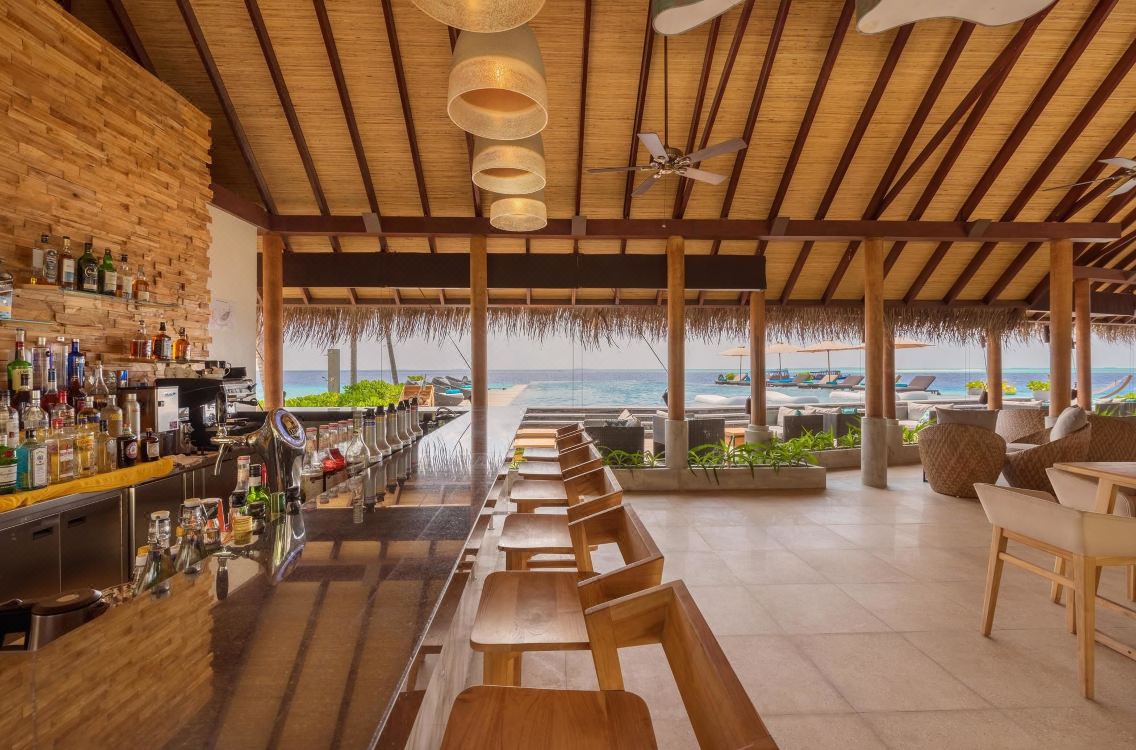 Actiivities
With a few chatty exceptions most of the staff seem shy and unable to anticipate guest needs. Facilities include a small fitness centre, spa, an infinity pool (with very few loungers) and a dive centre. While most Maldivian resorts now include non-motorised watersports in the rate, Fushifaru charges for everything except snorkelling equipment. Expect to pay $25 for a kayak for one hour, $57 for a catamaran or windsurf rental and massage $100/h. Similarly there are only a few complimentary activities; 6am sunrise yoga twice a week, Thursday's entertaining 'coconut journey' and Friday's Maldivian night, with musicians and dancers visiting from local islands.
Heylhi Spa has five treatment rooms or sanctuaries that embody the spirit of rejuvenation; a concept inspired by the Cleaner Wrasse fish found commonly throughout the island's reef. Designed with lush, green surroundings, the spa echoes its name Heylhi, which in Dhivehi refers to jungle-like vegetation found at the shoreline. Each treatment room is inspired by traditional Maldivian cottages, complete with outdoor garden bathrooms. Heylhi Spa is the beating heart of Fushifaru.
From the ultra-modern gym and sports ground, to SUP, snorkeling, diving and submarine trips range of sports and activities in Fushifaru is endless. Only a few minutes away, is Fushifaru Kandu, a Marine Protected Area, with diverse marine life, unique cave formations, a Manta cleaning station and much more; a true haven for diving enthusiasts and snorkelers alike.
To see the island and local culture alive, Fushifaru is only 20 minutes by speedboat from the capital island, Naifaru. Over the past five years, Naifaru has been home to a program for the conservation of sea turtles, providing numerous sustainable social and volunteer activities.
An 18-minute speed boat ride will take you to Felivaru, the island where one of the largest fish cannery in the Maldives is located. The island of Hinnawaru is also just 15 minutes on speedboat, offering to immerse in the life of the inhabited island. Sail from island to island and escape into our memorable culture.
Reviews
As to be expected with any 5-star property, the reviews are all positive and outline how great a vacation here really is. Firstly, guests love how clean the resort beach is, along with the large amount of ocean activities available, including the famous snorkeling. The entire resort is praised in numerous reviews, though for some it is the rooms that stand out, both those based on the island and those overwater. Rooms are said to not only be clean, but spacious and well appointed. Guests seem to particularity like how airy and bright each room is, and credit that to the large amount of natural light that is drawn in when the curtains are open.
... Paradise, Beautiful island with amazing team, Exceptional, This is the best place in the world. Thanks a lot to Chealse and Ahmed siaar, Fabulous. Paradise. Amazing location &food&service-everyone is genuinely friendly and efficient, Most beautiful beaches I have ever seen in my life, will come back with the whole family, All I had dreamed and then some more, Exotic nature welcomed like home, It was a memorable vacation experience, Small piece of paradise ...
What Guests Love
Fantastic location
Beautiful small island, makes for a very peaceful holiday
The beaches
The rooms are fabulous. Beach Villas are beautiful and secluded
scuba diving
The staff is incredible, everybody is so caring and nice
an amazing marine life
Excellent food
awesome pool
snorkling with turtles and a wonderful boat ride with dolphin.
great activities
The spa is lovely with very nice services
What You Need to Know
BOOK DIRECT via Fushifaru website for the best price guarantee, plus complimentary value adds and experiences
Fushifaru resort is located on a private island in the Lhaviyani Atoll and it is 35 minutes by seaplane from Male airport
Check in from 14:00 - 18:00, Check out from 07:00 - 12:00
All children are welcome but there is not kids club on the island. Children aged 12 years and above are considered adults at this property.
Rooms compared to other luxury resorts a bit smaller, but all new and modern
Fushifaru goes green and implements eco-friendly policies applicable to its' Residents and guests.
In 2023 the resort won the 'Best Boutique Resort' Award by Travel Trade Maldives (TTM).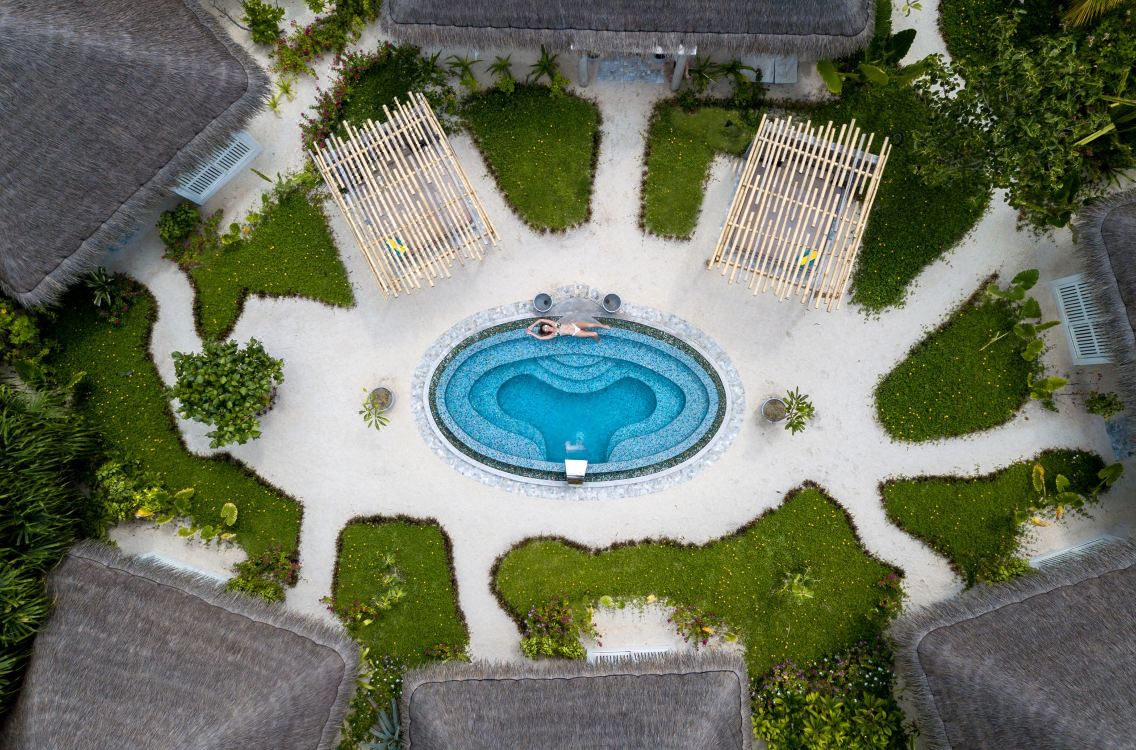 Check Availability and Prices in Fushifaru Maldives
Maldives Luxury Guide
Here's the best of Maldives for luxury travellers. We've compiled the finest recommendations of places to stay, ranging from the most celebrated five-star resorts to luxurious private islands Read More
Maldives Romantic Guide
The ultimate 'flop and drop' and honeymoon destination, the Maldives is the playground for the most amazing and finest utilization of each second of this extremely valuable and hopeful time with each other in tota Read More