Heritance Aarah – the first LEED certified resort in the Maldives
Best Luxury All Inclusive Resorts in the Maldives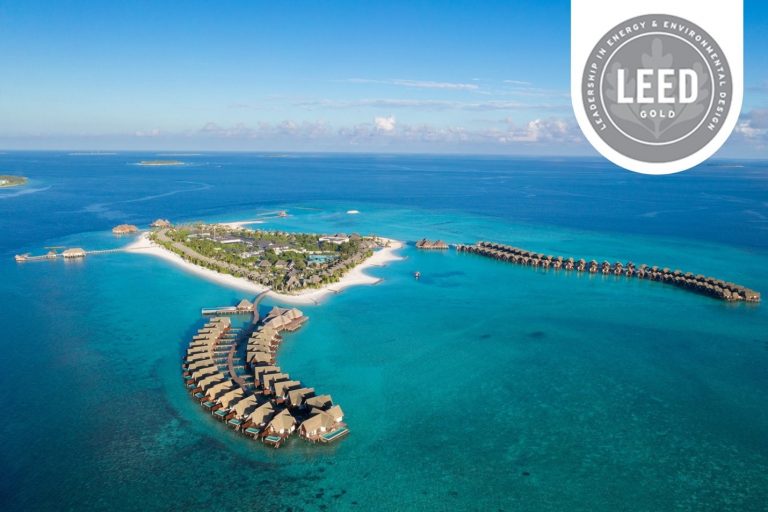 7 October, 2019
The newest addition to the Aitken Spence Hotels portfolio, the all-villa Premium All-Inclusive resort, Heritance Aarah became the first property in the Maldives to be awarded the internationally recognized Leadership in Energy and Environmental Design (LEED) Gold certification.
LEED buildings save energy, water, resources, generate less waste and support human health. Given the increasing demand and pace of green building in the hospitality sector, LEED is an official recognition that a project complies with the requirements prescribed within the LEED rating systems by the U.S. Green Building Council. Having achieved the Gold level certification from the most widely used green building rating system reiterates the sustainability commitment of Aitken Spence Hotels group.
"Our strategies to expand are led by guests' expectations and design-led refurbishments to enrich the experience at our properties. A key priority is to ensure our resorts contribute positively to protect and preserve the environment and the ecosystems we operate in. We are proud that we were able to introduce the Heritance brand to the Maldives as the first LEED Gold certified property in the islands," commented Ms. Stasshani Jayawardena, Aitken Spence PLC Director, Head of Tourism & Leisure, and Chairperson of Aitken Spence Hotels Management.
"I give credit to the team that has worked tirelessly and conducted extensive research and integrated innovative and sustainable strategies to reduce the carbon and water footprint by 30% and 55% respectively," she asserted. "These have been successfully implemented and have aided in creating a healthier and safer working environment while maximising guest comfort. These strategies I believe, have contributed towards achieving this milestone for Heritance Aarah."
The design of the Resort compliments the policy of sustainability by the use of components such as fuel-saving generators, energy-saving LED lighting, water-saving fixtures and energy-efficient air conditioning.
These green features do not disrupt the quality of service delivery nor the comforts for an extraordinary stay. Heritance Aarah practices a perfect balance of environmental commitment and guest satisfaction with experiential and modern facilities including innovative technology at the Medi Spa and temperature controls which save energy as well as provide guests with the comfort of choosing their preferred temperature.
This certification further acts as an incentive for Heritance Aarah to continuously strive -despite challenges, towards becoming more environmentally friendly by thinking from a greener mind.
Check Availability and Rates
Heritance Aarah - Premium All Inclusive
Best Experience: Couples, families, gourmet dining, beach, diving
Offering the perfect combination of exclusivity and comfort, Heritance Aarah is all about exclusive luxury with a touch of Maldives' traditions. One of the best luxury resorts in the Maldives, the main attractions of Aarah are beautiful white beaches, crystal clear turquoise waters and a hipnotic marine life on a house reef. Heritance Aarah is al about full privacy and an ideal tropical beach experience on a paradise island. For guests seeking a haven for pure relaxation or an active holiday retreat with the whole family, Heritance Aarah promises to offer endless choices with a unique Premium All-Inclusive holiday plan and some of the largest beach villas in the Maldives.
Accessible by a scenic 40-minute seaplane flight from the main Velana International Airport, Heritance Aarah offers 157 villas and suites separated by tropical vegetation for privacy, and designed and built with a fusion of indigenous Maldivian and modern architecture.From evocative flavours that will have your taste buds in raptures of delight to gourmet creations that combine authentic local ingredients, the resort's restaurants offer something truly distinctive, start from France and Italy to the Middle East, Sri Lanka, India, Turkey, Mexico and Japan – and three bars including space exclusively for Ocean Suite guests, a poolside bar and an open-air rooftop venue.. Be it intimate fine dining to candlelit dinners on the beach, each experience embodies a culinary journey of discovery. Read Full Review...