Island Luxury Fulhadhoo Boutique Hotel wins Two Maldives Tourism Awards
Maldives On a Budget
06 October, 2022
Island Luxury Fulhadhoo Boutique Hotel has received 2 awards at the Maldives Tourism Awards 2022, that was held to commemorate Maldives National Tourism Day.
Awards for Best Training and Career Development, and Award for Highest Parity of Maldivian Employees were presented to Company Director, Mr. Yunus Ziyad, by Vice President of Maldives, Hon. Fasal Naseem during the special ceremony held at Dharubaaruge, Male' on October 2, 2022.
Island Luxury has always believed it is people who transform a holiday into an unforgettable experience and that is why both their team and the local community of Baa atoll Fulhadhoo is at the heart of their business and why training and development are its foundation.  
Through structured hospitality trainings, with numerous industry experts led by Neil Shorthouse - Shorthouse Hospitality, Janet Smailes – FHS Consultant, and Abdulla Nihaad – Hospitality Instructor at MNU, and supported by Ruth Franklin and members of the team from sister company Secret Paradise Maldives, the Island Luxury Fulhadhoo Boutique Hotel team have developed operational and guest service skills through an Apprenticeship Program and an in-house training program. Local businesses GAGE Fire & Safety and the Maritime Academy of the Maldives equipped the team with emergency and water-based competencies.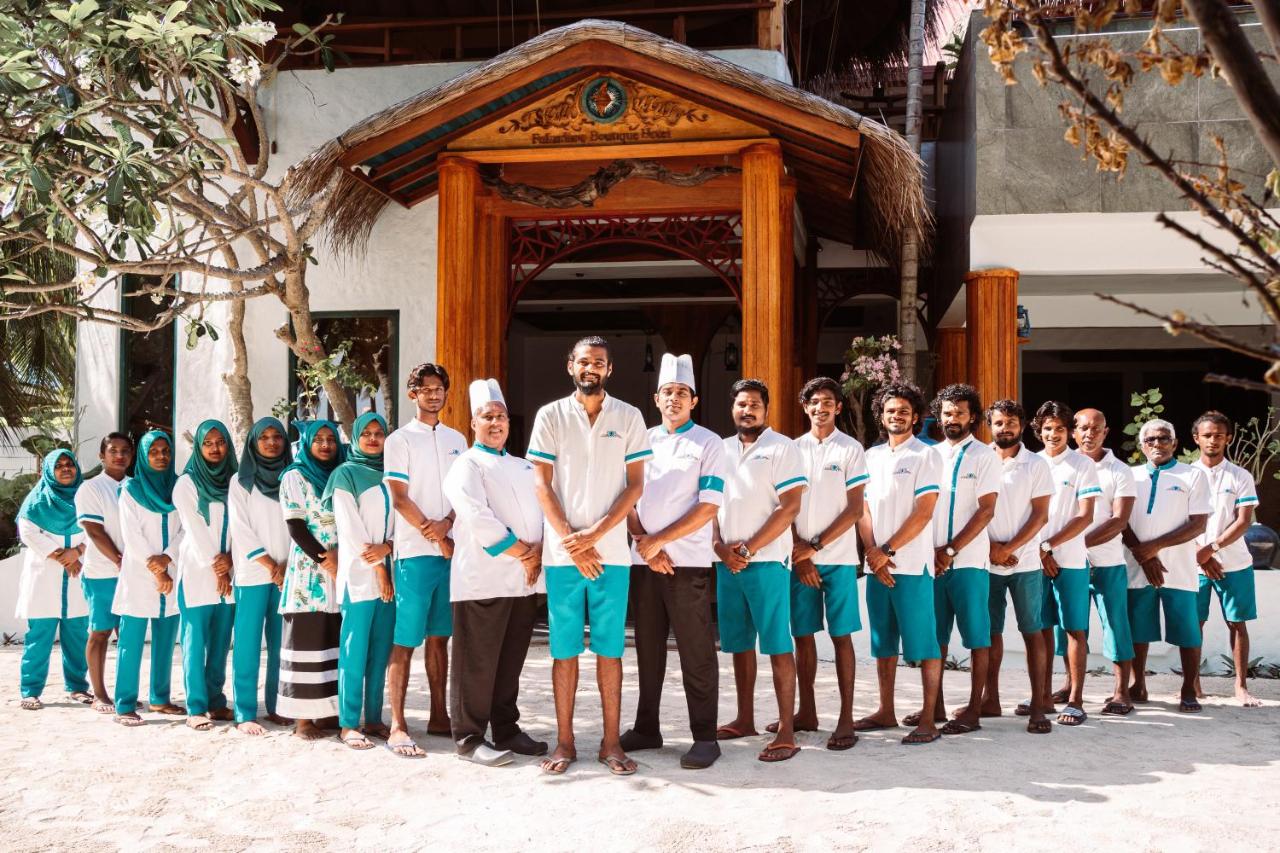 The Managing Director – Secret Paradise Pvt Ltd (the owning company of Island Luxury) stated 'when opening Island Luxury Fulhadhoo Boutique Hotel we wanted to set an industry example for local tourism industry of community-inclusiveness at its fullest meaning. When local tourism was established, it was intended to provide job opportunities and economic benefit to local island communities and our mission was to establish a property that demonstrated that this was possible, whilst offering hospitality at a service level equal to a premium hotel or resort.' 
He went on to state 'I congratulate all members of the team for their individual contribution and performances, they have attained a skill set that they should be very proud of and will I am sure prove to be the start of successful careers in Maldives Tourism.' 
Island Luxury Fulhadhoo Boutique Hotel offers 8 spacious and luxury rooms with an infinity pool and restaurant on upper floor. Positioned within a coconut palm grove and a few steps from the ocean, Island Luxury Fulhadhoo Boutique Hotel provides an idyllic island getaway. With 90% of the hotel team being Maldivians, particularly from the youth of Fulhadhoo island community, the Hotel provides 5-star services including a personal butler for each room, and hotel owned luxury sailing yacht catamaran safari with privately organised tailor-made activities and sailing tours. Guests can choose between a Full Board or All-Inclusive Package including an ever-changing ala carte menu. All dishes are prepared in-house and combine Maldives traditional cuisine and flavours with a western twist.
BOOK NOW
About Fulhadhoo island:
Fulhadhoo is one of the inhabited islands of Baa atoll in the Maldives. Together with two other local islands: Goidhoo and Fehendhoo, as well as several uninhabited islets, Fulhadhoo form the Goidhoo atoll. Famous for its crystal clear waters and beautiful sandy beaches, good snorkeling, comfortable budget accommodation and warm hospitality of local residents, Fulhadhoo is an excellent option for an inexpensive holiday, in 2 hours by speedboat from Malé International Airport (VIA).
Read More
Maldives on a Budget
Budget travellers choose Maldives as their destination of choice thanks to the variety of affordable stays available, which range from budget guesthouses to backpacker-friendly hotels – there are all accomodation available for under USD 50 a night! The Maldives is a fascinating country to travel to independently, not least because it's only been possible to do so for the past decade.
Undoubtedly, Maldives is'nt getting more cheaper every year, but it's equally true that the gorgeous islands offer something for everyone – backpackers and budget-conscious travellers included! Here's our dedicated section that guides you through everything you need to know about enjoying Maldives on the cheap. We've also included a section with useful tips on enjoying Maldives on a shoestring, and another which shows you all the free, and almost free, things you can enjoy for your cheap holiday in Maldives. Here for you the ultimate guide to enjoying Maldives on a budget.
Read More
Maldives
Best Hotel
Deals