LUX* South Ari Atoll' food scene: where and what to eat
Maldives Restaurants & Dining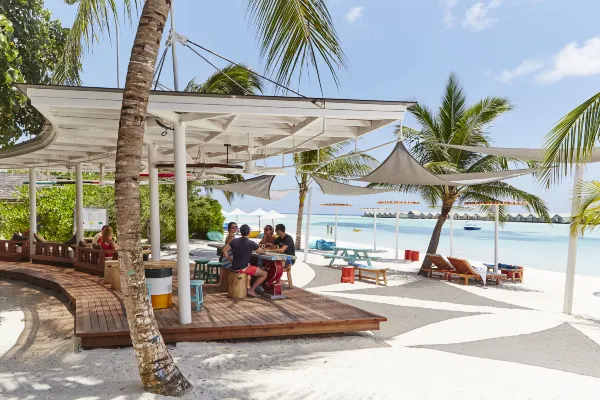 11 November, 2023
With 8 restaurants and 5 bars, all set on the magical Maldivian backdrop, you can just imagine how much the chefs love food, cooking, and taking you on a culinary journey at LUX* South Ari Atoll. As for resort's mixologists, they're also very passionate about crafting the most delicious cocktails. There's a lot to enjoy here so read on…!
Rise and shine. Your day starts right here in your pool, with a floating breakfast... If you'd rather go for a morning stroll: MIXE, a buffet restaurant serves the world's favourite cuisines. If you are craving South-east Asian food, head straight to East Market.
Need a mid-morning pick-me-up? Great coffee is a must, not a luxury; that's why you'll find a Café LUX* at the heart of LUX* South Ari Atoll.
At this point, lunch is synonymous with the Mediterranean. Think lazy, slow lunches by the sea with the most fresh, delicious fare. Beach Rouge serves the most incredible pizzas, nourishing salads and grilled seafood. All with a view of the lagoon and a warm breeze in your hair.
Looking for a way to beat the afternoon heat? Try our artisanal ice cream at ICI. Whether you're relaxing by the pool or taking a stroll on the beach, our classic and exotic flavours are crowd-pleasers. From the ever-popular fruit sorbets to our unconventional popcorn and cardamom ice cream, there's something for every palate.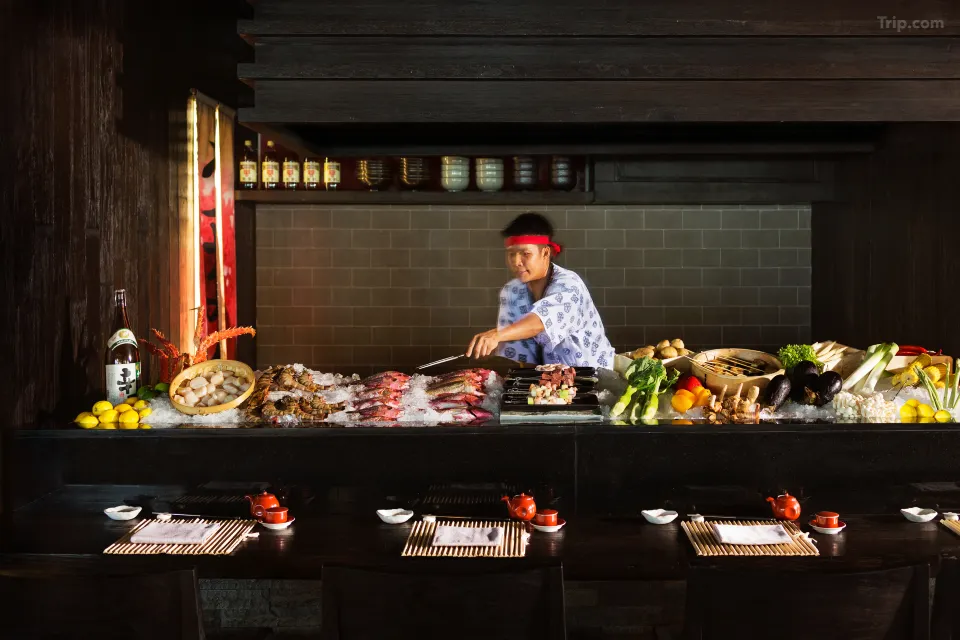 Experience the magic of sunset hour at the overwater East Bar: it's exactly how a bar in the Maldives should be: all-around lagoon views, a bar on stilts, and delicious cocktails.
Indulge in the delicate flavors of Japan at Umami, the island's contemporary gastronomic Japanese restaurant. Take a seat at the cobalt blue bar to watch the chef handle a knife with an unimaginable grace, turning the freshest fish and seafood into sashimi, nigiri and all the delicacies.
Your next getaway awaits...Book before 30 November and get 35% discount on room rates per night on Bed & Breakfast plus complimentary meal plan upgrade from Full-Board to All-Inclusive for Beach Villa, Beach Pool Villa, Water Villa, Romantic Beach Pool Villa and Romantic Pool Water Villa. Kids and Teens (0 - 17 years old) Stay & Eat Free!
BOOK NOW
Related stories
LUX* South Ari Atoll
Best Experience for: Couples, Family, Value, Beach, Diving, Dining, Whale Shark Watching, All Inclusive
The Lux Collective, of which the purpose is to make each moment matter and to care about what matters, LUX* South Ari Atoll is committed to contributing in any way, big or small, to make eco-tourism a success in the Maldives. Cutting-edge designer villas and world-class dining can be found only a 30-minute seaplane transfer away from Malé International Airport, making LUX* South Ari Atoll one of the most exciting resorts in the Maldives. Excellent eating and drinking is always a cut above the rest at LUX*! A relaxed atmosphere provides refinement at every step with anything from an impromptu movie theater on the beach to pop-up music performances. The lagoon is ideal for snorkeling with whale sharks, and two swimming pools and a spa on this idyllic island offer a guiet break from the beach.
Read More