Milaidhoo Island Maldives celebrates its Festive Season story
Best Romantic Hotels in The Maldives
03 Nov, 2021
Milaidhoo Maldives is celebrating 2021 festive season in conjunction with the fifth anniversary of the opening of its small island to guests. The anniversary celebration will be all about good times, meaningful experiences and spending quality time together as a couple, with family or friends.
1. Contemporary Maldives
Our ethos and culture embraces the Maldivian heritage, which is revealed in many elements of the island's architecture, services and guest experiences. From gourmet cuisine prepared by our international culinary team and deep insights to the world of cocktails, wines and spirits, to exciting and fun experiences – the Milaidhoo family will create meaningful festive moments for you.
2. Culinary Heights
Ba'theli Chef Ziyan will share his knowledge of Maldivian cuisine in curated cooking classes which you can join as part of a group or in specially arranged private sessions. The Compass Bar team will take you on a spirit and wine journey around the world, stopping in Brazil, Napa Valley, India, Europe and Australia, to savour the world in a glass.
Display your cooking skills competing in our Milaidhoo "Master Chef Competition." The cook up will take place in a beach setting with guests displaying their cooking skills in a fun competition, preparing their best dishes to be sampled and judged by the Milaidhoo chefs.
3. Get active and experience culture
Activities and action will be plentiful, with excursions on board of a fishing boat or luxury yacht or party nights on the sandbank. Lots of live music events as well as traditional Maldivian Cultural Shows.
Embracing the contemporary Maldives, the festive season will be filled with culinary experiences and Gala Events as well as many festive season activities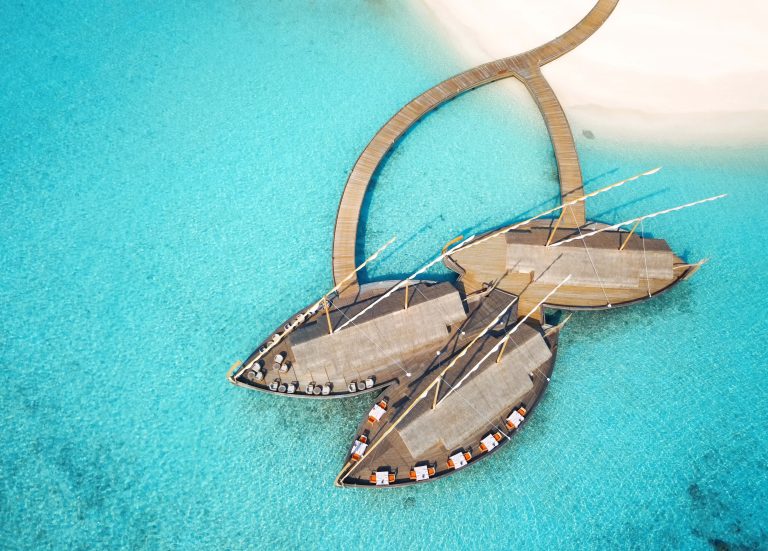 Festive Dining and New Year's Eve Celebration
The year-end will be celebrated with a sumptuous Gala Dinner, a countdown party with a local band at the Compass Pool Bar and fireworks welcoming the New Year. Guests can expect a truly memorable festive season for the fifth anniversary of Milaidhoo Maldives.
Become a part of our story and celebrate this year's festive season with us.
Culinary explorations and highlights await you in a tropical, contemporary Maldivian setting, with truly meaningful and exciting experiences.
Highlights include (but are not limited to):
• Culinary Classes, Wine Tastings, Cocktail Master Classes and the ultimate "Milaidhoo Master Chef Battle."
• Activities on the beach, in and underwater
• Excursions and Sandbank experiences and parties.
• Festive Gourmet Dining and New Year's Celebration
Have a look at our Festive Programme and get in touch with us for any further information or bookings.
We are looking forward to welcoming you to our small coral island.
Please note that a Festive Season supplement of US$ 500 for the Christmas Eve Gala Dinner and US$ 600 for the New Year Gala Dinner is mandatory.  A minimum of five nights stay is required for bookings between 22nd December 2021 and 1st January 2022.
Check Availability and Prices
Milaidhoo Island Maldives
Best Experience: honeymoon, beach, diving, swimming with mantas
Intimate and stylish, at Milaidhoo it's about enjoying the natural environment in understated luxury. Tucked in the heart of a UNESCO biosphere reserve, surrounded by powdery white sands and nestled beside a colourful coral reef, Milaidhoo Maldives is a luxurious natural wonder. Envisage upscale delights with a 'Reinvented Luxury' twist, where guests will experience an indulgent escape in the Maldives's most unique getaway. Committed to offering a unique and authentic Maldivian experience, this new child in the best Baa Atoll hotels collection that making waves with its refreshing contemporary twist on classic Maldivian style. Created for couples and romance only, Milaidhoo welcomes children above the age of 9 years only. What's more, it is only 30 minutes by seaplane from Male or a 15 minute domestic flight followed by a short speedboat ride. Read Full Review...
Maldives
Best Hotel
Deals