Multi-award-winning Dusit Thani Maldives Adds Five More Prestigious Accolades to its Brand
Best Luxury Resorts in The Maldives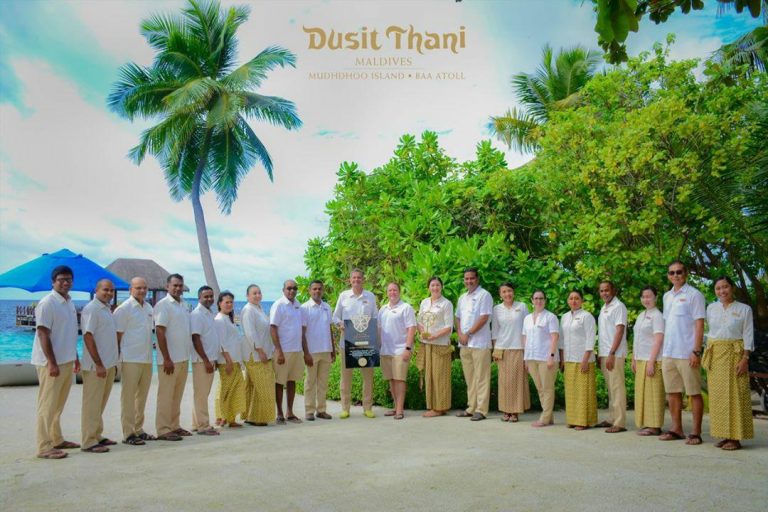 11 November, 2019
Dusit Thani Maldives, a luxury Thai-brand resort on Mudhdhoo Island in Baa Atoll, was recently named the winner of four prestigious categories of the Haute Grandeur Global Awards 2019, held in Kuala Lumpur, Malaysia, followed swiftly by a regional win in the World Luxury Hotel Awards, held in Rovaniemi, Finland.
At a glittering awards ceremony attended by representatives from many of the world's leading hotel companies, the award-winning resort was declared Haute Grandeur Global's Best Beach Resort in the Indian Ocean, Best All-Inclusive Family Hotel on a Global Level, Best All-Inclusive Resort on a Global Level, and Best Wedding Retreat on a Global Level.
The success was shortly followed by another impressive win – this time in the World Luxury Hotel Awards 2019, where the resort was named the regional winner of the Luxury Beach Hotel category.
Established in 2014 as an independent and unbiased initiative to honor the very highest achievements from across the global hotel industry, the Haute Grandeur Global Awards is designed to celebrate the very best in hotel experiences across seven continents, 172 countries and 90 categories. Winners are selected annually based on quality feedback from guests, rather than the number of votes by a panel of judges or the general public.
Also organized annually, the World Luxury Hotel Awards is a renowned global organization that provides recognition to luxury hotels for its world-class facilities and excellent services. Awards are presented to luxury hotels in over 50 different categories on a country, regional and global basis. Public votes select all winners.
"We are deeply honored to have been recognized for these awards and I would like to thank the whole team for their amazing contribution towards our success," said Mr. Thomas Weber, General Manager, Dusit Thani Maldives. "To be recognized as the best hotel in so many categories reflects our commitment to service excellence across the board. We now look forward to doing everything we can to retain these titles while striving to become even better."
Check Availability and Prices in Dusit Thani Maldives
Dusit Thani Maldives
Best Experience: Water Villas, for Couples, House Reef Snorkeling & Diving, Mantas Watching
If the idea to stay on the Maldives in a Thai-style hotel raises your eyebrows, think about what it gives you. The warm hospitality of Thailand in an unprecedented luxury setting: two of the best aspects of an Asian luxury trip in one magnificent package. Located on Mudhdhoo island in Baa Atoll, the Maldives' first and only UNESCO Biosphere Reserve, Dusit Thani seduces guests with pearly white sandy beaches, turquoise lagoons, lush vegetation and a fantastic house reef with one of the most abundant marine life in the Maldives. Inspired by Thailand, architecture provides private life alone with a vibrant nature featuring both classical and modern styles. The resort villas and apartments are beautiful shelters of modern sophistication, with luxurious facilities and state os the art amenities. Fine cusine in an exotic setting is another highlight of this resort. The resort is also home to the largest infinity pool in the Maldives with an impressive of 750 square meters. As a visual center of the hotel, this swimming pool combines technology and nature with the flowing majestic Banyan tree. Read Full Review...