Empower, rejuvenate: Vakkaru Maldives launches Five Special programmes to celebrate International Women's Day
Activities, Experiences in Maldives
14 February, 2023
International Women's Day on 8 March is a time to celebrate and empower women, and Vakkaru Maldives is marking the occasion in style. From yoga and Ayurvedic workshops to mixology classes and special dinners, the timeless sanctuary offers its lady guests an empowering and rejuvenating getaway.
To also commemorate the private island getaway's fifth anniversary, the curated programme includes five exceptional experiences and five Self-Kare promotions specially designed for women.
The day's events begin with a complimentary Women's Yin Yoga with Gong Meditation at the Yoga Pavilion with our visiting practitioner, Anna Tsoy. Later in the day, at the Ayurvedic Workshop for Ladies, resident Ayurvedic expert Dr Kalani Perera shares some ayurvedic principles on managing stress in a day-to-day routine. Participants will also enjoy a 15-mins complimentary foot massage and Ayurvedic teas.
In the evening, the resort invites all the ladies in the house to Mix it Like a Pro mixology masterclass, where they can compete to create the best cocktail and win a special prize. The evening concludes with the fabulous Celebrating Her set dinner at Vakku Beach, complete with live entertainment and music. The night continues with the Ladies' Night Party at Lagoon Bar with DJ Mira, where all the ladies receive a complimentary welcome drink.
In addition to these experiences, Vakkaru Maldives also offers five Self-Kare promotions for ladies from 7-9 March. The 120-minute Inner Beauty Package includes a therapeutic massage and Natura Bisse Facial. At the same time, the 60-minute Abhyanga Ayurvedic Massage and the 90-minute Head-to-Toe Ayur Bliss Harmony Retreat are designed to relax and rejuvenate. For those looking for a more active and immersive experience, the Yoga
& Ayurveda Package, which includes a 60-minute Abhyanga Ayurvedic massage and a 60-minute private yoga session, is a perfect choice. The resort is offering ladies a 20% discount on all non-motorised and motorised water sports as part of its Thrilling Water Sports Adventure at Splash promotion.
Book your stay and join Vakkaru in celebrating International Women's Day at Vakkaru Maldives. For reservations and general information, visit vakkarumaldives.com or contact the resort's 24/7 Reservations Centre at [email protected].
Check Availability and Prices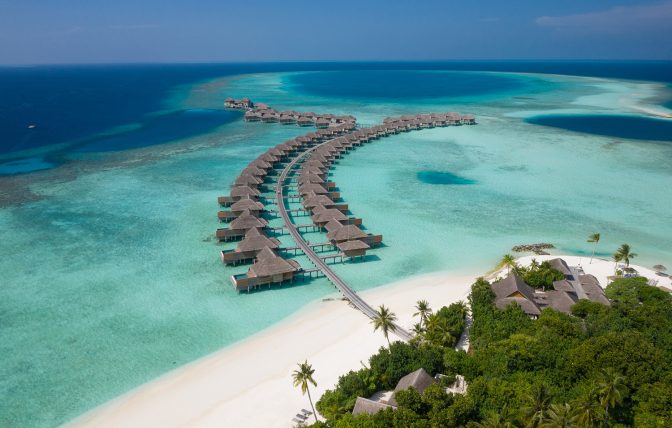 About Vakkaru Maldives:
Located in Baa Atoll, a UNESCO Biosphere Reserve renowned for its spectacular sea life, Vakkaru Maldives is a timeless sanctuary recently named the Indian Ocean's Leading Resort in the World Travel Awards. An awe-inspiring 30-minute seaplane ride from Velana International Airport takes you to this secluded reef island, shaded by coconut palms and blessed with calming ocean views and powder-soft white-sand beaches. Here 113 beautifully appointed Over Water and Beach Villas are elegantly designed to respect their surroundings, while exceptional dining experiences and amenities await. Among our industry-leading offerings is overwater Merana Spa, complete with an Ayurveda practice and a regular host to residencies by the world's most inspiring wellness practitioners. Children and teens are generously catered for in the Parrotfish Club and Coconut Club respectively, while guests of all ages can play against world-famous pros through a best-in-class coaching partnership with Tipsarevic Luxury Tennis. Threading all those services and facilities together, our unique hospitality concept Vakkare places a sincere, proactive commitment to care at the core of all we do.
Vakkaru Maldives
Best Experience: Couples, Families, Water Villas, Service, Beaches, Swimming with Mantas
Vakkaru Maldives is a brand new luxury resort located within the crystal clear waters of the UNESCO Biosphere Reserve in Baa Atoll. Vakkaru is a lovely island combined with a real Maldivian atmosphere and offers many high-end options in a comfy ambiance.
Surrounded by lush, vegetation, beautiful beach and stunning lagoon, the 5-star resort offers an extensive selection of luxury accommodation, with 125 beach and overwater villas and suites catering for couples and families alike, all come with butler service. A great choice of indulgent dining choices allow guests to enjoy flavours from Europe to Asia in four restaurants and two bars, all offering a delicious culinary experience and an amazing, talented, professional team of friendly staff. With an array of energetic or relaxing indulgent activities in and around this Maldives resort, it's an ideal place for both couples (romantic and idyllic with an adult-only area ) and as well families (kids club, family villas beach & overwater and nanny service). The island, with its pearl shores and ambundant marine life is just a 25-minute seaplane ride from Malé Airport.
Read More