Spend a romantic weekend at Baros Maldives
Best Romantic Resorts in the Maldives
24 Apr, 2021
Need some inspiration for your next romantic weekend? Whatever your heart desires, your perfect Maldives escape is effortlessly accessible and you'll never have to travel too far for paradise.
Award winning boutique, private island of 75 overwater and beachside garden villas and white sand beaches set in a turquoise lagoon, just 25 minutes by speedboat from the Male Airport. If a dreamy getaway or a staycation with your loved one is beckoning, Baros Maldives offers a quality time laced with romance.
In 2021, couples looking to mark their nuptials after a year of lockdowns and travel restrictions can do so with some additional spoils at Baros.
This year, the resort is offering its esteemed honeymooners some brand new complimentary experiences to ensure that their long-awaited dream honeymoon can (finally) transform into a reality.
Make up for lost post-wedding celebrations with the ultimate tailor-made honeymoon experience at Baros. What's more, for newlyweds planning to travel in 2021, it's no longer necessary to travel within six months of the wedding to receive the benefits.
Every Baros honeymoon offers guests a sophisticated welcome with sparkling wine and gourmet chocolates on arrival, an intimate, candlelit dinner on a deserted beach and romantic villa decorations.
But this year, over and above these standard Baros honeymoon treats, newlywed couples looking to celebrate their union between May and September will also be able to choose three complimentary experiences from a range of romantic offerings available.
A private floating breakfast served in their own villa pool (applicable for pool villa bookings only); sumptuous cocktails at the Lighthouse; a sunset cruise on a Maldivian dhoni sailing boat; a guided snorkel of the world-class Baros house reef — these are some of the extraordinary ways honeymooners can make up for lost time at Baros in 2021.
Welcoming guests since 1973, Baros has spent decades honing its services and cultivating its environment, making it the Maldivian icon and a firm favourite among couples. In fact, it's secured the award for the Most Romantic Resort in the World for eight consecutive years at the World Travel Awards, the most recent being in 2020.
An undeniably idyllic hideaway, Baros boasts exquisite tropical vegetation and a sublime house reef — a mere 15 metres from the shore. Its plethora of island activities and offerings make for a truly unforgettable honeymoon in paradise.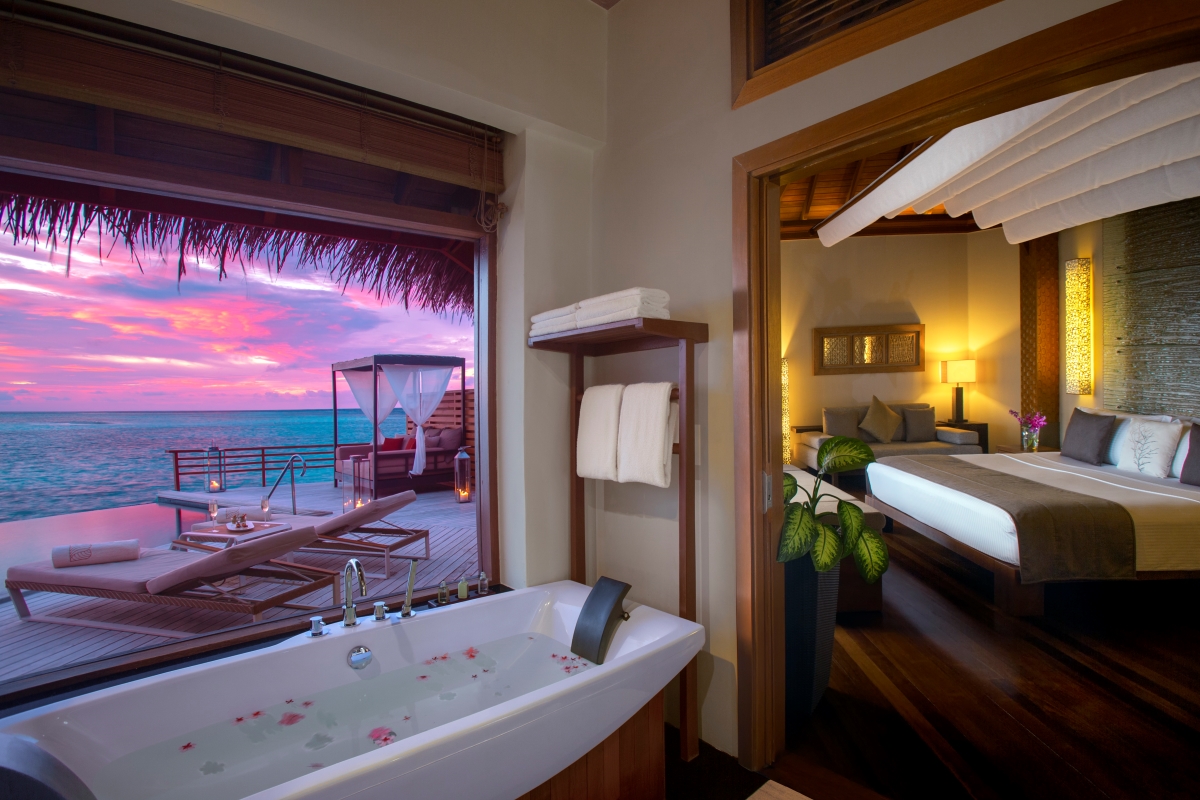 Honeymoon benefits apply to all newlyweds staying for a minimum of four nights. The newly introduced bespoke benefits and offerings are applicable for honeymoon stays between May and September only and bookings can be made on www.baros.com.
Check Availability and Prices in Baros Maldives
Baros Maldives
Best Experience: Honeymoon, Beach, Spa, House Reef Snorkeling & Diving
Baros is a perfect getaway located in the North Malé Atoll only a 25-minute by speedboat from Malé Airport. With a variety of villas to choose from, these very stylish settings make this the ideal island retreat for couples young and old. Located on a beautiful private island with a crystal clear coral lagoon, Baros is a 5 * star boutique hotel in the Maldives that will surpass all of your highest fantasies of the "dream island". Surrounded by clean, warm waters and snow-white sands, with groves of coconut palms and fragrant flowers, this cozy resort landscape is really worthy of fainting. The team is serene modern rooms (including water villas), fine dining, a fantastic spa, a large swimming pool and water entertainment from a luxury yacht to diving and yoga.
Read Full Review...