Where to Be Exclusive with Your One and Only: Baros
Best Experience for: Honeymoon, Beaches, Spa, House Reef Snorkeling & Diving
Updated Jan, 2023
Baros is a perfect getaway located in the North Malé Atoll only a 25-minute by speedboat from Malé Airport. With a variety of villas to choose from, these very stylish settings make this the ideal island retreat for couples young and old.
Located on a beautiful private island with a crystal clear coral lagoon, Baros is a 5 * star boutique hotel in the Maldives that will surpass all of your highest fantasies of the "dream island". Surrounded by clean, warm waters and snow-white sands, with groves of coconut palms and fragrant flowers, this cozy resort landscape is really worthy of fainting. The team is serene modern rooms (including water villas), fine dining, a fantastic spa, a large swimming pool and water entertainment from a luxury yacht to diving and yoga.
Baros is one of the first luxury resorts in the country - four decades ago when communication occurred through the Morse code and the guests needed three hours by a dhoni boat to get to the pristine atoll beaches. Today, the natural beauty of Baros island still thrives due to local efforts to preserve the environment. You will have time to participate in an internationally recognized house reef conservation program, or go snorkeling with a marine biologist to learn more about vibrant marine life or just listen to wind music through the thatched roof of your villa and enjoy the splendor of seclusion in a tropical paradise.
The Island
Only the third resort to open in the Maldives (1973) and the first Dive Centre to open in the archipelago (1979), Baros is situated in the central southern part of North Male Atoll, just 25 minutes by speedboat from the international airport. It is surrounded by a beautiful house reef, only 15 to 30 metres from the shore, alive with colours, fish, turtles, rays and coral.
With beach villas of classic elegance set in lush vegetation and secluded water villas, many of which come with private pools, Baros is one of the most romantic resorts in the Maldives, the perfect honeymoon getaway. Inspired by Maldivian traditions of heartfelt hospitality, Baros is a tropical island dream come true with fine cuisine and drinks served at three gourmet class restaurants, two bars, and a cigar and shisha lounge.
Leave your heels at home; they just go into the sand of the cute paths entangling the whole island. We advise mods to pack several versions of swimsuits, including mini bikinis and maxi. Budding Jacques Yves Cousteau can easily rent diving gear, just do not forget all your certificate.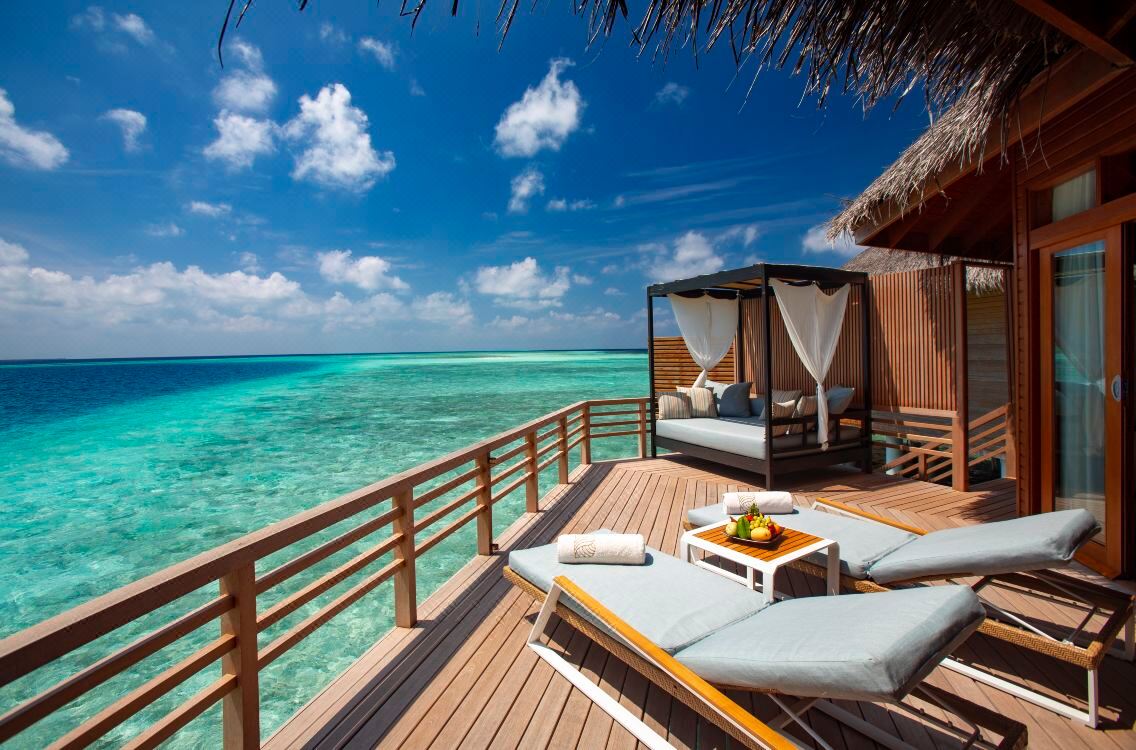 Marine adventures are guaranteed at Baros thanks to a staggeringly special house reef. One of the Indian Ocean's first luxury dive resorts, this Maldivian-owned, all-villa escape has stayed fresh since opening in 1973, and remains a heavenly setting for honeymoons and grown-up family holidays.
Elegant and comfortable, with an unfaltering attention to detail that is careful never to upstage the tropical nature. Every comfort has been considered, with no scrimping on highest-quality furnishings inside the villas, and yet the resort achieves an authenticity that international chain hotels often fail to deliver. Where typical hotels have corridors, they have sandy foliage-lined pathways. Maldivian designers are behind the architecture and interiors of the seemingly rustic thatched villas and their use of natural materials, such as indigenous woods and stones, fit in well with the desert-island setting.
Baros does a lot to protect its natural environment too, and runs an outstanding coral regeneration programme, with sustainability efforts extending to the use of non-bio-degradable products.
The well-forged identity of Baros has been consistently enhanced and refined during its 45 years of hospitality. This bijou island is designed with a cosy and intimate concept that ensures a blissful time in elegance and harmony for couples, honeymooners, or guests celebrating meaningful bonds with loved ones. A renewal of vows ceremony on the beach, a sunset cruise by the island's exclusive traditional dhoni Nooma, private dining on a sandbank or on the Piano Deck set in the island's lagoon, are some of the romantic experiences at Baros for couples to enjoy.
Location
North Malé also known as northern Kaafu is the main atoll in the Maldives, where in the first time in the country the tourism was launched. The capital of Maldives, Male City and Velana International Airport (MLE) are also located in the North Male Atoll. North Male Atoll is home to a great collection of luxury 5* star resorts and budget guest houses. Read More...
Clichés are a good thing when they involve postcard-perfect white beaches, turquoise waters and romantic dining under the stars. A tiny private coral island conveniently close to Malé, the resort's impressive speedboat will whisk you from the international airport in 25 minutes. The remarkable house reef is a paddle from the beach, and promises an eye-popping cast of turtles, rays and exotic fish. The Maldives' ever-developing hotel landscape means that views are no longer uninterrupted, but seeing life twinkle elsewhere does little to distract from the parade of tropical sea life and a vast expanse of an ocean so blue it looks PhotoShopped.
Villas
A total of 75 contemporary and chic villas, there are 24 Deluxe Villas, 10 Baros Villas with direct access to the beach, 30 Water Villas built over the lagoon with direct access to the Indian Ocean, 8 Baros Pool Villas which have a private pool, 2 Baros Premium Pool Villas with the addition of a Jacuzzi and 1 Baros Residence also with private pool.
Favorite guest numbers: It is difficult to pass by romantic and private water villas, each of which rises above the water and boasts spacious interior spaces, large terraces, outdoor sofas under white tents and wooden stairs descending into to the lagoon. Eight villas have their own infinity pool, among that two Premium Pool villas are also equipped, sports jacuzzi sizes, have their own beach area and personal butler, ready to satisfy any your whim.
Children above the age of eight are welcome, but since this is a dream honeymoon destination, there are no special facilities for families. There is a charge for an extra bed for a child sharing with two adults.
The award-winning 268m² Baros Residence, is the most romantic retreat in this paradise, filled with flowers and birds, with its own pool and garden but with access to the beach and a short walk along a shady, sandy path to the fine restaurants and lounges that distinguish Baros as one of the premier luxury hotels in Maldives. Here the privileged guests of the residence can expect a lazy holiday on four sun loungers, massages in the room, or you can simply call your personal butler 24/7 to drive for mojito, which you can then enjoy on the sun deck, a stone's throw from the sandy beach, making it the ultimate Maldivian luxury resort villa. DOWNLOAD RESORT MAP
Baros Pool Villas and Premium Pool Villas have panoramic swimming pools, and the Residence has a larger swimming pool. Guests of other rooms can swim in the huge main swimming pool (85 sq. m.) near the Lime restaurant (open from 11 am - 6 pm) - the largest freshwater pond in the Maldives with at least a hundred meters of fiber optic lighting for night effect. On one side of the pool is a bar with drinks and canapes ... and where the staff will clean your glasses, if you politely ask. The lagoon is also a safe water area for a refreshing swim.
In 2018 a new category of rooms has been added and branded as Baros Suites. These Baros Suites are private, stand-alone villas providing guests with a modern, luxurious living space, complete with a spectacular, 6m by 3m swimming pool, a separate hot and cold water jacuzzi and a secluded gazebo that features a swing with a view of the ocean stretching to the horizon. In addition, existing Baros Water Villas, Baros Pool Villas and Baros Deluxe Villas have all been upgraded with new furniture, bright colours and high-quality materials to enhance guest comfort and improve each villa's elegant style.
The brand new Baros Residence features more seclusion and space as well as some fabulous extras. The luxurious room maintains the authentic yet luxurious Maldivian style that personifies Baros island while being a welcome addition to the resort's spectacular collection of fabulous villas.
Designed for guests to experience true Baros bliss in privacy, the singular Residence provides the ultimate indoor-outdoor space in the seclusion of a garden retreat. It is a bliss of Baros exclusive to guests staying in the Residence. The only visitors will be the assigned a personal butler and staff. In the 270sqm palatial Residence, guests have the freedom of space as well as being able to relax in secured privacy.
Restaurants and Bars
Private-island resorts make you a captive audience for the house eateries – thankfully here they get the eating and drinking just right. There's a balance of à la carte and buffet, as well as Asian flavours and local and international classics in the air-conditioned Lime Restaurant which also has a deck. The Cayenne Grill hosts lavish spreads of dishes created in front of you. Sails Bar is an elegant sand-floored palm-covered outdoor sitting room where aperitifs and after-dinner cocktails are sigh-inducing stuff – and they always book the best singers and musicians.
Baros offers different meal plan options to ensure you can select the perfect one for you: bed & breakfast, half board, half board dine around and Baros Delight All Inclusive. Meal plan upgrade options are available once your booking is confirmed.
Set over the water, in the form of a circle, the gourmet The Lighthouse restaurant hides in the shade of a marquee, floating like a sail, which contrasts sharply with the day and glows at night. Lounge is an ideal place for a glass of champagne at sunset, and the restaurant's menu serves Asian and Mediterranean dishes. Intimate dining over the lagoon, the aroma of spice drifting through the night, Cayenne Grill, with thatched roof and open structure is a more casual love affair where food alternates with Maldivian, Indian and Japanese dishes in buffet style. In the Lime restaurant located on stilts above the water, all day you can feast delicacies of world cuisine from the global "a la carte" menu.
With sugar-white sand under your feet and palms above your head, Sails Bar is a seductive bar to sip pomegranate Margarita, or selected sommelier world wines throughout the day and night. Live music plays every Tuesday and Saturday night and there is a hookah. The Lighthouse lounge offers a more cozy atmosphere for night drinks. Guests lounging by the pool can order cocktails from the roving waiters; pick from classic piña coladas, margaritas and daquiris, or order a more modern concocotion. We like the Baros Island iced Tea with vodka, shochu, peach and orange liqueurs, lemon juice, honey and green tea. A snack menu has dim sum, mini burgers, gourmet pizzas and sushi. Foodies should experience The Lighthouse Restaurant's exciting Ocean Degustation Menu.
10:30pm for dinner at the Lighthouse and Cayenne Grill and Lime Restaurant. Sails Bar keeps the drinks coming until 11pm.
Room service is available on request 24 hours. The menu offers breakfast (including breakfast with champagne for two), snacks, lunch and dinner. The Light House and Cayenne Grill can whip up dinner in the room between 7pm and 10pm.
Outdoor patio-front tables are always the best places (take on the lower deck of Lighthouse, with the music of hissing waves). You can also dine in privacy in your villa, in the fresh air somewhere on the island, or on the romantic sand bank. On the theme of the dress code is recommended upscale beach chic.
Baros Piano Deck is a unique dining expeerience on a stand-alone deck isolated in the middle of the beautiful, turquoise lagoon – a symphony of fine cuisine served in exclusivity in the exotic setting of the lagoon. This deck, whose profile resembles a grand piano with wooden steps like a piano keyboard, is just minutes by boat from the resort's shore with access only through prior reservation. With a muslin canopy billowing in the breeze and providing shelter from the sun, the Piano Deck is extremely popular with guests who want a different experience in sophisticated style. There is no permanent structure on the deck, making it possible to create the perfect backdrop for any occasion whether during the day or on a moonlit night. While the Piano Deck is more frequently chartered for a couple to share a romantic meal, whether breakfast, lunch or dinner in privacy, it has also been used as a venue for small cocktail parties, for yoga enthusiasts and for renewal of wedding vows for both newly married and couples commemorating a wedding anniversary. It's ideal for a melody of Baros cuisine discreetly served on the deck in the lagoon under the stars.
Snorkeling & Diving
For many reasons, Baros is a unique site for diving. The resort has two dive centers, including a marine biology center. Near the island there is an excellent house reef with abundant marine life, ideal for diving and snorkeling.
Around the island, less than 50 minutes by boat, scattered more than 30 world-class dive sites. In Baros, guests can not only learn diving, but also take classes in eco-diving, as this is the first eco-diving center in the Maldives. 5 stars PADI Divers Baros Maldives has been operating on the island since 1979 and was opened on the archipelago one of the first, and today with a qualified team formed of international instructors specializes in serving small groups with an individual approach. Baros Maldives stands for environmental awareness, and the resort's diving center is actively involved in the conservation of reefs.
Baros' house reef is known as one of the best house reefs in the Maldives. With a length of 300 meters, the coral gardens have easy access. The reef is dropped by ledges to a depth of 20 meters, where you will find the hypnotic world of corals with an amazing variety of a vibrant marine life. Expect to see blacktip reef sharks, turtles and many species of fish, including pelagics. In Baros is particularly popular fluorescent night diving, offering a look at the underwater world in a new light.
Sports and Activities
Exploring each winding sandy lane and circumnavigating the entire coastline would take half a day max, yet Baros has a knack of keeping guests busy if they want to be. At Baros there is a wide range of escapes and experiences to choose from. Serenity Spa offers a variety of relaxing wraps, scrubs and massages that guarantee the removal of stress and tension. While a lot of hotels offer a dawn yoga session, few rival the one at Baros. Book a private session and you'll be whisked across the lagoon by boat to a sandbank where the resort's resident yoga instructor leads you in contortions as the sun rises out of the Indian Ocean. Otherwise, free group classes are held at 6am in the Palm Garden (every day except Sunday).
For those who prefer diving to downward-facing dog poses, Baros has its own diving centre which can get you geared up and underwater faster than you can say 'salutation to the sea'. READ MORE ABOUT DIVING
Snorkellers can explore the house reef just off-shore, or if you'd rather stay above the waves, the water sports centre can arrange everything from wakeboarding to glass-bottom kayaking. Baros also boasts a range of day trips giving you the chance to explore nearby atoll islands, try a spot of fishing or hit the streets of the capital Malé for some sightseeing and shopping. The resorts two vessels, the Serenity yacht and the Nooma (a traditional wooden dhoni), are used for group sailing tours or can be privately chartered for romantic excursions.
The spa at Baros is located in a beautiful, lush tropical garden where serenity saturates the atmosphere, and is accessed by over-water stepping stones. It is a tranquil haven where complete well-being in body, mind and soul is made possible.
Discover Experiences that make a Difference at Baros Maldives
Reviews
A variety of villas, beautiful surroundings, quality cuisine and world-class diving make Baros Maldives an ideal choice for couples, honeymooners and all those older. Baros can definitely recommend it!
Reviews for the Baros Island Resort are almost universally glowing, which is slightly unusuall even in this super-luxury category. The service and staff get very high marks, with many commenting that it was attentive but not smothering. The water villas in particular get rave reviews for their beautiful setting and the abundant sea life visible just below. The food gets good reviews from most past guests, but others call it just ordinary for a resort, which still sounds quite good.
"Best Hotel, Ever!", "Will definitely be coming back and would recommend to everyone", "Just amazing", Superb, "Magical honeymoon", Exceptional, "Relaxed luxury", Fabulous, "Amazing Baros", "Very Relaxing and Romantic.", Great location and close to the airport. The Hotel has a natural reef well worth snorkling in
Why Stay Here? Pros
Excellent location and luxury hotel
The island is very small and that what makes it very relaxing and romantic.
All staff is above all credits. Very good staff, helpful and welcoming;
Romantic water or beach villas; At the villa everything works, nothing falls off, cleaning regularly and imperceptibly, the bed is very comfortable. Each beach villas with private beach access.
Eco-diving and snorkeling in the crystal clear ocean. A great house reef.
Amazing dining options with world-class cuisine. The breakfasts are varied and delicious;
Quality live music with good repertoire
Seductive spa treatments; Branded scrub Baros Spa using sand and coconut oil produced on the island
Villas are equipped with pleasant additional bonuses, including a beach bag and flip flops, yoga mats and a wine cabinet-bar with champagne
The Lighthouse restaurant, seafood dinner with a bottle of good wine
Yoga classes and meditation lessons
Dinner on the sandbank
What You Need to Know
6 Reasons to Book Direct with Baros. Read more
Book direct on Baros' website for the best available rates and exclusive benefits. View the deals
Baros island is the part of Universal Resorts the most desirable Maldivian hospitality group.
25 minutes by boat from Male airport
Winner of the World Travel Awards, as the most romantic hotel in the Indian Ocean
children are welcome from 8 years and older
Baros was the first 5* resort in the Maldives and was updated in 2005, meaning that it has both experience and modern luxury to its name
Baros is the number one resort in the Maldives for repeat guests
The island is very small, so there can be no absolute privacy
highly recommend opting for the half board dine-around package so you can experience all 3 restaurants - offering different styles of cuisine in each, it is much nicer to have the choice
Baros has one of the healthiest house reefs in the Maldives - snorkelling is a must!
If you like to swim, the best part of the villas for you is from the side of the reef wall. These are villas 101-105, 201-213, or water villas of 320-330.
The colourful fiber optic lit pools in the Water Pool Villas are the perfect spot for a midnight dip under the stars
In 2019 Baros Maldives has announced an all-new membership program. The program rewards returning guests with exclusive benefits at different levels of membership.
Baros has won the Indian Ocean's Most Romantic Resort title each year since 2013. It was also named World's Most Romantic Resort in 2012, 2013, 2015, 2016, 2017, 2018 and 2019.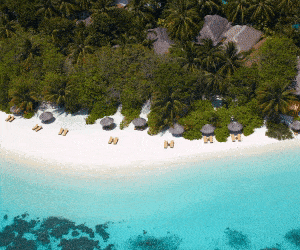 Check Availability and Prices in Baros Maldives
Maldives Luxury Guide
Here's the best of Maldives for luxury travellers. We've compiled the finest recommendations of places to stay, ranging from the most celebrated five-star resorts to luxurious private islands Read More
Maldives Romantic Guide
The ultimate 'flop and drop' and honeymoon destination, the Maldives is the playground for the most amazing and finest utilization of each second of this extremely valuable and hopeful time with each other in tota Read More