Seaside Finolhu Baa Atoll Maldives and EnChroma partner to enhance colorful experiences for color blind guests
29 April, 2023
In honor of International Colour Blindness Awareness Month, Seaside Finolhu Baa Atoll Maldives, renowned for its vivid and captivating surroundings, has teamed up with EnChroma to offer color blind guests a groundbreaking opportunity to witness the Maldives' dazzling landscapes in all their vibrant glory. This pioneering initiative includes the use of specialized glasses designed for color blindness, innovative snorkel masks, and EnChroma sunglasses, allowing visitors to experience the world in an entirely new light.
EnChroma, known for its patented lens technology, has developed these cutting-edge solutions, which are exclusively available at Seaside Finolhu.
A World First: Seeing the Maldives in Full Color
Among the groundbreaking innovations, EnChroma's color blind glasses stand out, granting individuals with color blindness the ability to perceive the world in its true spectrum of colors. Additionally, snorkel masks have been crafted to enhance underwater adventures, enabling color blind guests to appreciate the Maldives' vibrant marine life more vividly than ever before.
This remarkable offering is a world-first and can only be experienced at Seaside Finolhu.
Unlocking a World of Color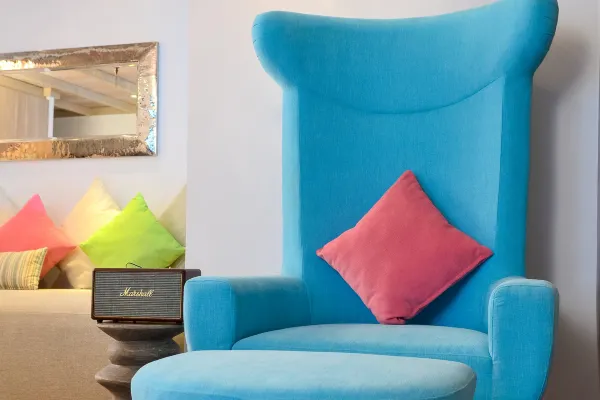 Color blindness affects approximately 350 million people globally, with 30 million residing in Europe alone. This condition predominantly affects men, with one in 12 individuals impacted. While those with normal color vision can perceive over one million shades and hues, color blind individuals typically see only about 10 percent of this range.
For red-green color blind individuals, colors may appear muted and indistinguishable from one another. Common color confusions include green and yellow, grey and pink, purple and blue, and red and brown. This limitation can hinder color-blind individuals from fully immersing themselves in vibrant experiences during their travels, affecting both work environments and social interactions.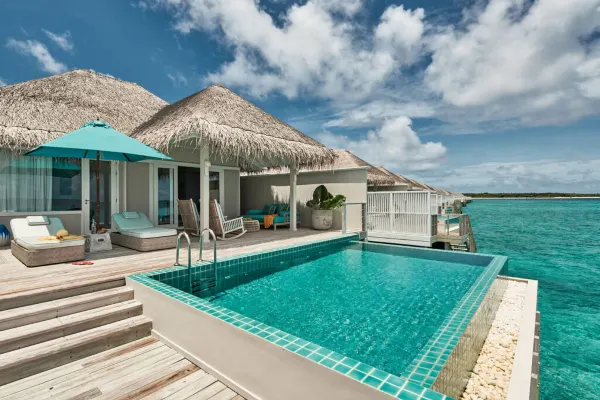 A Colorful Paradise Beckons
At Seaside Finolhu Baa Atoll Maldives, color blind guests not only have the opportunity to witness the myriad blues of the Baa Atoll but also to explore one of the most visually captivating hotels in the Maldives, with its kaleidoscope-inspired interiors.
Steven Phillips, General Manager at Finolhu Baa Atoll Maldives, shared his excitement about the partnership: "We're thrilled to be partnering with EnChroma on this exciting new initiative. Travelling the world is one of life's greatest pleasures, but imagine doing so and only experiencing ten percent of color. That's like only seeing two colors of the rainbow. Or not witnessing the true blue of the ocean or the hundreds of hues of a sunset."
"As someone who is color blind myself, I know all too well the realities and impact this can have, so I'm delighted to see this collaboration come to life. We can't wait to welcome color blind guests – both adults and children alike – to experience this unique technology and see our piece of paradise in all its glory!"
Erik Ritchie, CEO of EnChroma, expressed his enthusiasm about the project: "The Maldives, and Seaside Finolhu, are arguably two of the most breathtakingly beautiful and colorful places on earth. I'm a divemaster and have been SCUBA diving for most of my life, so I can appreciate how much more spectacular and special it will be for color blind divers to experience the amazing array of vibrant colors the ocean has to offer. We are also thrilled that color blind guests will be able to experience more color when they are not diving by borrowing our glasses at the resort."
Seaside Finolhu Baa Atoll Maldives and EnChroma are poised to make the Maldives' vibrant beauty accessible to all, transcending the boundaries of color blindness and offering a life-changing experience for those who embark on this captivating journey.
Looking forward to spend your holiday at Finolhu in style? Email [email protected] or click on www.finolhu.com.
Jet off to a tropical paradise and take advantage of our last-minute deal. Promotion includes:
Up to 30% savings on last minute bookings for stays until 23 December 2023
Daily breakfast at Beach Kitchen
BOOK NOW
About Finolhu Baa Atoll Maldives: Owned and managed by Seaside Collection, Finolhu Baa Atoll Maldives, is a luxury island resort renowned for its two-kilometre white powdery beaches that stretch out across four islands. Firmly established as one of the finest resorts in the Maldives, Finolhu - meaning sandbank in Dhivehi - consists of 125 beachfront and overwater villas (more than half with a private pool), four restaurants and an array of activities, every day on Finolhu's island playground is as varied as the coral reef landscape of the Baa Atoll. Whilst popular with honeymooners, the extensive resort which is set in a UNESCO Biosphere Reserve is also family-friendly, with a kids' club and world-famous entertainment. For more information about Finolhu Baa Atoll, visit finolhu.com or follow us on Instagram, Twitter or Facebook.
Related stories
Finolhu Baa Atoll Maldives
Best Experience for: Couples, Family, Group vacation, Activities, Nightlife
Located in the UNESCO world biosphere of Baa Atoll, Finolhu came about as a reaction to the more familiar Maldives island. One of the newest resorts in the Maldives, Finolhu was born out of a desire to bring a fresh wave to the uninhabited island experience. Forget the images of the quiet Maldives paradise: here, fiery dancers, acrobats, world-famous DJs and top-class barmen keep the guests on tiptoe (starting from their bed). The retro atmosphere is the resort's main inspiring force that puts a fun stay at the heart of everything it offers. This cool island playground shakes things up with a fun and fresh spin on Maldivian luxury. The island boasts the longest (1.8 km) sandbank of all the famous Maldivian resort islands - expect to spend a lot of time explorering it. A long beach should not disappoint you either; beach club with retro cinema and old-school arcade; spa with fitness centre and beach gym; tennis courts; watersports; four restaurants; old-school tuck shop. In rooms: TV, iPod dock, DVD player, desk, air-conditioning, minibar, black-out curtain, Neal's Yard Remedies bath products.
Read More