Vakkaru Maldives appoints New Yoga and Fitness Instructor
Activities & Experiences in the Maldives
11 October, 2022
Island sanctuary Vakkaru Maldives celebrates wellness with the appointment of Anju Rathi as the new resident yoga and fitness instructor tasked with enhancing the island resort's fitness and wellness programmes. The resort's serene setting and an experienced yoga practitioner are just what guests need to harmonise mind, body and soul on their break from the outside world.
A Master in Naturopathy and Yoga Science, Anju Rathi brings eight years of yoga experience and expertise in various yoga practices and techniques. Expanding on her role, Anju said, "The ancient practices of yoga help to restore mind and body. My job is to use yoga and its philosophy to develop body-mind-spirit awareness, physical flexibility and strength. In addition, I adopt a holistic approach to fitness training and strongly focus on execution to improve overall health and well-being in a calming and encouraging environment."
Anju, a former athlete and natural born-teacher, is passionate about all kinds of yoga, from Ashtanga, Yin, Hatha and Restorative Yoga to Therapeutic Yoga. She is a specialist in ensuring the programmatic delivery of all yoga therapy and wellness programmes for experienced practitioners and beginners. She views yoga as a means to a healthy lifestyle and has created several transformational mind and body yoga programmes for guests at Vakkaru Maldives, including therapeutic Yoga and Prenatal Yoga.
Therapeutic yoga is a one-on-one Yoga session that takes a whole body or holistic approach to alleviating pain, arthritis or dealing with other health issues. During the session, Anju guides guests through specific yoga postures and techniques to get pain relief and enhance health. While during prenatal yoga, she helps mom-to-be prepare for childbirth by relaxing the body and focusing on safe techniques and poses through all stages of pregnancy. A multi-faceted approach to exercise, prenatal yoga encourages stretching and mental centring with many benefits for both mother and child, including increasing strength, flexibility, and endurance.
As the resort's fitness instructor, Anju brings a holistic approach to fitness training and creates personalised fitness and physical therapy programmes for guests based on their physical conditions and fitness goals. The training includes cardio and core training, pilates, High-Intensity Interval Training (HIIT), weight lifting and barefoot beach workout.
Speaking about Anju's appointment, Iain McCormack, General Manager, Vakkaru Maldives said: "Well-being is now at the heart of our lives. At Vakkaru, we are committed to enhancing the guest experience by continually responding to guests' rising demand for experiences that speak to their overall well-being. With Anju's transformational yoga, meditation and fitness programmes, we continue to deliver experiences that positively impact our guests' lifestyles."
Check Availability and Prices
Related Pages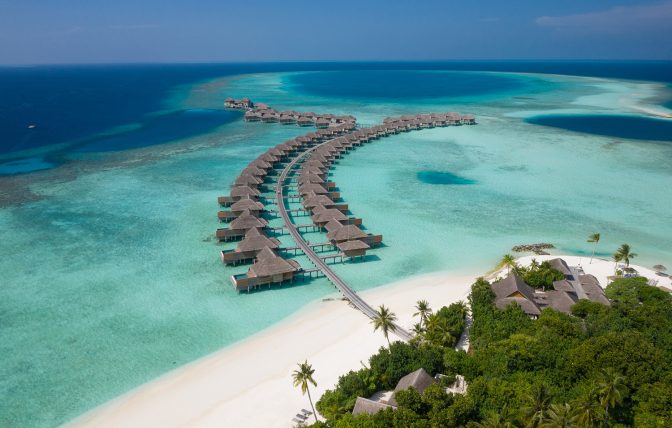 About Vakkaru Maldives:
Located in Baa Atoll, a UNESCO Biosphere Reserve renowned for its spectacular sea life, Vakkaru Maldives is a timeless sanctuary recently named the Indian Ocean's Leading Resort in the World Travel Awards. An awe-inspiring 30-minute seaplane ride from Velana International Airport takes you to this secluded reef island, shaded by coconut palms and blessed with calming ocean views and powder-soft white-sand beaches. Here 113 beautifully appointed Over Water and Beach Villas are elegantly designed to respect their surroundings, while exceptional dining experiences and amenities await. Among our industry-leading offerings is overwater Merana Spa, complete with an Ayurveda practice and a regular host to residencies by the world's most inspiring wellness practitioners. Children and teens are generously catered for in the Parrotfish Club and Coconut Club respectively, while guests of all ages can play against world-famous pros through a best-in-class coaching partnership with Tipsarevic Luxury Tennis. Threading all those services and facilities together, our unique hospitality concept Vakkare places a sincere, proactive commitment to care at the core of all we do.
Stay a minimum of six nights at Vakkaru during Oliver Steeds' residency. Prices start from US$1,185++ per night in an Overwater Villa, inclusive of breakfast and dinner, plus complimentary stay and meals for up to two children under 12 years old. For more information visit www.vakkarumaldives.com.
Vakkaru Maldives
Best Experience: Couples, Families, Water Villas, Service, Beaches, Swimming with Mantas
Vakkaru Maldives is a brand new luxury resort located within the crystal clear waters of the UNESCO Biosphere Reserve in Baa Atoll. Vakkaru is a lovely island combined with a real Maldivian atmosphere and offers many high-end options in a comfy ambiance.
Surrounded by lush, vegetation, beautiful beach and stunning lagoon, the 5-star resort offers an extensive selection of luxury accommodation, with 125 beach and overwater villas and suites catering for couples and families alike, all come with butler service. A great choice of indulgent dining choices allow guests to enjoy flavours from Europe to Asia in four restaurants and two bars, all offering a delicious culinary experience and an amazing, talented, professional team of friendly staff. With an array of energetic or relaxing indulgent activities in and around this Maldives resort, it's an ideal place for both couples (romantic and idyllic with an adult-only area ) and as well families (kids club, family villas beach & overwater and nanny service). The island, with its pearl shores and ambundant marine life is just a 25-minute seaplane ride from Malé Airport.
Read More