Vakkaru Maldives resort adds a new Padel Tennis Court to its Sports facilities
Activities and Experiences in the Maldives
07 August, 2022
Timeless sanctuary Vakkaru Maldives is thrilled to announce the launch of their brand-new padel tennis court. Located in the heart of the island and surrounded by lush tropical greenery, the new court is ideal for those looking for a fun, sociable sport or fitness enthusiasts who need a serious workout.
Iain McCormack, General Manager, Vakkaru Maldives, said, "We are thrilled to be one of the few resorts in the Maldives and the first one in Baa Atoll to bring the fastest growing racket sport in the world to complement our island's offerings. The addition of the new padel tennis court to Vakkaru's comprehensive sports facilities – tennis, beach volleyball and football – further underlines our resort as a destination for families and sports enthusiasts."
Padel tennis is a cross between tennis and squash. It is played on a semi enclosed court about 25% smaller than the size of a tennis court. The rules are similar to tennis; however, players use tennis balls that are slightly less pressurised; serving is underarm, and the court walls are also used in the game. Padel tennis enthusiasts include tennis stars Novak Djokovic, Rafael Nadal, Maria Sharapova, and top footballers Cristiano Ronaldo, Neymar and Lionel Messi.
The new padel tennis court is open daily from 7.00am to 10.00pm. It is complimentary for inhouse guests with advance reservations. Amenities provided include rackets, balls, towels and water. Little guests and teens who want to give this fun sport a try can participate in the 'Introduction to Padel Tennis' session every Wednesday, guided by our recreation team.
Other additions and enhancement to the resort facilities include a newly opened yoga pavilion at Vakku Beach which accommodates up to 16 people, as well as an extension of the overwater gym with a larger indoor area and floor-to-ceiling windows overlooking the lagoon which will be launched this month.
Check Availability and Prices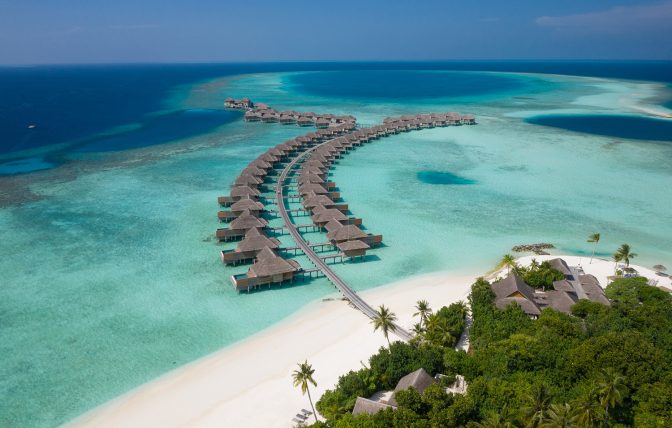 About Vakkaru Maldives:
Located in Baa Atoll, a UNESCO Biosphere Reserve renowned for its spectacular sea life, Vakkaru Maldives is a timeless sanctuary recently named the Indian Ocean's Leading Resort in the World Travel Awards. An awe-inspiring 30-minute seaplane ride from Velana International Airport takes you to this secluded reef island, shaded by coconut palms and blessed with calming ocean views and powder-soft white-sand beaches. Here 113 beautifully appointed Over Water and Beach Villas are elegantly designed to respect their surroundings, while exceptional dining experiences and amenities await. Among our industry-leading offerings is overwater Merana Spa, complete with an Ayurveda practice and a regular host to residencies by the world's most inspiring wellness practitioners. Children and teens are generously catered for in the Parrotfish Club and Coconut Club respectively, while guests of all ages can play against world-famous pros through a best-in-class coaching partnership with Tipsarevic Luxury Tennis. Threading all those services and facilities together, our unique hospitality concept Vakkare places a sincere, proactive commitment to care at the core of all we do.
Stay a minimum of six nights at Vakkaru during Oliver Steeds' residency. Prices start from US$1,185++ per night in an Overwater Villa, inclusive of breakfast and dinner, plus complimentary stay and meals for up to two children under 12 years old. For more information visit www.vakkarumaldives.com.
Vakkaru Maldives
Best Experience: Couples, Families, Water Villas, Service, Beaches, Swimming with Mantas
Vakkaru Maldives is a brand new luxury resort located within the crystal clear waters of the UNESCO Biosphere Reserve in Baa Atoll. Vakkaru is a lovely island combined with a real Maldivian atmosphere and offers many high-end options in a comfy ambiance.
Surrounded by lush, vegetation, beautiful beach and stunning lagoon, the 5-star resort offers an extensive selection of luxury accommodation, with 125 beach and overwater villas and suites catering for couples and families alike, all come with butler service. A great choice of indulgent dining choices allow guests to enjoy flavours from Europe to Asia in four restaurants and two bars, all offering a delicious culinary experience and an amazing, talented, professional team of friendly staff. With an array of energetic or relaxing indulgent activities in and around this Maldives resort, it's an ideal place for both couples (romantic and idyllic with an adult-only area ) and as well families (kids club, family villas beach & overwater and nanny service). The island, with its pearl shores and ambundant marine life is just a 25-minute seaplane ride from Malé Airport.
Read More
Maldives
Best Hotel
Deals