Vakkaru Maldives Celebrates World Wellness Weekend 2023
Things to Do in Maldives
19 September, 2023
Luxury Maldives resort Vakkaru wrapped up a weekend full of holistic wellness activities to celebrate the World Wellness Weekend from 15-17 September 2023. The programmes were designed to promote wellness in a more accessible and enjoyable way for guests of all ages and fitness levels.
The three-day festivities kicked off with the Island Fun Run – a spirited dash around the island that blended fitness with the natural beauty of Vakkaru Maldives. Adding a tranquil counterpoint to the energetic run was a specially curated yoga session featuring guided meditation and singing bowl rituals. Led by the resort's wellness and fitness instructor, the session was held at the award-winning Vakkaru Overwater Residence at sunset, offering a serene backdrop that helped elevate the experience to a deeply spiritual level.
Sleep, often overlooked in our busy lives, took centre stage at the "Sleep Better" Ayurvedic Workshop, conducted by Dr Surandi Dissanayake from Siddhalepa. The workshop focused on the vital role sleep plays in overall health and offered practical Ayurvedic remedies to improve the quality of rest. Dr Surandi also guided guests through a "Tea Journey in Ayurveda". Participants discovered the secrets of healthy living as they sampled an array of Ayurvedic herbal teas made from 100% natural herbs and spices, offering numerous health benefits to enhance overall well-being.
Adding to the excitement was the Farm-to-Table experience at the Organic Farm. This unique dining experience features a tour of the resort's farm, followed by a cooking class and a set menu combining the freshly harvested herbs from the farm and locally sourced ocean produce.
Other highlights of the fabulous wellness weekend included a session where the mixologist taught guests how to make health-boosting shots and the kayak race for couples across the crystal-clear lagoon. A Coconut Painting Competition also allowed guests to unleash their inner artist and express their unique imagination through vibrant colours.
For more information visit www.vakkarumaldives.com.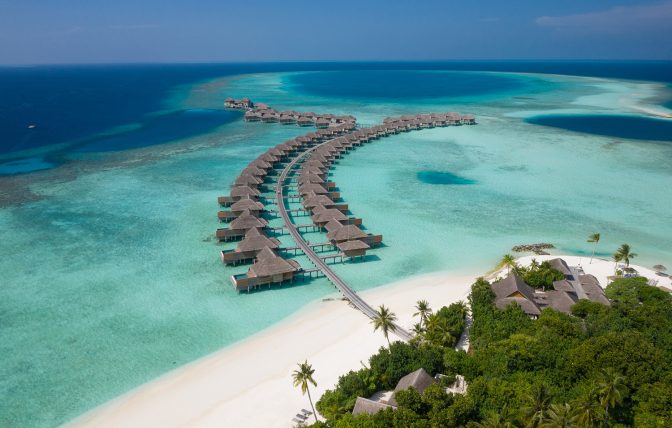 About Vakkaru Maldives:
Located in Baa Atoll, a UNESCO Biosphere Reserve renowned for its spectacular sea life, Vakkaru Maldives is a timeless sanctuary recently named the Indian Ocean's Leading Resort in the World Travel Awards. Here 113 beautifully appointed Over Water and Beach Villas are elegantly designed to respect their surroundings, while exceptional dining experiences and amenities await. Among our industry-leading offerings is overwater Merana Spa, complete with an Ayurveda practice and a regular host to residencies by the world's most inspiring wellness practitioners. Children and teens are generously catered for in the Parrotfish Club and Coconut Club respectively, while guests of all ages can play against world-famous pros through a best-in-class coaching partnership with Tipsarevic Luxury Tennis.
Check Availability and Prices
Related stories
Vakkaru Maldives
Best Experience: Couples, Families, Water Villas, Service, Beaches, Swimming with Mantas
Vakkaru Maldives is a brand new luxury resort located within the crystal clear waters of the UNESCO Biosphere Reserve in Baa Atoll. Vakkaru is a lovely island combined with a real Maldivian atmosphere and offers many high-end options in a comfy ambiance.
Surrounded by lush, vegetation, beautiful beach and stunning lagoon, the 5-star resort offers an extensive selection of luxury accommodation, with 125 beach and overwater villas and suites catering for couples and families alike, all come with butler service. A great choice of indulgent dining choices allow guests to enjoy flavours from Europe to Asia in four restaurants and two bars, all offering a delicious culinary experience and an amazing, talented, professional team of friendly staff. With an array of energetic or relaxing indulgent activities in and around this Maldives resort, it's an ideal place for both couples (romantic and idyllic with an adult-only area ) and as well families (kids club, family villas beach & overwater and nanny service). The island, with its pearl shores and ambundant marine life is just a 25-minute seaplane ride from Malé Airport.
Read More
Maldives
Best Hotel
Deals