Vakkaru Maldives scoops 3 trophies at World Travel Awards 2023
17 October, 2023
The world has spoken, and for the fourth consecutive year, Vakkaru Maldives is honoured to take home three distinguished awards at the 2023 World Travel Awards (WTA). This year, the timeless sanctuary was once again crowned the Indian Ocean Leading Resort, while the Vakkaru Overwater Residence awarded Leading Hotel Suite in the Maldives and Indian Ocean category.
"We are humbled and honoured to receive these accolades for the fourth time," said Iain McCormack, General Manager, Vakkaru Maldives. "Our continuous recognition is a testament to our team's unwavering dedication and the unique experiences we offer to our guests. Every award we receive propels us to set the bar even higher, and we promise to continue delivering unparalleled experiences."
While accolades are not new to the luxury resort, the outstanding location, luxurious villas, first- class facilities and exceptional service captivate the guests' hearts and keep them returning. Here are a few reasons that make Vakkaru Maldives an undeniable gem in the Indian Ocean.
Personalised Service: At Vakkaru Maldives, every guest is unique. From the moment one steps onto the shores, a dedicated team crafts an experience tailored just for them. Be it a private dining experience under the stars or an underwater exploration of vibrant marine life, the mission is to ensure each moment is unforgettable.
A Symphony of Nature and Authentic Design: Preserving the island's innate beauty while seamlessly blending it with luxurious touches has always been the mantra. The resort is a testament to understated elegant architecture in harmony with nature and Maldivian charm.
Well-Rounded Resort Experiences: The resort's philosophy is to offer more than just a stay. Whether indulging in the world-class spa, savouring culinary masterpieces in a bespoke setting, or diving deep into the ocean's wonders, Vakkaru promises many experiences that cater to every whim and desire.
The Vakkaru Overwater Residence: More than just a residence, The Vakkaru Overwater Residence embodies luxury and elegance. Spread over 950 sqm, the two-storey, four- bedroom architectural showpiece ranks among the largest overwater residences in the Maldives. With personalised services from a dedicated butler and chef on standby, complemented by panoramic sunset views and endless ocean horizon, an infinity pool, and bespoke amenities, it is no wonder this residence consistently gets accolades.
For more information visit www.vakkarumaldives.com.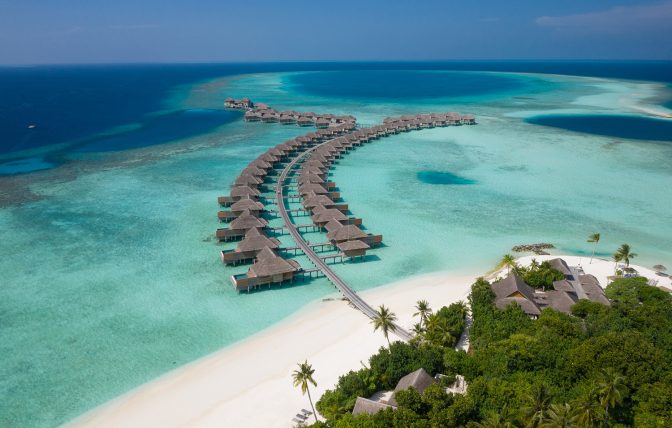 About Vakkaru Maldives:
Located in Baa Atoll, a UNESCO Biosphere Reserve renowned for its spectacular sea life, Vakkaru Maldives is a timeless sanctuary recently named the Indian Ocean's Leading Resort in the World Travel Awards. Here 113 beautifully appointed Over Water and Beach Villas are elegantly designed to respect their surroundings, while exceptional dining experiences and amenities await. Among our industry-leading offerings is overwater Merana Spa, complete with an Ayurveda practice and a regular host to residencies by the world's most inspiring wellness practitioners. Children and teens are generously catered for in the Parrotfish Club and Coconut Club respectively, while guests of all ages can play against world-famous pros through a best-in-class coaching partnership with Tipsarevic Luxury Tennis.
Check Availability and Prices
Related stories
Vakkaru Maldives
Best Experience: Couples, Families, Water Villas, Service, Beaches, Swimming with Mantas
Vakkaru Maldives is a brand new luxury resort located within the crystal clear waters of the UNESCO Biosphere Reserve in Baa Atoll. Vakkaru is a lovely island combined with a real Maldivian atmosphere and offers many high-end options in a comfy ambiance.
Surrounded by lush, vegetation, beautiful beach and stunning lagoon, the 5-star resort offers an extensive selection of luxury accommodation, with 125 beach and overwater villas and suites catering for couples and families alike, all come with butler service. A great choice of indulgent dining choices allow guests to enjoy flavours from Europe to Asia in four restaurants and two bars, all offering a delicious culinary experience and an amazing, talented, professional team of friendly staff. With an array of energetic or relaxing indulgent activities in and around this Maldives resort, it's an ideal place for both couples (romantic and idyllic with an adult-only area ) and as well families (kids club, family villas beach & overwater and nanny service). The island, with its pearl shores and ambundant marine life is just a 25-minute seaplane ride from Malé Airport.
Read More