Adaaran Prestige Ocean Villas
Best Experience: Couples, Surfing, All Inclusive, Value
Updated Aug, 2021
Full renovated in 2015, Adaaran Prestige Ocean Villas is all inclusive luxury resort that offers some of the most affordable water villas not far from Male Airport. It was and remains one of the few resorts in the Maldives with a great surf beach, which is why this island is especially popular among surfers, although diving, snorkeling and other activities are also plentiful, and the hotel occupies an entire island of decent size. This solid 4-star property is all inclusive, and villas the water are especially good not only for honeymoons or romantic holidays, but also are well suited for active guests.
The resort has 37 Ocean Villas that are located near the island inhabited by 97 Beach Villas of the sister property of Adaaran Select Hudhuranfushi. Ocean villas come with a personal butler and many luxury benefits, as well as a premium price.
This sub-resort shares a private island with Adaaran Select Hudhuranfushi that means the guests can use facilities of a larger resort - they include a swimming pool, fitness center, spa, tennis court and five bars. Those who are not against the seaplane trip should also consider similar (but less expensive) water villas in Kuredu Island Resort.
The Island
Opened in 2006, Adaaran Prestige Ocean Villas is one of the largest resorts in the Maldives. It has enough space for a football field, 215 rooms (most of which are owned by Adaaran Select Huhuranfushi), an impressive range of amenities, and accommodation for more than 400 staff.
Built over the water at the island's northern tip, Adaaran Prestige Ocean Villas consists of 37 water villas. This upscale luxury resort in a marriage with Adaaran Select Hudhuranfushi shares all facilities, except for all-inclusive dining at Sunset and Breeze restaurants (reserved for Ocean Villa guests). DOWNLOAD RESORT MAP
The island's shoreline offers a bit of everything. For snorkeling there is a beautiful house reef near the beach; A calm blue lagoon is ideal for swimming; Three beach bars provide ample chance for booze; And nearby southern tip of the island is one of the best surfing spots in the Maldives (with the exception of uninhabited islands). Besides surfers, the typical clientele includes European families and couples. The atmosphere is at ease, and many people go barefoot. The most lively area of ​​the resort is an outdoor swimming pool and an adjacent bar with a stage, food and a pool table.
Location
Adaaran Prestige Ocean Villas is linked to the northern end of Lhohifushi - a private island that he shares with his sister property, Adaaran Select Hudhuranfushi. The island is located in Kaafu atoll, north of Male airport. It can be reached in 25 minutes by speedboat transfer, that makes it one of the most popular resorts in the Maldives. Staff of 450 people live in the center of the island, which is less than half a mile long.
Visitors who choose to stay at Hudhuranfushi will enjoy easy access to local landmarks such as the National Museum, Grand Friday Mosque and the Presidential Palace which may be visited after returning to Male prior to departure.
Villas
Each Ocean Villa has a four-poster king-size bed, a separate sun deck (with steps descending to the lagoon), and a large bathroom with a jacuzzi and a rain shower. The spacious rooms are decorated in red, black and white tones, with parquet floors, beige walls and minimalist furniture with Japanese elements. Tiny traces of wear are visible in the villas, but they feel generally clean and attractive. All rooms have a minibar, espresso machines, bottled water and free Wi-Fi.
Restaurants and Bars
Perched on a deck overlooking the island's scenic harbour, the Sunset restaurant is the main fine dining place for Ocean Villas guests and also serves lunch and dinner buffets with all-inclusive plant. Food is quality everywhere, with international dishes, from fish curry to Italian pastas. A la carte menu is available at an additional cost. During lunch and dinner, guests can also eat in Banyan restaurant, that serves an all-inclusive plan, and which is the main buffet for guests not living in Ocean Villas. Guests can enjoy all-inclusive drinks from the main bar and beach bars (but fresh juices and drinks purchased after midnight are charged extra)
Surfing
Prestige Ocean Villas is one of the best surf holiday resorts in the Maldives. A world class left hander that breaks over a shallow reef makes it a surfers paradise. In order to enhance the surfing experience and improve the service levels to the surfers the resort will restrict the maximum surfers per day to 45.
Most popular accomodation among surfers are Hudhuranfushi's beach villas nestled under the trees along the edge of a white sand beach, or the newly refurbished Lohis Rooms that are literally a twenty second walk to the surf!
All surfers planning on surfing while at Hudhuranfushi need to be registered. Please note that any surfer arriving unregistered will not be allowed to surf during the course of their stay. If you want a change of scenery from the perfect lefts at Lohis, the resort's team runs twice daily surf excursions to the other waves by large, safe, shaded Surf Dhonis.
Activities
A playground and a children's pool are available for younger guests, while adults can pamper yourself in Chavana Spa. With spa services ranges from traditional aromatherapy massages to result-driven Elemis face and body treatments, using dynamic with medical grade formulas that offer scientific solutions to every skin, body and lifestyle concern; a perfect way to complete a perfect getaway.The spa features four double room with outdoor shower and bath, 3 outdoor Bale, Manicure and Pedicure and retail boutique which offers a range of retail products and spa gifts. A separate Chinese reflexology center also holds private therapy sessions.
A some boutiques sell paintings, souvenirs and jewelry, and a medical clinic is available for emergencies. For those who do not like snorkeling, the daily feeding of sharks and fish provides ample opportunities for a close acquaintance with marine life. In the fitness center you will find many simulators, but the room lacks the kinds and atmosphere. The most popular feature of the resort is a spacious outdoor swimming pool with a floating bar located next to the main lobby bar.
Sports facilities on the island include a football field, badminton, tennis and volleyball courts. The dive center offers PADI courses and trips to the best dive sites of Male atoll, and snorkelling gear, kayaks, jet skis and other facilities can be rented at the water sports center. READ MORE ABOUT DIVING
Reviews
Reviews about Adaaran Prestige Ocean Villas are mostly positive. Water villas receive very high ratings from past guests, and especially the personal butler included in each of them. Those who stayed in the main part of the resort are generally quite satisfied, although there are a few remarks about the slow service, so those who are interested in spending time doing water sports may have problems with this, but overall overwater villas here seem to be excellent.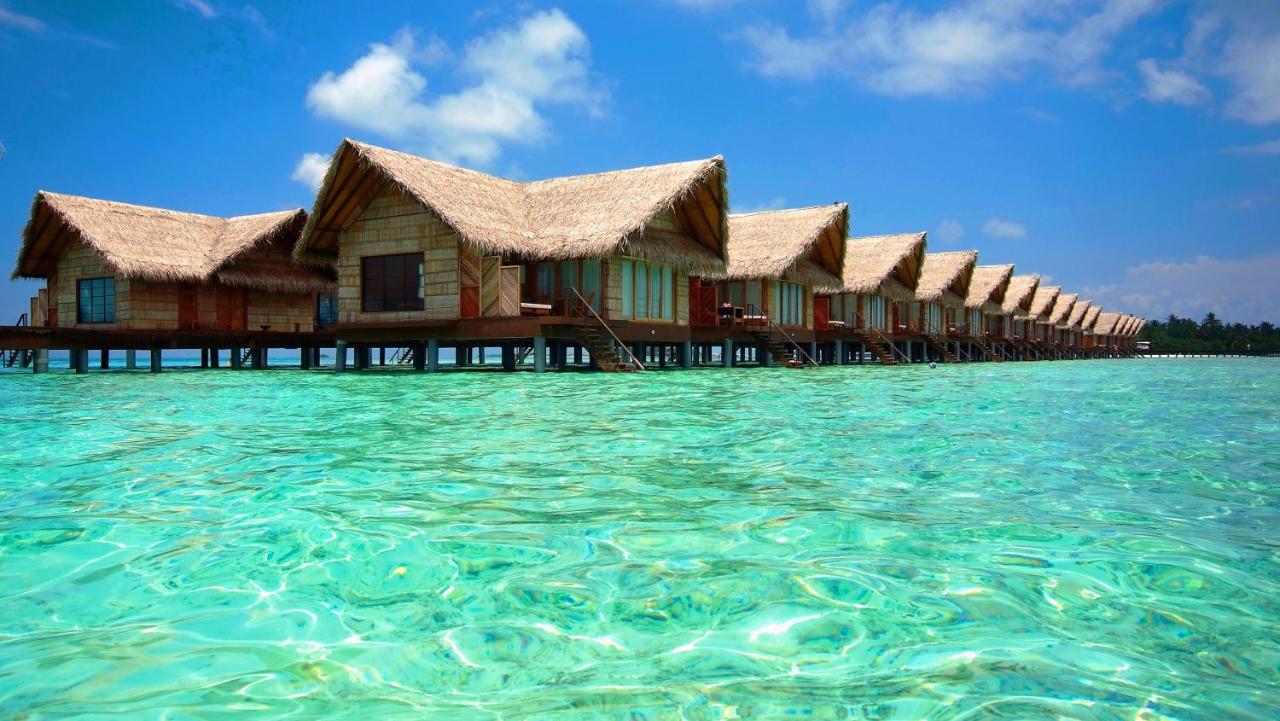 Pros: Why Stay Here
The location is perfect. Close to Male airport
The resort itself is stunningly beautiful
Ocean villas all inclusive package is a great option
White a fabulous beaches and clear turquoise water
A spectacular and spacious water villas with magnificent views and direct access to the lagoon. The bed is very comfortable
In the villas there are large bathrooms with bathtubs and showers with a rain shower
Surfing
Butler
Delicious and varied food. A great waitstaff. Comprehensive alcohol, soft drinks and water.
Beach Bars
A good house reef snorkeling and excursions (including a sunset cruise and diving)
A spacious outdoor pool with a floating bar, as well as a children's pool and a playground
Spa and Chinese reflexology center
What You Need to Know
All Adaaran Resorts properties and Heritance Aarah will reopen in July and September 2020 with enhanced health and safety measures, under parent company Aitken Spence Hotels' Spence Safe initiative.
25 minutes by speedboat from Male airport
Check-in from 13:00, Check-out before 12:00
The sun set villas are good when compared to sun rise villas (there is another nearby resort blocking the sun rise view) where sun set villas has open sea view
Pricey transfer
Surfers have to pay a daily fee for surfing
Minibar and freshly squeezed juices are extra
In some rooms, traces of wear are visible (worn lampshades, old forest, etc.)
No children's club or babysitting service (for some)
there is no doctor on the island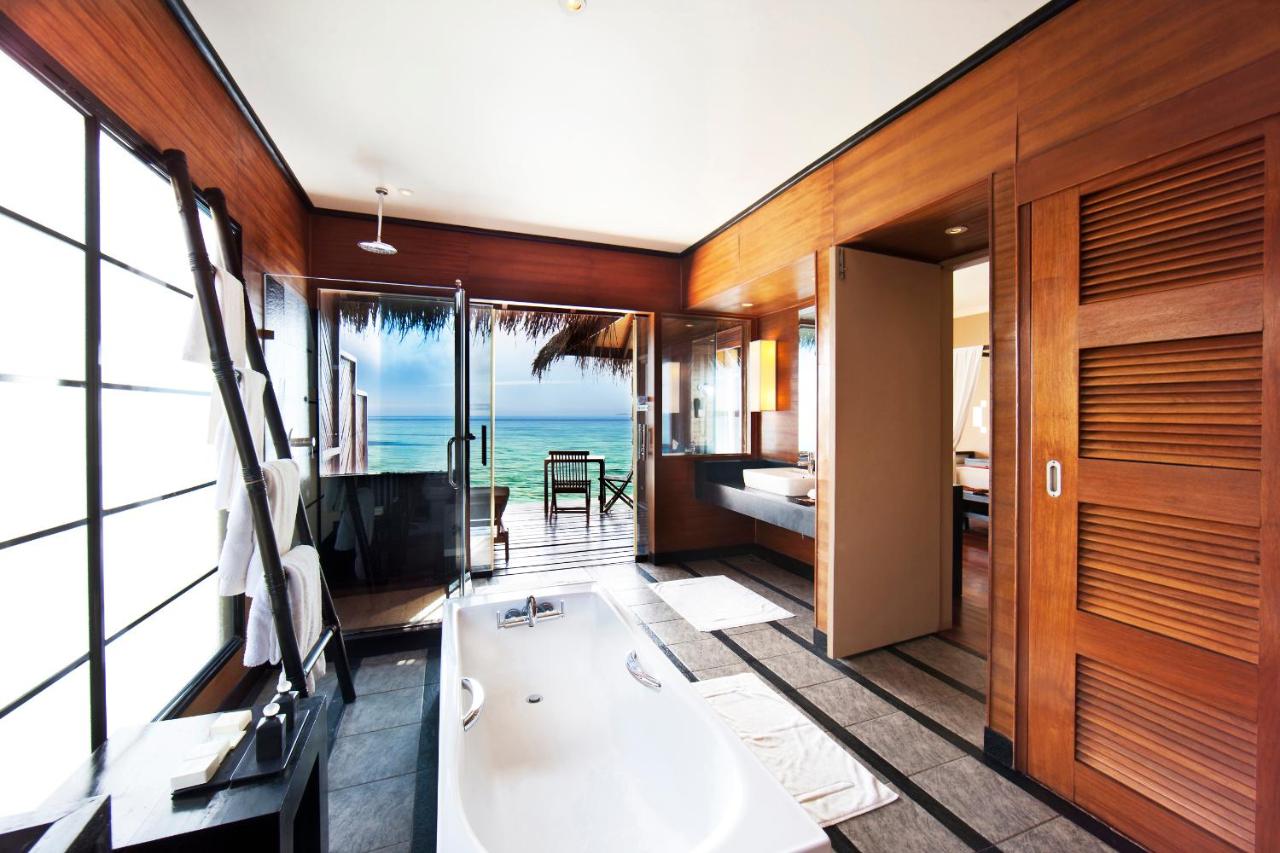 Check Availability and Prices in Adaaran Prestige Ocean Villas
Maldives Luxury Guide
Here's the best of Maldives for luxury travellers. We've compiled the finest recommendations of places to stay, ranging from the most celebrated five-star resorts to luxurious private islands Read More
Maldives Romantic Guide
The ultimate 'flop and drop' and honeymoon destination, the Maldives is the playground for the most amazing and finest utilization of each second of this extremely valuable and hopeful time with each other in tota Read More