NH Collection Maldives Havodda Resort
Best Experience for: Honeymoon, Families, Beaches, Spa, House Reef Snorkeling, All Inclusive
Updated November, 2023
NH Collection Maldives Havodda Resort is a secluded luxury escape ideally located in the south area of the Maldives, one of the most untouched archipelagos in the Indian Ocean. With the pristine sands and crystall clear waters, luxury travellers'll discover a new perspective on the private beach resort experience here. Offering a luxurious accomodation, Havodda Resort is set on a private Thinadhoo island in the Gaafu Dhaalu Atoll via a short 55-minute domestic flight from Male airport.
There are 120 rooms, with two villa types (beach and overwater), providing uninterrupted views over the ocean. Guests can dine in five bars and restaurants, get pampered in the Breeze Spa or go take a course at the dive centre. For recreation and playtime, the swimming pool, FIT Centre (gym), Water Sports Centre and multipurpose court are available for fun activities and excursions. Offering great value rooms on a Full Board and All Iclusive basis, guests try snorkelling on the spectacular coral reef, or relaxing on powder soft sand, NH Collection Maldives Havodda is truly secluded haven, perfect for couples and families.
The Island
After landing at Male International Airport and cleared immigration and customs, you will be met at the arrival area by a representative holding an Havodda Resort placard. Next you'll bel escorted to Amari's lounge, located in the domestic terminal for relaxing and waiting for boarding your domestic flight. The lounge offers excellent service and facilities including an assortment of light snacks, drinks and complimentary Wi-Fi. A 55-minute flight by a fixed-wing airplane to Kaadhedhoo Domestic Airport follows. Again, you will be met by the representative who will then guide you to an awaiting speedboat for a 10-minute sea transfer directly to the island.
The resort is new and well-maintained. Oriented from north to south, the beautiful island (700x250) lies in the heart of Huvadhoo atoll. The resort with calm crystal clear turquoise sea, soft powdery sand and perfect tropical weather, is a touch of paradise at one's reach. Boasting long stretches of soft beaches, the island is surrounded by a large house reef teeming with marine life. The lagoon around the island is magnifient, full of life: turtles, lobsters, sharks. The island is home to small geckos, herons, and bats. There are two main beaches in the resort: Amaya beach on the southern tip and Eber on the north. A large infinity swimming pool with children's section is located on the south beach. DOWNLOAD RESORT MAP
Designed by award-winning French designer Isabelle Miaja, the theme of Havodda Resort circles around the "natural sustainability" with guest villas and facilities inspired by contemporary Maldivian art. Water villas with stunning ocean views are located on two jetties at the southern and northern island's tips and around the rooms are the best snorkeling spots. Facing sunset an sunrise, Beach villas are comfortably stretched along the entire length of the island, providing guests with their own piece of beach and linked by scenic paths among dense tropical vegetation. And although each room has direct access to white sand, wider beaches are located on the island's east side. Well done night lighting trails and villas.
Worth mentioning the hotel staff! Everyone greets, smiles and tries to make your stay as comfortable as possible. Under the strict guidance of the hotel's chief manager, Christophe Leonard, all hotel staff create for you an unforgettable atmosphere and a full sense of paradise.
In addition to guests from Europe, you will find here a lot of Asians.
Location
Located in the Gaafu Dhaalu Atoll, south of the capital of Malé, Amari Havodda Maldives is reached by a combination of domestic flight to Kaadhedhoo Domestic Airport and from there a 10-minute speedboat transfer. Guests have to provide their international arrival and departure flight details at least 7 days prior to arrival so that the resort's staff can help you arrange domestic transfers. The return way will be as well organized. Despite early departure, expect a hearty breakfast and hassle-free transfer.
Huvadhoo Atoll is the second largest Atoll in Maldives located on the chief sea path nearby southern India. Thousands of tourists choose this tropical destination with another aim – to relax in top-class resorts, sun-bath on palm-fringed beaches and dive in pristine ocean waters. This enchanting archipelago is your paradise, embracing the beauty of nature and serenity of a borderless horizon; and the perfect destination for underwater adventures. Idyllically located in the southern Gaafu Dhaalu atoll, the resort is surrounded with rich colourful marine life. Divers choose this place to admire the vast coral reefs, which strike with colors and the diversity of marine species.
Villas
The perfect dream destination for honeymooners, the resort offers 120 villas, which include 48 beach villas, 12 beach pool villas, 58 overwater villas and two overwater pool villas, all elegantly appointed with breathtaking ocean views. Flat screen IPTV and complimentary Wi-Fi is available for guests to stay in touch with the rest of the world. The hotel is new, so the villas and furniture and everything looks great.
Notice traditional and contemporary Maldivian art in the design motifs of Havodda Resort's guest villas which, coupled with materials sourced for their natural sustainability, feel at once authentic yet ethically forward-thinking. It's a concept feels throughout much of what is great about this wonderful all-villa retreat.
All villas have private terraces with sun loungers, ceiling fans, air conditioning, complimentary tea and coffee making facilities, mini bar, laptop sized in-room safe, complimentary WiFi, 40 inch LED TV, DVD player, bathrobes and slippers, complimentary toiletries and hair dryers.
Beach Villa is lowest category of accommodation. Think about a sanctuary of seclusion and tranquility, where palm trees sway as you gaze out to the blue lagoon, where comfort and luxury meet effortlessly - it's all about Beach Villas. Light tones, modern technology, elegantly casual, incredibly homely, the rooms offers you the setting for a perfect island hideaway.
Sunset Beach Villas are more popular - Upgrade will give your private outdoor terrace, where after a day of play, cocktail in one hand, sea breeze whispering away. The sun starts to fade, the horizon gently lights up, and a magnificent spectrum of colours unfolds. A truly spectacular sight to witness, the beginning of a Maldivian evening discovered from your villa is an experience to share and cherish. Offering views of the sunset and ocean, the Sunset Beach Villa features an outdoor seating area, a flat-screen TV and DVD player. It has a private terrace with sun loungers. The private bathroom is open air with separate bathtub and rain shower.
Beach Garden Pool Villas and Beach Pool Villas are more spacious and come with a swimming pool. The rooms have the private bathroom is open air with separate bathtub and rain shower.
Overwater Villas are perched above the ocean with a spectacular view from your private deck. All Villas are equipped with steps to the sparkling blue lagoon for house reef snorkeling and swimming.The interiors feature an understatedly elegant space, where an inviting king bed, outdoor covered bath area and modern technology have thoughtfully been put in place. The Water Villas have 2 wardrobes, a safe, mini bar, refrigerator (if full board drinks are not free), a coffee machine, a TV. High-quality toiletries (shower gel, shampoo, hair conditioner, body lotion) - really liked.
Overwater Pool Villas ( 153 sq. m ) epitomise comfort and understated luxury. Here you'll find solitude and tranquility for the perfect stay. Overwater Pool Villas are equipped rivate plunge pool, direct ocean access and sun deck with overwater hammock and outdoor seating area.
Restaurants and Bars
The food here is amazing! Indulge in unique destination dining experiences with the finest selection of Asian and international cuisine at Havodda Resort. The luxurious resort hosts five restaurants and bars each with a unique setting, including the signature Amaya Food Gallery, Japanese concept Ember Robatayaki grill and Thari Bar. Breakfast, lunch or romantic candle-lit dinner, share your special moments on the private island together. The service is great from serving the table to the individual approach to each guest.
You will be pleasantly surprised that at such a price for the rooms in the restaurant there is a huge choice of dishes for all meals. Products the hotel imports from Dubai and all of excellent quality. International cuisine is served at the signature Amaya Food Gallery in buffet style. Following a Japanese concept a la carte and set menus are available at Ember, our Japanese Robatayaki restaurant, as well as in different destination dining options. Thari Bar ("thari" means "star" in Dhivehi) is uniquely teamed with a glamorously lit pool, whilst guests sip cocktails on a balmy evening. For comfort food, Pizza Kaage is available for tasty pizzas and snacks for takeaways and as in-villa dining service.
Amaya Food Gallery serves breakfast, lunch and dinner buffet style which is included in the full board rate. A great breakfasts can seem monotonous (for some) but everything is very tasty and not bored. Omelette, poached eggs, buns, pancakes and insanely delicious waffles with nutella. 2 fresh natural juices (watermelon and orange) and 1 smoothie always (if full board - all juices from the breakfast buffet are free); from food for breakfast you can take smoked salmon (very tasty), sometimes tuna sashimi, porridge, Chinese dumplings are really yummy. There are also spicy Thai soups and flavored curries. You can feel a little savings on fruits (either guava, or passion fruit, or rambutan, only sometimes guava + passion fruit), there is always melon and watermelon on the tables.
Lunches and dinners are very diverse, there is a lot of seafood, pasta, and a large selection of meat dishes (chicken, lamb, pork), Chinese or Thai cuisine - all this variety is cooked at the highest level capable of appeasing any appetites! There are always several types of soups, some meat and grilled fish with a wide selection of homemade sauces. From European meal expect predominantly fried food, but on the whole everything is delicious, although if you don't perceive Asian cuisine at all you may not particularly like the choice of dishes. Also worth a good mention is excellent baking (buns and bread are always the softest and right from the oven).
Breakfast 7am to 10am. Lunch 12noon to 2pm. Dinner 7pm to 10pm.
Set on the island's northern tip, Ember Grill celebrates great food with great vistas. From tender meats to succulent seafood prepared on the grill, the restaurant take pride in providing a relaxing and intimate dining experience including al-fresco tables, the ideal setting to enjoy a romantic dinner under the stars. Robatayaki 'fireside-cooking' is a method of barbecuing seafood, vegetables and prime cuts. Forget about your diet on vacation - dinner at the hotel is something incredible: oysters, lobsters, tiger prawns, all kinds of rolls, 3 types of fish, grill section, a huge selection of fruits and desserts, and importantly, food well presented, but also very tasty! Dinner served 7pm to 10pm.
Thari Bar - Relax by the poolside with a cool drink, or lie back in casual repose on one of the welcoming outdoor cabanas to enjoy a warm breeze and the blissful views of the horizon. Opening times: 10am until late.
Iru Bar – Treat yourself to a glass of bubbly at the intimate west-facing beach bar. Perfectly placed for admiring the endless horizon as you savour your drink and embrace the sunset. Opening times: 5pm until 8pm.
Pizza Kaage – The ideal option for a quick bite or main dish, featuring tasty takeaway pizzas, light meals and snacks throughout the day. Opening times: 12noon until 7:30pm.
Activities and Pampering
Activity-wise there's plenty to keep you occupied including a watersports centre, dive centre, swimming pool, gym, boat excursions and tennis courts. Younger members of your group needn't miss out on the fun either thanks to a kids club and babysitting service, while free wifi keeps everyone online and connected. Children's activities are introduced daily to keep them active whilst their parents enjoy the serenity of the resort and relax at the spa. Beach is lovely dolphins swam past most days sometimes 2 or 3 times.
Euro-Divers Dive and Watersports Center proposes snorkelling, scuba diving and a wide range of activities from excursions to water sports. Visibility is superb in the warm waters surrounding the atoll. There is a nice house reeef around the island (except for the east shore), and all guests are given a voucher for snorkeling with two guides, high quality snorkeling equipment is free of charge. The corals are dead, but the reef is teeming with marine life including colorful fish, sharks, rays and turtles! READ MORE ABOUT DIVING
There are 10 dive sites from beginners till advanced level nearby the resort, all of them show a very unspoiled characteristic and coral life which is tremendously good. Nudy branches, sponges, gorgons, snappers, jack, fishes, trigger fishes, oriental sweet lips, tunas, parrot fishes, green turtles. Large predators are attracted into the channels to feed on the profusion of smaller reef fish schooling close to the coral walls and submerged thilas. Whale sharks are sometimes seen feeding on the plankton that spills out of the atoll channels. Rahadhoo Channel and Kuda Hafza Thila are dive sites must go!
Breeze is the only spa in the Maldives and focuses with happiness as key foundation for wellness, including a "barefoot" experience at the spa's reception upon arrival. The spa extends with four couple treatment villas with a private terrace and two double suites with Jacuzzi.
Guests can enjoy also yoga sessions, fitness programmes, Big game fishing (too expensive), cooking classes, movie nights and many more activities lined up on the island. There is evening entertainment on the island, several times a week live music at the bar. Photo Studio: reasonable prices and great photo quality, ighly recommend! In the evenings local staff feeds sharks near the jetty.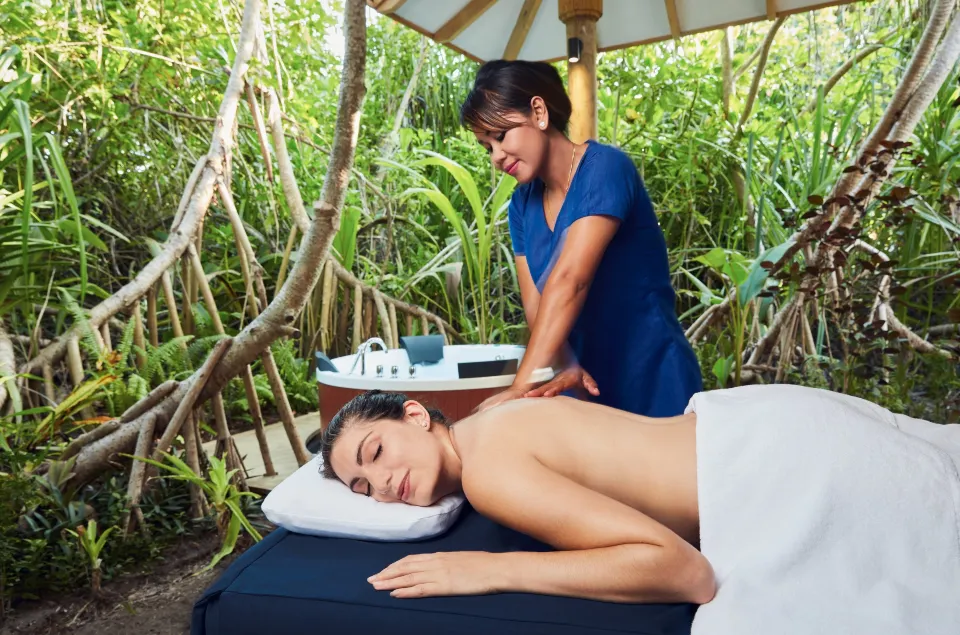 Reviews
With great reviews all around, the Havodda Resort certainly seems to impress its guests, especially those who have stayed in the overwater villas. The rooms are noted as spacious, clean and offering great views and amenities. The staff also receives high marks with statements including 'professional and attentive' and 'always nice and available'. If you love snorkeling, you'll find fantastic snorkeling right outside of your overwater villa room, at least that's what most of the reviews express.
... Exceptional, Outstanding Service and Hosting, It was absolutely amazing, we had a fantastic stay and would highly recommend Amari Havodda, Magic Maldivian experience, Paradise on earth, We had an amazing time at amari havodda Maldives, I cannot find any issue with the resort whatsoever, They have made my honeymoon a one to remember for the rest of my life, Fantastic honeymoon place with world class service, Perfect stay in paradise - strongly recommend, Awesome experience, Absolutely paradise with 5 star service, Amazing vacation...
Pros: What Guest Love
A beautiful island
A great service. The staff is friendly and helpful.
Good privacy
The beaches
Spacious and comfortable accomodation. Water Villas come with a fantastic sea views.
Delicious and variesd food. All Inclusive meal plan
Excellent value for money
House reef snorkeling
Diving
Spa treatments
What You Need to Know
BOOK DIRECT to indulge in more with Havodda' exclusive Maldives resort deals.
Havodda Resort is located in Huvadhoo atoll in 55-min domestic flight from Malé airport+ 15-min speed boat ride to the resort
Check-in from 14:00, Check-out before 12:00
You may be asked to present the credit card used to confirm your reservation at check-in.
All Children are welcome.
There are an Jewellery and craft shop and Health clinic
at the resort
Limited dining options. There is only one all-time restaurant
Most activities are extra charges
Using drones for photo / video is not allowed.
The wifi of the resort is a little bit slow
Check Availability and Prices in NH Collection Maldives Havodda Resort
Maldives Luxury Guide
Here's the best of Maldives for luxury travellers. We've compiled the finest recommendations of places to stay, ranging from the most celebrated five-star resorts to luxurious private islands Read More
Maldives Romantic Guide
The ultimate 'flop and drop' and honeymoon destination, the Maldives is the playground for the most amazing and finest utilization of each second of this extremely valuable and hopeful time with each other in tota Read More