Anantara Veli Maldives Resort
Anantara Resorts in the Maldives
Updated September, 2022
Following nine months of renovations, adults only getaway Anantara Veli Maldives Resort will reopen on Decembers 1, 2022, in time for the peak festive season.
LEARN MORE
Sometimes, picking the right resort in the Maldives is of paramount importance and can be more tricky than one might expect. There are a lot of hotels in this tropical paradise you've decided to fulfil the dream of visiting that bucket list destination but now comes the task of determining where to stay in the Maldives. Just a glance at the topography of this collection of pristine islands, speckled throughout the Indian Ocean like droplets of liquid white-gold resting on turquoise glass, and you realise how many options are available. And although almost all of them will give you beautiful turquoise water, beaches with white sand and a dazzling sunset, you will be surprised how varied the facilities, restaurants and entertainment. There's no denying choosing the right resort for you could make or break a holiday.
So, for an unforgettable beach experience, like anywhere else, go to Anantara Veli - quite simply because the resort ticks all the boxes and brings the best of both worlds together. The hotel 'for adults only' is ideal for couples who prefer not to force children to interrupt their hard earned vacation. Not one, but two magnificent islands to relax with the healing properties of massage, facial and Ayurveda. A total of seven restaurants share your meals between them. Possibility to make the most of the water surroundings with surfing, deep-sea fishing and sailing.
Designed for sweeping romance, couples can hide away in luxury or venture into the heart of the island for star-lit moments in an orchid garden or open-air cinema. Candlelight dinners take place over the waters at the Maldives' finest Thai restaurant, Baan Huraa, or the resort's private picnic island, Gulhifushi. And, of course, there are ideal pristine sands, clear turquoise waters and iconic water bungalows, that makes the Maldives so desirable destination - all encompassed by five-star hospitality and luxury.
The Island
This abundance of options in one resort is unusual, and the result of Veli's favorable location being one of the three islands is closely related. Dhigu the largest island, Veli a smaller one with an adult-only clientele and Naladhu, a private island with large villas you can rent if you're amongst the richest 1% of us. A short ferry ride about two minutes one way connects the islands together and is available until 11pm. Anantara Dhigu is just a short ferry ride (about two minutes one way) connects the islands together and is available until 11pm, while the elite Naladhu is linked to the rest of the islands by a wooden bridge. Guests of Veli Resort can also use Dhigu as their island - here you can meet youth, so this hotel has a family-oriented atmosphere. In the resort there are 5 stars dive center, tennis courts and volleyball, children's club, and this is the place where you can start kite surfing or parasailing.
The most impressive thing is that you avoid the "jack-of-all-trades" syndrome - it makes no sense that any of the resorts is trying to do too much, and therefore does not have an established identity. Instead, there is the fact that each island is groomed to succeed in its own role, meaning that its personality really shines. DOWNLOAD RESORT MAP
With Veli, there is an intimacy that really gets the status of a tropical paradise. Bright emerald palm branches fall down the shady paths that wind along the whole island; There are hammocks stretched freely between bowed coconut palms, looking at the picturesque sunset colors; wander through the golden sands, beautiful views of the sapphire lagoon, filter out the darker beds of coral spots. The island is small enough to be easily explored, but access to other islands ensures that you will never feel like savages, or get the feeling that over and over again you have covered the same places.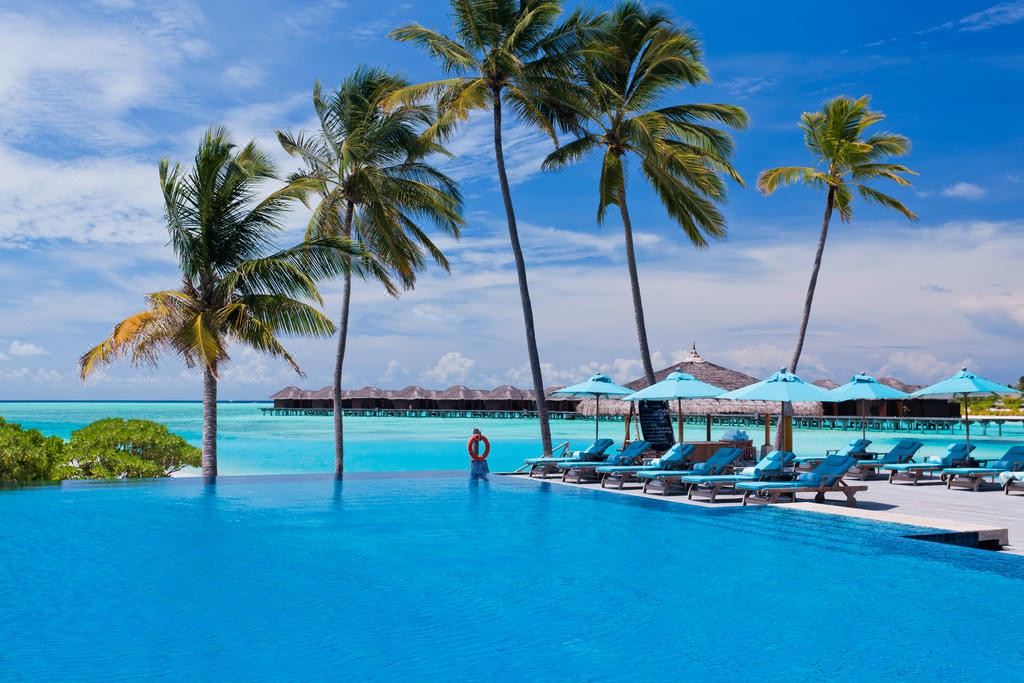 And the last reason to book ... as if you need? Exellent location. Remember that when planing a trip to the Maldives, one international flight is often not enough to reach your resort and you need domestic flight, which can dramatically increase the price. Anantara Veli, however, is 30 minutes by speedboat from Male airport. Upon arrival, you can rehydrate and decompress in the luxurious Anantara Lounge before the adventure begins, and you will plunge into the welcoming family Veli.
Romance, rest and relaxation in one of the most magnificent places on earth - with the possibility of much more? Everything is here. To achieve a truly unique holiday, you need a unique situation, and Anantara Veli offers it in its own intimate, exclusive and truly beautiful way. A paradise for many people means a lot of ideas, and regardless of your definition, you will definitely find it here.
Location
Beaches, as descended from the pages of glossy magazines, warm lagoons with turquoise water and one of the best diving in the Maldives - all this about the South Male Atoll. South Male Atoll (South Kaafu) is a group of islands in the Maldives, which lies just south of the North Male Atoll and is separated from it by the Vaadhoo Kandu channel. Showing the best of the Maldives, South Male region offers everything you can need for a memorable and comfy holiday. The days here revolve around swimming, relaxation, water sports and snorkeling - and nothing more. Read More...
Anantara Veli is an adults-only private island fringed by quintessential Maldives overwater bungalows. A 35-minute speedboat transfer from the capital and Velana International Airport, the island lies in a peaceful azure lagoon shared with sister resorts, Anantara Dhigu Maldives Resort and Naladhu Maldives Private Island.
Bungalows
This is one of the huge bonuses in Veli - all accommodation over the water (there are no beach villas here), and for those who first time in Maldives, this will undoubtedly become one of the most exciting prospects. Rooms on offer from Over Water bungalows to Deluxe Over Water Pool Bungalows and even the "basic" accommodation keep the guests in luxury while embracing a comfortable, bright aesthetics. Light walls covered with spray of art; Soft furniture and pillows scattered on the couch, add a feeling of comfort; crisp sheets on the bed are strikingly white; and the abundance of natural materials adds to the island's charm.
But this is that private terrace that makes the room so stunning - your own wooden sun deck above the lagoon where you can sunbathe, read, or simply admire the magic of the place in which you ended up. That feeling, when you open the curtains first thing in the morning and meet a continuous paradise, is the most unforgettable.
Restaurants and Bars
A lot of restaurants perfectly demonstrate this freedom. In most of boutique resorts, if you're lucky you can find two or maybe three restaurants - on Veli, you can choose from seven, as well as light snacks in Dhoni bar. It is an ideal place for a great night - drink extravagant fruit cocktails or a glass of chilled wine, resting on the alfresco couch on a wooden deck lit by flaming torches of a tick. You can sip Margarita, surrounded by the warm, enveloping cloak of an Asian night, watching the moonlight send a molten silvery sheen across the Indian Ocean.
Three restaurants can be found exclusively on Veli - including "73 degrees", where a wide variety of buffet breakfasts occupies the whole room and is suitable for all kinds of morning appetite (try to start one day with a specially prepared omelet of cheese, the next with a fluffy cream, oozing in chocolate and dusty coconut, and another time you will be tempted by a continental selection of pastry cakes, watermelon juice and hot coffee. In the evenings you can enjoy themed nights, as the buffet becomes thematically dinner - barbecue seafood, such as fresh fish, cooked in front of you.
For a la carte dining, Asia is the name of the game - Origami offers excellent Japanese dishes, and Baan Huraa is the signature Thai restaurant of Anantara Veli. For those who want to enjoy Italian cuisine, you need to take a boat to Dhigu and reserve a table in Terrazzo or be sure to visit "Sea. Fire. Salt" for their juicy steaks and seafood (Maldivian tuna fillet, freshly cooked on a grill until pink perfection, try).
But, frankly, it's hard to imagine who wants to leave Anantara Veli, especially given the excellent quality. Origami is a modern space with Japanese screens, glowing balls of lanterns and dark wood furniture, and their menu - specializing in sushi and Teppanyaki - can be enjoyed on the deck or in a chic interior.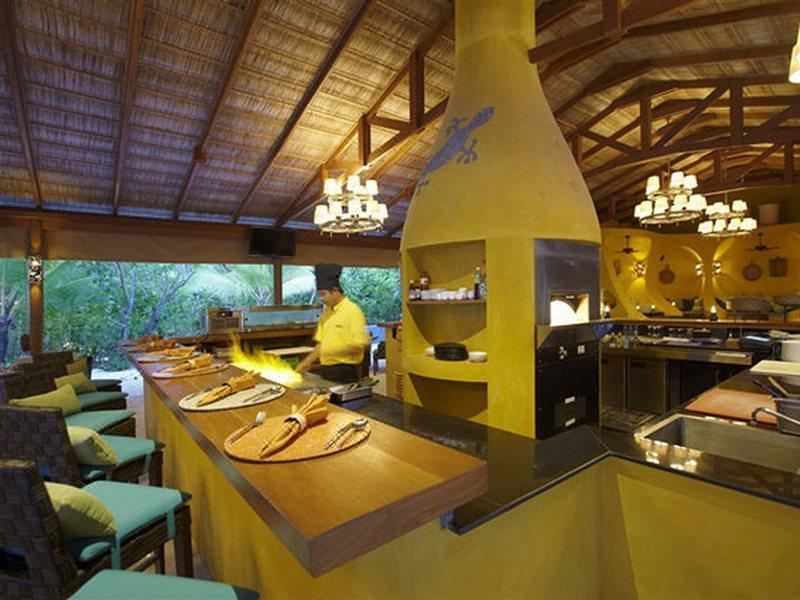 Sashimi and sushi melt in the mouth just sensationally, but we recommend to expand your diet by flopping down on one of the creative little plates - a piece of stewed yellowfin tuna with yuzu miso sauce and an avocado mango salsa revealed a burst of tropical flavour without masking the pure quality of the fish, while the Seared Salmon with roe and sudachi was laced with an addictive citrus zing that made for the ideal starter. Skewers from the Robata grill combine tender meat with that slightly caramelised finish that's a signature of this morsel, while you can always splash out with Black Miso Cod or Marinated Lamb Chops. And there is also a fine selection of Japanese whiskey after dinner - not many pleasant moments to finish the delicious meal, sipping the amber tint of Nikka Pure Malt, surrounded by the warmth of the starlight, the Maldivian evening.
And Baan Huraa is a compulsory visit for a special occasion. Set out on the lagoon and accessed via one of those charming wooden walkways, it shines and shimmers like a welcoming beacon beneath the traditional thatched roof.
Take a table in the inner sanctum of the restaurant or dine on the edge, listening to the water lapping below, and enjoy fragrant exotic dishes, such as the freshest papaya salad with chili hot and piquant fish sauce, or a gentle shish kebab with peanut-coated skewers. Green curry with soft silky coconut shavings absolutely should be liked, especially when goes with a glass of Stonefish Chardonnay.
Thus, when you choose culinary excursions, there is no recurrence (and as such, rest is felt much longer). The same with the spa - head to Sundari Ayurvedic Spa on Veli, or cross the lagoon for a luxury spa in Anantara Dhigu. Here you can completely relax in the treatment rooms over the water; A mixture of soft cream curtains, warm walnut and turquoise, sparkling on three sides. This visual appearance can not but inspire a kind of peaceful reflection - and this is before you succumb to the joys of massage and lie face down on one of the beds. There is also a reminder of your incredible situation - holes in the floor give a direct look at the many sea creatures that quietly slide below.
Wellness Retreat
Anantara Spa offers a series of short "Well-being Retreat" packages, offering new two-plus day options for healthy, active experiences across several of its luxury resorts in the Maldives.
Guests who stay for a minimum of two nights can dive into the Thailand-based hotel group's global well-being initiative, which rather than an immersion boot camp style programme, is designed to offer a flexible approach to feeling good on holidays, with guests splitting vacation time between wellness activities and regular leisure activities and sightseeing.
The three-tiered programmes are based on a notion Anantara calls "Balance Wellness," intended to balance mental and physical health using cuisine, signature spa treatments and dynamic or mindful exercise. Each package showcases the resort's own indigenous experiences and are designed for two people in order to entice couples, best friends, or families to acquire inspiration, knowledge and practical experience they can incorporate into their daily wellness routine once they return home.
In the Maldives, Anantara Hotels & Resorts is offering the Well-being Retreat packages at all three of its resorts; Anantara Dhigu Maldives Resort, Anantara Veli Maldives Resort and Anantara Kihavah Maldives Villas.
Anantara Veli (USD 1,649 excluding taxes): Includes stay of two nights or more, daily buffet breakfast and dinner for two persons, a 90-minute Marma Massage for two persons, a 30-minute Elemis Intensely Cleansing Salt Scrub – Lime and Ginger or Frangipani for two persons, a 60-minute private yoga session for two persons, a healthy set lunch at Dhoni Bar for two persons, and 10 percent off Anantara Spa menu a la carte spa treatments and spa retail products.
Activities
It is this abundance of marine life that contributes to Anantara Veli, as one of the most desirable dive sites in the Maldives. The first timers can just wake up in the morning, grab a mask and a snorkel in dive center, and go down the stairs from their private veranda to the warm waters of the lagoon, for snorkeling. Dive your head and a new world will open before you - great schools of fish fly into and out of the coral garden at your feet. You can find a striking blue parrot fish, small zebra striped specimens and sea horses. One adventurous day spent around Dighu will give you views of rays, reef sharks and turtles. And on a guided tour with a marine biologist (highly recommended), you will have the advantage of the expert accompanying you, and pointing to the missed marine life - in the season, expect the manta rays and even the sedative mass of the sea turtle calmly feeding along the reef bed, chewing the sea grass. READ MORE ABOUT DIVING
Anantara Dhigu, Anantara Veli, and Naladhu Private Island share a dedicated surf center. The surfing center offers great instructors for beginners and experienced surfers.
Reviews
Similar to its sister resort, the larger and more family-oriented Anantara Dhigu that is located on the next island, reviews for the Anantara Veli Resort are almost all very positive. Most guests are extremely pleased by the location and the overwater bungalows, and this hotel seems particularly well suited to honeymoons since it's more private and less child-friendly than the other one. Catering to adults, this resort is seen my many as on the romantic side, so if that's what you're looking for, you're in luck.
"Paradise on earth, u will be in the best place in maldives", "The best memory in our lives!", "beyond our expectations", "A magical lifetime experience", "A paradise", "I would go back and strong recommend", "A SLICE OF HEAVEN ON EARTH.", "A perfect adults only resort.", "Honeymoon ", "Brilliant! A slice of heaven!", "Best hotel and holiday I've had!", "Paradise for honeymooners" ...
Pros: What We Love
A great location! The 30-minutes only by speedboat from Velana Airport
Very romantic destination
Water villa is e a very romantic stay with a fantastic view
Good privacy
Extra-ordinary nature
The food is to die for! A great variety deliciouses from local to international cuisine. Breakfast buffet is mind blowing. Excellent Thai restaurant
An amazing beaches with many water activities
A very welcoming and extremely friendly staff
An exceptional Anantara Spa Dhigu
The whole holiday experience
What You Need to Know
Discover the very best of paradise with Anantara Veli Maldives Resort's packages and special offers.
Speedboat transfer takes 35 minutes from Velana International Airport. 
Anantara is located in South Male Atoll, one of the best diving spots in the Maldives
Adults Only - Children cannot be accommodated at the hotel!
Check out at 12:00 but flexible if possible and pay 50 percent of the daily rate. The earliest check-in time is 14:00.
Most items are pricey but no complain on the quality .
If you want to explore further afield, the resort boasts a range of unforgettable excursions, including private dhoni excursions, eco-ventures, island hopping and island escapes.
Check Availability and Prices in Anantara Veli Maldives Resort
Maldives Luxury Guide
Here's the best of Maldives for luxury travellers. We've compiled the finest recommendations of places to stay, ranging from the most celebrated five-star resorts to luxurious private islands Read More
Maldives Romantic Guide
The ultimate 'flop and drop' and honeymoon destination, the Maldives is the playground for the most amazing and finest utilization of each second of this extremely valuable and hopeful time with each other in tota Read More