Ayada Maldives resort
Best Experience: Honeymoon, Family, Water Villas, Gourmet Dining, Spa, All Inclusive
July, 2023
Ayada Maldives is a luxury resort located amid a pristine reef within the southern rim of the Gaafu Dhaalu Atoll in southern Maldives. Remotely located 30 km from the equator, Ayada is the first Turkish themed resort in the Maldives. Designed by a Turkish company, the hotel is a serious competitor to the super-luxurious 5-star Maldives resorts.
Opened in October 2011, Ayada Maldives offers 122 spacious villas and suites, with private pools, butler service and thoughtful five-star detailing. Traditional thatched-roof water villas stand on stilts over the resort's peaceful lagoon, while beach villas offer absolute privacy amid tropical greenery alongside powder soft palm-lined white beaches. Food lovers can explore the six restaurants, while those seeking complete relaxation will find their haven in the large spa which boasts a Turkish Hammam and eight private treatment villas. The active can explore the area on a host of excursions while at the resort they can play tennis or badminton, take up water sports, learn yoga, Pilates or Zumba or simply hit the modern gym. Outstanding diving and snorkelling experiences surround the island on reefs that have barely been visited by humans while some of the Maldives' best surfing breaks are just a short speedboat journey away. The main goal of the company is high-quality vacation, beautiful nature, amazing design and exceptional service, and we are absolutely sure that Ayada is on the right way.
The Island
Squeezed between the reefs of Gazeera and Boduhutta, Ayada Maldives is located on the picturesque Magudhuva Island in the southern corner of Huvadhu atoll. The island occupies the central reef area and has a blue lagoon with a clean sandy beach and clear turquoise waters. Huvadhu, also known as Gaafu Dhaalu Atoll, is considered one of the largest and deepest natural atolls in the world, and this place is very popular among divers seeking new and undiscovered seascapes.
Ayada Maldives symbolises the fragile nature, and shows this through their small steps in consideration of the environment. The resort is noted for its gardens and tropical greenery and is ringed by a vibrant coral reef where dolphins are frequent visitors. Preserving natural and local conditions is of paramount importance in the principles of operation of the hotel and the resort team makes every effort to ensure environmental awareness among employees and guests for minimal environmental impact. In order to be an environmentally responsible luxury hotel Ayada Maldives seeks out ways to limit environmental waste and thus uses a water purification system on the resort, as a major step to protect the environment.
The 670 meters width X 333 meters length, pictures cannot do this island paradise any justice! The sound of see and all these perfect turquoise colours around are acompany with fresh green tones of local vegetation and shiny white sand. You can use bicycles all around the island on the sand paths that take you everywhere you want to go. The island is really immersed in vegetation, very well maintained, the bushes are beautifully trimmed, and also there are alpine hills, all sorts of floral flowers everywhere. It is immediately evident that the landscape designer worked here, the paths are immaculated of white sand swept up, many fountains, and the light arrangement from the starry sky along the long passage to the watery villas and the lights from the stars near the main restaurant impresses guests during evening cycling. DOWNLOAD RESORT MAP
Expect a warm welcome with a drums, fresh sorbet and coconut drink by your butler and resort staff right at the jetty. After the beautiful welcoming ceremony, you'll be check in and then been escorted by your butler around the island by the buggy to the villa and he's insure you are aware of the amenities, spa/excursion specials and comfortable in your villa.
The resort's staff is the reason why the experience is so perfect because they cater to all needs and pay attention to the smallest details.
Guests are a multinational crowd, where half of them are Chinese.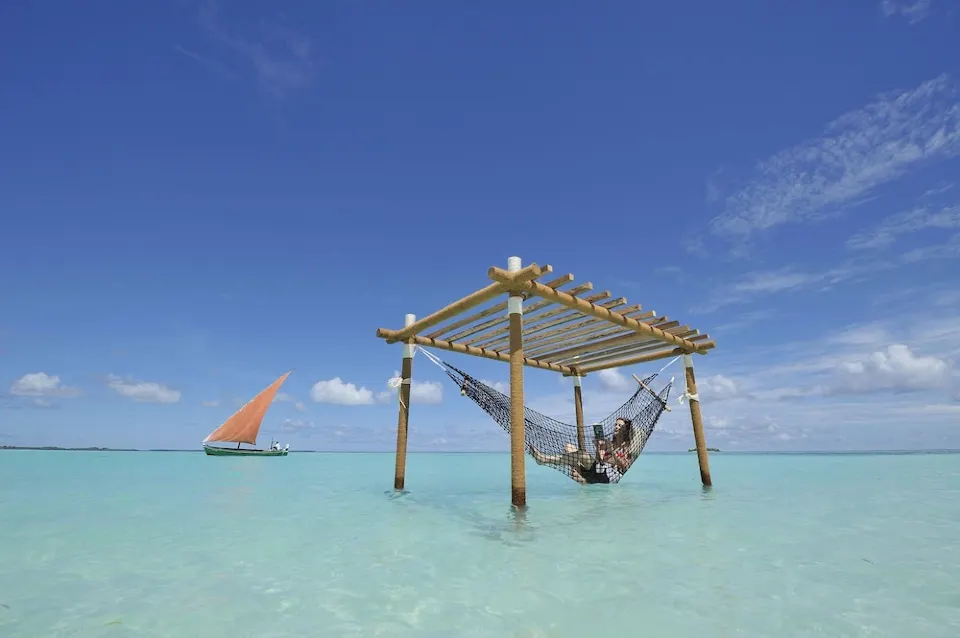 Location
Ayada Maldives is situated in the beautiful Gaafu Dhaalu Atoll 430km from of the Republic's capital, Maléand just a 30 kilometers above the equator. To reach Ayada Maldives, you must first fly to Male International Airport in the Maldives. After that, you will be met by the resort's staff and escorted to the lounge for next 50-minute domestic flight to Kaadedhdhoo Airport in Gaafu Dhaalu Atoll. Upon arrival, you will be offered a private speedboat for the remaining 55-minute sea transfer to Ayada Maldives whilst enjoying refreshing drinks and free Wi-Fi connectivity. The reward for such a remote location will be untouched marine environment. The place is one of the most remote in the Maldives, so perhaps it is not ideal for a short holiday.
Huvadhoo Atoll is the second largest Atoll in Maldives located on the chief sea path nearby southern India. Thousands of tourists choose this tropical destination with another aim – to relax in top-class resorts, sun-bath on palm-fringed beaches and dive in pristine ocean waters. This enchanting archipelago is your paradise, embracing the beauty of nature and serenity of a borderless horizon; and the perfect destination for underwater adventures. Idyllically located in the southern Gaafu Dhaalu atoll, the resort is surrounded with rich colourful marine life. The corals in this part of the Maldives are fantastic and diving is world class. And what's more, surfing is one of the best in the country.
Villas and Suites
The over-water water villas have been carefully placed on the uniquely shaped jetty to capture magnificent vistas of the blue horizon, whilst the beach villas offer a cocoons of absolute privacy and serenity in few steps from the Indian Ocean.
Combining contemporary elements with traditional Maldivian design, Ayada Maldives offers the 9 luxury accommodation types. Each of the splendid and spacious villas: 33 Beach Villas, 4 Beach Suites, 14 Sunset Beach Villas, 11 Sunset Lagoon Suites, 33 Ocean Villas, 14 Sunset Ocean Suites, 2 Sunset Family Suites and the Ayada Royal Suite are tastefully designed and furnished to provide maximum privacy and utmost comfort. and all offer direct beach or ocean access, sunrise or sunset views. Beach, Lagoon and Ocean categories include exclusive private fresh-water plunge pools, ample wooden deck and terraces, direct beach or ocean access, as well as the personalized services of a dedicated Butler or Guest Relations Agent.
All Villas & Suites include:
• Outdoor terrace with hammock or sun loungers, and an outdoor Roman shower
• Indoor daybed
• Interactive 32" flat screen LCD TV
• DVD / CD player with Harman Kardon surround sound system
• Complimentary Wi-Fi access
• + NEW surround sound system Bluetooth connection to HARMAN KARDON
• International direct dialing access
• Complimentary tea and Nespresso coffee making facilities
• Complimentary Ayada water
• Minibar
• In-room personal safe, large enough to accommodate a laptop
• Air conditioning and ceiling fan
• Digital peephole viewer
• Indoor bathroom featuring a large terrazzo bathtub, rainfull shower and luxury bath amenities
• Daily housekeeping and turndown service
• King-size bed
The most affordable type of accommodation, Garden Villas (101 sq.m.) are located at the southern end of the island. Nestled the lush tropical greenery, Garden Villas are a perfect escapes for the guests are looking to relax in a stunning private setting. Ideally for a family of 2 adults and 2 children, the rooms offer a spacious bathroom with a large bath tub and outdoor shower, as well as a veranda and a relaxing hammock in the garden. Garden Villas are only steps away from the main beach and a mostly resort facilities.
Facing the east, Beach Villas are located on the idyllic stretches of the white sandy beaches. Good to know that the numbers on the southern tip catch more sun than others. With direct beach access, these 104 sqm beachfront villas offer a beautiful private garden with a spacious plunge pool, a large veranda and a bathroom with bath tub and outdoor shower in the back courtyard. Rooms are cleaned twice a day.
An ideal for vacationing families or groups of friends, Beach Suites ( 124 sqm) have a larger bedroom that can take up to 2 children, spacious veranda with sunbeds and a plunge pool in it's private garden area that's suited for romantic private dinners. They also offer the option to interconnect internally or via the outdoor veranda with a Beach Villa. Positioned to capture infinite views of the ocean and sunrise, each suite offers a private outdoor terrace with plunge pool and direct beach access. Sunset Beach Suites are located on the part of the island where sunsets and the sands are the most beautiful.
Sunset Lagoon Suites offer the best of both with a beach front location and a terrace on stilts over the water, an over water hammock, plunge pool and direct access to the water. Perched on the beach with an outdoor terrace over the water and the unique feature of entering from the beach and exiting from the ocean if desired, these spacious suites comprise a large living and bedroom area complete with an expansive outdoor veranda and are combine the unique features of both the tropical garden and the magical view on the lagoon. The interiors offer a large area encompassing a living and bedroom area complete with a bathroom open in the intimate garden.
Upgrade to Sunset Ocean Suite will give you an absolute luxury and the serenity of the Indian Ocean. Located on stilts over the blue lagoon facing the west, these over-the-water suites have a master bedroom with private bathroom, a living room complete with a glass floor viewing panel, an additional bathroom, pantry area, and a huge sundeck with ocean hammocks, sun loungers, plunge pool with Jacuzzi, direct access to the snorkeling and infinite views of the horizon.
Sunset Ocean Family Suites are an ideal for families travelling with older children. The main advantage is that in the Sunset Ocean Family Suites the living area is converted to a second bedroom with twin beds to fully facilitate a family usage. Floor-to-ceiling windows line one side of both bedrooms ensuring direct access to the terrace and a great sea views. Guests staying in these suites are treated with a range of luxurious bathroom amenities, including soap, shower gel, shampoo, conditioner and body lotion.
If you like to wake up at first light, Ocean Villas is the right choice. Set over the turquoise lagoon, facing the east, these over-the-water villas offer an idyllic escape for relaxing and contemplation. These spacious villas offer a private outdoor veranda, sun loungers, ocean hammocks, private pools, direct access to house reef snorkeling from the sun deck and an uninterrupted ocean view.
ROYAL OCEAN SUITE is the most luxurious accommodation at Ayada Maldives. With its distinct prime location at the very tip of the jetty, this split-level presidential suite (Total Area : 318 sqm) is considered an island palace and offers two spacious bedrooms; one on the ground and the other on the upper floor, each with private bathrooms. The Royal Ocean Suite comprises a large entrance hall with dining facility, a lavish living area with glass floor viewing panel, separate pantry area, walk in closet, and an upper floor balcony area providing 180 degrees views of the lagoon. In addition, this suite boasts the largest private outdoor terrace area overlooking the ocean; complete with an outdoor shower area, ocean hammocks, a swing seat, sun loungers, a large swimming pool with Jacuzzi and direct access to the lagoon.
Restaurants and Bars
Expect exciting journey through an unparalleled culinary experience at Ayada Maldives with authenticity and variety with their eight vividly enticing outlets; each with its unique influence. Ranging from exotic Asian flavours to tantalizing Mediterranean specialities to the vibrant Ottoman Lounge complete with specialty coffees, teas, and shisha. Your dining experience is complete with impeccable service and breathtaking views of the ocean and the horizon. From your room, you can also access 24-hour room service. Relax with your favorite drink at a bar/lounge or a poolside bar. A complimentary buffet breakfast is served daily.
There is The Secret Garden at Ayada Maldives that's a heaven of organic vegetables, herbs and fruits grown in the heart of the island. The head gardener is passionately cooperating with the executive chef to deliver fresh produce, from the garden the guest's plates.
Located on the island's eastern front facing the ocean, Magu is the main buffet restaurant, open for breakfast and dinner. Expect a generous international buffet with daily changing themes of cuisine. With an amazing assortment of fruit, main dishes, desserts and drinks, the menu is carefully crafted with an abundance of variety and flavor in mind, including kid's menu. Magu allows for indoor or outdoor dining with seating in either the enclosed air-conditioned wings or the open pavilions.
Food at Magu is great. For breakfast there is a good variety at the buffet but it stay the same every day - with perfect omelettes / poached eggs, fresh fruit, freshly squeezed juice options and Capuccinos on order. The kids'll love the doughnuts and fresh waffles. For dinner, the Maldivian night is the best - the curries and fresh naans are really delicious. Being on the platinum package mean that all dinners are at Magu with 50% at other restaurants.
Sea Salt beach BBQ is a good experience with unlimited lobsters (small ones, but nice and fresh) held under a carpet of stars where you can feast on freshly grilled meat and seafood. Ideally situated on the Zero Degree Beach with golden sand, amazing sunshine and a gentle sea breeze, this is the perfect place to savour food from the grill with your feet in the surf… a true delight! Sea Salt open every Tuesday & Friday at the Zero Degree beach.
Ocean Breeze, named after its beautiful over-water location at the Ayada Maldives Hotel, where the warmth of the sun is tempered by a refreshing breeze, this stylish restaurant is open for lunch and dinner and offers gourmets a tempting menu of modern European dishes. As one of the most romantic settings of the island, the open-air restaurant stands over the lagoon, in its sophisticated atmosphere. By day the endless shades of blue from the shimmering ocean enchant, while at night the restaurant transforms into a magical candlelit paradise. With regular seasonal changes to the menu, items such as grilled seafood, home-made pasta and fine steaks are perennial favourites. Some of the signature dishes include: Seafood platter for Two – lobster, tiger prawn, yellow fin tuna, scallop, mussel, and reef fish served with mashed potato and grilled vegetables with lemon butter sauce; Grilled Angus Beef – tenderloin with wild mushrooms, freshly whipped mashed potato served with foie gras jus; and Spaghetti "alle vongole" – with clams, cooked in white wine and extra virgin olive oil.
A great option for the carnivores, Kai offers an exquisite range of far-eastern and Asian delicacies awaits in this gem of a restaurant hidden away amid tropical greenery at the Ayada Maldives Hotel. The restaurant menus is pretty extensive with typically only the lobster/premium beef options being at a supplement to the AIl Inclusive plan. In 2017, in addition to the global award, Ayada's Kai restaurant was awarded a regional title for the best Asian Cuisine in Indian Ocean.
Open for dinner each evening, diners can choose from an extensive sushi and sashimi list made from the freshest local seafood as well as classic interpretations of regional Asian specialties from China, Japan, Indonesia, Thailand and Vietnam. The décor, with its calm reflecting pools and typical Japanese-inspired architecture, sets the scene for a memorable evening of fine dining. Some of the signature dishes include: Prawns Tempura – the classic ultra-light battered prawns with tempura sauce; Thai Green Chicken Curry – traditional Thai chicken green curry cooked with pea aubergine, kaffir lime, tofu, lemon grass, and ginger; and Roasted Lamb Chops – sea salt and pepper chops rubbed tender lamb chops roasted in a clay oven with Poppadam and Raita.
The word Teppanyaki is derived from "Teppan" meaning iron hot plate and "Yaki" which means to grill or fry. That is exactly what you'll experience at Mizu: The chef will prepare the most delicious fish, meat and vegetarian dishes as you watch him skillfully cook in front of you with precision. Add to this the use of top quality ingredients, an extensive choice of sakes and wines and the characteristic of sitting between the ocean and Ayada Maldives.
Another nice touch is Île de Joie, a romantic spot between the overwater bungalows serving cheese and wine every evening. A perfect place for a pre-dinner drink to watch the sunset. The Ile De Joie is truly an 'island of joy'. Set 100m over the lagoon, this over-water cheese and wine bar is home to the island's fine wines cellar, offers an extensive selection of cheeses and a humidor stocked with a variety of the finest cigars available. Diners can choose to sit at the bar, walk through the chilled wine-fridge or simply enjoy the star-filled Maldivian night skies with the state of the art telescope and relax on the seats carved into the shape of dhonis, a traditional Maldivian sailing boat.
Regarded as the entertainment hub of the resort, Zero Degree transforms itself from the perfect relaxation area during the day to a lively venue for entertaiment and events in the evening. You can lounge by the infinity pool on a sunbed or one of the luxurious cabanas enjoying light refreshments, or enjoy a simple yet wide menu of international dishes under the shade of the thatched roof; before daning the night away beside the incredible star-like LED lit pool. Zero Degree is the ideal location to appreciate the magnificent view over the expansive infinity pool or the glittering night sky. There are daily entertainment programs - discos, fire shows, movies and even a casino.
From the serenity and tranquility of the Maldives to the vibrancy of a traditional café in Turkey, Ayada Maldives showcases the beauty and unique experience of sipping authentically brewed Turkish coffee and specialty teas with a wide array of traditional shisha at the Ottoman Lounge. This welcoming lounge is a perfect spot for a private meeting or a relaxed drink with friends.
Ayada Maldives gives you an opportunity to experience dining in the comfort and convenience of your own villa. Indulge yourself with a private breakfast, lay back with a light lunch on your terrace, or savour a romantic evening in with dinner while chilling by your own pool. Throughout the day, choose from their extensive In Villa Dining menu . Enjoy great dining options to suit you every day, 24 hours.
All-Inclusive Plan - What's Included
The resort operates on a half board basis which includes breakfast and dinner daily. Guests can choose to pay a supplement to upgrade to full board which includes lunch daily or to one of the resort's all inclusive plans. The diamond All Inclusive plan is a great recommendation. Not much more expensive than the standard Crystal plan, in addition to above, it gave access to all the à la carte restaurants including the superb Teppanyaki experience. The Ayada Diamond All Inclusive package will guarantee everlasting memories :
The Ayada Crystal Package:
Offers daily sumptuous buffets & delectable international cuisine, a 50% discount on food at the resort speciality restaurants, a selection of premium brand spirits, an extensive selection of wines from around the world, juices, soft drinks and hot
beverages, an unlimited variety of exotic cocktails, unrestricted access to the sports complex, complimentary use of kayaks and snorkelling equipment plus an array of activities and entertainment
The Ayada Diamond All Inclusive Package:
Offers ultimate luxury dining including international cuisine and access to the speciality restaurants (selected menu), an extensive selection of premium brand spirits, fine wines from around the world, an unlimited variety of exotic cocktails, juices, soft drinks and hot beverages, afternoon teas and shisha, a daily cheese and wine pairing at sunset, mini-bar replenished daily, a 60 minute massage per adult once per stay, unrestricted access to the sports complex, two complimentary excursions per person per stay, complimentary use of kayaks and snorkelling equipment, a complimentary bicycle plus an array of activities and entertainment.
Childcare
Ayada Maldives provides a fully equipped Kid's Club. With a range of educational and recreational activities with daily themes for children conducted by a personable and attentive team, ZUZUU KIDS CLUB is really great! Open from 09.00 AM to 06.00 PM for all ages, the Children's Club area is complete with its own pool, nanny room, a stage and playground area with a jungle gym. All activities and services are offered complimentary unless specified. Baby sitting service is available on request. Fun and innovative activities are on offer including supervised snorkeling and swimming lessons, cooking classes, t-shirt painting, face painting, and an educational insight into the flora, fauna and marine life that is so unique to the Maldives. The kids love the milkshakes and mocktails, eating club sandwiches on the day beds, trying to order endless Cokes when parents weren't watching and hanging out in the pool with their new mates.
Another kids' highlight is the fish feeding at the main jetty every evening at 18:00 where they get to feed a variety of fish, a big black spotted Stingray, several baby sharks, a Barracuda and various other locals with big chunks of tuna.
Ayada Maldives advises all guests travelling with young children to be aware of the unrestricted access to the sea and the lagoon directly from the villas. Ayada Maldives recommends all beach category villas and suites for families and will not accept responsibility in case of accident or injury caused. There is a resident doctor on the island.
Activities and Sports
With year round warm waters, high visibility, over 3000 coral reefs and free flowing tides of the seasonal monsoons, the Maldives is known as an absolute heaven for divers. Over a 1000 species of fish, coral and other marine life inhabit the waters throughout the Maldives; however given the virtual isolation of the Gaafu Dhaalu atoll, the underwater seascape found here is still undisturbed and untouched awaiting discovery by enthusiasts. The PADI 5* Dive Center provides two boat dives a day where the divers travel to dive sites within 20 - 45 minutes from the resort. All sites are carefully selected to ensure opportunities for all levels and the abundance and variety of the marine life. Besides fun dive trips, the dive school offers a range of courses from OWD to Dive Master. READ MORE ABOUT DIVING
The best way to build up an appetite is snorkeling on the house reef. From Beach Villa you are literally 30 or so metres straight out to the drop off. Unfortunately the coral are suffered from bleaching and is slowly growing back but the sea life is wonderful with lots of colourful reef fish, baby black tip reef sharks, and the kid's favourites - friendly turtles who cruise along beside you like old friends!
The onsite DIVE KINGDOM WATER SPORTS CENTER offers a range activities that will showcase authentic Maldivian and other unique experiences in and around the resort. Guest can enjoy fishing trips, genuine island excursions to uninhabited islands, twice-weekly Carnival, the open air cinema, shisha experience and more. All excursions are undertaken by experienced and genial team members. As for water sports, you can use surfing, windsurfing, jetski, sailing, fun tube, wakeboarding, snorkeling anв more.
On the land : Recreation Center has a games hall is available for the guests' enjoyment with PS4, table tennis, billiards, table football and a variety of fun board games. Fitness Pavilion is equipped with a range of cardiovascular and weight machines and free weights. Personal training sessions and a variety of scheduled classes are available. Yoga Studio is an air-conditioned indoor studio is available at the Recreation Center with an exhilarating schedule of yoga, Pilates and aerobics. An experienced instructor will allow you to schedule classes at your convenience and fitness level. Other land sports are represented by a floodlit tennis, volleyball, badminton and mini artificial football ground, widely regarded as the best available in the Maldives, is located adjacent to the Recreation Center. There are three jogging tracks measuring 900m, 1200m and 1600m around the resort.
Ayada Maldives offers a stunning setting for an unforgettable wedding ceremony or a vow renewal, with choices of venues either at an exclusive "White Room" pavillion, on the white sandy beach, or over the glittering turquoise lagoon at Ocean Breeze. Weddings take place just before sunset in one of the most beautiful private wedding chapels in the Maldives set in a tree-lined garden, or on the beach under a gazebo draped with flowing material.
The shopping arcade features a local handicrafts, retail items, jewelry and souvenirs are available adjacent to the Ottoman Lounge.
Spa
Ayada Maldives' 3500 sqm AySpa has been designed to rejuvenate the body, mind and spirit. The spa showcases terrazzo floors with marble and timber hues to reinforce an indigenous feel to your spa experience. Maldives' first vichy shower room and private Turkish Hammam including an elaborate marble plinth.
AySpa at the resort, which is nestled within the island's vegetation, draws inspiration from its natural surroundings and Ayada Maldives' Turkish heritage to offer an authentic Hammam, unofficially known as 'the silent doctor', to rejuvenate the guests' body, mind and spirit. Guests can experience the healing effects of this warming treatment in three different ways. All Hammam Rituals include ten minutes relaxation within the suite as part of the treatment with free flowing water resulting in the softening of the skin in full preparation for the ritual.
The 80 minute Indulgence Hammam Ritual is a total body experience that caresses the skin, rivatilises the body and calms the mind. This traditional experience includes deep cleansing of the skin with a revitalising body scrub, followed by a full body foam massage and a nourishing body mask with aromatic oils of Sweet Orange and Rose Geranium. A refreshing hair wash and hydrating conditioning scalp massage treatment is also included.
Reviews
Though the reviews were a mixed bag when the resort first opened up, they are now extremely positive with most guests feeling that this resort is fantastic in many aspects. Lots of guests cite the food as being very diverse, which can be unusual for resorts of this type. Not only is the food diverse, but well made as well. Rooms are considered spacious with a great view and staff members are thought of as the best. All in all, this resort seems like a very confident choice.
Fabulous staying, Professional staff, Paradise view, modern villa, it's just Like a dream, Thank you ayada family, Breathtaking , private and relaxing, Luxury at it's best, Exceptional, A perfect escape, Unforgettable holiday.. thanks ayada, Amazing experience and staff that want to make a difference, Awesome trip, Heaven on earth found, Magnificently Memorable Experience!!....
Pros: What Guest Love
The pick up and drop off from the airports
A gorgeous and beautiful island
Superb services. The staff are absolutely wonderful, friendly and helpful.
The villas are very specious and well equipped. A Sunset Ocean Villa with pool is just superb!
Clean beaches and a great swimming pool
A fantastic dining and wining options. Food is delicious and varied. Excellent service at all restaurants.
Diamond All Inclusive plan
Snorkeling and dolphins tour
Pool float breakfast
Land sport facilities
Kids club
the Carnival
Spa is very relaxing
Value for money
Good privacy
Wi-fi is simply stunning quality and speed!
What You Need to Know
Stay Safety with Ayada program
Ayada Maldives is located in South Huvadhoo atoll in 55-min domestic flight from Malé airport + 50-min speed boat ride to the resort.
Very long and exhausting transfer from Male
Guests arriving from international flights landing after 23.00 hours or departing before 08.00 hours won't be able to arrive/leave the same day because there are no domestic flights scheduled at that time.
The island time + 1 hour from Male
Check-in from 14:00-15:00, Check-out before 12:00
All Children are welcome.
Children under 6 years will eat for free based on the rules and meal-plan accompanied by an adult, excluding alcoholic beverages.
All dinners start at 7pm, this is a little late if you have kids (for some)
The house reef is 80% dead and bleached but looks like it's trying to recover.
Very few mosquito as they fog every evening to keep them at bay
Due to safety and privacy concerns the operation of unmanned aerial systems or drones by any of guests including model aircraft by recreational users and hobbyists is prohibited. However based on request, we can allow in some areas to fly the drone.
Maldives Luxury Guide
Here's the best of Maldives for luxury travellers. We've compiled the finest recommendations of places to stay, ranging from the most celebrated five-star resorts to luxurious private islands Read More
Maldives Romantic Guide
The ultimate 'flop and drop' and honeymoon destination, the Maldives is the playground for the most amazing and finest utilization of each second of this extremely valuable and hopeful time with each other in tota Read More