Bandos Maldives
Best Experience: for Family, House Reef Snorkeling, Value
Updated August, 2023
Perfect for your romantic getaway or family vacation, Bandos Maldives offers 250 rooms in 6 categories on a beautiful island only 15 minutes by boat from Male airport. Recently completely renovated, Bandos is known as one of the best resorts for family holidays in the Maldives and you can safely relax while your kid is keenly spending time with friends around professional caregivers who have many exciting children's programs and entertainment.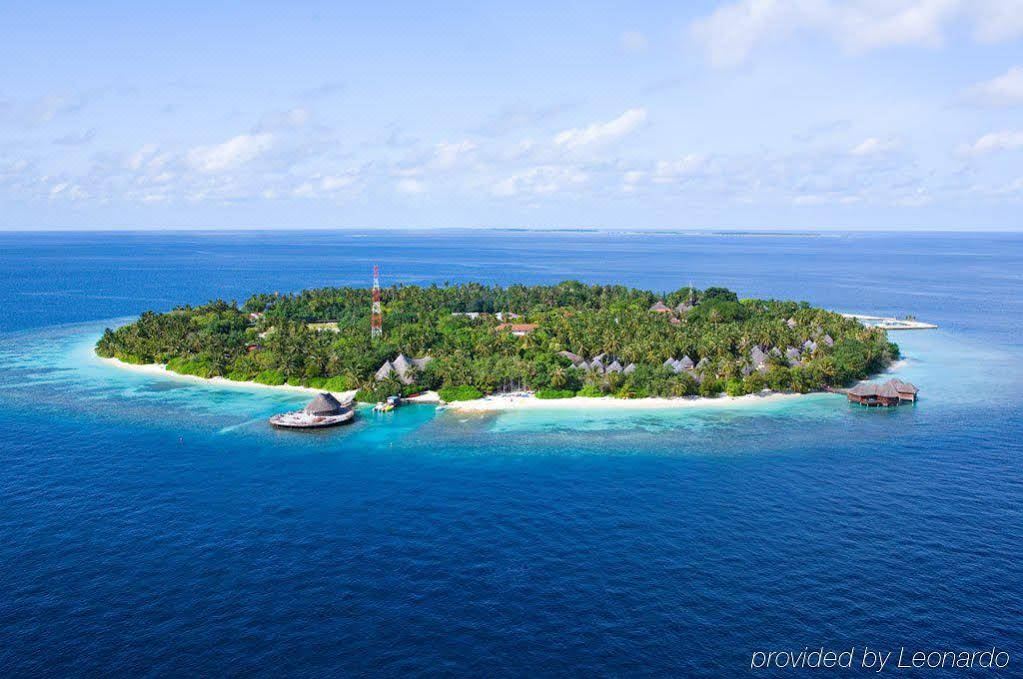 The Island
With 28 rooms, Bandos opened its shores to guests on December 10, 1972, becoming the second resort in the Maldives.
A major refurbishment programme was conducted in 2004, adding modern facilities and services to the resort's already superior offering. The resort has since seen several upgrades, becoming one of the most popular and hospitable resorts in the country.
Guests of the resort are represented by an international crowd headed by Russians, Germans, Britons and Japanese, and over-scale for more than 500 people, when the occupancy is at the maximum. About 540 people are constantly working at Bandos Maldives, including 75% of the Maldivians. Staff speak good English, and French.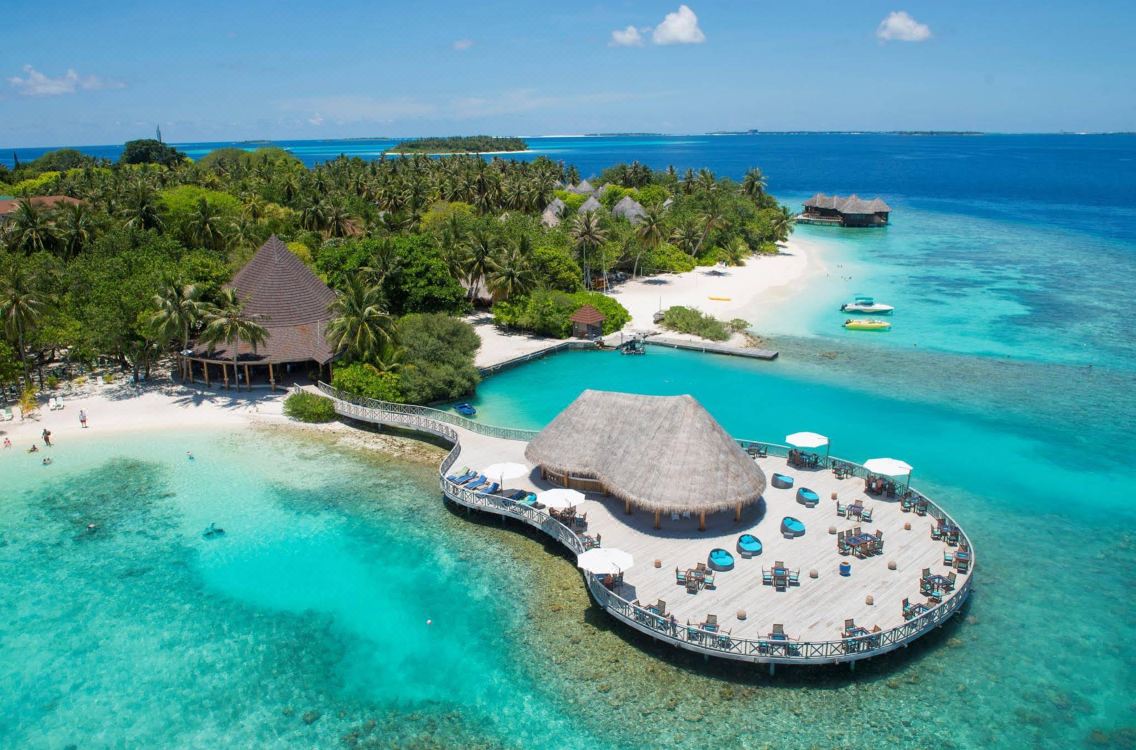 Location
North Malé also known as northern Kaafu is the main atoll in the Maldives, where in the first time in the country the tourism was launched. The capital of Maldives, Male City and Velana International Airport (MLE) are also located in the North Male Atoll. North Male Atoll is home to a great collection of luxury 5* star resorts and budget guest houses. Read More...
Located in North Male Atoll and accessible by a short 15-minute speedboat ride from the main Velana International Airport, Bandos features spacious rooms with balconies overlooking the garden, beach or the ocean.
Rooms and Villas
84 standard rooms grouped in four houses are very modest, while Deluxe rooms are collected in two and already have a lot of space and comfort. Most of these rooms do not look at the beach, which makes the moment of staying in the room a bit sad. Then go Garden Villas featuring the elegant decoration of the forest. JACUZZI BEACH VILLAS with peaked roofs located along the beach and hidden behind large banyan trees and majestic palms, high class, not to mention 2 WATER VILLAS decorated in warm colors with a refined interior and jacuzzi. With an English lawn and a collection of cobbled paths one could blame this beautifully sharp light denaturalization, but this is offset by dining in four different restaurants with international cuisine and a drink in four different bars, or even in a 24/24 open cafe. DOWNLOAD RESORT MAP
In 2022 Bandos Maldives has unveiled their new premium beach villas, thats tucked among the tropical greenery on the beach.
Premium Beach Villas are elegantly designed duplex rooms with chic interiors topped off with an open air jetted tub offering the ultimate relaxation experience. These spacious villas feature a balcony overseeing astounding turquoise lagoons that the Maldives is famous for.
In 2023 Bandos Maldives unveiled a brand new room category, Sunset Water Villas with Pool. As part of the upgrades this year, Sunset Water Villas with Pool features unique décor and breathtaking views of the ocean and the beach, giving the guests a sense of floating on the ocean. New accommodation offers luxury and tranquillity with full privacy and service exclusive to the water pool villa.
The perfect escape for honeymooners and couples, the living quarters come fully furnished with modern amenities, while the ultra-luxurious and roomy pool affords one an uninterrupted view of the ocean and unending horizon.
Restaurants and Bars
The main restaurant delivers 3 decent buffets a day though the place itself is rather dark and dull. The fine dining restaurant has sea views but is none too attractive either. The coffee shop and main bar are well placed by the water. The bar is the main focus of nighttime entertainment and this is usually active and buzzing till sometimes very late indeed. Think of Thailand in Koon Thai restaurant where you can burn your mouth with authentic Thai cuisine, or appreciate the quality of the Indian Ocean's seafood at Sea Breeze, and Gallery restaurant is the place for a buffet for breakfast. Umi Yaki restaurant serves Japanese Teppanyaki food. Recommended for everyone: an appetizing barbecue party in the tropical atmosphere of the Huvan and Sand bar, right on the beach with a good selection of seafood and fish grilled buffet, and live entertainment, will remain very satisfied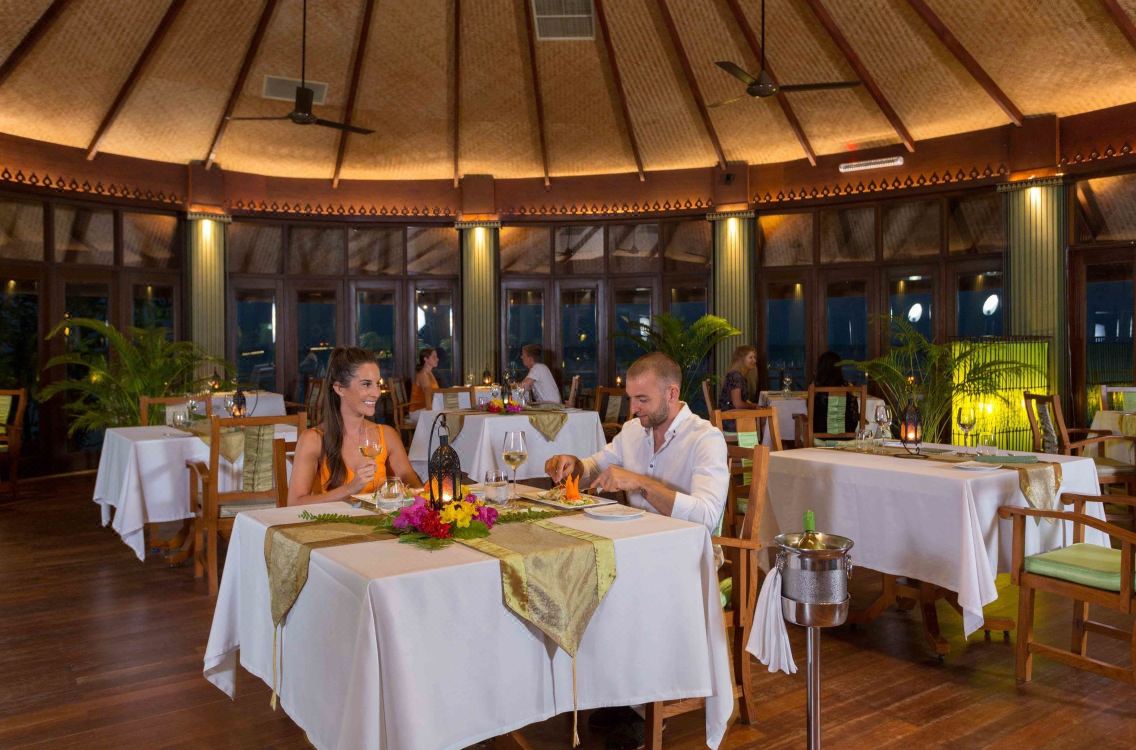 Childcare
We do not recommend you the island if you want a romantic holiday in a quiet place. Bandos is ideal for families with children and is peppered with a large number of games and animations including a full-time babysitter, a children's playground, two children's pools and a large selection of activities that can be practiced. In Bandos, where rest is the king, kids can not be bored.
Usually, children anchor in Kokko children's club, where they can play and take part in various fun activities! Open from 08: 00-17: 00, the Children's Club is a favorite place for entertainment, and a good chance to make new friends, while parents are diving or sunbathing on the beach. For especially capricious people, there is an opportunity to choose a children's menu from the restaurant. For a little guests in Bandos Maldives there are lessons of applied art, cooking classes, treasure hunting, or reading books and board games for a rainy day.
Activities & SNORKELLING
The excellent location of Bandos in the south part of North Male Atoll offers access to more than 40 world-class dive sites. The dive base is large and impressive. It seems to offer everything from absolute beginner courses up to expert rebreather courses. 5 star diving center is formed by a team of professional instructors and has quality equipment, an air-conditioned class with audio-visual facilities and a great library. All PADI courses are on offering, including children's diving. READ MORE ABOUT DIVING
Orchid Spa is a well-deserved place after a fantastic diving, with an extensive choise of healing and relaxing treatments, from facials and aromatherapy, to branded packages for two including divine Thai massage and skin therapies, although some prefer to blow bubbles into the jacuzzi.
A vibrant house reef is one of the best not only in the North Male Atoll, but also in Maldives! Colorful corals are teeming with curious sea life and for easier access to abundant marine life, the Bandos Maldives administration has taken care of the passage in the corals. Expect to see many bright and cute sea creatures: turtles, rays, white reef sharks, giant moray eels, colorful fish - this abundance does not occur in every resort in the Maldives. In short - do not miss snorkeling!
Rewiews
Reviews for the Bandos Island Resort & Spa are generally positive, but not as solidly so as many other resorts in the area. This is a relatively large resort that is popular with families, so almost all guests are paying significantly less than those who stay in the water villas. The snorkeling and diving here get high marks, as does the food.
Some guests mention that the food and other things at the resort are expensive, but in fact the food and drinks here are among the cheapest in the Maldives, so it's more a matter of people not being prepared for the price levels here. For families who want to stay in a water villa, this resort seems like a good choice, but with 223 beach rooms mixed in with the 2 water villas, it's important to realize that you'll be in by far the best rooms on the island. With all this said, it's important to also note that many guests return for second or third stays, meaning that this resort pleases enough for it to be chosen above others.
What Guest Love
A great location nearby Male airport. Only 15 minutes by speed boat
The island is beautiful and so clean and safe.
The staff is very friendly, always smiling and ready to do anything for you!!
Great price for all inclusive!
Resort facilities
Very good breakfast, lunch, tea snacks and dinner!! The food served at all restaurants is delicious. Great variety to choose from.
The nature and the sea
House reef snorkelling
Fabulous spa
Fun nights with karaoke on Tuesdays.
Value for money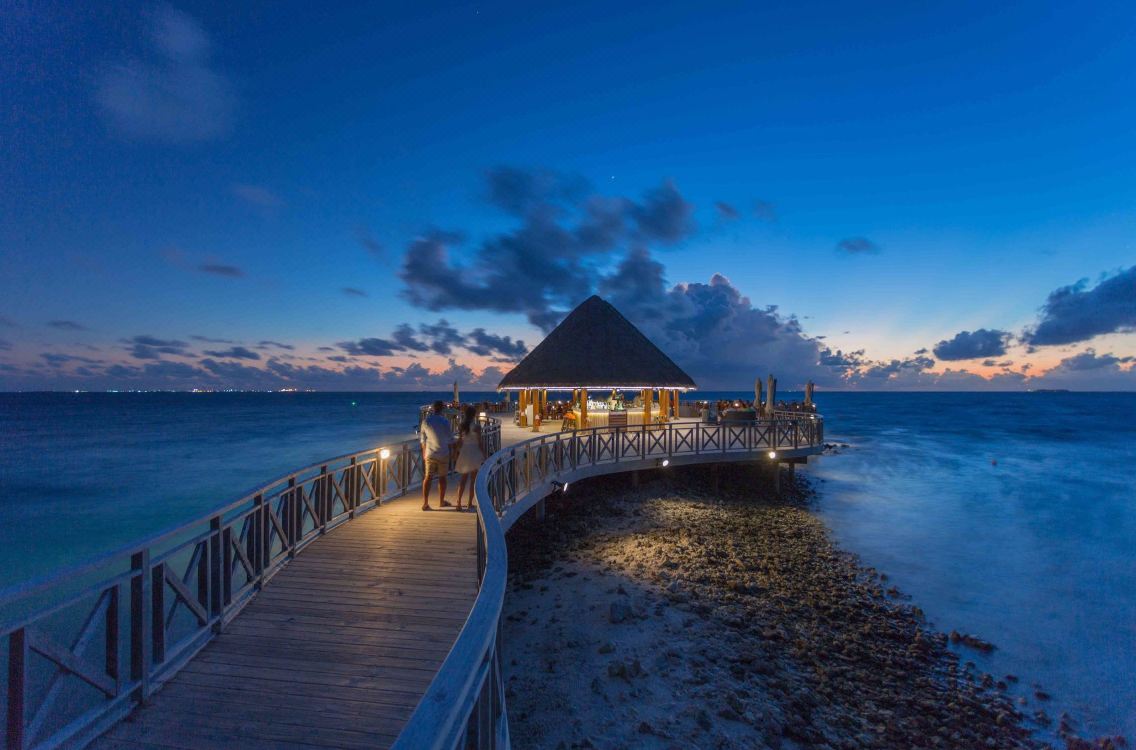 What You Need to Know
Bandos is in North Malé Atoll, one of the best diving spots in the Maldives
Near the airport and smooth transfer to the island
Speedboat transfer takes 15 minutes from Male International Airport. The return rates are: 
Adult: USD 93.64, round trip, inclusive of all taxes 
Child (2 to 11 years): USD 46.82 round trip, inclusive of all taxes 
Check-in from 14:00, Check-out before 12:00
All Children are welcome.
Bandos is an old property so maybe does not have the glitz and bling of the newer (more expensive ) resorts
The restaurant operates 2 hrs only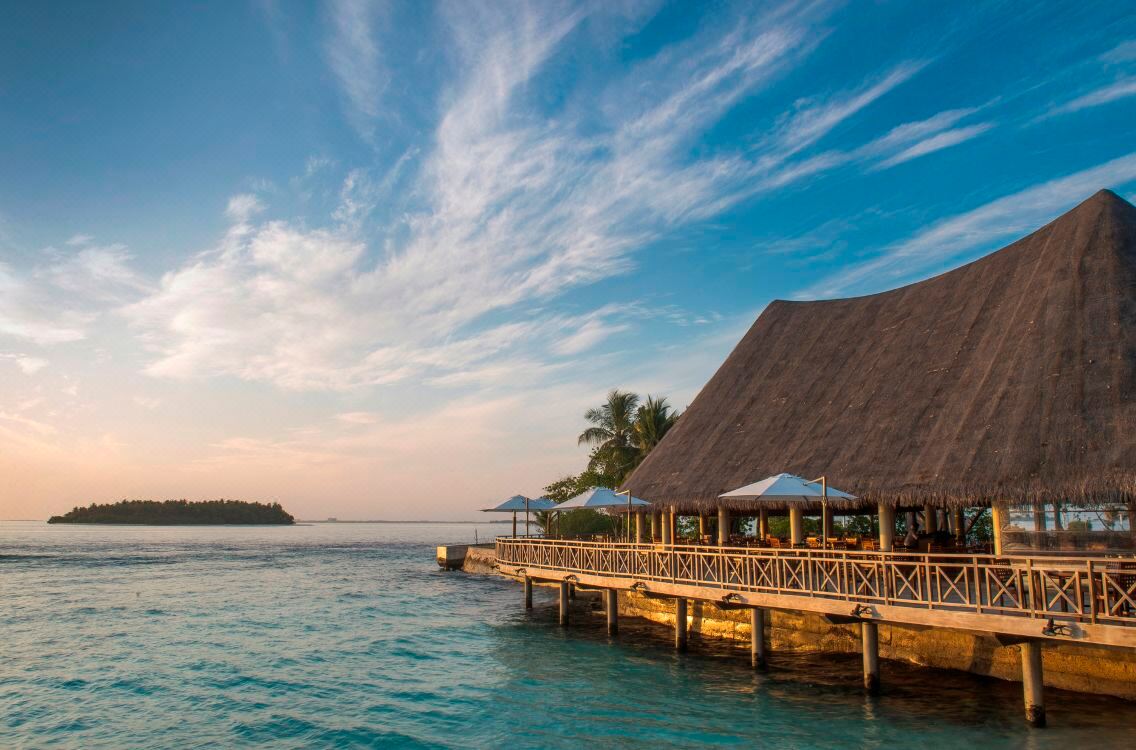 Maldives Luxury Guide
Here's the best of Maldives for luxury travellers. We've compiled the finest recommendations of places to stay, ranging from the most celebrated five-star resorts to luxurious private islands Read More
Maldives Romantic Guide
The ultimate 'flop and drop' and honeymoon destination, the Maldives is the playground for the most amazing and finest utilization of each second of this extremely valuable and hopeful time with each other in tota Read More