Banyan Tree Vabbinfaru
Best Experience: Couples, Beaches, House Reef Snorkeling, Spa, Two Islands One Great Price
Updated October, 2023
Built on an almost perfectly circular island, with 48 villas and unpretentious barefoot luxury, Banyan Tree Vabbinfaru remains a favorite place for romantic couples and eco-lovers.
Located in North Male Atoll, "Vabbinfaru" in Divehi means "a round island surrounded by a coral reef." The simplicity of the name embodies the philosophy of the hotel. Enjoy the white sandy beach, flourishing coconut trees and tropical sunshine of one of the most popular global holiday destinations.
Those who are looking for an underwater spa or swimming pool in the Maldives can be disappointed. The resort does not consider it necessary to build a swimming pool, because the ocean is simply beautiful. The sister resorts of Banyan Tree Vabbinfaru and Angsana Ihuru are certainly a luxury category, but prefer to stay away from the brilliant, tourist amenities such as a large swimming pool and over-water villas. These two properties also share the lounge in Male airport and the boat provides guests with water and cold towels with the scent of fresh mint; If the captain spots the dolphins along the way, he will definitely stop for a photo. The setting upon arrival is truly spectacular, and begins with a warm welcome from the manager as well as a costumed drummer offering traditional Maldivian bodu-beru beats. Guests are then led down a long jetty for check-in, which is flanked on either side by clear water that offers glimpse of the house reef.
The Island
Banyan Tree - a luxurious Thai boutique resort is slightly larger and more expensive than the neighboring Angsana. Each of the 48 spa-like villas offers direct water access from the front (beach privacy varies), and in the rear, the piece de resistance: a walled-in plunge pool and jetted tub area. Large bathrooms with indoor and outdoor showers that helps to compensate for a bit of cramped bedrooms are dressed in neutral tones. The easy-going island boasts large white sands and free non-motorized water sports; Divers have access to a nearby wreck. Banyan Tree brings a Southeast Asian look and feel to the resort that works very well. All the buildings are made from Indonesian materials, down to the thatch on the roofs. The spa is where it works best of all. Spa lovers will be delighted with the large luxury Thai spa and professional staff, all was trained at Banyan Tree Spa Academy. In the evenings, after a hearty dinner couples and rare families prefer to stroll along the long pier to spot turtles and reef sharks. The hotel offers a 24-hour speedboat transfer service from Male airport, 25 minutes from the island and free Wifi internet.
The outdoor reception area leads to the restaurant, bar, souvenir shop, marine laboratory, fitness center and spa. The island itself is larger than the resort but you will find that is very easy to navigate here either by going around the island along the shore or use small sandy paths that loop towards separate bungalows. Many guests prefer to enjoy a spa, water sports, or privacy inside a romantic bungalow. Although Banyan mainly attracts couples, a some families especially from Asia - are not uncommon. In addition to water sports, children can take an active part in the daily feeding of rays and turtles. (The Marine Laboratory is the first of its kind in the Maldives.) DOWNLOAD RESORT MAP
At sunset, a favorite place for many guests is the large sandy beach near the bar. At night, the trails are lit by soft light and there are private dinners on the beach or at the end of the jetty. In the main restaurant during the dinner play tranquil melodies, and then, after the kitchen closes the music goes into a more fashionable genre. After dinner, guests can go to the bar for drinks, although most end up preferring their private pools, which are romantically highlighted in the dark by pink and purple tones. Another option is to watch reef sharks swimming in the lighted sea from the resort's main jetty.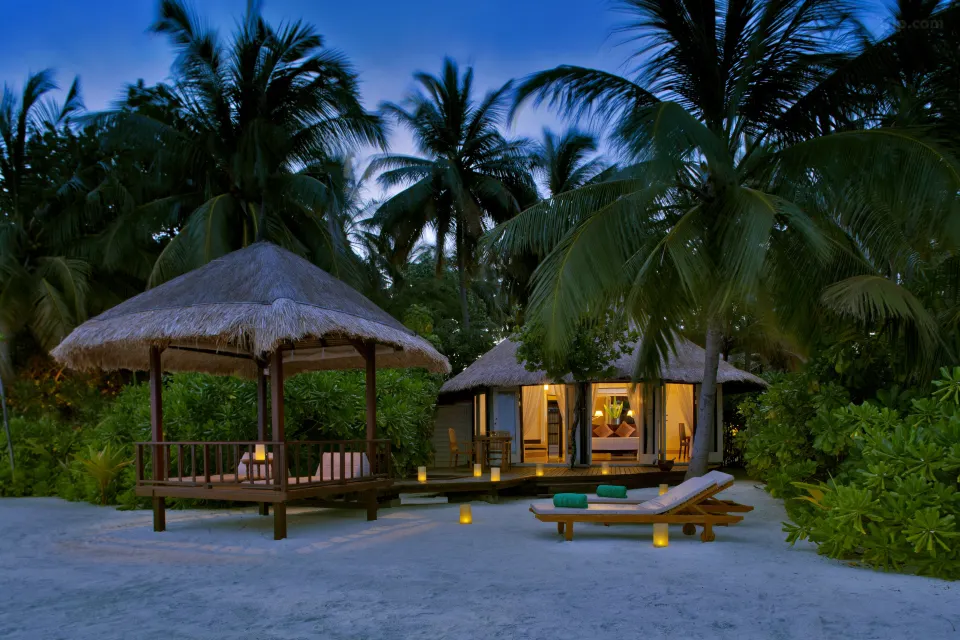 Location
Maldivian nature clearly pushes into the background the fashion novelties. The local inhabitants are shy herons and after lunch the stingrays swim to the beach in order to get daily feed from the staff. Banyan Tree manages the marine laboratory, where a team of resident biologists is working to restore the reefs and monitor the population of turtles.
Like many islands inside the atolls, including its neighbour and sister property Angsana Ihuru, it is small, roughly circular, has a close housereef and very good beaches.
The resort also has its own diving school PADI - and snorkeling and scuba diving around Vabbinfaru house reef is simply excellent and some argue that it's even better than the neighboring Ihuru (home to Angsana resort) where you can dive right from the beach. The reef is very close and literally after a few meters the bottom dropps off, revealing a fantastic marine life.
Banyan Tree Vabbinfaru is located in North Male (Kaafu) atoll. After passing through customs at airport, guests are met by the resort's staff and escorted, with luggage on a cart, to a Banyan Tree boat toward the island. The trip takes about 25 minutes from the Velana airport and the captain's first stop is here, after which the boat heads to Angsana. Both islands are visible to each other in the distance, and truly feel like sisters. Guests can ferry back and forth during the day and evening if they wish to use each other's facilities at no charge.
Villas
Like the exterior, the interior color scheme is neutral almost spa-like with white, beige, brown, and black furnishings, and a hint of fresh of greenery for contrast. Every villa's air-conditioned bedroom is rounded rather than rectangular, and therefore, the teakwood canopy king-size bed sits smack in the center of the room. Around the bed, which is dressed in quality white linens, is a cushioned daybed (good for kids), 32-inch flat-screen TV, narrow desk, stocked minibar with gourmet snacks and liquor pints, and a mini-fridge offering half-bottles of wine, Veuve Cliquot champagne, beer, soda, juices, and mixers. There is a Bose sound system and trademark Banyan Tree CD with spa-like music, as well as an incense burner and oil with the brand's scent of the day (for example, "rose & lemongrass").
For families or small groups travelling together, the resort recommends the Vabbinfaru Villas complemented by a private pavilion in the garden. Uniquely designed to reflect a seashell spiral, the understated elegance of conical thatched roof villas imparts a sense of traditional Maldivian magic.
All guests arrive to a welcome fruit plate, and a selection of tea and coffee are stocked daily; Nespresso machines were added in early 2015. VIP guests are welcomed with a bottle of Moet & Chandon, while honeymooners receive a bottle of Chilean Cabernet Sauvignon. Special care was taken during construction in order to protect the coral reefs, by importing pre-fabricated villa elements by light boat; in addition, the villas' designs maximise natural light and sea breezes.
All the rooms are the same size but the deluxe rooms use some finer materials. The best plan is probably to throw the doors open and enjoy the inside-outside life for which the rooms are well designed. Three sets of French doors lead to the beach from the front of the villa. Guests have a small deck and dining table, a hammock, a shaded lounge area under a palapa, as well as two lounge chairs on the beach next to the water. Privacy varies, and some units are within direct eyesight of each other, compared to Angsana where privacy along the beach is more of a guarantee.
The beach salas tend to reduce the amount of walking around the outside of the island and that increases the privacy although, for a 5 star resort, the large number of rooms to island size means being aware of your sunbathing neighbours on the beach.
As with many resorts there is beachbeach erosion in the northeast corner which is contained and replenished with sand pumping from the lagoon. The lovely big, soft beach faces west to the sunset and this is where most of the more expensive rooms are. Aside from the top 2 Vabbinfaru Villas, the 48 rooms are divided between Beach Front Villas/Deluxe Villas right on the beach and Ocean View Villas/Deluxe Villas, which are tucked behind those rooms.
In the rear, however, is where the privacy comes in. The open-air bathroom has double vanity glass sinks and large closet space containing beach towels, soft bathrobes in black and beige pattern, and slippers. These, along with generous toiletries, can be purchased at the gift shop, though eco-friendly containers can be a little difficult to work. There is an indoor shower and an outdoor shower with a bamboo spout. The bathroom area opens up to a romantic private pool and jetted tub surrounded by walls made of bamboo. Rectangular steps are a contrast to the sand and lead to the back door entrance. At night, the pool and jetted tub are lit in shades of blue and pink and guests can lie in the cushioned lounge chair meant for two to watch the stars. Due to close proximity of some of the villas, it may be possible to hear neighbors.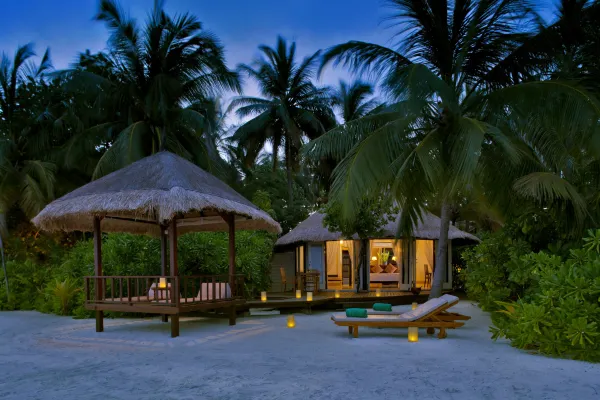 The Beach
This island has a natural, expansive beach area near the resort hub, as well as plenty of white sand around the entire island in front of the villas. Sandbags are visible in a few spots to help with erosion but guests can walk the entire island, which is particularly pretty at sunrise and sunset
Restaurants and Bars
With a casual setting, Ilaafathi, the resort's main and only restaurant offers rustic wooden tables under a large thatched roof as well as outdoors on the sands. From fine dining to healthy options, buffet style for breakfast, lunch and dinner with a wide selection of modern international dishes with a focus on seafood. Most evenings, guests are impressed by the seasonal menu, when the table comes with exquisitely presented dishes. Also offer appetizing Maldivian food: with pepper, coconut milk, citrus and fresh seafood. To ensure that the food is not boring, the restaurant offers Maldives theme nights on Fridays and a continental buffet breakfast on Sundays. There is a menu for children with familiar dishes, such as fish with chips, pasta, soup, and pizza. Closer to the beach in the open air is a barbecue area called Sangu, which is open for lunch in good weather.
Guests of Banyan Tree can also dine at nearby Angsana Ihuru in 5 minutes by boat (free of charge) from Vabbinfaru. For an unforgettable honeymoon, there is a romantic dinner for two, tet-a-tet on a desert island, not much larger than a sandbank. A private barbecue dinner can also be arranged in the villa either on the front deck or by the pool.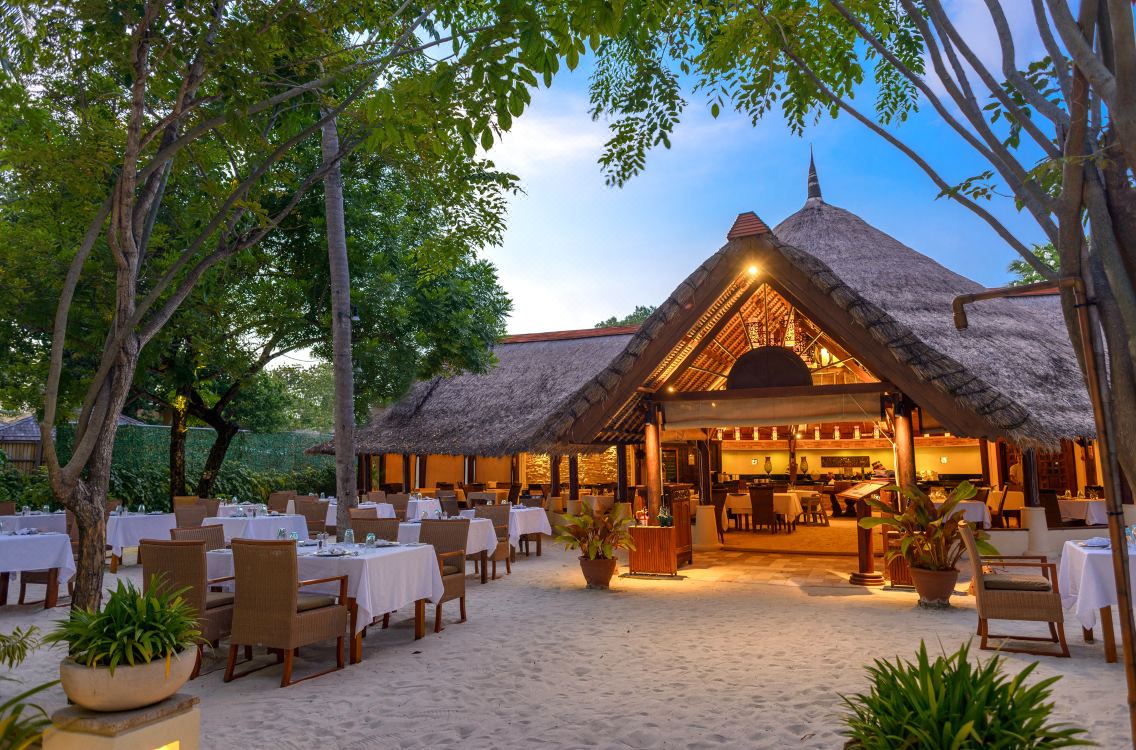 All-day dining selections are available at the open-air Naiboli Bar, including an extensive range of delicious appetisers, light meals and cocktails. Set on the sandy beachfront, you can enjoy the ocean breeze, sea and surf in a setting reflecting the best of Maldivian charm. Come Friday, watch the mesmerising Bodu Beru performance, a drumming music performance showcased by lively musicians in ethnic costume.
Guests can check out the island's own hydroponic garden that grows mostly lettuce and mint used by the restaurant and bar.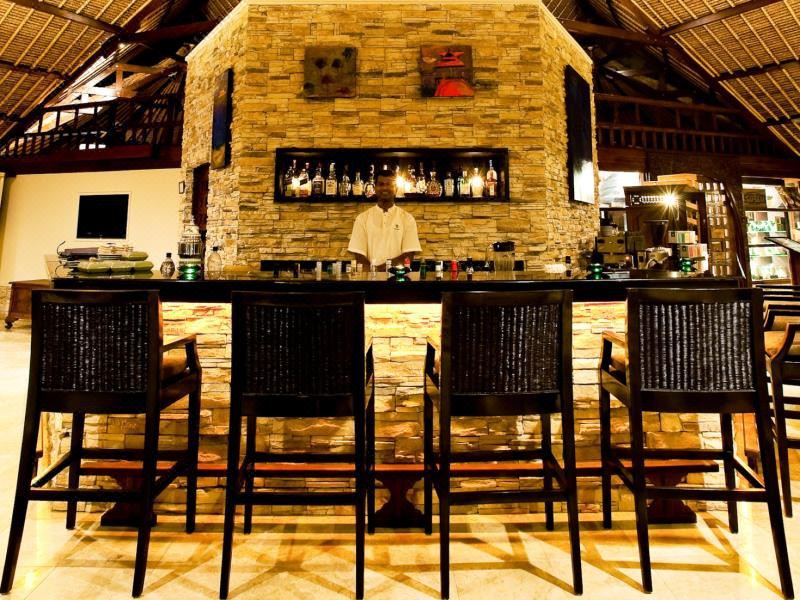 In 2023 the resort extended its dining options with opening an architectural gem, Madi Hiyaa, an exceptional standalone overwater Yakitori Restaurant and Bar, featuring an incredible sea saltwater infinity pool, breathtaking sunset panoramas, caressed by the gentle sea breeze, and offering an authentic Japanese culinary experience with a Maldivian influence, all crafted from locally-sourced ingredients.
The House Reef Snorkeling & Diving
The island has its own house reef with colorful fish, rays, reef sharks and turtles. There is a diving center PADI with courses of all levels of certification, and also nitrox. Day and night dives are available in the best dive sites with professional multilingual instructors. Snorkelling gear is free of charge and guests can explore the house reef via many entrances around the island. Regularly (and free) boat transfers to the sister resort where you will also find house reef diving and snorkeling close to the beach, and there is a wreck near the shore. The dive school. shares its dives with Angsana Ihuru. Ihuru is now targeted at divers whereas divingdiving is less important on this resort. However, there is plenty to enjoy in terms of the underwater world. The dive base leader feeds the sting rays every day and as she does so she teaches guests about the life of these extraordinary fish. She then takes guests over to feed the growing turtles before release. Other water sports include kayaking, windsurfing, banana riding, hobby boards, fishing, and wakeboarding. READ MORE ABOUT DIVING
Interactive marine laboratory - the first in the Maldives - offers information on its projects to conserve green sea turtles, sharks and corals. The island's marine centre is constantly active in a range of valuable projects. Having begun with tracking coral regrowth after the 1998 bleaching event, it moved on to studying methods of encouraging that regrowth. It then began research on sharks, both purely scientific and around their economic value.
But its most visible and popular work has been with the endangered Green Sea Turtles. In January 2019, the resort launched the Turtle ID Programme, tracking populations of sea turtles that either frequent or reside on the house reefs of the two luxury resorts and the nearby reefs, with the aim of monitoring the populations of these highly-endangered animals. A small number of eggs are raised on the island for 12-18 months and then released with a tag and, in a few instances, a satellite transmitter. Lectures on marine biology are held on Mondays and Thursdays at 18:00, and evening skates feeding takes place on the main site at about 5:00 pm. Basically - it's feeding a simple show, unlike other resorts such as Vivanta by Taj, where guests take an active part.
Activities
The renowned spa offers five spacious open-air treatments rooms adorned in traditional Thai decor. Its reception is a little straight-edged and formal but the treatment rooms are large and lovely. It is truly a standout here and most guests partake in at least one treatment during their stay (it's worth the splurge). It is often full as some guests have packages that include 2 treatments a day. And the highly trained Thai and Balinese therapists are so good that the spa often becomes a major part of the guests' holidayholiday even if that wasn't their original intention. The staff are highly trained at Banyan Tree Spa Academy in Phuket and are incredibly friendly and professional.
A second-floor fitness center sits above the Marine Lab with some cardio machines that face the sea. This stays pretty quiet. Yoga classes are not offered due to lack of interest most guests choose to get their exercise in the water.
Guests receive a list of weekly resort activities with times and prices, such as night fishing, snorkel tours, dolphin cruises, and a cooking school. Special private trips such as a champagne sunset cruise in a dhoni boat are also offered.
A quality gift shop sells handicrafts and signature items from the Banyan Tree brand, including the toiletries, bathrobes, and slippers that are in the villas.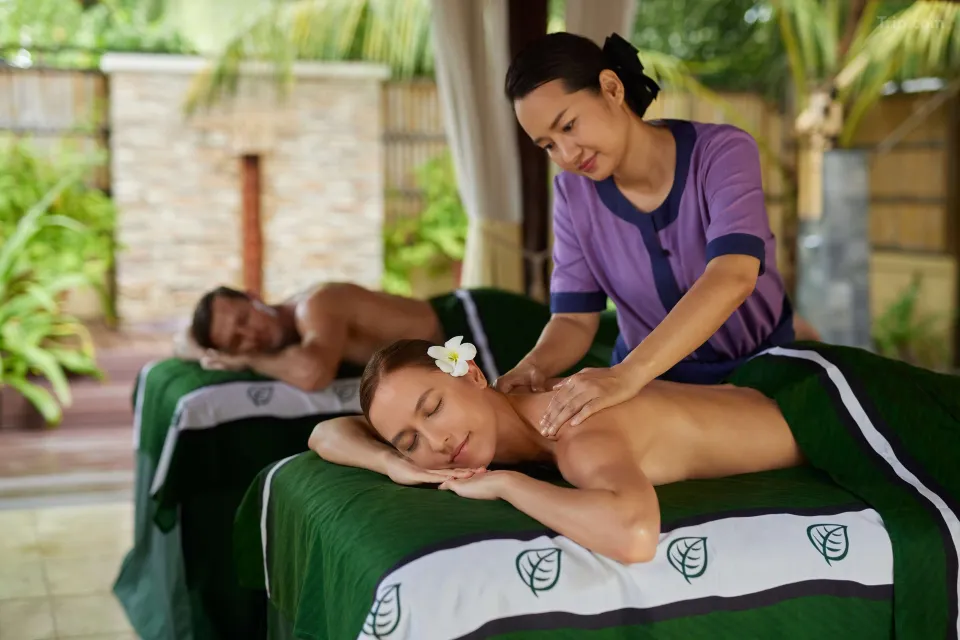 Reviews
Banyan Tree is perfect getaway for couples who dream of a simple barefoot luxury, away from it all. Beach Villas offer a panoramic view of the ocean, but Ocean Villas are more private. In both cases, "Deluxe" in front of the name means a slightly better setting and more modern bathrooms.
..."A lovely 3 day stay", "Quite, best place for relaxing", "An exceptional experience of my anniversary ", "Didn't want to leave this island paradise definitely had a tear in my eye.", "Amazing", "Perfect getaway", "very beautiful place and people we are looking forward to returning", "Wonderful stay", "perfect diving and snorkelling 5* resort", "Overall , i loved the resort and the staff are nice.", "Dream honey moon ", "Highly recommended", "Can't wait for my next trip to the same hotel" Heaven on earth... best place for honeymoon with full privacy. ... 
Why Stay here: What Guests Love
Exellent location! Just 20 minutes by speedboat from Male Airport;
A small and authentic 5 -star Thai boutique luxury resort with excellent service;
Really hospitable, modest service. This is one of those rare places where guests really like to socialize with the resort hotel staff;
A beautiful white beach with fine sand and crystal clear water
Regular boat access to sister island next door
Marine center with daily stingray and turtle feedings
All rooms are individual bungalows with private plunge pools
Clean nice room
Sandbank dinner
House reef snorkeling and diving, especially from Ihuru, the sister island. An abundance marine life.
Famous Thai spa with a wide range of treatments; Small cosmetic gifts from the Banyan Tree Gallery are left in the villa by room service;
By the way, guests of Banyan Tree receive two islands for one great price, as they can visit Ihuru for free and eat there, sunbathe, snorkel or dive;
Wi-Fi coverage in all island
Arrival Voucher Spa for 1 day.. Excellent Massage
An excellent and various food
What You Need to Know
Banyan Tree is located in the North Male Atoll and is 25 minutes by speedboat from Velana (Male) Airport
Check-in 14:00 From 14:00; Check-out Until 12:00 hours
Limited food and drink options may get monotonous
Jet-ski not allowed
Prices are higher than sister property Angsana
Most bungalows lack privacy around the beach
There is no swimming pool on the island
There is no activity for young guests, so this is perhaps not the best choice for families with kids;
Ocean Villas are hidden in tropical vegetation and offer more privacy than Beach Villas, but to the detriment of a good ocean view; But it's nothing, barely worth mentioning: the only real minus is the need for modernization of villas: many years of use left notable marks on the Banyan Tree brand.
In 2019 Banyan Tree Vabbinfaru Maldives has been recognised as one of the best all-inclusive resorts in the world. The edition of the Travelers' Choice Awards, Banyan Tree Vabbinfaru secured the 19th spot in the list of the Top 25 All-Inclusive Resorts – World and the third place amongst the Top 10 All-Inclusive Resorts – Asia.
Maldives Luxury Guide
Here's the best of Maldives for luxury travellers. We've compiled the finest recommendations of places to stay, ranging from the most celebrated five-star resorts to luxurious private islands Read More
Maldives Romantic Guide
The ultimate 'flop and drop' and honeymoon destination, the Maldives is the playground for the most amazing and finest utilization of each second of this extremely valuable and hopeful time with each other in tota Read More