Conrad Maldives Rangali Island
Best Experience for: Underwater Villa, Couples, Families, Beach, Spa, Gourmet Dining
July, 2019
Conrad Maldives Rangali Island is luxurious and sophisticated Maldivian resort and home to the Muraka - 'world's first' underwater villa.
The 5*-star resort is located on two idyllic islands combining the best beaches and over-water accommodation, both with dense vegetation and palm trees that create a natural tropical paradise.
Suitable for couples and families alike, Conrad is all about glamorous splendor in a luxury setting with some of the most exciting underwater adventures in the Maldives. The two private islands connected by a 500m bridge and both are designed for true enjoymen
As one of the Maldives' leading resorts and one of Hilton Worldwide's flagship properties, the award-winning Conrad Maldives Rangali Island offers 150 villas and suites, 12 restaurants and bars, two spas — all stretched over two remote islands. Accessible by a 30-minute seaplane flight from the Maldives main airport the 5 star resort features the Ithaa Undersea Restaurant, world's first undersea restaurant made from only glass. The resort has excellent facilities, including a gym, two spas, tennis courts and a dive centre that loans guests free snorkelling gear (you can even get prescription masks). There is a wide range of activities on offer, from pedalo excursions to honeymooners' favourite 'The Sandbar Picnic' – a day-trip on a yacht, with a drop-off on a deserted island where you can enjoy a romantic meal on the beach.
As the latest innovation, Conrad Maldives Rangali Island had recently unveiled the world's first undersea villa. A triumph of modern design and technology, THE MURAKA is a two-level structure comprised of space above the sea level and an undersea suite designed for sleeping under the ocean's surface.
The Islands
Conrad Maldives Rangali Island is located in South Ari Atoll and is accessible by a 30-minute seaplane flight from the Maldives main airport. Alternatively, arrive via a luxury three-hour yacht transfer. Your Conrad Maldives experience begins before you arrive on Rangali Island. With complimentary access between 7am and 5pm, their private lounge at Velana (Malé) International Airport ensures your arrival at Conrad Maldives is seamless and stress-free. Expect: award-winning airport lounge, complimentary neck or shoulder massage, Kids' play room, wi-fi and shower facilities, Complimentary breakfast buffet, Extensive dinner buffet.
The Conrad Maldives is unique amongst our Maldivian resorts in that there are two islands to choose from. Rangalifinolhu is where the all-new beach villas are based, and also the newly opened spa retreat, with stunning over-water villas with private spa rooms attached. Across a 400m causeway is Rangali Island, where you will find the water villas of varying indulgence. DOWNLOAD RESORT MAP
Conrad Rangali - without a doubt, the most magnificent and most expensive hotel in the Maldives, very high class. Quality service complies with the international standard Hilton, with a full set of facilities and optimum comfort, both in public and private areas. Villas are sleek and contemporary but with nods to traditional Maldivian architecture, such as thatched roofs and wooden interiors. The effect is luxurious, but in an understated way – even in the most upmarket restaurants, your sandals will usually be resting on sand.
Service is excellent: with two members of staff for every guest, you'll always find someone on hand to help.
Location
A home to LUX* South Ari Atoll, Ari Atoll also known as Alif or Alifu Atoll is one of the natural wonders of the Maldives. Being one of the largest atolls in the Maldives, it stretches from north to south in the western part of the Maldives archipelago in 30 minutes by seaplane from Male airport. Read More...
Located in the South Ari Atoll, Conrad Maldives Rangali Island is reachable by a 30-minute scenic seaplane flight over the Indian Ocean, or a short domestic flight to a nearby island followed by a speedboat transfer to the resort. All transfers to and from the resort arranged by Rangali's staff. All you need to do is provide the hotel with your international flight details at least five days prior to your arrival and then simply relax and enjoy the ride. You can also make use of luxurious Conrad Lounge at the Malé International Airport Seaplane Terminal before or after your transfer to the resort. Travelling by seaplane is a unique experience not to be missed; however, should you wish to make your journey even more luxurious, you could charter one of our yachts to cruise up to 15 passengers from Malé to Rangali Island. There are long stretches of sandy beach where, even in high season, you might not glimpse anybody else. For diving and snorkelling enthusiasts, large coral reefs full of glittering fish are just a short boat ride away.
Villas and Suites
Dreaming of infinity pools, personal spa rooms, or may be a steps leading into the Indian Ocean? Find yourself in a variety of contemporary land and water villas with stylish interiors and exquisite bathrooms. Dotted above the waves or tucked amongst the tropical greenery the villas are very modern and have all the expected amenities to make your stay as comfortable as possible. The each location allows guests the utmost privacy and opportunity to connect with nature and the Maldivian culture.
The larger island is mainly home to beach villas – bright and airy glass-walled sanctuaries, with private courtyards, whirlpool tubs and sunken baths. Across the bridge are the quieter water villas; traditional wooden structures on stilts, with steps leading straight into the warm Indian ocean. Each villa has been carefully designed for maximum privacy, with thoughtful touches such as candles in the bathroom and a handy beach bag to throw your suncream in before you head down to the sea.
With the Spa Retreat and Beach Villas on Rangalifinohlu Island and Water Villas on Rangali Island, the resort offers the widest choice of accommodation in the Maldives. Each of the 150 villas reflect the resort's contemporary and laid-back style, providing each guest with luxurious modern facilities within an indoor-outdoor living space that sits in perfect natural harmony with the Maldivian environment.
All rooms are equipped with full entertainment systems, including satellite TV and DVDs. The Beach Villas have large outdoor garden bathrooms and as well as being larger, the Deluxe Beach Villas also have private plunge pools. The water villas come in a variety of guises with enhanced bathrooms and bedroom facilities.
Fully refurbished in 2012, the ultimate in island luxury is in the stunning Sunset Water Villas (452m2), set on stilts in their own private area of the lagoon. Home to royalty, celebrities and the world's top sport stars, glass-floors in the living room provide spectacular views of the marine life below, whilst a round bed rotates 270 degrees to follow the breathtaking sunsets. The large marble bathroom with walk-in wardrobe and ocean-view circular bathtub, plus a luxurious outdoor whirlpool and a private, over-water, chromotherapy infinity swimming pool, are just a selection of the extravagant touches which make the Sunset Water Villas the ultimate luxury experience. The second king-sized bedroom has a flat-screen TV which descends from the bedroom ceiling, adjacent bathroom with open air shower. This villa also comes with kitchenette and butler service 24 hours a day, flat screens and satellite TV throughout, DVD and CD players and Bose sound system.
Spa Water Villas, number 2, open all around the ocean are simply sensational. As for the 50 Water Villas, decorated with impeccable taste mostly from wood, they have a terrace with a staircase leading directly to the lagoon. Some rooms have a private bathroom with breathtaking views of the lagoon, others have a jacuzzi on the private terrace. 2 Sunset Water Villas, a bit isolated in the corner of the lagoon, especially stunning beauty. Water Villas (Premier, Superior and Sunset), refurbished in 2011, are incredible, but only adults are accepted.
The Family Water Villas, (150m²/1614.6ft²) are set on stilts in the resort's lagoon, near the Spa Retreat. Their spacious design blends contemporary Maldivian style in a natural harmony of wooden interiors, thatched roofs and a breezy indoor outdoor feel. The ocean is always in view allowing guests to feel at one with nature. The spacious bathroom includes large dressing area with day bed, and bathtub with ocean views. On the private sundeck is a large whirlpool and steps leading directly into the lagoon.
Set on the beachfront the 150m² villa feature a glass-walled bedroom which opens onto a terrace and small private garden, leading to the beach. To the rear, a fountain courtyard is part of the open-air garden-bathroom with a thatched-roof bathing pavilion, featuring an outsized bathtub and romantic mood lighting. Twin Beach Villas have two separate single mattresses on the sleep platform.
In 2018 Conrad Maldives Rangali Island redeveloped Deluxe Beach Villas. Continue to be one of the resort's most popular villa categories, each room is set amidst dense tropical flora and fauna offering the utmost in privacy. Rich natural and understated interiors are accented throughout the spacious living areas that are illuminated with natural light and a Japanese-inspired garden with outdoor seating area, and private access to the palm fringed beach are key design features of the Deluxe Beach Villas. An abundance of space (up to 300m²/3229 sq. ft) is the hallmark of the Deluxe Beach Villas. Enjoy absolute comfort in spacious bedrooms with floor-to-ceiling windows on all four sides that can be fully opened to bring the natural beauty of the Maldives into the room. A large private garden and plunge pool, just steps from the beach and elegantly screened by exotic tropical foliage, complete the experience. The open-air garden-bathroom is a pleasure of senses, from the scent of frangipani flowers to the relaxing sounds of the fountain. The enormous bathing pavilion calls out for candles, flower petals and sumptuous oils which can be ordered from the in-villa bath menu.
The Muraka
In 2018 Conrad Maldives Rangali Island is officially opened world's first undersea residence. THE MURAKA at Conrad Maldives Rangali Island is a triumph of modern design and technology, the two-level villa features integrated living above and below the ocean. The undersea suite features a king size bedroom, living area, bathroom and spiral staircase that leads to the upper level living room. The undersea bedroom floor level sits five metres (16.4 feet) below sea level, providing uninterrupted views of the surrounding marine environment.   READ MORE 
Restaurants and Bars
A wine and dine destination itself, Conrad Maldives is a true epicurean experience with a choice of 12 restaurants and bars, including Ithaa, the world's first all glass underwater restaurant. You can talk for a long time on the culinary theme in Conrad Maldives, where fine cuisine and delicious breakfasts generously satisfy the tastes of spoiled luxury guests. Each restaurant features its own distinctive favour that takes its cues from the world over, and is injected with a touch of Maldivian fare. Considering its isolation, it does a commendable job of importing high-quality food, from Japanese wagyu beef to Russian caviar. The most in-demand tables are at Ithaa Undersea restaurant, where you can watch shoals of fish dart by as you dine. But for the best food head to Ufaa, owned by award-winning Chinese chef Jereme Leung and offering feasts of clay-pot pork and dim sum on the beach.
Enjoy exclusive award-wining beachside dining at Vilu Restaurant and Bar. Dedicated to the art of food and wine pairing, Vilu Restaurant is located on the edge of the lagoon, and features indoor and outdoor spaces. The stand-out feature of the restaurant and bar is the extensive wine selection that has been expertly matched to the contemporary inspired cuisine on offer.
Ufaa (which means 'happiness' in Maldivian) is presented by celebrated Chinese Chef Jereme Leung. Ufaa is an innovative Chinese culinary concept that, showcases authentic experiences which highlights the iconic favors from the distinctive cultures and provinces across China. Ufaa is a multifunctional space featuring private and communal areas, and karaoke and Mahjong.
Sitting five metres below the surface of the Indian Ocean, Ithaa is the world's frst undersea restaurant located at the Conrad Maldives Rangali Island in Alif Dhaal Atoll, offering 180-degree panoramic views of the vibrant coral gardens surrounding it. The food offering is a true delight and features a distinctive set lunch and dinner menus featuring local spices and produce blended with Western infuences matched with fine wines. Means 'mother-of-pearl' in Dhivehi, this amazing restaurant is also open for mid-morning cocktails. Ithaa can be reserved for private dining, weddings and special occasions.
Located on the beach, Koko Grill is an intimate and lively dining experience. Watch fames dance on the open grill as chef prepares up to 10 courses of Japanese cuisine under the stars.
Mandhoo restaurant offers an organic menu is arranged into the five elements, each with a specific taste, temperature, level of moisture and density, with their associated cuisines designed to affect the body, mind and spirit in different ways.
Located two meters underground, and featuring a list of up to 20,000 bottles and 1,400 labels – the most in the country, The Wine Cellar is the setting for degustation dinners hosted by the islands head chef and chief sommelier, who skilfully match a fve-course menu with up to eight hand- picked wines.
Recognised with an award for excellence in 2014 by Wine Spectator, Vilu Restaurant and Bar is dedicated to the art of food and wine pairing. Located on the edge of the lagoon, Vilu is an open air restaurant that showcases the resort's extensive wine selection that has been expertly matched to the contemporary inspired cuisine on offer.
Guests can maintain their healthy lifestyles while traveling and also feel rejuvenated with Conrad Maldives' clean, light and wholesome approach to dining. Through its new partnership with leading Australian nutritionist Jessica Sepel, who has curated unique menus and experiences for guests, Conrad Maldives Rangali Island supports a culture of mindfulness in food and drink that caters to today's most popular health and wellness trends.
A respite from the revelry, The Quiet Zone is an adults-only, open-air bar is complete with comfy daybeds, chilled music and a beach backdrop. A perfect place to drink, dine or do nothing, the bar is your hangout from morning till late. Try their playfully paradoxical cocktail list. Featuring nostalgic themes and fresh ingredients from the resort's hydroponic garden, dip into carnivals, candies and youthful temptations – spiked with your favorite grown-up additions.
In addition, the resort offers special events such as private beach barbecues, full moon dinners, themed beach barbecues as well as in-villa dining to make your stay just that bit more special. The guest chef and guest wine-maker programme adds more flavours to the comprehensive menu of delicious dishes.
Activities
On a delicate theme - what to do in Conrad Maldives - guests do not have a headache, every day is filled with fun activities and busy with exciting entertainments. Conrad Maldives Rangali Island has many excellent facilities to offer including a fully equipped gym, a spa, infinity pool, eight restaurants, three bars, a library, yoga, PADI dive centre, water sports centre, and a Kid's Club.
With an adventure diver certification course and a day and night scuba experiences, 5-star OCEAN diving center PADI must come first, and also here you can get a free snorkel gear if you want to explore a vibrant marine life on a unique house reef. If you are lucky expect to see whale sharks, manta rays and turtles!
Conrad Maldives Rangali Island is home to two unique spa experiences; The Spa Retreat on Rangalifinolhu Island and the Over Water Spa on Rangali Island. Combining expertise from around the world with carefully selected products and therapies influenced by the environment, the two spas offer unique and effective experiences to suit the needs of every individual. Purifying spa rituals aligned with the chakra system, and glass-floored treatment rooms above the Indian Ocean, invite you to embark on a pampering journey that does more than beautify. Emerge, glowing with vitality, with physical, emotional and spiritual enlightenment. The Spa Retreat and Over-Water Spa offers guests an extensive range of spa treatments coupled with wellness activities including acupuncture, nutrition and beauty treatments for a holistic approach. Wake up each morning and energise the soul with yoga and meditation with Rangali Island featuring a Yoga Pavilion and Meditation Pavilion. Conrad Maldives Rangali Island awarded - "Best Spa Resort in the Maldives"
Majaa at the Conrad Maldives Rangali Island resort ensures that children between the ages of 3-12 years are kept busy from 8:30am until 6:00pm, and from 7:00pm to 10:00pm with an outstanding themed daily programme specifically tailored to different age groups. A wide range of indoor and outdoor activities are hosted by the highly-trained youth team members. Babysitting can be arranged whenever for all ages.
The resort's experienced instructors offer a wide range of motorized and non-motorized experienceses that suit your taste for adventure. Activities available at the fully equipped Watersports Centre include catamaran sailing, windsurfing and canoeing, wakeboarding, X-Jetpacking, X-Jetblading, knee boarding and water cycling.
In 2018 Conrad Maldives Rangali Island has launched two innovative guest programmes: a cooking class at the resort's spa restaurant and a mixology class where guests can make their own cocktails using fresh and locally-grown ingredients.
Reviews
By and large, Conrad Maldives Rangali Island gets nearly unanimously positive reviews from a wide range of past guests, making this one of the most reliable choices in its price range. Everything from the luxury amenities in the rooms to the personalized service to the food in the award-winning restaurants gets high marks.
One criticism you might see is that the food and drinks are expensive, but this is true of nearly every 5-star resort in the Maldives, so it's more a matter of preparing and budgeting for it. Everything else, it seems, tends to go off flawlessly.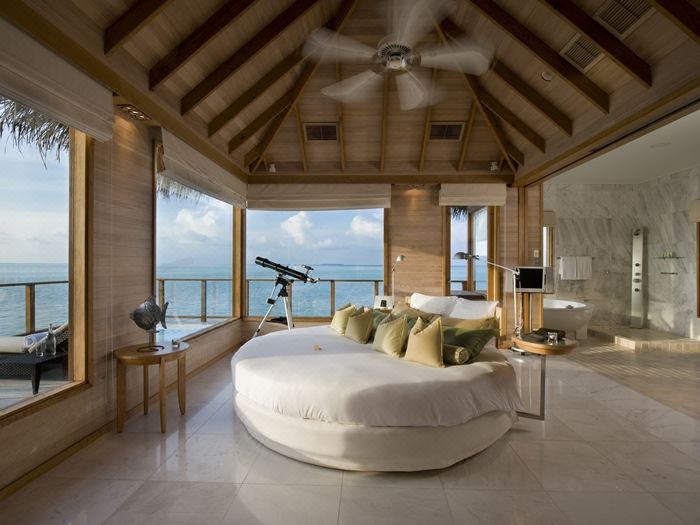 What Guests Love
The lounge at seaplane terminal
Beautiful 2 island setting with connecting bridge
freindly and helpful staff
Stunning surroundings, beaches and facilities
a great and very clean accommodation
F&B outlets, food is delicious and varied
Ithaa underwater restaurant
spa
activities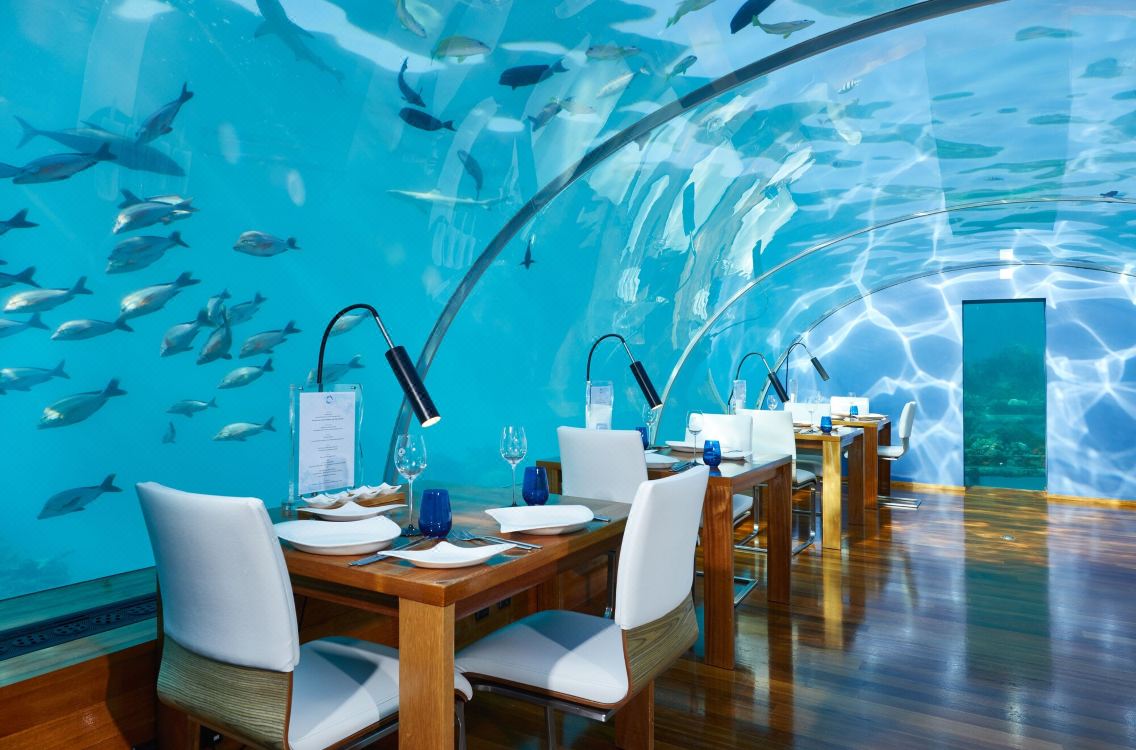 What You Need to Know
Conrad Rangali is located in Ari Atoll, one of the best whale shark spots in the Maldives
Check out at 12:00. The earliest check-in time is 15:00.
the food, drinks, activities are over priced.
swimming pool open only at 9am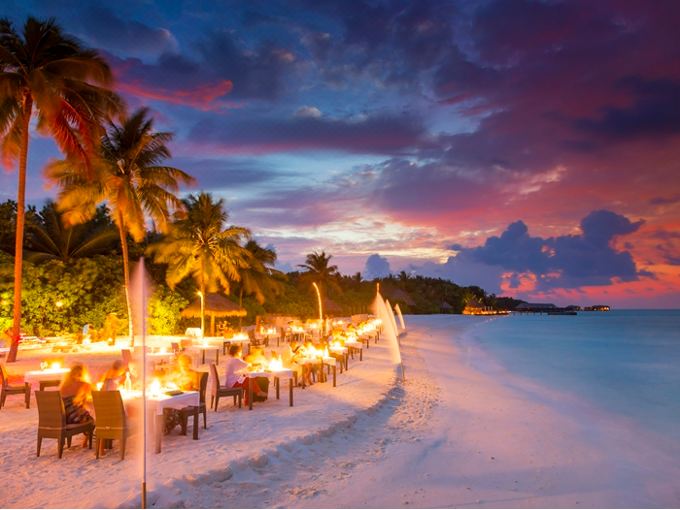 Check Availability and Prices in Conrad Maldives Rangali Island
Maldives Luxury Guide
Here's the best of Maldives for luxury travellers. We've compiled the finest recommendations of places to stay, ranging from the most celebrated five-star resorts to luxurious private islands Read More
Maldives Romantic Guide
The ultimate 'flop and drop' and honeymoon destination, the Maldives is the playground for the most amazing and finest utilization of each second of this extremely valuable and hopeful time with each other in tota Read More