Cinnamon Dhonveli Maldives
Best Experience for: Surfing, Couples, Family, Value, All Inclusive
Dec, 2020
Offering an affordable accomodation, Cinnamon Dhonveli has already found its niche in a relaxed, lively destination popular with surfers and couples who are hungry for a little more nightlife in the Maldives with an excellent a great-value all inclusive. A trip here is always big fun and you're bound to find yourself trying something new no matter what reason brings you to these shores.
Cinnamon Dhonveli Maldives is a first-class hotel with 148 rooms, 30 minutes by boat from Male airport. All Inclusive, connecting rooms, a children's club and a children's pool make the resort a good place for a family vacation, while the world famous Pasta Point surf spot is a good draw for both first timers and experienced surfers. Slightly worn and shabby, Dhonveli is nevertheless an excellent option for fans of outdoor activities in the Maldives - from the spa and pool to bars, entertainment, and water sports. It is worth comparing prices with the Sheraton Maldives Full Moon Resort & Spa, which is more luxurious, and also close to the airport, but often not much more expensive than Cinnamon.
The Island
The famous surf spot in the Maldives and originally opened in the 1990s as Taru Village, the resort was renamed Chaaya Island Dhonveli, and never pulled with maintenance, in the fight against age and weather; with the emergence of a new owner in the face of Cinnamon, in 2010 there was a restructuring, and at the end of 2015, further reconstruction began ... and in general they continue. As part of the renovation work, the hotel has replaced and remodeled the floors and thatched roofs of almost all the blocks, beginning with the well-worn-out Water Bungalows. The lack of reconstruction of the whole place can be seen in many details - rusty, worn out, and just old tools, gym, bindings, and furniture - that can be found all over the island. Though considering the decades, the property has held up quite well against the salty beach conditions. DOWNLOAD RESORT MAP
Not far from Male airport, Dhonveli has a simple layout with a design that concentrates the main bar, pool, shops, gym, and other public facilities in the island's heart. However, the diving center, water sports, and art studio are closer to the arrival jetty, to the beach and respectively to the north-western tip of the island. On the one hand, the island itself seems to act like a breakwater, struggling with a severe surf (part of the surfer community), and the other shore is a quiet and tranquil beach. In general, the atmosphere is changing, as on the island guests are distinctively divided by activity: surfers hang out near Raahlu bar, where views and access to Pasta Point are the best; those that in over-water cocoons, as a rule, try not to get out of their holes; and almost all the rest are scattered along a long stretch of beach, on their own veranda, or with a quick visit to the pool or to the bar.
The Dhonveli is one of three Cinnamon Hotels & Resorts properties in the Maldives. Sister property Ellaidhoo Maldives by Cinnamon is cheaper and more basic, and the Cinnamon Hakuraa Huraa Maldives is around the same price but farther from Male and lacking a pool.
Location
North Malé also known as northern Kaafu is the main atoll in the Maldives, where in the first time in the country the tourism was launched. The capital of Maldives, Male City and Velana International Airport (MLE) are also located in the North Male Atoll. North Male Atoll is home to a great collection of luxury 5* star resorts and budget guest houses. Read More...
Located on Kanuhuraa island in Kaafu Atoll (North Male Atoll), Cinnamon Dhonveli Maldives is located 30 minutes by speed boat from Velana Int. Airport, Male, depending on the stops and the weather. The island is especially famous among the surfers thanks to Pasta Point, surf spot with the biggest waves in the Maldives, where rolling waves break just off the southeastern edge of the island.
Bungalows and Suites
148 rooms in Cinnamon Dhonveli have their pros and cons think about design and decor. Rooms here are simply furnished and housed under thatched roofs. Inside you'll find white walls and floors, with splashes of colour, a downstairs lounge area plus a mezzanine bedroom with balcony overlooking the ocean. One of the features in the room is tinted glass; they not only keep cool during the hot Maldives summer, but also reduce the glare factor. Over water, accommodation options include Water Bungalows, which have a peaceful location in a shallow lagoon, and the premium newly renovated Overwater Suites, which have direct access to the ocean.
All rooms come with standard four-pearl features like minibars, free tea/coffee facilities, and personal outdoor space, and they typically have a good selection of toiletries, vanity kits, and convenience features like umbrellas and life jackets. Other standard features include air-conditioning and ceiling fans, safes, ironing facilities, flat-screen TVs with cable, and (for a fee), Wi-Fi. However, in some places on the face of obvious wear, which makes the rooms less prestigious accommodation.
Dhonveli's Garden Bungalows are usually occupied by surfers, but, with a two-level structure and beds on different floors, they are also suitable for those who travel with children and are looking for simple, no-frills accommodation. Sleeps 2 adults and 3 children. Inside, expect white tile floors, fabrics and colors of turquoise color, an accent on dark lacquered wooden panels, stairs and the second floor. On the ground floor of each house there is a living room, a built-in single bed, a wardrobe, and a bathroom with shower only, and on the second floor there is a double bed (king-size) and a second open sundeck.
High-class accommodation can be found in Over Water Suites, each with a significantly more stylish and modern décor, and is equipped with a seating area and a dressing room. Guests who want to stay over water can also choose Water Bungalow from a lower price category. Both options have an excellent, mostly panoramic view of the Indian Ocean, indoor jacuzzi and large living spaces, but the bungalows offer more stylish décor and more space for the apartments.
The Beach
Cinnamon Dhonveli Maldives is an island with a double character of the coastline. On the side where the famous Pasta Point is located, waves violently rape the beach and aggressive surf prevents any use of the beach, not to mention safe swimming for most guests. On the other hand, there is a long stretch of white sandy beach, equipped with sunbeds and sun beds, slightly shabby (and perhaps wet in the rainy season), overlooking the lagoon. Most of the guests prefer to sunbathe here, especially on sunny days, bathing in clean warm water, or basking in the sun.
The bad news is that the beach is far from the Maldivian ideals of white and soft sand, like flour. It is an artificial beach, which is still stained with a few metas with coral crumbs underfoot. In the water, it should be noted, sand is often ideal.
Restaurants and Bars
For dining, you'll be allocated one of the three restaurants – Koimala, Maakana or Rehendhi. In fact, all restaurants serve the same food for breakfast, lunch and dinner - international cuisine, plus a corner filled with themed dishes for dinner. The menu has everything from fresh salads, pastas and pizzas to dishes from tandoor, bakery, sauerkraut, hot and chocolate mousse.
Restaurants and places to eat are distributed according to the type of room and category, where Koimala Garden is a large family-style buffet restaurant, between the beach and the garden paths, basically serves most of the guests at a large building with two dining rooms in a relaxed atmosphere.
There's also a pool bar with a vibrant modern look. Maakana (named after the island's grey herons) is a large buffet restaurant close to the Garden Bungalows and the island's surf break, with a circular design and vibrant atmosphere.
The more elegant, gourmet buffet-style Rehendi restaurant and bar is the place of food for the lucky ones who chose Water Suites. Its most popular dishes include spicy Maldivian curries and grilled king prawns. The Rehendi venue stands out as having its own dedicated bar, large ocean-view deck, and small, chilled wine room. Opening hours of restaurants: from 07:30 - 21:30.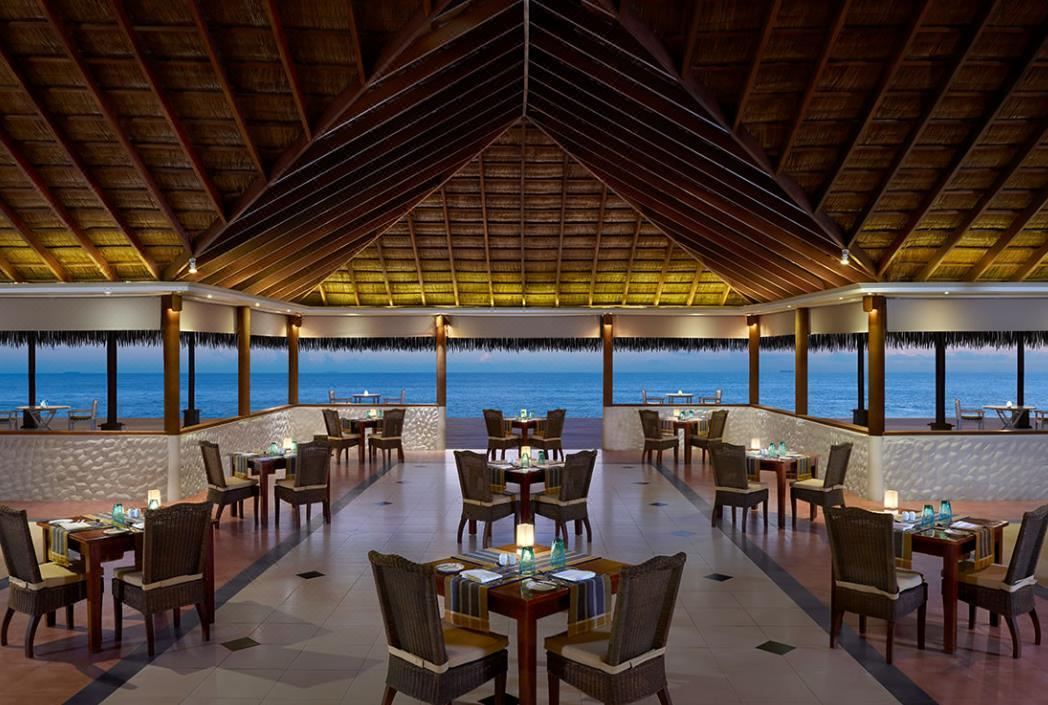 In addition to the beach bar connected to the Rehendi restaurant, Dhovenli has two large main bars, Raalhu Bar and Raiyvilaa Bar, and also a coffee shop. Combining negligence and elegance, Raahlu bar is a place for casual encounters on the island's southwestern tip, with sandy floors, billiards and a modest area for evening entertainment. With the best views of Pasta Point, this is an indisputable place on a large wooden deck for surfers who order drinks usually boast of their exploits and admire the waves. Raiyvilaa cafe and bar has a more central location, and sees more guests preferring to drink a glass of wine than those who like espresso and afternoon tea (only for guests "All inclusive"). Located just behind the pool, this bar seems to have everything - from a large deck with (sometimes terrible) rumbling waves, bag-chairs to the library, table football, and with snacks (only for all-inclusive guests). The bar divides the walls with a gym and a couple of boutiques.
What's Included
All Inclusive

• Buffet-style breakfast, lunch and dinner in your allocated restaurant 
• Selected drinks by the glass including bottled water, house wine, draught beer and a selection of cocktails 
• Selected snacks 
• Wi-Fi.
Premium All Inclusive

• As All Inclusive, plus: 
• Selection of premium drinks 
• Bottle of sparkling wine on arrival 
• Minibar water, soft drinks and canned beer refilled once daily 
• 1 beach dinner 
• Choice of 2 select excursions per stay. NB – minimum 5 night stay.
Surfing
It just so happens that this island has one of the best surf breaks in the Maldives and is close by to 2 other spots. The resort's surf school was founded by the late Tony Hussein Hinde, an Australian who married a Maldivian and was credited with pioneering surfing in the Maldives. Now run by his son, the surf school looks after an eclectic gathering of surfers, old and young, from around the world. The loose but bonded group hangs out at the corner of the island with a private surf point, known as Pasta Point. They have their own bar, own timetable and rituals and are generally only glimpsed at mealtimes and in the bar. The surfing season is during the southwest monsoon, which is otherwise known as the low season.
Dhonveli's unique feature is the Pasta Point spot. While this is a natural feature, the large barrel waves of Pasta Point make it one of the top surf spots in the world (and definitely the best in the Maldives), attracting surfers and competitions from around the globe.
Guests from the UK are the largest proportion of visitors, with a sizeable minority of Italians doing their own thing. During surf season, professional and semi-pro surfers from Australia, America and other countries with significant surf scenes often visit in groups and tend to be the life and soul of the Raiyvilla Bar and nightclub, which closes 'when the last guest leaves' - although a few fun-loving couples also can be found there, dancing the night away.
Activities
If catching a big wave is not your idea, during sunny days most of the non-surfers can be found on Dhonveli's main beach where next there is a pool with a massive wooden terrace, with plastic sun beds and umbrellas. The island is home to MERIDIS Dive and Relax certified diving school with a standard PADI course set, which also doubles as a water sports center (windsurfing, banana, canoeing, sup), and snorkelling gear can be hired. According to some reviews, on the house reef, right from the beach, you can spot a some marine life, including fish, rays and even reef sharks. In any case, it's better to pack a mask and a tube with you to avoid paying too much.
Family functions include several boring and simple children's games, ping-pong and table football, as well as a main, colorful playground requiring parental supervision. There are also toy sizes, a shallow children's pool next to the main swimming pool, complete with a waterfall mushroom. To relax from the family or just to relax, guests can head to the Chavana Spa. With the use of therapeutic cosmetic products Elemis, the spa has treatments villas and bungalows in the garden, and also a pedicure room, hydro-shower, and a tiny sauna. Massages and scrubs in Chavana Spa are based on traditional Balinese healing methods.
As for leisure and entertainment, the resort offers traditional Maldivian shows (bodu-beru), a beach cinema, there is irregular live music, show magicians, DJ, beach and pool parties, as well as typical excursions to Male city, to neighboring populated or uninhabited islands, and snorkeling trips.
Hotel facilities available in Dhonveli include a 24-hour gym (with old simulators and iron), tennis courts, art studio (portraits), private picnics (for a fee), and paid Wi-Fi.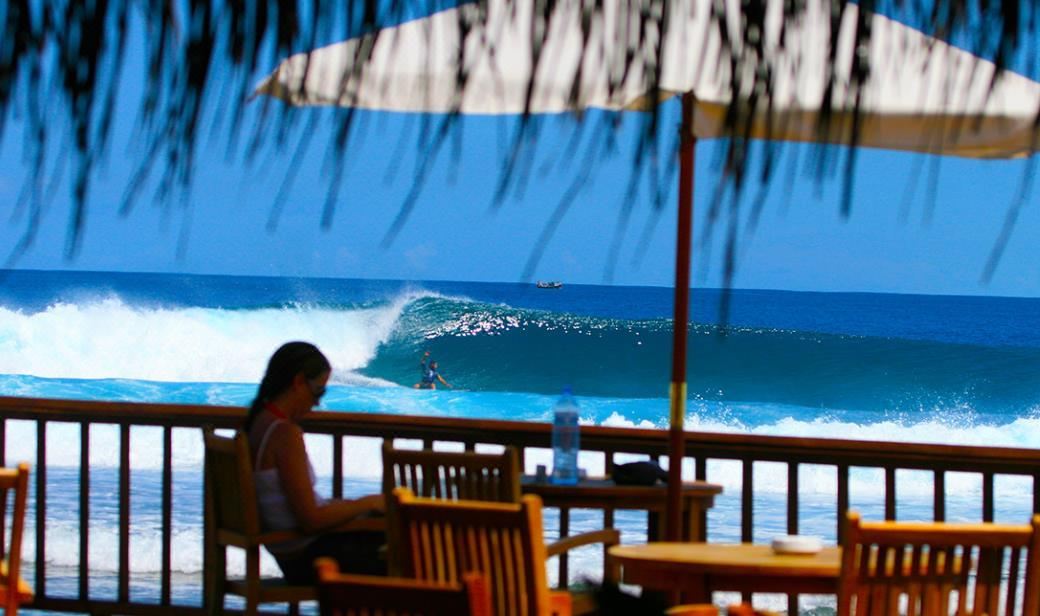 Reviews
The Cinnamon Dhonveli Maldives Resort gets generally positive reviews, though not universally so. Considering its moderate price for the Maldives, it comes across quite well, but there are still guests who complain about all the small costs adding up and things not being perfect. The staff, the food, and the size of the rooms get particularly high marks, which should be a pleasant surprise in this price category. Especially if you are interested in surfing or a bit of nightlife, this seems like a good value for the money.
..."Excellent everything", "Unbelievable experience ", "Love cinnamon", "Would go back again in a heartbeat.", "Paradise", "I will recommend it for everyone", "Consistently great service, gorgeous food, and supremely friendly staff.", "Amazing stay at Dhonveli Cinnamon", "Probably visiting again someday", "Holiday in paradise!", "A place for couples", "A calm place to rest and enjoy in the Maldives", "Great honeymoon in maldives...", "Awesome resort.You get what you paid for!"...
Pros: What We Like
Great Location on a private island close to Male airport
Beautiful island
Helpful and Notable staff. Friendly service;
Pasta Point surfing spot
Clean and Largely comfortable rooms with tinted glass, minibars, and outdoor decks
The beach bungalow are perfect.
Garden grounds with natural wood benches and lots of shade
Swimming pool with attendant, large wooden deck, and plastic loungers
Delicious food with themed dinners every night.
Diving shcool
Nightlife

What You Need to Know
Cinnamon Dhonveli Maldives (formerly Shaya Island) is located in Northern Male Atoll (Kaafu Atoll) and is 30 minutes by speedboat from Male airport
Check-in from 14:00, Check-out from 03:00 - 12:00
All children are welcome. Minimum age 12 in Water Bungalows
Fee for Wi-Fi
Some rooms have thin walls and cigarette smoke wafts easily through thatched roofs
Beds can be old and lack support
Maldives Luxury Guide
Here's the best of Maldives for luxury travellers. We've compiled the finest recommendations of places to stay, ranging from the most celebrated five-star resorts to luxurious private islands Read More
Maldives Romantic Guide
The ultimate 'flop and drop' and honeymoon destination, the Maldives is the playground for the most amazing and finest utilization of each second of this extremely valuable and hopeful time with each other in tota Read More