Embudu Village Resort
Best Experience for: Couples, House Reef Snorkeling, solo, Diving, Value
May, 2021
Embudu Village Resort is an ongoing success story that follows a simple, proven formula. Embudu's success is based on its proximity to Malé, value for money, a homely atmosphere, an excellent house reef snorkeling and top diving.
It does not seem like luxury to you, but Embudu Village is one of the most affordable and suited resorts in the Maldives. Visitors do not come here for luxury accomodation or for fine food (although both are worthy of generous praise) - they head for perfect beaches, snorkeling, diving and water sports, which are on par with the best resorts in Kaafu Atoll. Travelers who want to try a seaplane should also check Kuredu Island Resort, which has better facilities and similar peak prices.
The Island
Without paved walkways, an explorering of this 122-room resort is a bit like a jungle adventure. Deciduous trees are planted everywhere, and under the feet is a soft sand (including the floor in the lobby). Dozens of tiny beaches are hidden between the trees, making it easy to claim a private place under the sun. Large areas of the beach are also available - just explore the entire length of the island (it takes less than 10 minutes for a full circle). Small iguanas and geckos jump everywhere in the foliage, and it is almost impossible to peek into the crystal clear water without noticing a colorful fish or reef shark. The house reef is so good that the luxurious Taj Exotica, located on a nearby island, brings its guests to snorkeling in Embudu. DOWNLOAD RESORT MAP
Partly like Maayafushi, the key to this resort is not a built environment, but a leisurely, calm homely atmosphere. There is no rush here, no airs or graces. No, this is a place for lingering over sunsets, staying in the ocean until dark, leaving the salt in your hair and the sand between your toes. Here, life is slow and the living is easy. This, of course, helps and is abetted by great staff, half of whom have been working here for 10 years or more, while the formidable general manager of Ramsey Pereira, has been running Embudu Village for more than 20 years. The Embudu family know what it's like not to want to leave this special island, which is why they never have. Not surprisingly, most guests come back year after year.
One of the latest changes was the construction of a new main jetty on the opposite side of the island to the original (for boats at low tide). Now you do not need to go to the registration through the decorative bar and through the flower garden, and go around the open service area located nearby.
The reception / office, café / lounge and the metal-roofed restaurant building are dim and hot during the day, but come to life in the evenings when turning on the lights and talking work miracles. The main bar with its wooden platform over the water comes to life at sunset, and once a week there is now a disco, but, in fact, it's a quiet good place to recharge batteries - very popular among Europeans, for a short run between snorkeling and diving trips.
Almost three-quarters of the guests are Germans, a quarter are French. The rest are small Britons, Italians and Japanese. German travelers are frequent visitors to the resort - so much so that signs in German (in addition to English), and five shelves of German books are available in the library lobby.
Location
Paradise is easier to find than you might think. Located on its own private island in the South Malé Atoll, Embudu Village Resort can be reached by speed boat, which departs directly from Malé Airport. When you arrive at Velana International Airport, an Embudu team member will be waiting to greet you and to guide you to the resort's transfer vessel. Travel time is 35 minutes. The shallow lagoon is filled with coral patches (which are teeming with colorful fish and small reef sharks). The staff of 160 people lives and works on the island all year round.
Villas and Rooms
The 72 superior rooms have air conditioning, fresh water, a hairdryer and a refrigerator. The furniture is simple but adequate. About half of them recently received make-up, with new beds and furniture, so they usually look fresher, although the most high-tech supplement you will find in them are new tea and coffee making facilities. 16 Delux Rooms are located in water bungalows with 4 rooms each. The brown rectangular boxes are outside, they are relatively luxurious inside and have satellite TV, a safe, a glass panel in the wooden floor and a narrow but separate balcony.
If you have good food and drinks, a full day of diving or snorkeling, then a simple bed can be all that you need. Embudu can easily give you everything you need for a comfortable stay. Its 36 standard rooms are probably the only "old-style Maldives" rooms. Without air conditioning, hot water in the shower and - how nostalgic! - in the sink there is salt water. The rooms still have fans on the ceilings and your veranda opens right up to the beach.
Most of the rooms at Embudu Village are superior rooms located near the beach. Inside, expect a mini-fridge, patio and "king" beds (in fact, two large beds are pushed together, which can be separated). The decor is basic: white walls, cheap wooden furniture, cartoons of fish and without a TV. You will find the most beautiful rooms in Water Villas. Spacious and warmly designed, the water bungalows are set along the far end of the island each with a private terraces overlooking the metropolis of Malé and an infinite view of the ocean. In addition to the usual amenities, the bungalows have flat-screen TVs, true king-size beds, hydromassage baths and wooden floors with glass eyes (approximately 1.20 x 1.20).
Embudu's room numbers began to tire a little, but management finally took the time to fit into the much-needed updates related to the high demand for accommodation. About half of them received a new life sentence in 2011, and the other half was updated in 2013.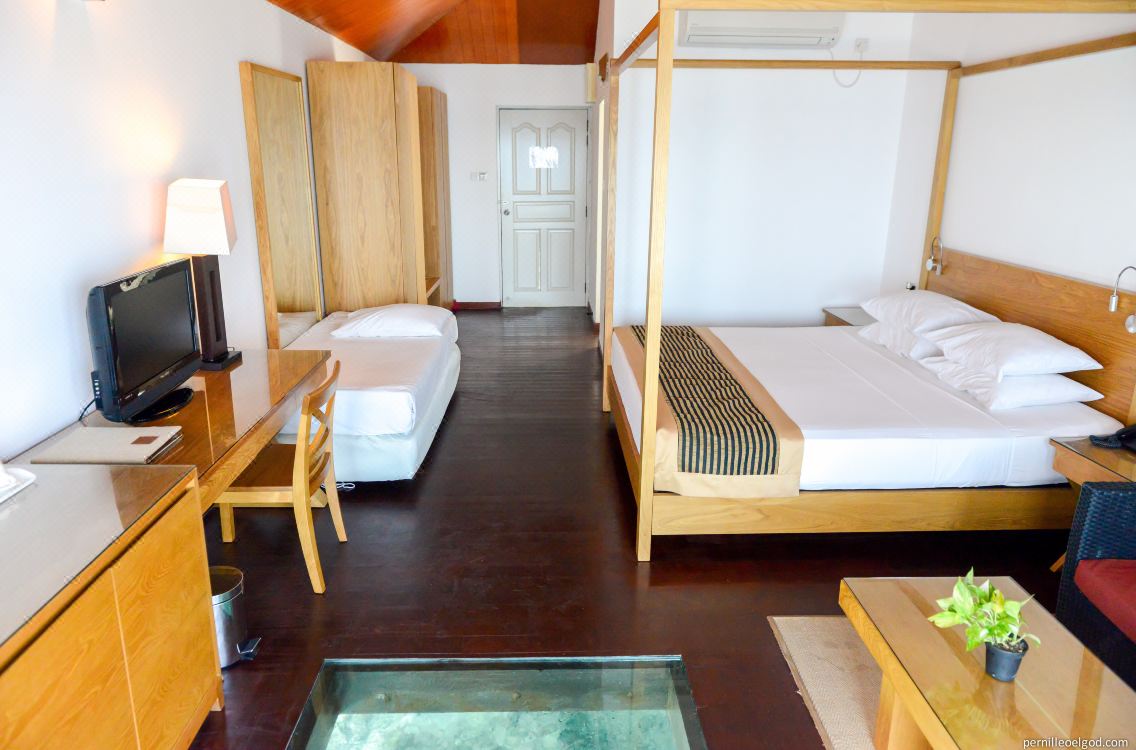 The Beaches
According to his "natural as possible" ideal, there was no sand pumping on the island to create artificial beaches, and no barriers were built, although several low walls were considered essential elements of the ocean horizon. Shrubs are allowed to grow on the beach, which stabilizes it, but sometimes means intermittent beach. Sand, not subject to the pumped material, has the highest quality.
The small secluded beaches between the trees offer plenty of shade, while several large beaches are ideal places for sunbathing or snorkeling off the shore. The island is absolutely clean, and do not forget to bring beach towels, because the resort does not provide any.
Dining
There is one large, buffet restaurant on the island which serves three times a day (meals are on, but drinks are extra). Drinks can be enjoyed at the beach bar with its lovely over water patio. Everyone prefers full board, and all 3 mouth-watering dishes are worth looking forward to for breakfast, lunch and dinner — the kitchen has never seen a budget cut. The approach is simple enough. The chef buy quality, local and regional ingredients, especially they are very cautious in getting fresh fish and other seafood from the best sources. Separate buffets and live kitchen outside the house ended with a long queue. Smiling F & B manager and his team waiters, exciting chatter among low-lit tables and, most importantly, really great food, make dining one of the highlights of the day. Also during the week expect: Barbecue Night, Asian Night, Western Night, Chinese Night, Carvery Night, and Italian Night.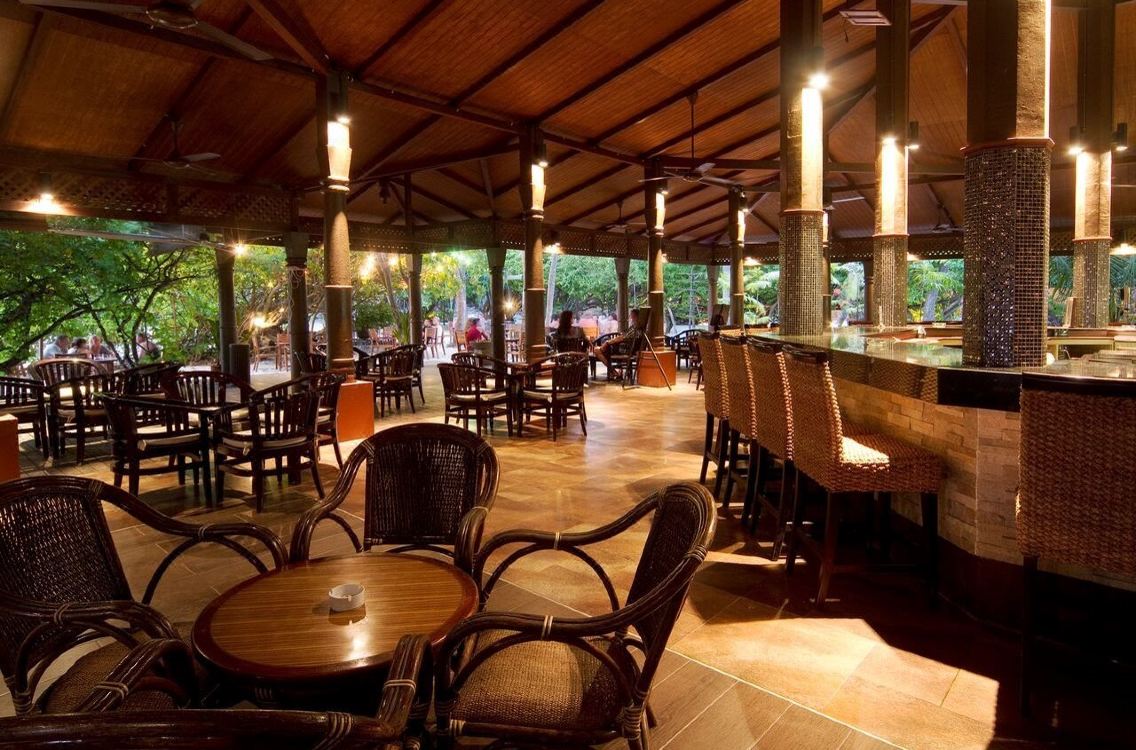 For those who want something extra special, their à la carte lobster and steak dinners can be enjoyed in the flower garden or at the water's edge with the sand between your toes. Don't forget to join a crowd for a cocktail in the bar while you enjoy a beautiful sunset.
The House Reef Snorkeling
Snorkeling is a permanent source of fun in Embudu Village. House Reef has an easily access through 5 passages to ever-growing coral, a variety of schools of fish and pelagics, including rays, turtles and reef sharks. And for really big sea creatures that appear here from April to November, snorkeling exursions with Mantas are run almost daily.
Scuba Diving
Since many years Embudu is known as one of the most popular diving islands of the Maldives, and today scuba diving remains a popular and enjoyable activity at the resort. Popular due to the variety of superb world-class dive sites nearby, and fun, thanks to the leaders of the diving school, and especially friendly and hospitable staff, and efficient service.
Embudu is surrounded with a house reef within easy walking distance and drops to 30 meters. 24 hours a day you can choose from 6 different diving routes on the house reef. Already on the house reef you con see nearly everything the underwater world offers. From rays, sharks, moray to Napoleon, lobster, turtles and sometimes-even mantas nearly every meeting is possible. Who is interested in bizarre coral formations will find in the current free coral garden what he is looking for.
Diverland PADI 5 Star Dive Centre offers several boat trips per day to dive sites on the outside of the atoll. More than 35 of the most beautiful dive sites of the North- and South-Male-Atoll can be reached in 30 minutes to one hour by boat. Embudu Candu Marine Protected Area is located a few minutes from the island and includes spectacular drift-diving at Embudu Express, Canyon, Cathedral, Embudu Thila coral gardens and Shark point.
The dive school also offers courses from the Open Water Diver up to the Divemaster. You can dive even with Nitrox or Rebreather or you can be trained on these systems.
Things to Do
In addition, to sunbathe, dive and eat, there is little that can be done on the island (most of the activity is on the water or under water). Activities on land are limited to badminton, mini football and table tennis. Once a week there is a disco-acrobatic show. Other amenities include a small lobby library, a tiny business center (where guests can pay for the internet), a gift shop and a spa offering massages, facials, scrubs, manicures and pedicures.
For those who want to pay extra, the resort offers many available excursions, including shopping in Male, night fishing, island hopping and diving. The diving school also organizes offshore dive trips and rents snorkeling gear. Kayaks, catamarans and windsurfing are available on the beach.
Reviews
Reviews for the Embudu Village Resort are mostly quite positive, although everyone seems to have arrived with lowered expectations, as this is a 3-star hotel and one of the cheapest in the Maldives. Most guests were quite happy with the snorkeling and the food in the buffet restaurant. Some reviews mention that the rooms seem outdated, though recent ones have said that some of the resort has just been renovated as of 2011. Generally, the resort seems to offer great value and has satisfied customers, and it could work well for those looking for a small resort on a limited budget.
... Great value for money, Quite and peaceful maybe even too much quite, Wonderful stay at Embudu which we would recommend to others, A beautiful location and a very nice resort, Awesome. We will go to this place again, A wonderful & delightful stay, highly recommended, Simpler place, but with maldivian standard of beaches, Great stay, fantastic diving, Wonderful resort, Diving paradise, quaint Island, a relaxing holiday!, Overall was worth the price for Maldives, Our vacation was amazing! ...
Why stay here? What Guests Love
A great location close to Malé airport
A natural and unspoilt island
The staff are friendly and helpful
Beautiful beaches
Fabulous House Reef snorkeling
Delicious and varied food
Fantastic Diving
What You Need to Know
Embudu Village Resort is located in South Male Atoll and is 15 minutes by speedboat from Velana International Airport;
Check-in from 13:00, Check-out until 12:00
All children are welcome.
No pool or fitness center
No room service
No Internet in rooms (fee to use Internet in lobby)
Most rooms have no TVs (pro for some)
King beds in beach rooms are actually two beds pushed together
No minibars, bottled water, shampoo, or conditioner in rooms
Property is showing some wear and tear
No playground or kids' club
Drinks (water, soda, alcohol, etc.) are not all-inclusive
Guests may have to share dining tables during high occupancy
Beach towels not provided
Check Availability and Prices in Embudu Village Resort
Maldives Luxury Guide
Here's the best of Maldives for luxury travellers. We've compiled the finest recommendations of places to stay, ranging from the most celebrated five-star resorts to luxurious private islands Read More
Maldives Romantic Guide
The ultimate 'flop and drop' and honeymoon destination, the Maldives is the playground for the most amazing and finest utilization of each second of this extremely valuable and hopeful time with each other in tota Read More