Riu Palace Maldivas
Best Experience: All Inclusive, Couples, Families, Value, Beach, Activities
Updated Jan, 2023
Hotel Riu Palace Maldivas blends contemporary style and barefoot luxury into a all inclusive resort, retaining Riu service levels in a relaxed beach environment. Opened in summer 2019, the 5-star hotel is located on the private island of Kedhigandu in Dhaalu Atoll and it offers an all-inclusive 24-hour service, free Wi-Fi throughout the hotel, a wide range of cuisines and many relaxation and entertainment options.
With the sister property RIU Atoll set on the neighbouring island of Maafushi and connected by a walkway with it, Riu Palace Maldivas has mix of beach front rooms and "over water" suites, infinity swimming pool with swim-up bar, an exceptional watersports, free gym and steam bath, a kids club, and a sense of privacy that is perfect for both couples and families alike. If you're dreaming of having a luxury holiday in the Maldives, Riu Palace Maldivas is the ideal place for your vacation.
The Island
If paradise had a name, it would be the Maldives. There, infinite beaches await you with crystalline water, unparalleled nature and an Eden-like peacefulness. Its unique geography, the welcoming people and the idyllic landscapes guarantee you an exclusive holiday on tropical islands full of magic .
Located in the Indian Ocean, south of India and 780 kilometers from Sri Lanka's capital Colombo, the Maldives are made up of around 1,200 islands, of which only 203 are inhabited. To help you enjoy this spectacular destination, RIU Hotels & Resorts offers you the Hotel Riu Palace Maldivas and the Hotel Riu Atoll , located on the private islands of Kedhigandu and Maafushi, in Dhaalu Atoll, where you can experience an all-inclusive holiday in the Maldives with the brand's exclusive service. The closest main island (inhabited and with services) is Kudahuvadho.
RIU Hotels Maldives joined hands with Manta Air on November 2019 to celebrate the start of the game changing local airline's seaplane service in the Maldives. With the addition of the Manta Air's seaplane service, guests travelling to the two properties operated by RIU Hotels now have two options to reach their destination: a 40-minute domestic flight to Dhaalu Airport, followed by a 10-minute speedboat ride, or a 40-minute seaplane flight direct to the resort.
In the Velana Airport and in Dhallu Airport the staff is really amazing and caring. Explained everything and will escorting you to the needed points. When you climb aboard the seaplane to get to your atoll, you'll understand why the Maldives are one of the world's dream destinations : the spectacular views of the islands and their unique setting will enchant you. And when you step onto dry land, the greens and blues of the surroundings and the peaceful sounds of nature will awaken all your senses. A warm welcome from the staff at reception,everything was explained to us regarding how the hotel works and a map will shown to let you know where everything is.
The hotel and grounds spotlessly clean and tidy. The property is immaculately kept there is not a single thing out of place and if there is it is quickly addressed! The pool at this hotel in Kedhigandu is one of its most charming places, as it has stunning views of the sea with a swim-up bar and a chill-out zone. But, if you prefer the white sand and crystalline waters of your surroundings, the hotel offers you direct access to the beach that fringes Kedhigandu island so that you can relax on the sun loungers.
All the staff right from the gardeners to the bar staff, restaurant staff are absolutely fantastic, always smiling , very friendly and helpful absolutely nothing is too much trouble. Golf cart transport is a nice touch.
Location
Located in the southern corner of Dhaalu atoll in 180 km / 112 miles from the Velana International airport (MLE), Hotel RIU Palace Maldivas is situated on idyllic Kedhigandu island. Guests have two options to reach the resort – via shared seaplane transfer or by domestic transfer.
Domestic Flight
It is compulsory to book transfers from Malé International Airport to the hotels (outward and return). The transfer is by scheduled flight to Kudahuvadhoo (approx. 45 minutes) and the journey is completed by speedboat to the hotels (approx. 15 minutes).
Seaplane
For an alternative option guests can take an exhilarating 40-minute seaplane journey south of Malé. The resort's airport representative greets you on your arrival at Malé International Airport, where they will assist you with check-in for your seaplane transfer. Soar over rings of islands. Glimpse villages and deserted isles surrounded by crystal-clear waters.
Please note that seaplanes only operate during daylight hours. Guests arriving after 3:30 pm will be transported to the resort the next day. For such arrivals, it is suggested to book an overnight stay near the airport. International departure flights should be scheduled after 9:00 am to guarantee a seamless same-day departure.
The Beach
Wide white sands are the main RIU Palace's draw. Not a single groyne breaks up the beach and no sea walls impede the view. The west side is nonetheless preferable for its width and softness. The east side looks out to the ocean and the beach is narrower and a little less fine. The southern and northern tips of the island alternate a big bulge of fine sand as the 2 seasons drive it from one end to the other. It's a rare island now that leaves the beach to nature's course.
Rooms and Suites
Fantastic for couples and families offering over water and on the beach accommodation, the Hotel RIU Palace Maldivas has 176 land-based villas with direct access to the beach, and water suites with a private terrace overlooking the sea and stairway leading to the blue lagoon, some of them equipped with private pools. All rooms have minibars, drinks dispensers, kettles, air conditioning and satellite tv, bathroom with shower, among many other facilities.
The Junior Suites have the best facilities to make your stay unforgettable. These 40 m2 rooms have one king-size bed (200x200 cm) or two small double beds (125x200 cm), a sofa in the lounge area, satellite TV, air conditioning, a ceiling fan, drink dispensers, minibar, kettle and a balcony or patio with impressive views of the sea. The bedroom immaculate ,very well serviced every day with great amenities , well stocked fridge and tea/coffee making facilities .
On top of that, the patio on the beach will make your holiday unique experience. In-villa mini bar replenished daily.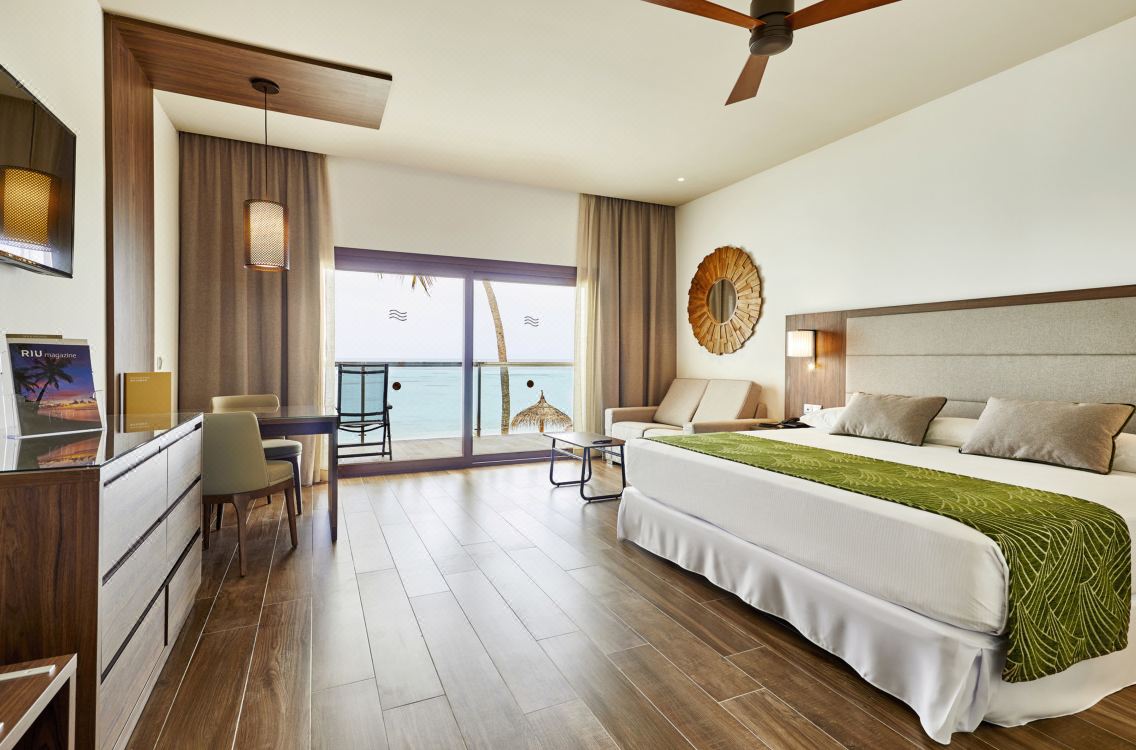 Both sides of the walkway, joining the two islets have rooms built directly on top of the water. These belong to the Riu Palace hotel and are the most luxurious, with private pools and bathtubs on the terraces that have direct access to the water.
The Overwater Suites are an exclusive rooms located over the lagoon guarantee you quiet and privacy. These 47 m2 suites at the Hotel Riu Palace Maldivas have one king-size bed (200x200 cm) or two small double beds (125x200 cm), a sofa in the lounge area, satellite TV, air conditioning, a ceiling fan, drink dispensers, minibar and a kettle. In addition, on the terrace you can enjoy a bathtub, a Balinese bed, sun loungers and direct access to the sea.
The most romantic accommodation, Overwater Suites with Pool located over the sparkling water and have been specially designed for guests who want to experience a stay with luxury in every detail. These 60 m2 suites at the Hotel Riu Palace Maldivas have one king-size bed (200x200 cm) or two small double beds (125x200 cm), a sofa, dressing area, satellite TV, air conditioning, a ceiling fan, drink dispensers, minibar and a kettle. And if that's not enough, on the patio with direct access to the sea you can enjoy a small private pool, a Balinese bed and sun loungers.
Restaurants and Bars
Hotel Riu Palace Maldivas offers a range of cuisines that will surprise you. With a choice of gourmet, Asian and Italian cuisines in the Krystal, Yu Hi, Sofia, Palm and Dhooni restaurants along with three different bars and a Beef steakhouse on the offer for its guests, the resorts are certainly not short of dining options. A great variety of food choices at every meal , no way you will go hungry. Every thing cooked fantastically with great service .
The main restaurant serves buffet breakfasts, lunches and dinners with live cooking stations, and the Japanese and fusion cooking restaurants you can enjoy delicious a la carte dishes for dinner. You can also try the Italian restaurant and the steakhouse at Hotel Riu Atoll if you want to try something different.
The food is great standards and if though you stay for almost 2 weeks you will not get bore. Everyday there are different options in the palms buffet or you could book in the four themed restaurants which are all great. The Japanese restaurant is by far the best food.
The staff is amazing and attentive primarily at the beach bars and restaurants. They make sure your glass is never empty and engage well
ALL INCLUSIVE: What's Included?
Riu Palace does all inclusive like no one else. No hidden fees no hidden upgrades. You get 4 litre bottles of booze in your room ( gin , rum , vodka and whiskey ) that are topped up when finished no question asked. Mini bar is topped up daily at also free of charge ( beers , soft drinks , still water ) .
You can order breakfast in your room and also get room service ( sandwiches , salads , desserts ) all included in your room price.
Varied buffet, live cooking station and Cava
Buffet, dishes prepared live and assorted desserts
Pasta, salads and assorted desserts
Buffets and dishes prepared live. Vegetarian options available. Dessert buffet.
Special evenings: themed buffet three times a week
OPTIONAL DINING (A LA CARTE; RESERVATIONS REQUIRED IN ADVANCE):
"Krystal" Fusion restaurant
Japanese restaurant
Steakhouse
Italian restaurant (buffet starters and desserts)
SNACKS 24 HOURS A DAY (24 HOURS AT RIU ATOLL)
FOR SNACKS, FREE CHOICE FROM A SELECTION OF BARS AT RIU PALACE MALDIVAS AND RIU ATOLL
Local and imported beverages served 24 hours a day (24 hours at Riu Atoll)
Premium branded drinks throughout hotel
Regularly restocked minibar and liquor dispenser
ROOM SERVICE 24 HOURS A DAY
SPORTS AND ACTIVITIES AT RIU ATOLL:
Gym
Group fitness activities in the RiuFit area (daily)
Kayaking, pedaloes, stand up paddle surf (SUP) and snorkelling equipment
1 introductory scuba diving lesson
Steam bath
ENTERTAINMENT AT RIU ATOLL:
Daytime entertainment programme for children ages 4 to 7 and ages 8 to 12 at "RiuLand" (daily)
Daytime entertainment programme for adults (daily)
Live music or DJ and beach parties (daily)
ALL HOTEL GUESTS ARE REQUIRED TO WEAR AN "ALL INCLUSIVE" WRISTBAND FOR IDENTIFICATION PURPOSES.
Childcare
The resort haven't forgotten about the little ones in the family: Hotel Riu Atoll (neighboring island) has a children's pool and the RiuLand kids' club so that children can have fun too on holiday. Come and meet Calú, a friendly sea turtle born on one of RIU's wonderful beaches. After meeting the hotel entertainers and their young guests, Calú fell in love with this world of activities and fun. Calú invites families to visit and experience the RiuLand entertainment program, where children come first. They are located on the neighbouring island of Maafushi, which you can access by footbridge. The facilities for families are designed and planned so that everyone in the family can enjoy a unique experience.
Experiences
The SCUBACARIBE PADI 5*-star dive & water sports center is located on the beach of RIU Atoll. It features a class room, quality equipment and water sports gear. All non-motorized water sports is available for guests of RIU Hotels.
Hotel RIU Palace Maldivas offers a wide range of activities, both included in and additional to the all-inclusive plan to keep guests entertained throughout their stay and ensure everyone visiting this island resort experiences all it has to offer. The hotel's facilities to enjoy massages and beauty treatments in the spa, watersports such as diving, kayaking and paddle surf, and the entertainment programmes full of shows and live music.
Both resorts have outdoor infinity swimming pools with swim-up bars overlooking the beach, plus a gym and a wide variety watersports under professional supervision. Available at an additional cost, guests can also enjoy big game fishing excursions, personal tuition for sailing, windsurfing, kitesurfing and wakeboarding, and hire jet skis and fly boards. To go home from their vacations totally renewed, guests can visit the Renova Spa and enjoy the Jacuzzi, the steam bath or schedule appointments for all body and beauty treatments.
ALL INCLUSIVE FEATURES
SPORTS AND ACTIVITIES AT RIU ATOLL:
Gym
Group fitness activities in the RiuFit area (daily)
Kayaking, pedaloes, stand up paddle surf (SUP) and snorkelling equipment
1 introductory scuba diving lesson
Steam bath
ENTERTAINMENT AT RIU ATOLL:
Daytime entertainment programme for children ages 4 to 7 and ages 8 to 12 at "RiuLand" (daily)
Daytime entertainment programme for adults (daily)
Live music or DJ and beach parties (daily)
AT RIU ATOLL, WITH ADDITIONAL CHARGE (UNDER SEPARATE MANAGEMENT):
Scuba and scuba diving course's
Reviews
We really do want to stress how amazing the staff are and Riu are lucky to have such an incredible hard working, caring, genuine, happy team. Service great, food fantastic and what a lovely place to stay! New hotel, white beach, ons in a lifetime Experience, bucketlist!
' If I have to choose some words to describe it I will say a paradise on earth. The perfect place to get rid of stress, work and everything with such an adorable and kind staff who make you feel like home and never want to leave the island. Amazing hot and yummy local food. The night are made by a live music band who play hits we all know and sing and the best DJ on earth who you can approach to ask for your favourites songs and he will play it for you. DJ E2 makes the best parties ever playing the best music (latin, reggaeton, pop, dance...) and don't want to stop dancing going to sleep full of good vibes!!!! Congratulations to all the team!!!!'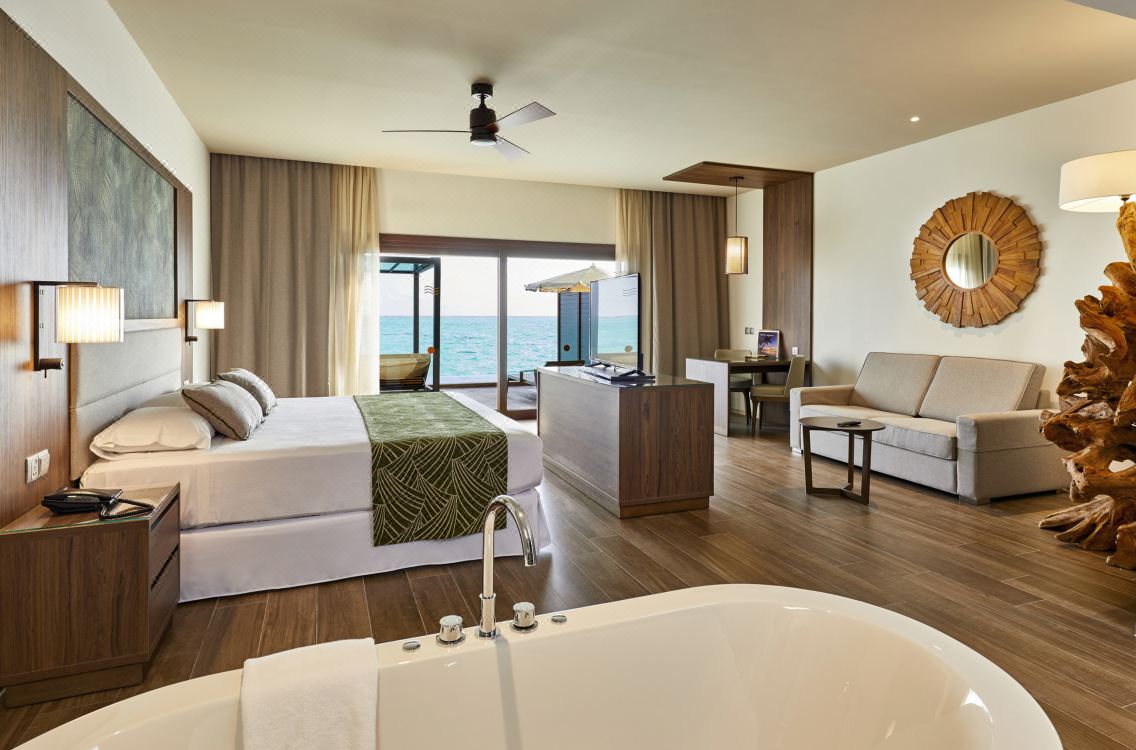 Pros: What Guests Love
Staff is amazing, friendly and helpful.
Excellent service
Rooms are big, clean, modern, confortable and with wonderful beds
An incredible beaches with crystal clear waters. Free sun loungers on the beach
The buffet restaurant. The food is really great and the most wonderful staff.
Entertainment activities
very good room service
The sea is amazing by the colours, temperatures, sand and sea life...and the sunsets are breathtaking.
WiFi is amazing
Things to Know before You Go
The resort is 180 km / 112 miles from the Velana International airport (MLE) and 5 km /3.1 miles from the local airport on Kudahuvadhoo island
The property is only accessible by Domestic Flight + Speedboat transfer takes 60 minutes from Male.
check in from 15:00 - 23:30; check out from 06:00 - 11:00;
Children of any age are welcome.
All Inclusive 24 hours! The resort is truly All Inclusive unlike the the resorts which segment by Full Board, Half Board and All Inclusive everything is included.
There are no lush vegetation on the island. But I want to mention the gardeners - They are so hard working and the island will look idilic because of them!
If you like house reef snorkeling - there is no corals, but honestly there's plenty of wildlife to keep you engaged. You can spot dolphins, shark just off the shore and lots of fish.
There is Gym and Renova Spa on the island
Free wi-fi throughout the hotel
The Kids Club is located at Hotel Riu Atoll (neighboring island)
To get between the Atoll and Palace you need take a trolly, not a bad concept expect the bridge connecting the two is over a mile long and walking it in the sun is a brutal experience.
There are no showers on the beach by the rooms
You want your room cleaned leave before 9:00 am for breakfast
No need to buy travel plugs as the sockets will accept British plugs , also have separate USB sockets .
Staff - The best of the hotel. Amazing and wonderful people...most from Sri Lanka.
Maldives Luxury Guide
Here's the best of Maldives for luxury travellers. We've compiled the finest recommendations of places to stay, ranging from the most celebrated five-star resorts to luxurious private islands Read More
Maldives Romantic Guide
The ultimate 'flop and drop' and honeymoon destination, the Maldives is the playground for the most amazing and finest utilization of each second of this extremely valuable and hopeful time with each other in tota Read More