InterContinental Maldives Maamunagau Resort
Best Experience for: Couples, Family, Beaches, Diving
Dec, 2020
InterContinental Maldives Maamunagau is the first InterContinental Resort in the Maldives and one of the most exclusive InterContinental hotels in the world, welcomed its first guests in september 2019. The five-star resort boasts a strong team of distinguished professionals to deliver an exceptional luxury service.
Located in the secluded Raa atoll, and spread over a private island with lush tropical greenery, InterContinental Maldives Maamanugau has 81 Villas and Residences designed to seamlessly blend with the breath-taking natural environment with a unique emphasis on sustainability and wellness. Nestled close to the UNESCO Biosphere Reserve, prepare to be amazed by the myriad of marine life in the island's lagoon including The Hanifaru Bay that is home to manta ray sanctuary. Unique and tempting dining experiences where culinary artistry is complemented by endless views of the Indian Ocean, will be found at each of the six restaurants and bars. The luxurious resort promises delights of all kinds, with detailed interiors, chic vibes and moments to cherish including exclusive and personalised butler services as well as many aqua and thrilling adventures.
The Island
At Velana International Airport, Male (MLE) : Guests will be greeted upon arrival by the resort's Airport Representatives and moved to the Seaplane Terminal for a spectacular 35min seaplane ride to the resort. Guests arriving on flights after 3.30pm will be embark on a 20min domestic flight to Dharavandhoo Domestic Airport, followed by a 35min speedboat transfer to the resort.
Upon arrival to the island you understand why so many people travel to the Maldives. You'll be blown away with this resort! From the location (in the heart of the Indian Ocean) to the service to the chic decor each moment at the resort is heaven. Remoted, simple and beauty; 28 degrees, gentle breezes, dancing palm trees, white fine sands, warm crystal clear lagoon and not may inhabitants. The only comparison We can draw would tropical Paradise.
The resort was built in an extraordinary way to accommodate guests in a way to make their stay so relaxing. The decor is among the best You have seen at a tropical resort, the quality of the fabrics the prints selected, the quality of the napkins even, when a hotel chooses such high-end product in even the smallest details it tells You so much about who is running the operation. The furnishings at the Sunset bar and many places фку from Design Within Reach. Touring bicycles has customizable monogrammed plates. Golf carts are plentiful to whisk you to the Spa or Lighthouse for dinner. The resort itself is immaculate. They repave the sand in the morning and mid-day. The serviced the rooms twice daily. The wifi is strong and consistent everywhere on the island. Download Resort Map
Also worth mentioning is the wildlife of Maamunagau; posh vegetation, Fruit Bats, Lizards (very small) and such beautiful sea creatures from baby sharks to rays and countless multicoloured fish....Fabulous. Oh and the sand is of course pure white and so soft.
The guests are especially love that the resort is highly environmentally friendly and sustainable. No plastic water bottles straws etc. everything recycled, the General manager Stefan explains in detail just how the resort gives back to the community and the island and protects the environment which is a big factor in how we select hotels.
You will enjoy the lavish attention, courtesies and distinctive service provided by a delightful team. The butlers illustrate excellence in hospitality with their attention to detail and ready smiles.
Location
Raa atoll or North Maalhosmadulu is one of the northern, most visited atolls in the Maldives, separated from Baa atoll by Hani Kandu is a canal 5 km wide. Almost 70 km long and 30 km wide there are 88 islands in Raa atoll, 15 of which are inhabited. Raa atoll is home to a some luxury hotels include: Emerald, Kudafushi and an ultra luxurious Joali Maldives. Learn More
Situated on the picturesque island of Maamunagau at the south-west corner of Raa atoll, the InterContinental Maldives is surrounded by a stunning natural lagoon and is a 35-minute seaplane flight from the Maldives' main Velana International Airport. Guests arriving on flights after 3.30pm will be escorted to the Domestic Terminal for a 20-minute domestic flight to Dharavandhoo Domestic Airport followed by a 35-minute speedboat transfer to the resort.
Villas and Suites
Expect Maldives' breathtaking vistas from each of the spacious 81 Beach, Lagoon and Overwater Villas and Residences at the InterContinental Maldives Maamunagau Resort. Choose soothing lagoon or dramatic ocean views with a perfect vantage point from your private terrace for a spectacular sunrise or sunset. Each Villa or Residence is tastefully designed encapsulating the needs of the modern nomad infused with distinct Maldivian design; featuring one, two or three separate bedrooms, lounge with an ensuite complemented by a spacious terrace overlooking the ocean or lagoon with a private pool. The large round tubs are such a luxurious way to unwind. But truly all of the rooms are gorgeous and it will be difficult for you to leave your villa as it's so private and the bed is so comfortable and feel like a home away from home!
Overwater Pool Villa (about 800 s.f.) and Sunset One Bedroom Lagoon Pool Villa (a two-story Townhouse about 1400 s.f.) on the sea with a private beach in front and in the back was a deck with a lounger, outdoor shower and an infinity pool. Soaking tubs big enough for three. Toto toilets with bidets. Kohler fixtures throughout. Luxe linens and toiletries. Sandals and beach bags provided. Epic views of sunrise and sunset.
Restaurants and Bars
The resort features six restaurants; from Mediterranean tapas amidst 360-degree vistas at The Lighthouse, to sea-to-table South Asian inspired dining at The Fish Market and a fusion of cross-continental flavours at Café Umi, guests can expect organic, local and sustainable ingredients in thoughtfully curated ambiances.
Café Umi is a great place to enjoy the first meal of the day with unobstructed views of the pristine beach. Inspired by natural, organic and sustainable international cuisine, Café Umi provides elevated comfort and classic favourites, with a Japanese accent and Teppanyaki interactive experience. This all day dinning restaurant offers a minimalistic buffet breakfast, complemented by the best pastries techniques from Europe.
The Collective rstaurant is your all day deli serving up Italian comfort and healty foods and wood fired pizzas, complemented by the resort's speciality coffees, craft beers and eveything in between.
A very romanti dine spot The Lighthouse is a must!. The Executive Chef, Joseph Nagy is very unlike other Chefs, very approachable and conveys his passion with food to the guests in every bite. He'll exceede all You expectations!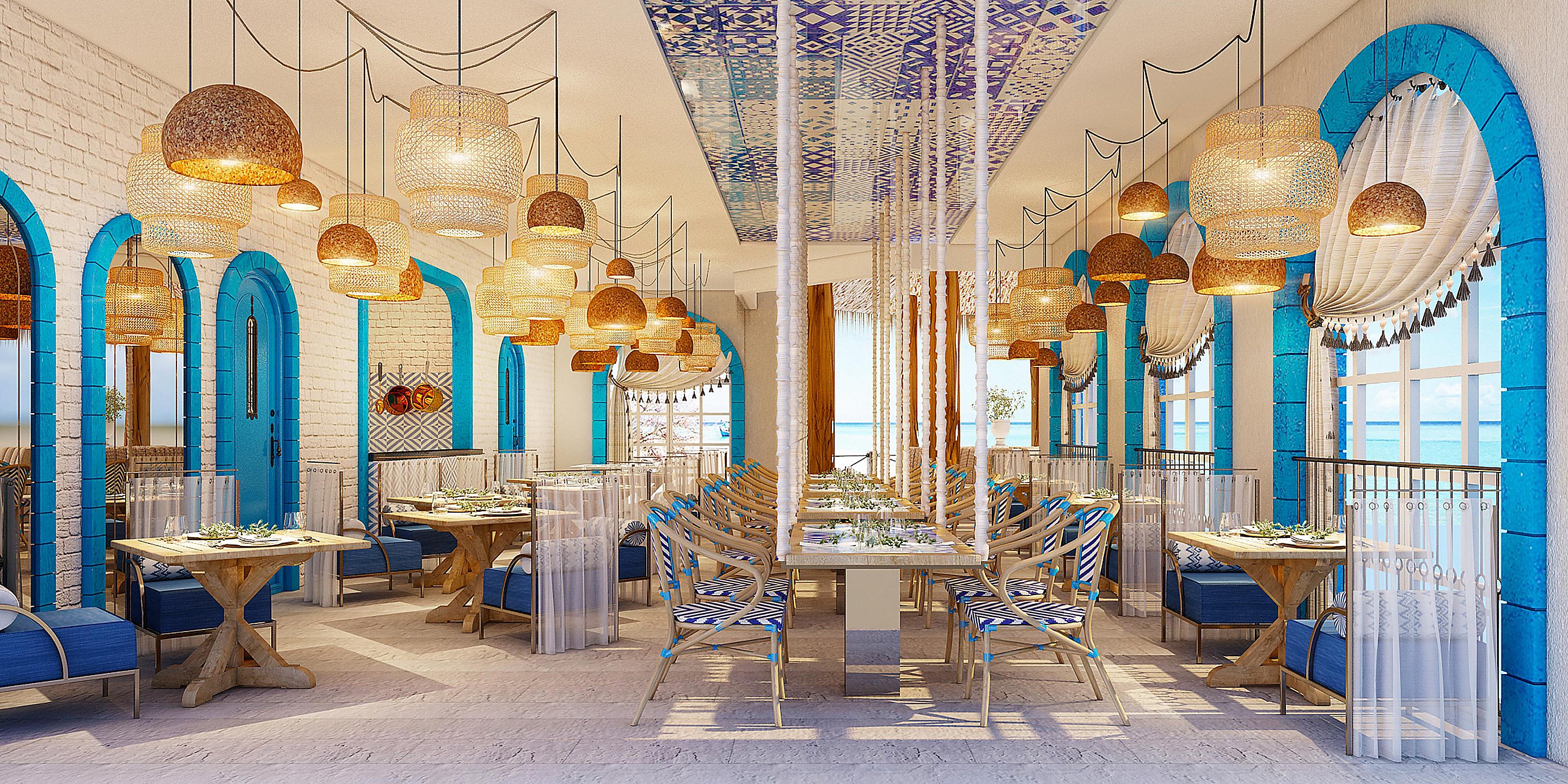 With an adults-only policy the Retreat is the stylish eatery with contemporary Maldivian design. From breakfast by the infinity pool facing the azure-blue waters of the lagoon, to evening cocktails and array of small plates and bites, guests will relax in a warm and cozy environment. Crafted afternoon tea provides by the resort's renowned tea sommelier daily.
Simple but extraordinary, inspired on the Mediterranean Sea with contemporary twist on the classic Spanish tapas and flavours, guests will embark on a culinary journey from the top of the Lighthouse with a pre-dinner drink and exclusive 360º views of the Indian Ocean, followed by a curated private dining experience or a social sharing dinner at the main restaurant area.
With a unique "from sea to table" and interactive kitchen concept, guests will be able to select their own live seafood. The Fish Market blends the best Maldivian seafood with aromatic flavours from the South East Asia. Designed as a hub of connectivity and inspired by the port, this signature restaurant will provide picturesque sunset views.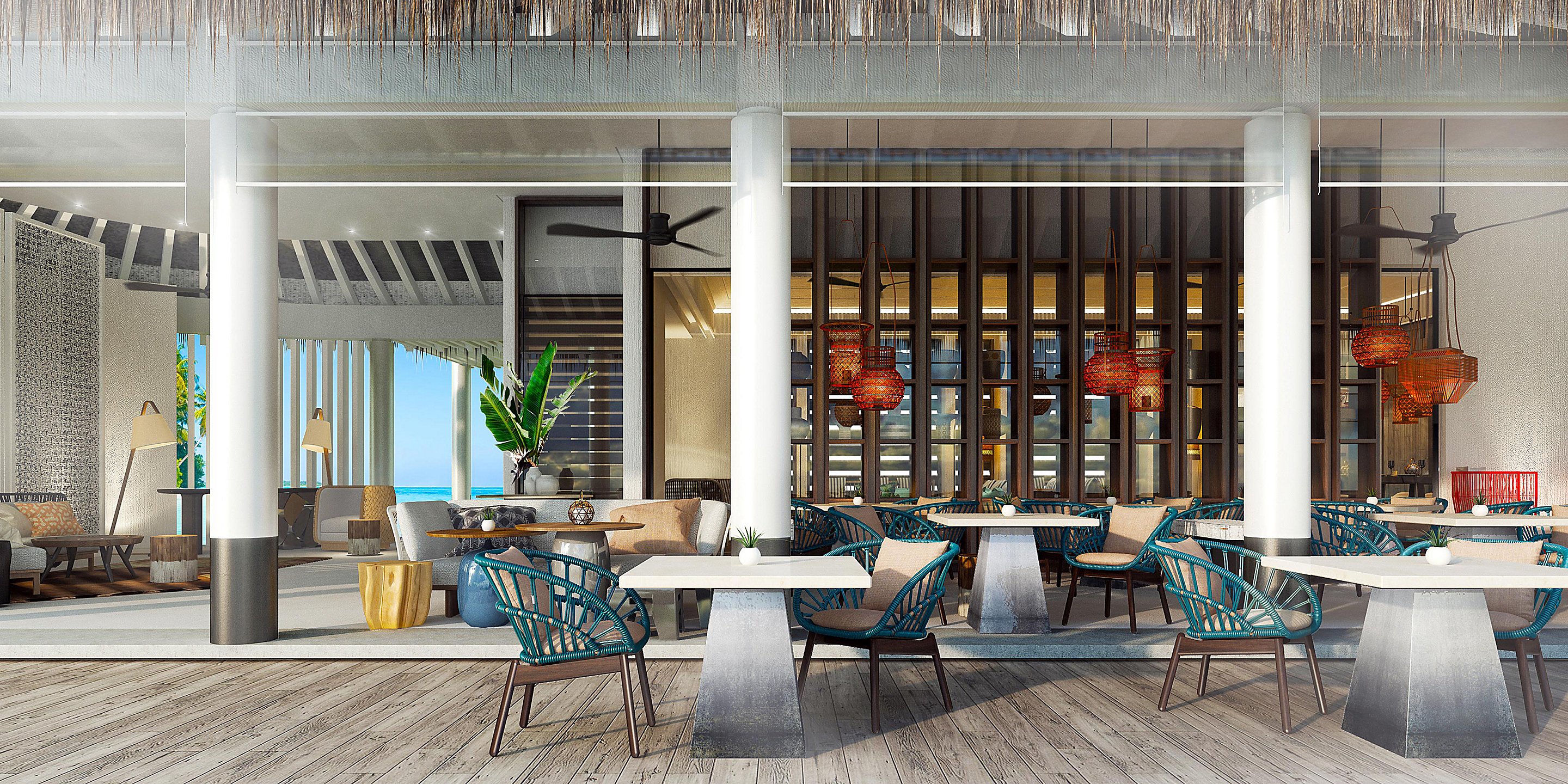 Signature bar oters the best sunset views on the island complemented by stylish and romantic ambiance with curated music throughout the evening.
Club Intercontinental Benefits:
As an All Club InterContinental Island concept, every guest will enjoy the following Club InterContinental benefits throughout the island:
• Daily breakfast with a choice of two venues: Café Umi or The Retreat
• Afternoon tea served at alternating venues
• Daily evening cocktails at The Retreat from 8:00pm till 10:00pm
• Complimentary house pouring alcoholic beverages from 11:00am till 6:00pm
• Pool side and beach refreshment available daily
The Retreat is an adults-only enclave with its private bar and its own infinity pool at the water's edge. Standing at this pool's periphery, a favourite drink in hand, whilst watching the glistening ocean's expanse meet the horizon.
Childcare
With a captivating array of wildlife just on the doorstep, Planet Trekkers is a youngster's paradise for discovering the deep wonders of the Indian Ocean. The club is brand new and staff is well experienced. They are not only professional, but amazed the kids on every level. They offer a highly diversified program, including art crafting, painting, English writing, outdoor activities and games of all sorts. Through games, arts and crafts and mini expeditions, budding marine biologists and curious explorers from ages 4-12 can connect with the magic of the island whilst making brilliant friendships. Truly amazing team, the best most interesting toys and play area outside, much higher standards than comparable resorts!
Diving and Pampering
PADI 5 star Dive and Water Sports Center by Ocean Group Maldives offering a range of recreational dives and courses: Diving, Snorkeling, Watersports, Sailing, Surfing, Stand Up Paddling, Seabob X-Jetbladesand Jetpacks.
The many guest's favourite thing about the Maldives is the sea life and InterContinental will not disappoint! There are plenty of fish life and you also can snorkel amongst sharks, dolphins, turtles and a beautiful eagle-rays. Best spot to house reef snorkel at the back of the spa area towards the back of gym.
The non-motorised water activities are free and you can enjoy made use of the pedalo and the catamaran which were also great fun. The guys at the Ocean sport centre are always very helpful.
Recognising the unique privilege of occupying an island in such close proximity to Baa Atoll's UNESCO Biosphere Reserve, the resort sees sustainability as a non-negotiable. Guests can experience a fascinating Marine Biology night feature, embark on an exploratory excursion to Hanifaru Bay or even make a difference by adopting their own manta.
As part of InterContinental Maldives' conservation initiatives, the resort has also partnered with Manta Trust in support of the Maldivian Manta Ray Project, to nurture a safe habitat for the manta rays within the resort's lagoon as well as providing guests with an invaluable information and opportunity to swim alongside these graceful creatures and snorkel in underwater coral gardens.
Inspired by the ethereality of the water and transformational power of crisp island air, AVI Spa by is designed to recharge the soul by awakening the senses. Guests can rejuvenate in one of six overwater treatment villas, each harnessing the psychology of natural light and sound play to send them into a deep state of relaxation.
The daily aerial yoga classes are offered at the yoga studio is located above the gym.
The resort offers intimate wedding ceremonies on the beach or on the sandbank in a beautiful setting including photographer, beauty service and spa treatment.
Review
"We will argue to anyone planning to visit the Maldives that they must stay at the InterContinental Maamunagau Resort. It is truly an isle of paradise, comfort and peace. If you want a truly an off the grid, but connected, relaxing resort experience with the best in hospitality look no further that InterContinental Maamunagau! It is an awesome place to visit worth every penny."
This holiday feel like visiting friends and close family rather than a resort. Kindness feel sincere, personnel is attentive to details and did not stop to pleasantly surprise You in little things. If you and your family love elegance and perfection this is the place to visit.
Pros: What Guests Love
Amazing views
A great food! the breakfast is really good
staff is Friendly, kind, and VERY eager to help
Service is absolutely incredibly amazing!
The rooms are clean, spacious and private
The Infiniti pool with sunset view
Spa
Kids Club
Water activities
Snorkeling
Swimming pool
Things to Know before You Go
On May 2021, Intercontinental Maldives appoints Coetzer Deysel as General Manager
The property is only accessible by seaplane transfer takes 35 minutes from Male Airport. The return rates are:
Adult: USD 740, round trip, excluding all taxes Child (02-11 years): USD 370, round trip, excluding all taxes Infant (0-1 years): Complimentary if not occupying a seat
Domestic Flight transfer takes 25 minutes from Male International Airport followed by a 30-minute speedboat transfer from Dharavandhoo Airport to the resort.
Standard Transfer Times: Guests arriving in Male after 3:30 pm may be transferred only via domestic transfers. International departure flights should be scheduled after 9:00 am to guarantee a same-day departure.
Guests booking for a minimum of 5 nights stay can enjoy 50% discount on return transfer from Male to the resort and minimum of 7 nights stay can enjoy complimentary return transfer from Male to the resort.
Check-in from 14:00 hours; check-out until 12:00 hours;
Children of any age are welcome. Children aged 12 years and above are considered adults at this property.
If you chose a beach villa to stay - a sunset beach (facing the lagoon) is the best option as the beaches are more beautiful and wide with fine sand here.
IC Maldives publish rates includes; breakfast, High Tea and Happy Hour every day. They have drink packages around $150 per day per person. This is discounted for IHG members based on status. If you are wine drinkers bottles are reasonable price from about $70 USD and up, you could easily spend $250 to $500 (or more) on dinner alone. This is a five-figure destination. If you cannot afford to spend that much or concerned about 10% service fee you should be looking at a more economical resort and possibly another destination.
Maldives Luxury Guide
Here's the best of Maldives for luxury travellers. We've compiled the finest recommendations of places to stay, ranging from the most celebrated five-star resorts to luxurious private islands Read More
Maldives Romantic Guide
The ultimate 'flop and drop' and honeymoon destination, the Maldives is the playground for the most amazing and finest utilization of each second of this extremely valuable and hopeful time with each other in tota Read More