InterContinental Maldives Maamunagau Resort
New Luxury Resort, Couples, Family, Beaches, Diving
September, 2019
InterContinental Maldives Maamunagau is the first InterContinental Resort in the Maldives and one of the most exclusive InterContinental hotels in the world, welcomed its first guests in september 2019. The resort is already built a strong team of distinguished professionals to deliver an exceptional luxury service.
Located in the secluded Raa atoll, and spread over a private island with lush tropical greenery, InterContinental Maldives Maamanugau has 81 Villas and Residences designed to seamlessly blend with the breath-taking natural environment with a unique emphasis on sustainability and wellness. Nestled close to the UNESCO Biosphere Reserve, prepare to be amazed by the myriad of marine life in the island's lagoon including The Hanifaru Bay that is home to manta ray sanctuary.
Unique and tempting dining experiences where culinary artistry is complemented by endless views of the Indian Ocean, will be found at each of the six restaurants and bars. The luxurious resort promises delights of all kinds, with detailed interiors, chic vibes and moments to cherish including exclusive and personalised butler services as well as many aqua and thrilling adventures.
Location
Raa atoll or North Maalhosmadulu is one of the northern, most visited atolls in the Maldives, separated from Baa atoll by Hani Kandu is a canal 5 km wide. Almost 70 km long and 30 km wide there are 88 islands in Raa atoll, 15 of which are inhabited. Raa atoll is home to a some luxury hotels include: Emerald, Kudafushi and an ultra luxurious Joali Maldives. Learn More
Situated on the picturesque island of Maamunagau at the south-west corner of Raa atoll, the InterContinental Maldives is surrounded by a stunning natural lagoon and is a 35-minute seaplane flight from the Maldives' main Velana International Airport. Guests arriving on flights after 3.30pm will be escorted to the Domestic Terminal for a 20-minute domestic flight to Dharavandhoo Domestic Airport followed by a 35-minute speedboat transfer to the resort.
Villas and Suites
Expect Maldives' breathtaking vistas from each of the spacious 81 Beach, Lagoon and Overwater Villas and Residences at the InterContinental Maldives Maamunagau Resort. Choose soothing lagoon or dramatic ocean views with a perfect vantage point from your private terrace for a spectacular sunrise or sunset. Each Villa or Residence is tastefully designed encapsulating the needs of the modern nomad infused with distinct Maldivian design; featuring one, two or three separate bedrooms, lounge with an ensuite complemented by a spacious terrace overlooking the ocean or lagoon with a private pool.
As the first and only all-Club InterContinental Resort, resort guests can experience personalised touches and complimentary benefits throughout the island; breakfast, afternoon tea and refreshments, and evening digestives at The Retreat, an adults-only enclave with its private bar and its own infinity pool at the water's edge. Standing at this pool's periphery, a favourite drink in hand, whilst watching the glistening ocean's expanse meet the horizon.
Restaurants and Bars
The resort features six restaurants; from Mediterranean tapas amidst 360-degree vistas at The Lighthouse, to sea-to-table South Asian inspired dining at The Fish Market and a fusion of cross-continental flavours at Café Umi, guests can expect organic, local and sustainable ingredients in thoughtfully curated ambiances.
Café Umi is a great place to enjoy the first meal of the day with unobstructed views of the pristine beach. Inspired by natural, organic and sustainable international cuisine, Café Umi provides elevated comfort and classic favourites, with a Japanese accent and Teppanyaki interactive experience. This all day dinning restaurant offers a minimalistic buffet breakfast, complemented by the best pastries techniques from Europe.
The Collective rstaurant is your all day deli serving up Italian comfort and healty foods and wood fired pizzas, complemented by the resort's speciality coffees, craft beers and eveything in between.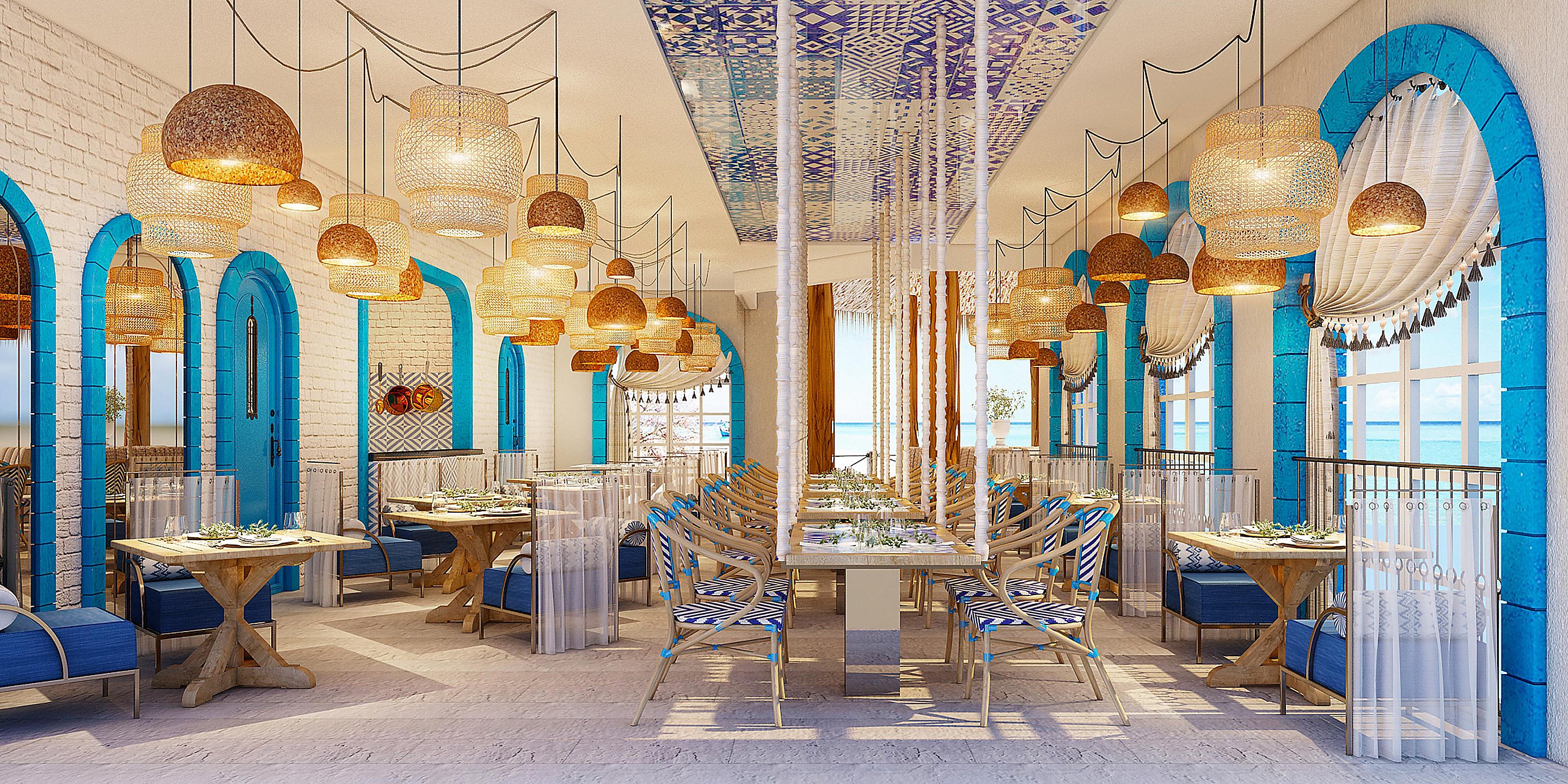 With an adults-only policy the Retreat is the stylish eatery with contemporary Maldivian design. From breakfast by the infinity pool facing the
azure-blue waters of the lagoon, to evening cocktails and array of small
plates and bites, guests will relax in a warm and cozy environment. Crafted
afternoon tea provides by the resort's renowned tea sommelier daily.
Simple but extraordinary, inspired on the Mediterranean Sea with
contemporary twist on the classic Spanish tapas and flavours, guests will embark on a culinary journey from the top of the Lighthouse with a pre-dinner drink and exclusive 360º views of the Indian Ocean, followed by a curated private dining experience or a social sharing dinner at the main restaurant area.
With a unique "from sea to table" and interactive kitchen concept,
guests will be able to select their own live seafood. The Fish Market blends the best Maldivian seafood with aromatic flavours from the South East Asia. Designed as a hub of connectivity and inspired by the port, this signature restaurant will provide picturesque sunset views.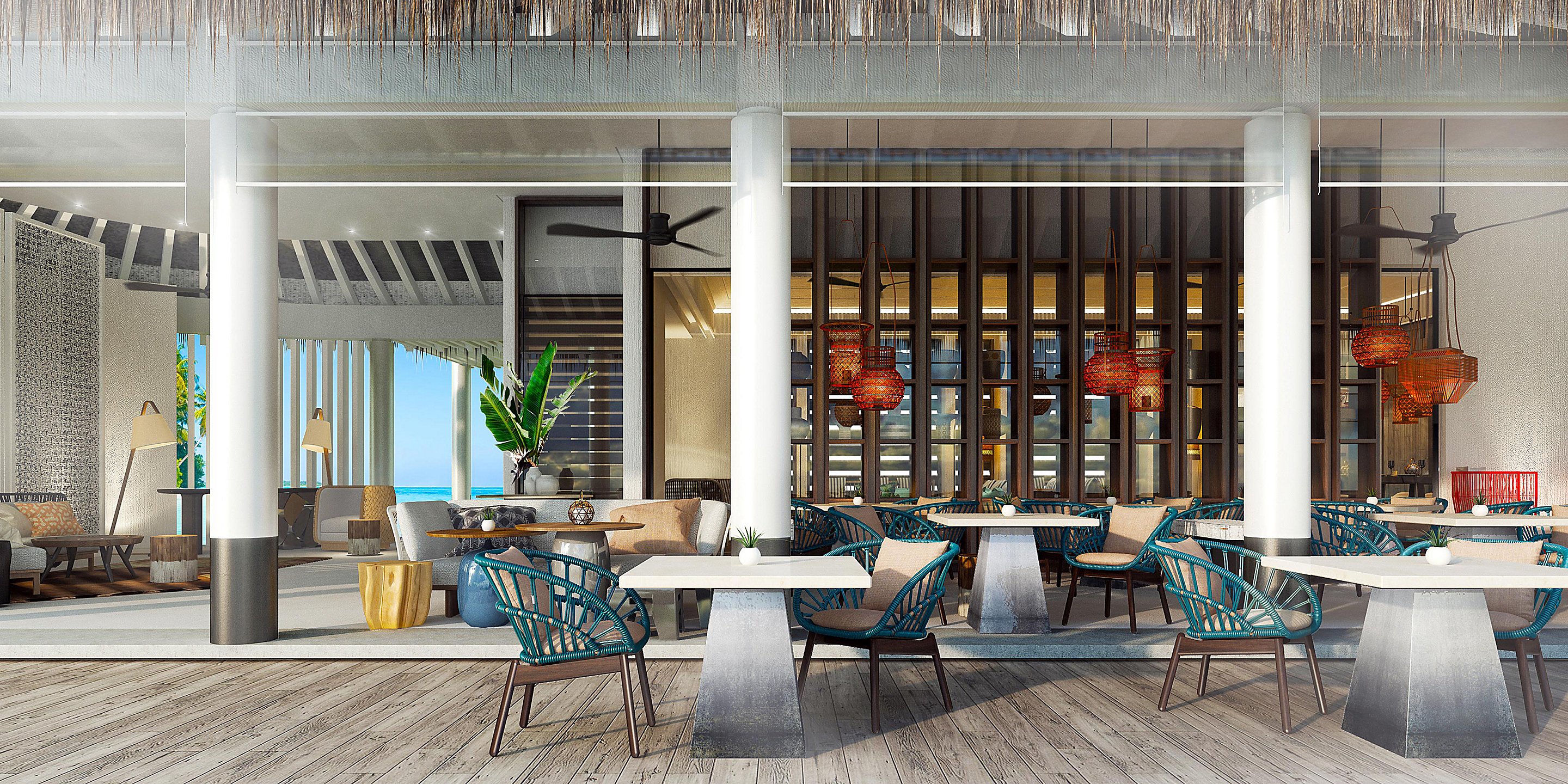 Signature bar oers the best sunset views on the island complemented by stylish and romantic ambiance with curated music throughout the evening.
Club Intercontinental Benefits:
As an All Club InterContinental Island concept, every guest will enjoy the following Club InterContinental benefits throughout the island:
• Daily breakfast with a choice of two venues: Café Umi or The Retreat
• Afternoon tea served at alternating venues
• Daily evening cocktails at The Retreat from 8:00pm till 10:00pm
• Complimentary house pouring alcoholic beverages from 11:00am till 6:00pm
• Pool side and beach refreshment available daily
Childcare
With a captivating array of wildlife just on the doorstep, Planet Trekkers is a youngster's paradise for discovering the deep wonders of the Indian Ocean. Through games, arts and crafts and mini expeditions, budding marine biologists and curious explorers from ages 4-12 can connect with the magic of the island whilst making brilliant friendships.
Diving and Pampering
PADI 5 star Dive and Water Sports Center by Ocean Group Maldives offering a range of recreational dives and courses: Diving, Snorkeling, Watersports, Sailing, Surfing, Stand Up Paddling, Seabob X-Jetbladesand Jetpacks
Recognising the unique privilege of occupying an island in such close proximity to Baa Atoll's UNESCO Biosphere Reserve, the resort sees sustainability as a non-negotiable. Guests can experience a fascinating Marine Biology night feature, embark on an exploratory excursion to Hanifaru Bay or even make a difference by adopting their own manta.
As part of InterContinental Maldives' conservation initiatives, the resort has also partnered with Manta Trust in support of the Maldivian Manta Ray Project, to nurture a safe habitat for the manta rays within the resort's lagoon as well as providing guests with an invaluable information and opportunity to swim alongside these graceful creatures and snorkel in underwater coral gardens.
Inspired by the ethereality of the water and transformational power of crisp island air, AVI Spa by is designed to recharge the soul by awakening the senses. Guests can rejuvenate in one of six overwater treatment villas, each harnessing the psychology of natural light and sound play to send them into a deep state of relaxation.
The resort offers intimate wedding ceremonies on the beach or on the sandbank in a beautiful setting including photographer, beauty service and spa treatment.
Check Availability and Prices in InterContinental Maldives Maamunagau Resort
Maldives Luxury Guide
Here's the best of Maldives for luxury travellers. We've compiled the finest recommendations of places to stay, ranging from the most celebrated five-star resorts to luxurious private islands Read More
Maldives Romantic Guide
The ultimate 'flop and drop' and honeymoon destination, the Maldives is the playground for the most amazing and finest utilization of each second of this extremely valuable and hopeful time with each other in tota Read More
Maldives
Best Hotel
Deals