OZEN Reserve Bolifushi - A Luxury All-Inclusive Resort
Best Experience for: All Inclusive, Couples, Water Villas with slide, Families, Spa, Activities
Updated April, 2023
OZEN Reserve Bolifushi - A Luxury All-Inclusive Resort is a beautiful island ideal for couples and families looking for hassle-free holiday experience in the Maldives. With traditional Maldivian architecture and elegance, the hotel is also good for a honeymooners, where you will find total privacy in water villas.
A luxury lifestyle resort immersed in an exotic Indian Ocean hospitality OZEN brought his 6-star magic to the Maldives. Vittaveli was designed from the ground up to showcase its unique style and philosophy. The pivate island, locally known as 'Bolifushi', was previously operated by the Dubai-based hospitality brand Jumeirah. In 2020 the Indian Ocean-based hospitality group Atmosphere Hotels & Resorts announced the launch of OZEN Reserve Vittaveli in the south of Kaafu Atoll, establishing their uber-luxe brand, The OZEN Collection.
Just 20 minutes by luxurious catamaran from Male airport, but at the same time maintaining a sense of uninhabited island, that many people crave for visiting the Maldives, OZEN Reserve Bolifushi is a modern resort complex. With a 24-hour butler service, private pools in each villa and spacious rooms, OZEN Reserve is truly a luxury getaway. Accommodation is ideal for both families and couples, with a high level of privacy on the beach and over the water. All villas and suites have their own private swimming pool, starting from Beach Villas with direct access to a pristine sands to Ocean Suites with only by boat access. The Beach Suites at OZEN Bolifushi's two-bedroom beach suites are ideal for large families, as they can accommodate up to six guests.
In 2021 OZEN Reserve Bolifushi has enhanced its all inclusive offer with exciting new additions to The RESERVE Experience. An abundance of exceptional benefits and privileges give guests the freedom to create everlasting moments in inspiring surroundings. Read more
The Island
OZEN's dedicated personnel will welcome you on arrival at the Male airport and guide you to the resort's lounge where fresh coffee, homemade cookies and a relaxed atmosphere are on offer. Log into the complimentary WiFi to catch up on the day's news or post your first snap of arriving in this stunning island destination.
Next, the resort's team will accompany you to one of its top-of-the-line transfer vessels — luxurious the 85-foot MY Vittaveli Yacht that will make the 20-minute ride past idyllic scenery of lush tropical islands and endless ocean blues pass in no time. The catamaran features spacious lounge seating, inviting guests to relax the moment they step on-board, whilst they may enjoy a freshly brewed espresso from the on-board kitchenette, or browse through the latest Jumeirah magazine and familiarise themselves with the plethora of activities on offer at OZEN Reserve Bolifushi.
It took a few years to completely rebuild little Bolifushi into the spectacle that is Vittaveli today. Extending the island in all directions has given free rein to the designers to create a OZEN dream. The swanky property takes up the entirety of the Island and has suites that dot the lagoon surrounding the island. Built in the style of a traditional Maldives village, the property maintained the essence of the island group, while adding luxe touches such as a beautiful large pool, restaurants on white-sand beaches, and suites and a spa that are placed directly over the water. The architects seem to have taken Bali as a starting point and developed this look and feel by utilising the best of what the Maldives has to offer. Above all, that means sightlines to the stunning views - of white sand, turquoise lagoon, reefs and the blues of sky and deep water. DOWNLOAD RESORT MAP
OZEN Vittaveli looks like it is going to have a strong pull for 5 star clients from many parts of the world, particularly the Middle East and Asia. With villas and suites that have private pools, gorgeous flora and fauna, and stretches of sand, there's absolutely a romantic vibe to the resort, plus with only 89 units, it doesn't get crowded or busy. Though it's removed from other Maldives islands, the resort tries to keep things local. The spa team produces their own 100-percent pure coconut oil, souvenirs are sold by a local NGO that funnels profits back into the community, and traditional Bodu Beru performances are held every Sunday, so guests can participate in a cultural experience
Location
An upmarket island resort conveniently close to the Maldivian capital, made up of generously proportioned villas each with their own private pool. Located on Bolifushi Island, a 20-minute boat ride from the Malé airport, for a relatively small island, Vittavelli packs in a wide range of facilities and activities for its international clientele. The resort makes a good choice for visitors who want to avoid the complications and cost of a seaplane transfer after a long international flight.
Vittaveli is the only property on the whole island. Note that boat transfers require a fee. The entire island is covered by the resort, so guests should be aware that there isn't anything outside of the resort to do or see, unless they plan on taking a boat. However, there's plenty to see on the island: a private beach, six shipwrecks in the ocean, and a coral reef.
There is an eclectic mix of architectural styles throughout the resort - most striking is the modernist Samsara restaurant with its dramatically angled roof and glass walls. The look of the resort is based upon a Maldivian village, with 43 traditional thatched and coral-clad villas facing outwards to the white beach that encircles the island. Jungle vegetation successfully hides the high density of villas on the island and lends privacy to each property. The 39 over-water villas on the north-west pier feel more exposed. 
Villas and Suites
There are only 4 main categories: Beach Villas, Beach Suites, Lagoon Villas and Lagoon Suites. They are all among the largest villas in the country, and each features the views of the beach or the lagoon in perfection. The suites are equipped with a second floor and Water Villas in the lagoon have glass doors on 2 sides that can be opened to let in the surrounding beauty, and create a pleasant feeling of lightness, well-being and excitement.
The standard beach villas are spacious, with a generous bathroom area that extends to an open-air shower, l-shaped swimming pool and a small private garden with day bed and swing. The style is reassuringly tropical, with rich colours and hard wood furniture . Honeymooners can retreat to one of the seven humongous ocean suites that are accessible only by boat. It is worth noting that the beach on the sunrise side of the resort has views of an island where some industrial processing takes place.
Due to wooden floors, predominantly white and cream color schemes, and architecture like that of a Maldivian village, these villas and suites give off a luxe, airy, and relaxing vibe. Amenities are unsurprisingly top-notch in each unit. They all have private pools even those in overwater villas plus many have outdoor showers or baths. Air-conditioning, flat-screen TVs, Nespresso machines, kettles, minibars, and free Wi-Fi are also provided. Those located on the water have free boat service to and from the main island. Bathrooms are huge and spa-like, with bidets, hairdryers, separate showers and tubs, and toiletries. Thoughtful extras like loungers, cabana beds, life jackets, swings, fruit, and bottled water help guests feel at home. In 2017, the hotel added the five-bedroom Royal Residence with a guest house, spa pavilion, two pools, stocked kitchen, private jetty, and even staff quarters.
In 2018, Jumeirah Vittaveli has revamped Ocean Villas, which have been refurbished with water slides, offering more than an awe-inspiring view. All of the resort's freestanding Private Ocean Retreats and seven Infinity Pool Ocean Villas now offer the 23-metre slide which runs from the top deck into the gentle waters of the crystal clear lagoon.
One aspect that is worth considering is the island's location stretching from the south-west to the northeast. This means that every day, about half the villas face to the sunrise, while the other half looks at the sunset. On the western side, of course, the more expensive rooms that overlook the lagoon and delight their guests with the play of sunset colors. The suites are large enough to accommodate 4 adults and 4 children, while in the villas can stay 2 adults and 2 children. Every Villa and Suite has its own oversized plunge pool. Every villa or suite has its own bicycle to get around the island.
Jumeirah Vittaveli's Private Ocean Retreats are popular with honeymooners and offer a wonderful sense of seclusion – it's what dreams are made from. At 400sqm, guests can relax during the day on the newly enlarged open-air deck and admire the underwater world from a glass-bottomed sunken lounge, according to a statement.
The Private Ocean Retreats offer a private infinity pool with show-stopping 180° views and wooden steps that lead straight into the warm waters of the lagoon. The sociable space offers a dining area for six, complete with glass-bottom floor – perfect for catching a glimpse of the vibrantly coloured reef fish as they swim by. The spacious villas also have the luxury of a master bedroom upstairs and a second bedroom downstairs, complete with separate bathrooms and a walk-in closet on the ground floor.
For the Infinity Pool Ocean Villas, exteriors include extended seating areas and glass bottom floors, with overwater hammocks completing blissful outdoor relaxation. The interiors have a fresh look too and have been enhanced by a new colour palette, inspired by the warm Maldivian sunsets and sparkling turquoise lagoon. The additional windows add an airy touch and bring the beautiful outdoors in, and while the resort offers ten food and beverage outlets, the in-villa private bar means guests may simply choose to stay in the luxurious surroundings of their island hideaway.
If you want to make extraordinary memories with your family or friends, these from Three to Five Bedroom Royal Residences with Pool are your perfect choice. Exquisite interiors, lavish outdoor spaces, and exceptional amenities make the Royal Residence at Jumeirah Vittaveli one of the most fabulous accommodations in the Maldives. Peaceful, luxurious and comfortable, the royal residence is like home but just a little better. Equipped with every amenity and facility that one can ask for, it make you feel special. Whether with friends or family, enjoy lazy afternoons spent soaking in the Maldivian sun. A grand experience awaits you at the Five Bedroom Royal Residence with Pool. The luxurious rooms of the residence are not only opulent but also ooze comfort. The 3,500 sq.m retreat has its own private restaurant and overwater bar – both overlooking a pristine lagoon; and offers complimentary butler and three hours of spa treatments per day at the private spa, to say the least.
Restaurants and Bars
The great range of culinary options available with a free hot breakfast buffet every morning will enable you to dine in style, adding the finishing touch to the complete holiday experience. The dining venues serving cuisines from Mediterranean to Maldivian, as well as grilled meats and seafood, and also has a bar serving drinks and light snacks - the perfect spot to watch the sunset. At OZEN Reserve Bolifushi, they value the craftsmanship inherent in developing fine cuisine for every palate. Based on an appreciation of individuality offered within the realm of a flavourful culinary journey and unique luxury service, the award-winning chefs maintain a culture of excellence in the three captivating restaurants. Relaxed al fresco dining by the sea, or cocktails and culinary sophistication in themed interiors, guests enjoy a level of service and gastronomic ingenuity unrivalled amongst Maldivian island resorts. Each select restaurant has evolved with a genuine appreciation of what you cherish, with a fusion of what you dream. Island chic served with interactive flair defines all dining options. Creative dishes and fresh cuisine are prepared with the unique culinary panache for which OZEN is renowned.
Tradition Saffron restaurant reflects royalty, opulence and the rich heritage of Indian cuisine. The gold standard at OZEN Reserve, this exclusive fine dining restaurant will delight you with creative flavours, complemented by an impressive arrangement of dishes. The restaurant comprises three open-air dining cabanas, one Chef's table, and one swing for after-dinner relaxation, all dotted throughout a Maharaja style garden venue. The menu offers a selection of set menus with creative interpretations of traditional Indian recipes. On alternating days, you may choose to dine on authentic Thalis (platters), designed for traditional Indian cuisine aficionados.
Vista Del Mar is resort's main buffet restaurant for all day dining offerings. The eatery stands for Pan Asian cuisine interspersed by traditional classics and mouthwatering Maldivian delicacies. From entrees through to desserts, dishes are prepared at live cooking stations and served in creative Asian utensils. Dining at Vista is an idyllic mix of taste, fun and delicious temptations delivered with a 'Pan Asian' twist. A stunning location with mesmerising views and spacious seating areas, ideal for informal mingling, this is where the heart of indulgent dining takes place.
Sangu - Beach Bar and Grill at OZEN Reserve Bolifushi. Candlelight and cocktails lead the way for an evening of delicious lobster, red snapper and prime steak, lovingly grilled to perfection. Let the lapping waves awaken your appetite for an indulgent beachside experience filled with a variety of sizzling barbequed temptations. Dining at Sangu is the perfect way to enjoy timeless experiences offered with an inimitable touch of refinement by the beach. Enjoy the exquisite simplicity of succulent barbequed delicacies. Exquisite fish, seafood and prime steaks are bursting with infused aromas chargrilled to perfection.
With sweeping Indian Ocean views, Origine is over-water restaurant at OZEN Reserve. The specialty of the restaurant lies in the spectacular interplay between refined French dishes and the striking design element. An ode to outstanding cuisine, its spectacular design frames the natural beauty of Bolifushi island. The elegant, contemporary and intimate feel of this restaurant is complimented by flawlessley understated service. Dining at Origine is the ultimate voyage of mouthwatering discovery in a unique overwater setting. Superbly crafted Mediterranean flavours are offered in an unusual and stylish setting created to whet your appetite and enhance your dreams for delicious experiences.
Оpened not long ago (april 2018), Cuvée is a sophisticated wine library boasting over 350 labels from select vineries around the world including a number of unique bin end wines. Installed within Origine, the overwater French fine dining restaurant at OZEN Reserve Bolifushi, Cuvée is part of the serene and intimate overwater venues that cater to romantic couples holidaying in the luxury resort. With panoramic glass walls which also doubles as space for private functions and degustation dinner, the library is carefully designed to evoke the senses of those who appreciate a fine wine.
Ozar bar features a cabanas or casual seating to unwind with a lazy lunch or a signature drink at this lively overwater spot.
Childcare
Vittaveli has been designed to be attractive to couples, as usual, and also groups (such as several friends or a business incentive group) and families. As well as very large rooms, the resort has a kids' club and a teen's club, both with very good programs of well thought-out activities and events.
OZEN's kids' club, 'Kuda Koli', is open to children from the ages of 3 to 12 years. Under 3 years need to be accompanied by a parent or babysitter, which can be organised by your butler, and this service is also available outside the kids club. There is also a Teen Lounge which guests from the age of 12 to 16 years can attend.
These places are not just there to tick a box but to really make the children's holiday at least as memorable as their parents. The watersports centre will play a part in this too, as it is stocked with the latest and greatest stuff for fun on water.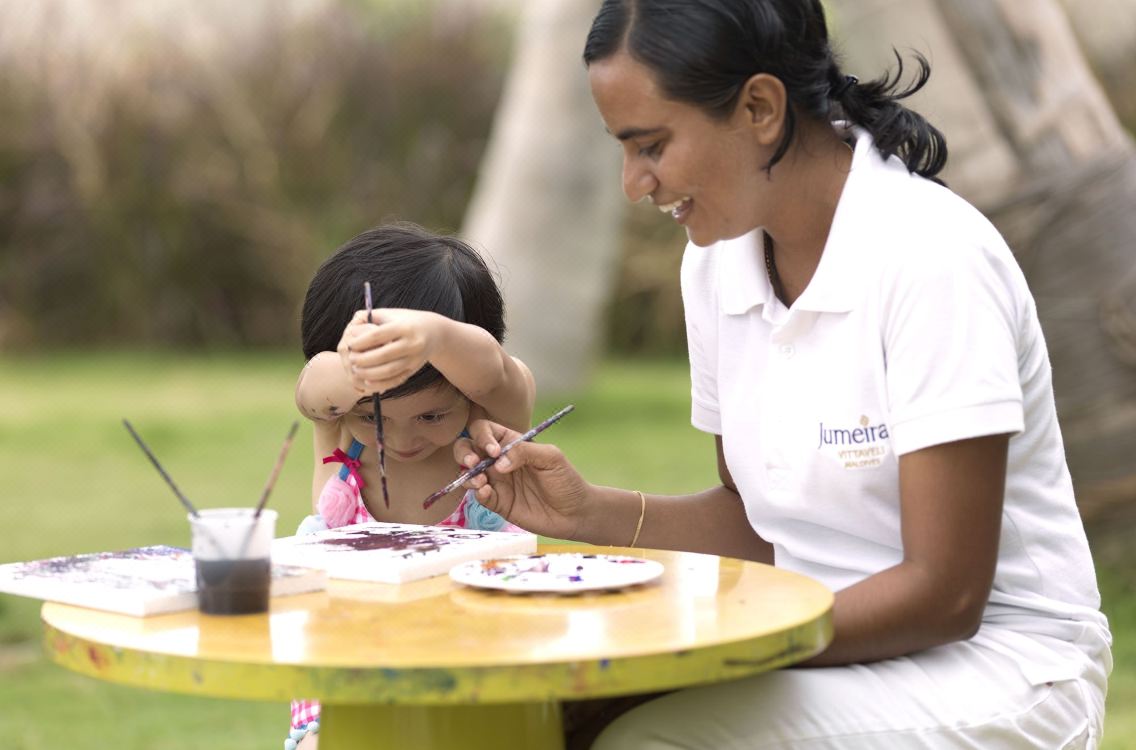 Activities
Vittaveli is not a slick city hotel and service is more in keeping with its atoll island setting — cheerful and usually helpful, but at times a little too relaxed.
Facilities on the island include an Asian-inspired spa, yoga classes, a gym, and an excellent water-sports centre that makes good use of a thriving house reef. Snorkelling equipment is complimentary and bicycles are provided, though many need attention.
Features are designed to keep guests happy, occupied, and relaxed on a private island. Though all of the villas and suites have their own private pools, the resort also has a large, geometric pool that overlooks the ocean and is surrounded by wooden sundecks, cabanas, and padded loungers. As to snorkeling, the years of work building the resort and creating wide fine beaches has had some temporary detrimental effect on the housereef. Having said that, there is some good snorkeling close by to the later water villas. For diving, the area is very well known and understood now as this was the first area to be discovered and mapped for diving. There are many top sites nearby, including the Victory Wreck and Embudu Express, and all are still in great condition. There's also a semi-submarine coral trip available. Complimentary wifi is available throughout the resort.
The best quiet space of all, outside of your room, is the spa. This is a huge, special, inventive place with 5 rondello-style land rooms and 4 fine over-water rooms. Using the organic Ela products they have put together a range of standard and creative treatments. As an example there are some treatments for the whole family and even some for the children only. In 2022 an award-winning global spa and wellness brand ELE|NA has partnered with OZEN RESERVE BOLIFUSHI in launching the 'Wellness Your Way' program at the luxury All Inclusive resort, and in 2023 its partnership with Executive Chef Chaitanya Sharma at OZEN RESERVE BOLIFUSHI to launch wellness plant-based menus.
In 2018 Vittaveli officially opened the first ice rink in the Maldives. Skating in the 'Ice Ice Maybe' costs $ 50 for two hours, including skating with protective equipment and delicious ice cream. There is an ice skating museum in honour of Olympic gold medalist Evgeni Plushenko at the resort's ice skating rink.
In the same year, the resort launched an enchanting overwater wedding pavilion, offering wedding ceremonies and vow renewals. The Wedding Pavilion sits serenely tucked away in the resort's overwater fine dining complex, adjacent to French fine dining venue Finesse, the newly opened wine library Cuvée, and the tranquil overwater lounge Cyan. Panoramic glass doors provide 360-degree views, and decorations can be adjusted to suit the wedding couple's personal wishes, according to the resort. 
In 2022 OZEN RESERVE BOLIFUSHI has launched it's first 'Hukuru Ufaa', an event celebrating the creative vision and exquisite skills of local artisans. On every Friday, local artists are invited to share their creations. Guests can discover timeless craft from islands across the nation. READ MORE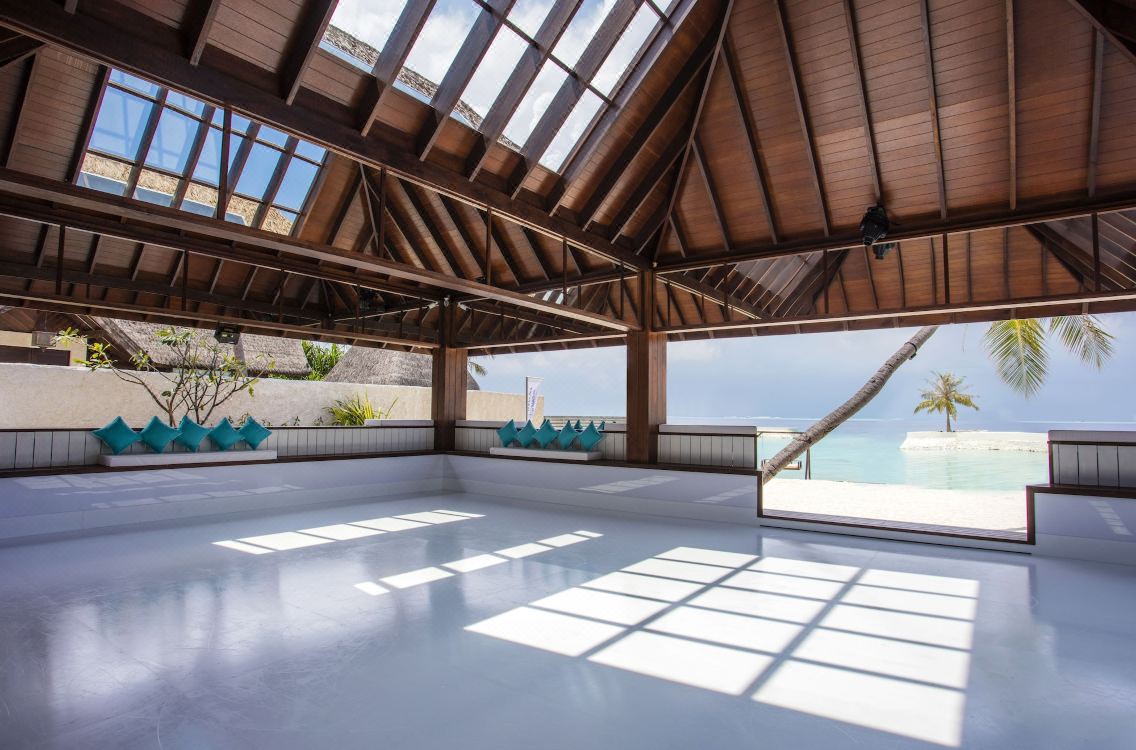 Reviews
If you are looking for a romantic getaway or even a tropical family escape - Jumeirah Vittaveli knows how to pamper guests from head to toe. The only drawback is the farewell to the spectacular island and its wonderful staff, with promises to return again to this friendly family.
Most reviews are highly positive, citing thoughtful and timely customer service, a nice selection of different plates from the onsite restaurants and great visibility at the reef right outside of each bungalow. It is also noted that reviewers touched on the low current surrounding the overwater rooms as well. This is great to hear if you're a beginner or first time snorkeler looking for an easy time on the water. Rooms themselves were given a pretty impressive rating, with guests loving every aspect, from the complete privacy to the decor.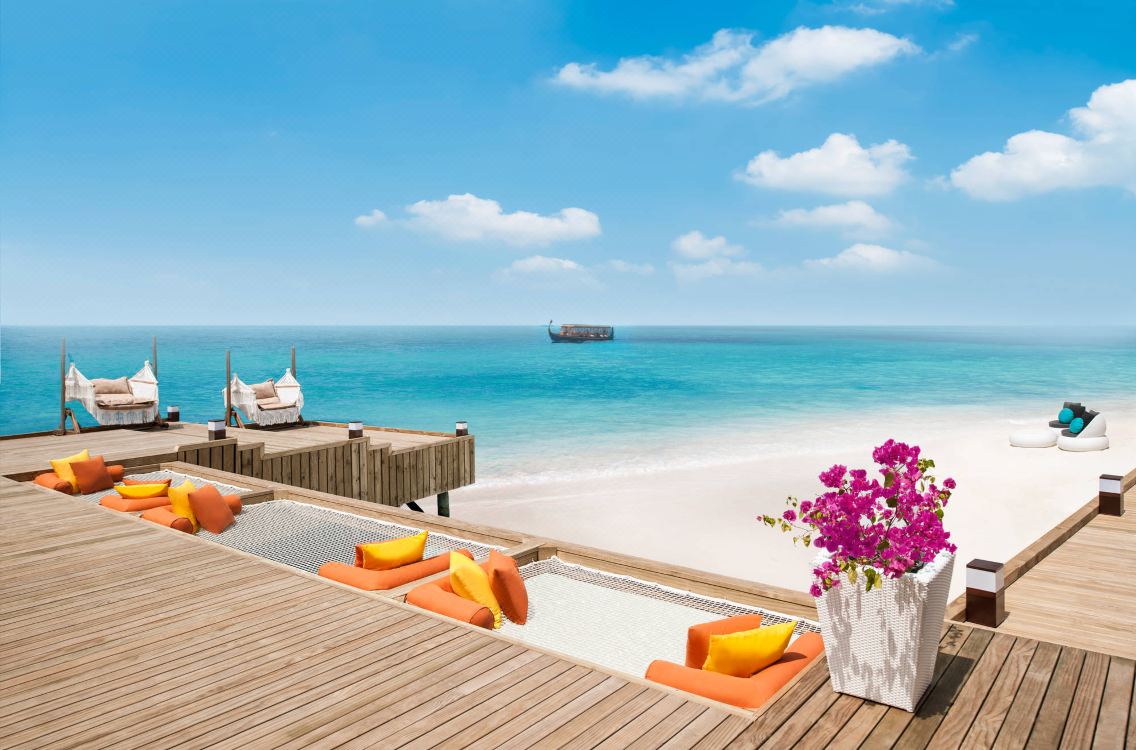 Why stay here? What Guests Love
An exellent location on a private island; 20-minute boat ride from Velana airport, Male.
Gorgeous villas have private pools and beach access
Free bicycles
Beautiful suites are built over the Indian Ocean and include plunge pools. Clean rooms
Stunning outdoor pool area with cabanas, pool bar, and loungers
Private beach and free use of snorkeling gear and kayaks
Amazing food options; Four diverse restaurants and a bar with dining on sand and over the water
Overwater spa offers massages, beauty services, and treatment baths
Gym with various equipment and fitness and yoga classes
Diving center for water sports and six offshore shipwrecks to explore
Free Wi-Fi and hot breakfast
Bodu Beru performances held every Sunday
Supervised kids' club with a children's pool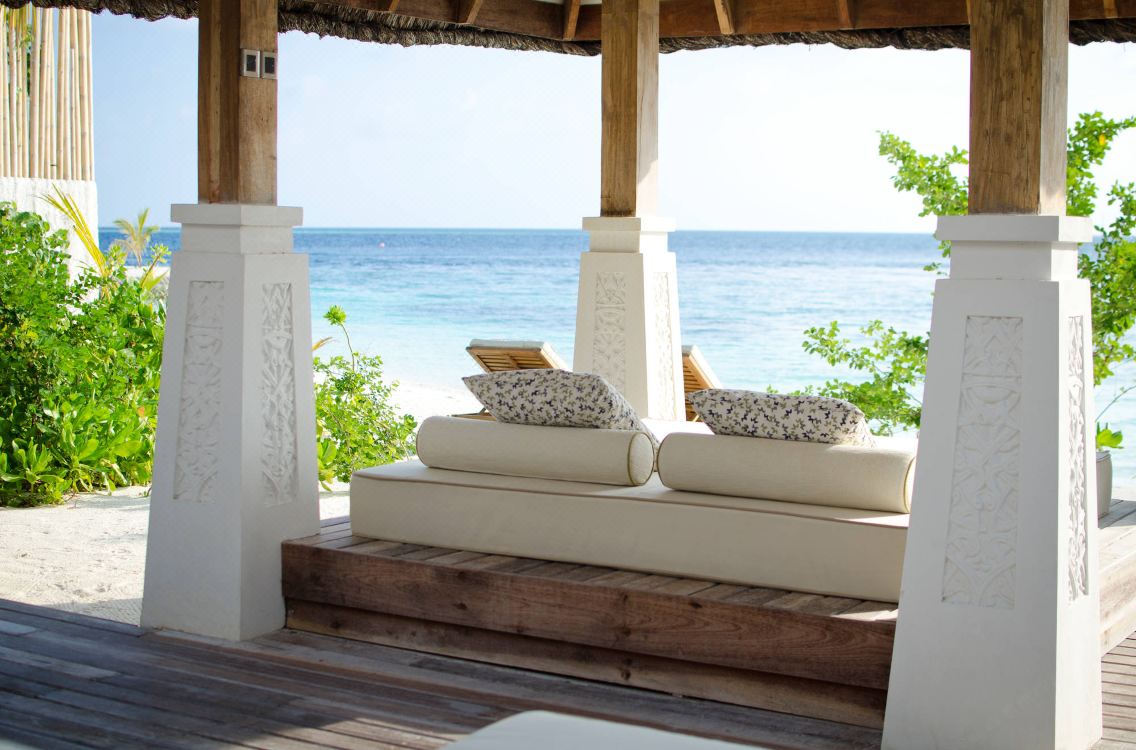 What You Need to Know
Start your travel with exclusive offers and special prices. Escape to an unforgettable stay at OZEN RESERVE BOLIFUSHI.
In response to Coronavirus (COVID-19), additional safety and sanitation measures are currently in effect at this property.
TRANSFER DETAILS (excluded from room rate): The property is only accessible by speedboat transfer from Male International Airport. The return rates are: Adult: USD 340, round trip, inclusive of all taxes Child (4-11 years): USD 170, round trip, inclusive of all taxes Infant (0-4 years): Complimentary.
Guests must send arrival and departure flight details directly to the property at least 72 hours prior to arrival. Please get in touch with the property for details on baggage restrictions.
Check-out 06:30 - 12:00; Check-in 15:00 - 00:00;
Children of any age are welcome. Children aged 12 years and above are considered adults at this property.
Children under 6 years will eat for free based on the rules and meal-plan accompanied by an adult, excluding alcoholic beverages.
Maximum 2 free kids per unit paid. Mandatory green tax of USD 6 per child per night will be charged.
Every villa has its own pool
2-bedroom Beach Suites are ideal for families
The gym is open 24 hours a day
In fall 2021 the resort has appointed Elise Rimbaud as the Director of Spa and Wellness Read more
There is a Teen Lounge for older children
HONEYMOON BENEFITS (once during the stay)
Romantic bubble bath, Complimentary bottle of sparkling wine, Complimentary fruit basket and Romantic bed decoration.
Due to safety and privacy concerns the operation of unmanned aerial systems or drones by any of guests including model aircraft by recreational users and hobbyists is prohibited.
At the South Asian Travel Awards (SATA) 2018, Jumeirah Vittaveli has been crowned with two accolades:Most Romantic Hotel / Resort in South Asia and the Maldives.
Check Availability and Prices in OZEN RESERVE BOLIFUSHI - A Luxury All-Inclusive Resort
Maldives Luxury Guide
Here's the best of Maldives for luxury travellers. We've compiled the finest recommendations of places to stay, ranging from the most celebrated five-star resorts to luxurious private islands Read More
Maldives Romantic Guide
The ultimate 'flop and drop' and honeymoon destination, the Maldives is the playground for the most amazing and finest utilization of each second of this extremely valuable and hopeful time with each other in tota Read More