Kurumba Maldives
Best Experience for: Couples, Families, Activities, Value, Beach, All-Inclusive
Updated Oct, 2022
Kurumba Maldives remains a central place in the amazing history of tourism in Maldives. It was the very first resort that opened in 1972. Back then the guests were happy to be accommodated in very simple small rooms, without air conditioning or fresh water, and the meal plans consisted of fish, bananas and rice.
Local residents then knew nothing about tourism, and listened attentively to the wishes of their guests and provided them with everything they wanted. Fortunately for the islanders tourists just wanted a relaxing holiday experience in the natural environment, lots of sun, turquoise waters and white sandy beaches, and this is exactly what the Maldives are known for. The business began to grow like a tree, the resort was developing rapidly and today Kurumba Maldives can offer 180 modern rooms, including a royal residence, presidential suites, villas with pools, and only 10 minutes by speedboat from Male airport. Kurumba has become a luxury resort of the top category in the Maldives, defining the benchmark of the tourism industry in the region and the tropics in general. In the fall of 2017 Kurumba marked its 45th anniversary on the tourism scene of the Maldives.
The Island
This upscale resort with 180 rooms is the oldest in the Maldives; It opened in 1972 on a former coconut plantation surrounded by snow-white beaches. A short trip from Male airport only 10 minutes by boat, Kurumba is not the most peaceful place and does not have the most attractive views due to a protective artificial barrier. Despite these two drawbacks, the resort has plenty on offer, including eight restaurants, three bars, two swimming pools, and a modern spa. It is very suitable for families, thanks to a children's club with babysitting services, and for couples thanks to such offers as wine tastings and jazz at sunset. The nine categories of renovated rooms reflect a basic modern decor, the rooms have an open patio and spacious open-air bathrooms with separate bath and shower. The resort's team is working hard to maintain a fresh atmosphere - a good example is the stylish Thila restaurant open in 2014 that is among the best in the Maldives. The menu has several meal plans, including all inclusive. Perhaps, it's worth comparing prices with Kuredu Island Resort and Kihaa Maldives, although keep in mind that both are located further from Velana airport and more expensive.
As the closest resort to the capital and to Male airport, Kurumba actually always had a license to evolve in a different way, like a mixture of natural Maldives and a prestigious showcase of modern Maldives that hosted by presidents and business leaders. Kurumba was completely rebuilt in 2004 and has recently undergone a revival with a constant renewal philosophy. At the heart of this is the truly excellent experience of general manager Jason Kruse.
The hotel has two outdoor pools, but none of them is very large: in the main pool for all ages there are beautiful lounge chairs with a beige finish and easy access to restaurants and reception. The smaller pool, as a rule, attracts mainly the families because it is located near the children's club and recreation area. DOWNLOAD RESORT MAP
Kurumba is a famous name in the Maldives, and the hotel is very popular with a wide range of travelers because of its good value for money and easy accessibility. A flotilla of boats makes regular transfers to the airport to collect guests, and crew members offer bottled water and cool towels with a coconut flavor. The resort's staff usually wait for guests on the jetty for arrivals and then escort the newcomers to the main reception - an attractive building under the open sky that looks particularly romantic when it is lit at night.
During the check-in, guests are elegantly presented with a presentation of coconut ice cream before being taken to their rooms on different parts of the island. Some rooms are located closer to the beach than others, and sunbeds with designated villa numbers surround the sandy beach. It is easy to walk around the entire circumference of the island, and guests can also use the internal paths. The first days you will surely wander, but landmarks, such as an orchid garden or a mosque for the staff should help guests in the orientation.
Kurumba guests are a common mixture from Russia (20%), British (20%), Germans (10%), the Middle East 10% and other Europeans, and a new mix of ASEAN countries. With a new children's club, Kurumba Maldives is very hospitable to families.
Lazy days pass on the beach or around two swimming pools, or on one of the many excursions. Before sunset, many are prone to flop into an Athiri bar with a live jazz in the western part of the island. There are several high-end a la carte restaurants - Thila is the best - otherwise those who are on a specific meal plan can dine in the main buffet restaurant. This resort feels more lively than other islands: nightly entertainment is held in the main open-air bar with chic daybeds and lounges, and there is an indoor disco with a DJ playing late into the night. Families and couples in search of seclusion can return to their rooms, which are far from noise.
Location
Kurumba is located in North Male atoll, part of Kaafu Atoll is a collection of islands around Male Airport, where a wide variety of resorts are located. After baggage claim area at Velana International Airport, guests are met by a resort representative (usually in the number box), where they are immediately escorted to a big boat. Depending on the wind and weather, a transfer to the resort can be changeable, but usually not more than 10 minutes. Kurumba is the nearest private island to Male airport.
Maldives is an independent nation in the Indian Ocean, consisting of 26 atolls and more than 1190 islands. Each resort (more than 120) is located on a private island with access to incredible marine life. At the house eef expect relatively good snorkeling, as well as excursions to some of the most popular atoll attractions, including the metropolis of Male. Guests can walk around the island, but perhaps they will have to wear sandals, as some paths are not designed for bare feet. As the island is closest to the capital Male, there will be more boats and planes in the area. The dark artificial barriers surrounding the island (and protecting the lagoon), just like a thorn in the eye, but quickly cease to be seen.
Although the state religion of the Maldives is Sunni Islam, private islands like these can serve alcohol.
The Beaches
Without breakwaters, the whole island is surrounded by a very nice beach that narrows and bulges in different places, depending on sand movement throughout the year. However, this subtle feature, somewhat offset by the presence of a wall in the lagoon, which completely surrounds the resort. On the other hand, in a closed lagoon you are guaranteed a calm and safe swimming, and after a couple of days it (the wall) slips out of your head, and is almost not noticed, except for the areas located close to the shore.
It's strange, but the fact that the wall is closer to the beach only near the most expensive rooms, 4 presidential suites and Royal Kurumba Residence with their luxurious interiors of top class, were invested with huge funds, with a chic, modern furnishings and all the amenities of a prestigious villa. The most affordable category of rooms is 38 Superior Rooms, which are larger than the deluxe category of 40 rooms, but they are in blocks of 4 and look at Male and the airport. Nevertheless, this is an excellent location, as all rooms are the new Kurumba. As a rule, all rooms are large and beautifully decorated, with modern, impressive bathrooms and equipped with everything from high quality - from furniture and facilities to wireless internet.
Rooms and Villas
Update and complete have helped to keep this old resort relatively fresh. Nine categories of rooms are scattered in different places of the beautiful island, and they are grouped in the form of horseshoes and candelabra around the lush gardens. The village square (with background music instead of public performances) is a paved playground around the pool, with a collection of restaurants, bars and cafes that are a distinctive feature of the time and a pleasant place for every long, sunny day. Sun loungers along the beach are not common, but rather have the numbers of specific villas to avoid confusion.
The decor is elementary, but clean and modern: white linens, runners and pillows with a pastel accent and (in most) wooden floors (some tiled). All rooms have open balconies or patios, as well as open-air bathrooms with separate bath and shower. Bathrobes and rubber flip-flops, as well as toiletries in environmentally friendly containers are provided. Two free bottles of drinking water are replenished daily, like coffee and tea. Fully equipped mini-bars are well-stocked with popular liqueurs, wine, beer, juices and soft drinks.
45 Deluxe Bungalows and 30 Beachfront Deluxe Bungalows are the same size as the Superior, but stand-alone and with a great offer of decor and amenities. Most importantly, around them there are some of the best beaches facing the quiet, relatively empty western horizon and to the north. Other categories: 8 Garden Villas, 4 Villas with Jacuzzi and 8 Deluxe Villas are located on either side of the best rooms mentioned above, except that 4 Deluxe Pool Villas are part of the "closed" Deluxe Bungalow.
Superior rooms are located in two-story buildings and have spacious bathrooms with double sinks, as well as showers indoors and outdoors. Deluxe rooms are smaller but located in separate bungalows - good for couples looking for privacy - and are closer to the beach. The bathrooms are smaller here, with one sink and one shower. In the Deluxe Bungalow you will find more privacy and outdoor loungers.
Beachfront Deluxe bungalows are located closer to the water and have private terraces with sun loungers. The Garden Pool Villas and Deluxe Pool Villas offer more space for families than bungalows, as well as modernized amenities such as Nespresso coffee machines and private pools. Private Villa with Jacuzzi facing the sunrise features a large bedroom and a separate living room.
Presidential Villa with a swimming pool is a two-level apartment for couples and families with a spacious private courtyard and a small pool. The Royal Kurumba residence has two separate wings, each with a master bedroom and en-suite facilities, a private pool and a hot tub. Both of these categories offer 24-hour butler service.
The top level room - Beachfront Deluxe Bungalow and above - also includes breakfast on request at the Thila restaurant instead of a buffet.
Restaurants and Bars
The accommodation options comply with dining choice. In addition to the 24-hour café and pizzeria by the pool, there are 8 separate restaurants - the main, modern grill, Arabic, Italian, Indian, Oriental and Japanese, all with an updated menu. There is no doubt about the efforts and success of creating specialized restaurants in a convincing setting, so expect surprising culinary adventures (right up to the Arabic hookahs). Curumba offers a full range of meal plans. Recently, all inclusive is very popular and it's understandable. When you are here, you really want to be pampered with a lot of bars and restaurants.
Those who live in rooms of a higher category can eat in Thila restaurant with ready-made breakfast dishes, such as Benedict eggs or pancakes, as well as freshly squeezed juices and unlimited sparkling wine. The restaurant's cuisine is contemporary and also features Maldivian grills. Thila is an excellent place for dinner - it was opened in 2014 and is one of the best restaurants in the country, with romantic lighting in night time, an open kitchen with exquisite dishes, and an amazing views in the background. Although expensive, this restaurant is a "highlight" and should be spent for a special occasion.
Compared with other resorts in the same price category there is a good selection of international restaurants in Kurumba, although prices will bite. These options include the beach Hamakaze - a restaurant for teppanyaki and sushi, Al Qasr is known for Lebanese and Moroccan cuisine, Mahal is all about North and South India, and The East that combines cuisine from Thailand, China and Vietnam. Duo is another romantic choice with an unusual indoor dining area and an atmosphere with candles where the menu offers dishes of Italian and French haute cuisine. The Café serves delicious snacks throughout the day, as well as elegant lunches and dinners, overlooking the pool.
The stunning overwater gazebo that houses the Hamakaze Japanese restaurant now (jan 2019) carries a wider range of Japanese cuisine ranging from teppanyaki to your favourite selection of sushi and sashimi. If you have not heard or seen ice-cream being "stir-fried" on an ice pan, try any of the new rolled ice-creams the next time you visit Hamakaze. A complete new way of preparing ice-cream with absolute entertainment.
Also at your disposal is the "in-villa dining" service.
In the evenings, Athiri bar becomes a cocktail hub with sunset view, and Kandu bar is a large pavilion with entertainment and drinks that can be enjoyed on a some chic chaise lounges or in lounge next to the beach. If you have a sweet tooth or are feeling the munchies whilst having a drink or two at Kandu Bar, try the selection of cakes at the little Cake Corner. Selection ranges from Boedalous Pear Tart, Eclair Strawberry Open Face, Passion Dome Cake and Chocolate Orange Cake — one or more of which would definitely capture your fancy.
Kalhu is a nightly dance bar with live music, DJ and nightly karaoke.
Arabic colors, elegant design and a wide selection of flavored shisha, FEZ is an atmospheric setting to share a moment with your beloved ones, with our delicious mezzes, colourful cocktails and the fruity smoke from your shisha.
Sports & Activities
Diving in this area of ​​the Maldives is very good and well established, but for a house reef snorkelling it will take a long time after a major renovation to return to its best times. The Euro Divers team offers several levels of PADI certification and dive sites for all ages, including teaching children's diving. Majaa Recreation is a department that provides daily activities, including free snorkeling gear, diving lessons and trips to the house reef, water sports, lessons and workshops, yoga, ecotourism, fishing, just to name a few. It is one of the best centers of the country, well-managed and fully equipped.
Water sports include kayaks, surfboards, wakeboards, SUP, catamarans, windsurfing boards and jet skis. Also there are water skiing, parasailing, tjubing and banana riding. Snorkelling gear is free. Excursions: sunset fishing, big game fishing, sailing and picnic island trips, Male city tour, boat rental, sunset cruises and dolphin watching.
Indulgence is a good part of the local history, from accommodation and cuisine to the spa experience. Set in the lush gardens, Veli Spa is a true Maldivian experience. The spa is one of the best in the country - beautifully designed and stuffed with everything necessary for self-indulgence of body and soul, branded treatment procedures emphasize the philosophy of Dhivehi Bey, which combines the traditional Maldives healing methods with modern technologies based on Thémaé therapeutic spa cosmetics. Veli Spa is equipped with eight treatment rooms for singles and couples. In the menu there are massages, body care and face treatment, manicure and pedicure.
A naturally-lit fitness center with modern cardiovascular equipment is open 24 hours. There are three illuminated tennis courts, although to turn on the light - it will cost money. Other activities include painting on canvas, coral landscaping, cooking demonstrations, marine biologist presentations, cocktail parties with management members and wine degustations.
For nightlife and entertainment - this is one of the few resorts in the country where every evening every week: one DJ and four concert evenings, jazz at sunset at Sand Bar, Bodu Beru show, free night at the cinema, free cocktail evenings and wine tastings, and much more.
Rainy days can be held in the DVD library, and there is also a place for business meetings. In Kurumba you can perfectly combine vacation with work - the resort has excellent facilities for holding conferences and receptions. The hotel has modern audiovisual equipment and support services. From the large banquet hall to the meeting rooms, the Kurumba team always keeps a hand on the pulse to accommodate custom requests. Free Wi-Fi is available throughout the island, but will be spotted depending on the location.
Reviews
"Short getaway with so much to do!", "Fabulous time with my husband and family", "Exceptional", "Wonderful", Fabulous, "Excellent ! Highly recommend !", "One Amazing Honeymoon for 10th Anniversary.", "Excellent property with excellent staff. best holiday one can hope for. my expectations were met com", 
"Good service in North Malé Atoll, close to the Malé city." , "Beautiful place with great all-inclusive options!", "Fastastic first time in the Maldives - great family option"
Pros: What Guests Love
Close to Male airport
Attentive and helpful staff. Great service.
Modern rooms and bungalows with an open bathroom. Comfortable bed
Beautiful and clean island, lots of vegetation
Eight restaurants, many with a romantic setting
all-inclusive packages including alcohol
In Sunset bar weekly cocktail parties and nightly entertainment
White sandy beaches and blue sea is safe for a child swimming
Quality and varied food. Delicious breakfast. Lots of seafood
I liked the children's club, the children did not want to leave
A good Diving School
Water sports, interesting excursions, including dolphins
Excellent spa
24-hour fitness center
Free snorkeling gear
Free wifi
What You Need to Know
Book directly with our team and receive a better payment plan and exclusive rates. View the packages
Kurumba Maldives is the part of Universal Resorts the most desirable Maldivian hospitality group.
10 minutes by speedboat from Male airport
The first resort in the Maldives
Check-in from 14:00, Check-out before 12:00
No overwater accomodation
Not the most peaceful place (expect a lot of air and water transport)
The artificial protective barrier around the island spoils the view
Recurring guests - receive special exclusive discounts of 10-20% on food and services for most of the year.
In 2019 Kurumba Maldives has defended its position as one of the best all-inclusive resorts in the world. In this year's edition of the Travelers' Choice Awards by TripAdvisor, Kurumba secured the 24th spot in the list of the Top 25 All-Inclusive Resorts – World and the fourth place amongst the Top 10 All-Inclusive Resorts – Asia.
In 2020 Kurumba Maldives has been awarded among the Best Luxury Romantic Resorts in Maldives and its Thila Restaurant awarded among the Best Luxury Restaurants in Maldives by Luxury Travel Awards.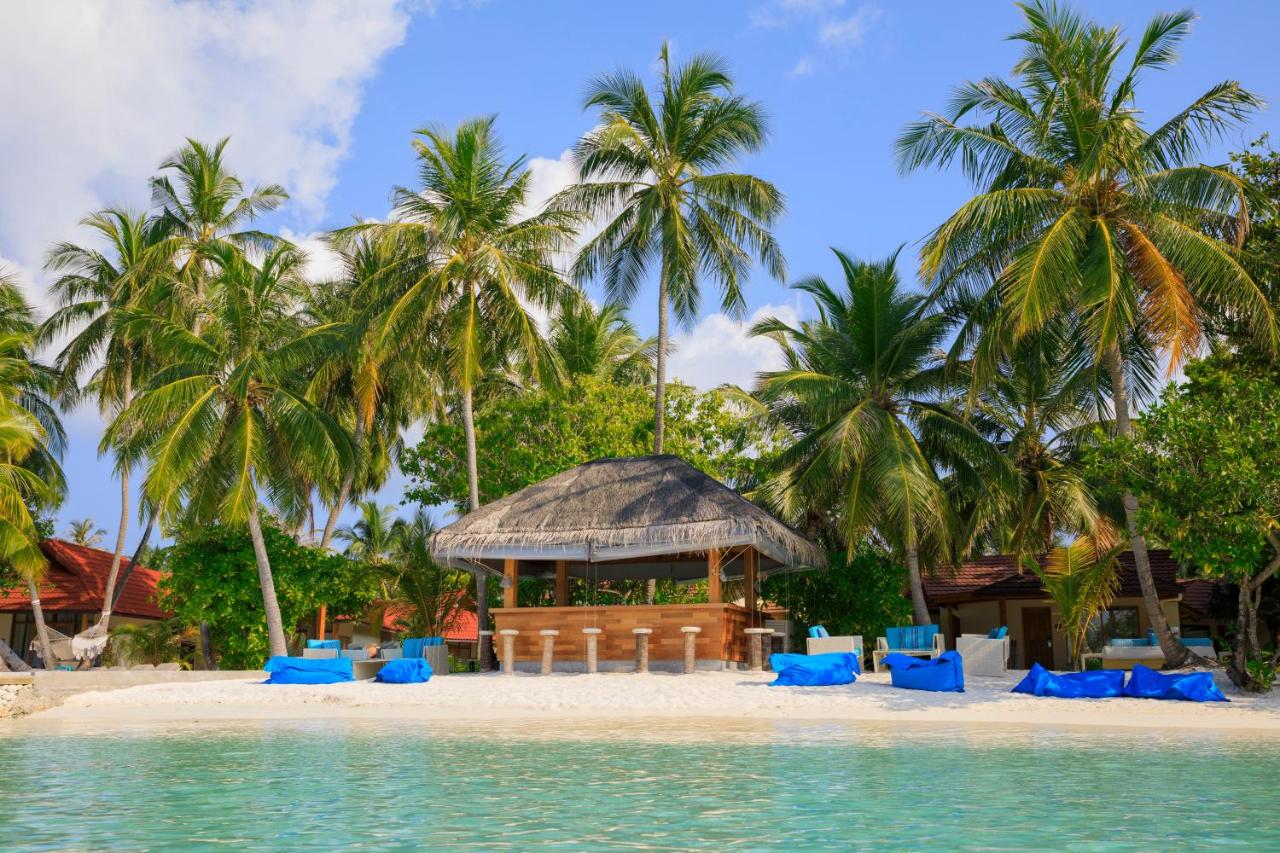 Check Availability and Prices in Kurumba Maldives
Maldives Luxury Guide
Here's the best of Maldives for luxury travellers. We've compiled the finest recommendations of places to stay, ranging from the most celebrated five-star resorts to luxurious private islands Read More
Maldives Romantic Guide
The ultimate 'flop and drop' and honeymoon destination, the Maldives is the playground for the most amazing and finest utilization of each second of this extremely valuable and hopeful time with each other in tota Read More