Pullman Maldives Maamutaa Resort
Best Experience: Couples, All Inclusive, Family, Activities, Vegetarians
September, 2019
Pullman Maldives Maamutaa Resort is a 5-star lifestyle getaway in one of the most pristine atolls in the South of the Maldives. Opened on september 2019, the 120 villas resort offers an immersive art and design experience with a holistic integrated approach to wellbeing. The gorgeous, unspoilt Maamutaa Island spans 195,000 sqm is located just 10 minutes by speedboat from the newly opened Kooddoo Airport.
Beautifully placed amidst the spectacular lagoon stuffed with vibrant and hypnotic marine life and unmatched and unique options for scuba diving and snorkeling along with various other water sports experiences, the Pullman Maamutaa Resort is presenting spacious and luxurious residences that are special for couples and families with five star room amenities. Located both overwater and on the beach, guests shall choose their residence with the unbelievable option of underwater bedroom suites. While the water-sport center is entertaining you with number of fun activities, there are 6 F&B outlets with a-la-carte options are part of the all-Inclusive experience icluding the Phat Chameleon, a complete organic, vegan and vegetarian restaurant. Fitness and Wellbeing centers, teen-only club, kids club, spa, wedding pavilion, tennis court and gardens are just among the various resort facilities here.
The Island
The newest airport at Kooddoo dramatically reduces the travel time to the stunning south of the Maldives which boasts some of the most dramatic landscapes and unexplored reefs in the world. Pullman Maldives Maamutaa is located at the South of Maldives, in Gaafu Alifu Atoll, which is known for its pristine beaches and a great scuba diving. In our opinion, the Huvadhoo atoll (which is formed by Gaafu Alifu and Gaafu Dhaalu) is the most beautiful and interesting atoll in the country.It is a part of the largest known Atoll in the world. The resort is spread across 12 hectares of dense vegetation and landscaped gardens.
Situated 20 kilometers to the north of the equator, the island of Maamutaa is narrow and oriented from north to south along the edge of the atoll, and, as usual, with such geography you can expect beautiful white beaches stretching from both ends of the island. The island itself is extremely quiet and you will find yourself with the beach and ocean to yourself most of the time. The sunset beach looking at the atoll (into lagoon), is always better than facing the open ocean (surf). The island's southern and northern tips are crowned with a terrific sand spits taht are especially impressive at low tide. It is realy gorgeous! DOWNLOAD RESORT MAP
The Maamutaa is covered with tropical vegetation such as breadfruit and coconut trees. The island's interior could be described as real 'jungle' due to a rich abundance of huge banyan trees and tropical palms. There is a freshwater lake in the heart of the island, a rather rare fact in the Maldives. Maamutaa is home to birds and flying foxes and also a curious herons.
Location
Gaafu, or Huvadhoo is not only the second largest atoll in the Maldives it is also on the list of the top 10 largest natural atolls in the world. Located in the southern part of the Maldives 50 km above the equator Gaafu Atoll is administratively divided into two parts: Gaafu Alifu (North Huvadhoo atoll) and Gaafu Dhaalu (South Huvadhoo atoll) and has 235 islands with capitals: Villingili (North) / Thinadhoo ( South) Read More
Nestled on the idyllic island of Maamutaa in the Gaafu Alifu Atoll, The Pullman Resort's setting is the closest thing to paradise. Guests, no doubt, will feel at the edge of the world, away from worldly bustle and stress. Surrounded by the azure waters of a shallow lagoon, and with lush tropical greenery and lake, this private enclave can be easily reached via air or sea transfer from Male International Airport. Domestic Flight transfer takes 55 minutes from Male International Airport to Local Airport "Kooddoo". Speedboat transfers take 10 minutes from Local Airport "Kooddoo" to Resort. A direct transfer from Velana International Airport to Pullman Maldives is also available via a 80-minute journey by seaplane.
Villas and Suites
The resort has the 80 spacious bungalows set over water or the 40 dotted around the pristine beach. Pullman's white sand beaches is one of those picture perfect stretches of soft sands that have made the Maldives famous across the world. If you stay at beach villas facing west, this beach offers a perfect sunset. There is a stretch of sand which is submersed by just a foot of water, so you can walk out into the sea which is an amazing experience.
Pullman Maldives has set ready 13 units of perfect beach villas on its white sandy beach adjacent to the lagoon. With spacious interiors and five star luxury room amenities, these basic yet comfy residences are sure to provide top-notch accommodation for its guests. With one bedroom, the villa type will accommodate up to 3 adults or 2 adults plus one children and one infant at maximum which is quite the highest for such a one bedroom villa type.
For couples who would like endless fun on the beach on their private get-away for their honeymoon celebration in Maldives, the Beach Villas is a great option to book. Expect all the seclusion with tropical vegetation covering the villa from all aroundThese honeymoon suites are coming with a adequately spacious private pool on the private deck which would open to the part of their private beach.
With even more spacious interiors and added facilities and luxury room amenities, there are 2 units of beautifully built family villas with private beach. Accommodating 3 adults or 2 adults plus 3 children and 1 infant, these would make best family residences at the resort with moderate budget. Families shall have uncontrolled amount of fun and merry making on the beach where they would have portion of private beach.
Unmatched design and spectacular interiors are the highlights of Family Beach Villas that are coming with a spacious private pool on the deck. Your private beach area would extend to its the public beach area adjacent to the lagoon where you would have lounges to take a sunbath. At a maximum, the villa will accommodate up to 3 adults or 2 adults plus 3 children and 1 infant.
2 Bed Room Beach Pool Villa can be perfect for a convenient accommodation for families at Pullman Maldives Maamutaa with two bedrooms that are adequately spacious and will accommodate 5 adults or 4 adults plus two children and 1 infant. With a private pool on the veranda and a lengthy portion of private beach area, guests shall have various luxury amenities in the villa which will be hundred percent beyond your imagination about the luxury of Maldives.
The biggest residence at the resort with vast area, and four bedrooms that would allow in 10 guests or 8 adults plus 1 child and 1 infant. This is perfect for if you would like a Maldives trip in group like families and friends. Along with various room amenities and luxury facilities, complimentary features will also accompany your accommodation like mini-gym and dedicated buggy for your personal transportation around the island. You will have a personal butler and chef who are more happy to provide you your favorite dishes anytime.
The resort's Ocean Villas are perfect for couples who would like the presence of lagoons and water for their romantic togetherness. With the over water existence of these villa residences, guests shall have private deck with lounges from where they can watch and enjoy the serene ocean water gulping their drinks from minibar.
Lengthiest stretch of villas on the island with 53 rooms located over water provided with all the best views and ambiances that would only multiply the experience of resort accommodation. Coming with one bedroom and luxury room amenities, there would be a private pool on your deck with all the privacy and seclusion from others where you would have furniture for you couples to relax and catch up.
For honeymooners, Overwater Pool Suites are always the perfect choice. These 4 units of are perfect for couples with much more privacy with a private pool on your deck. Get some snacks and drinks from your mini-bar and spend your time watching the lagoon. Luxury room amenities are prepared for you here. The opportunity for direct access onto the lagoon gives you a lot of fun enjoying water sports and activities. 

Restaurants and Bars
Pullman is serious about its cusine. Gourmets will feel at home in the three restaurants and two bars. Uniquely for The Maldives, Pullman Maamutaa Resort offers a modern interpretation of 'island influenced' dining experience caters to all tastes and desires where the outlets each have their own touches each delivering a taste sensation with all the meals.
With fixed meal hours, MÉLANGE is the resort's main restaurant that's features Arabic, Italian, French, Chinese and Indian cuisine. Melange is the main restaurant at the resort being open throughout the day for breakfast, lunch & dinner. The restaurant is sure to provide super-luxury ambiance for your variety dining experience in here with attractive interiors, comfortable seating and extra-hospitable staffs who would help your moments in here more charming. The chefs here all the more equipped to prepare for you variety culinary dishes for all three meal times from using Arabic, Italian, French, Chinese & Indian cuisines. With live cooking stations and fruit counters, guests shall also buy themselves various liquors and drinks
The heaven for vegans and vegetarians Phat Chameleon is an other important place to eat at the resort which you should be visiting at least once during your stay! Staying true to very its name, the Phat Chameleon is a vegetarian restaurant located amidst the herb and vegetable garden on the island providing an adventurous in-forest dining experience secluded by the lush vegetation. Open for lunch and dinner, this is an unique way of satisfying the guests with lavish menu of vegetarian food items. Enjoy fresh vegetarian delights, soups, hot and cold salads and various. Phat Chameleon is a dining spot, where local ingredients and indigenous flavours can be savoured.
Souq Oven features Middle Eastern and Levantine cuisines. This is a magnificent spot on the island being home to both international prime meal courses and luxury beverage experience. Open for lunch and dinner only, guests shall get themselves wide culinary varieties of Mediterranean and Levantine cuisines like Lebanese, Turkish and Italian. Along with enjoying various ethnic desserts and fresh juices made to your instructions, there is a splendid collection of beverages including a Wine Wall that houses over 80 labels handpicked from the best vineyards in the world.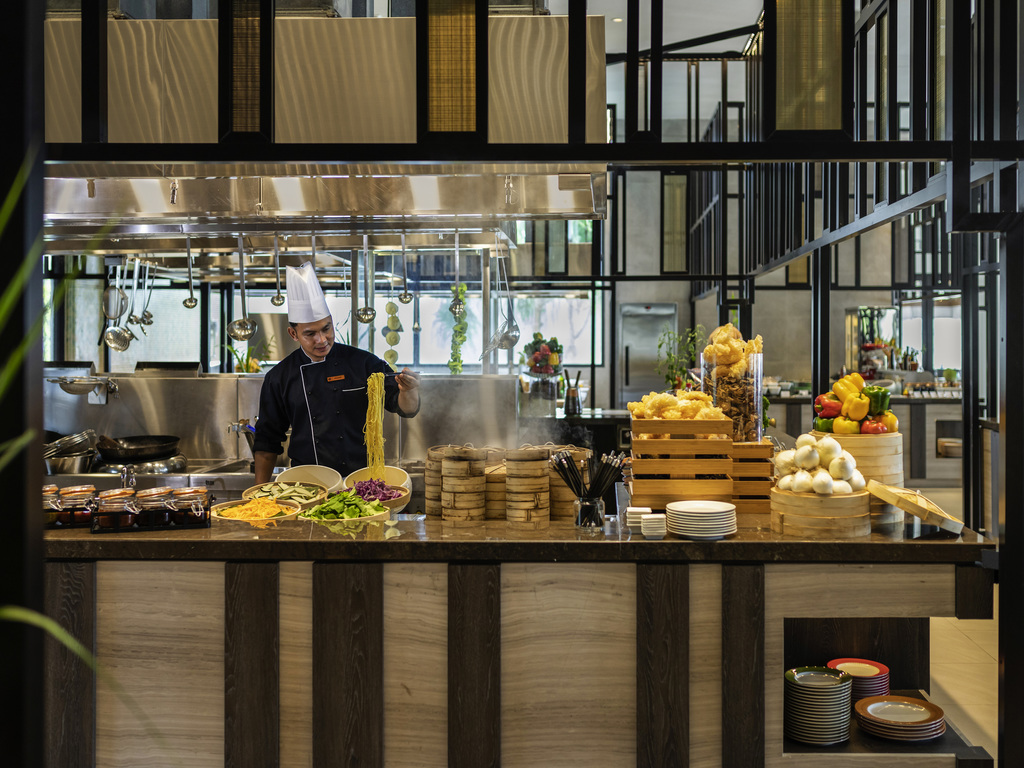 Sol Rising is an energetic and lively sun-rise dining spot helps you start your day at the resort with a lot more vigor and pleasure. Designed for capturing the shiny and warm morning vibes on this beautiful island, this dining hub means something more than your culinary enjoyment in here. Open for breakfast from early morning, the dedicated chefs in here are preparing for you balanced meals for your breakfast that include super food and detox diet along with yogurt, juices and snacks.
Saffron Affair is the evening hang-out hub at the resort where guests shall select from a plenty of liquors and drinks along with finest Tapas, snacks and short-eats. The place would literally be of a saffron thing for its evening atmosphere when sun will seek its way down the water sending around the best of evening vibes. Varieties of cocktails, fresh juices, milk shakes, wines and whiskeys include Spanish, Asian and local makes.
That's a great idea to travel back to your the sweetest memories of those never-regained time of childhood and to have some great fun on the beach getting you tasty fares from the resort's mobile food cart- Bites on Wheels which will feature various things like sorbets, fresh cut-fruits and short eats along with various colorful candies strung on sticks.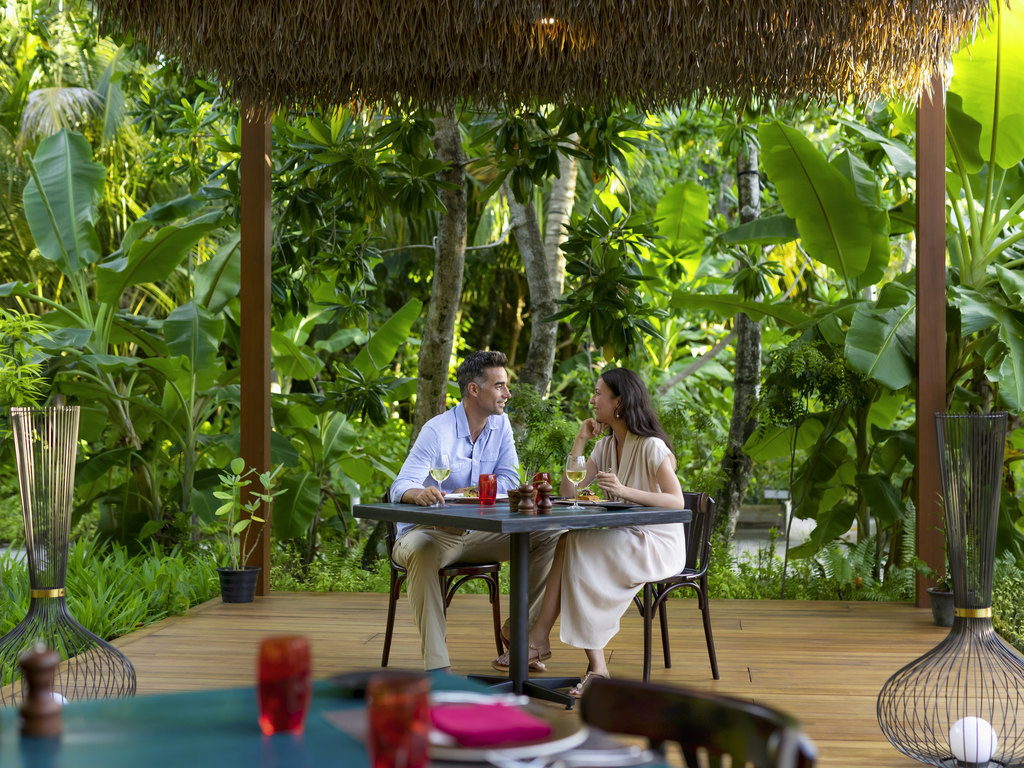 Activities and Pampering
Pullman Maamutaa Resort is boasting with beautifully placed amidst the spectacular lagoon stuffed with vibrant and hypnotic marine life and unmatched and unique options for diving and snorkeling along with various other water sports experiences. The best snorkeling spots are around house reef's 'drop off' inside the atoll (lagoon).
Wellness at Pullman Maldives brings for guests a modern-built spa center with traditional and ritualistic types of wellness therapies and body massages which would take you down to the fathoms of supreme serenity where your soul will meet the transcendental pleasure for the span of a lifetime. Various types of massages are available from our experienced oriental spa specialists for various parts of your body. Once you are done with the massage with oils, you will be rested in the welcome lounge having some energetic drinks.
Same as in the accommodation, the resort is well determined to do one better in the matter of recreational activities and facilities for the guests. Wide variety of interesting experiences and sporty activities and adventurous things are planned from land to water under the guidance and protection of the skilled resort's stuff. Not just merry making, you are more exposed to the till-now-strange things in your life.
Why to Stay Here
The perfect beach holiday experience.

2 Aqua Villas each with an underwater bedroom

Phat Chameleon, a complete organic, vegan and vegetarian restaurant

6 F&B outlets with a-la-carte options are part of the all-Inclusive experience

Located in the south of Maldives with pristine beaches and marine life

The most generous All-Inclusive resort in the whole of Maldives
What You Need to Know
Check-in at Pullman Maldives Maamutaa Resort is from 14:00, and check-out is until 12:00.
Children of any age are welcome.
the hotel has a swimming pool
Check Availability and Prices in Pullman Maldives Maamutaa Resort
Maldives Luxury Guide
Here's the best of Maldives for luxury travellers. We've compiled the finest recommendations of places to stay, ranging from the most celebrated five-star resorts to luxurious private islands Read More
Maldives Romantic Guide
The ultimate 'flop and drop' and honeymoon destination, the Maldives is the playground for the most amazing and finest utilization of each second of this extremely valuable and hopeful time with each other in tota Read More
Maldives
Best Hotel
Deals