Exploring island artistry: Avani's conversation with Maldivian local artists and handcraft designers, Island Bazaar
What to Buy in the Maldives
06 September, 2023
Born from the lush islands of Maldives, Fathimath Salah (Koki) and Hassan Rameez (Tom) fused their talents to create Island Bazaar in 2015. This dynamic duo's love for design, travel and island living infuses homeware, apparel and jewelry collections.  
Their designs are a personal journey, inspired by monsoon contrasts, ocean breezes and the island's artisanal spirit. Island Bazaar isn't just about products – it's a collaborative celebration of local artistry, embracing individuality and culture. Avani spoke to Koki about her design process, connection to the local community, representing Maldivian culture and everything in between.  
The inception of Island Bazaar
"Growing up, I explored numerous local islands in the Maldives, fostering a deep pride for our culture, heritage and people. Island Bazaar arose from the aspiration to showcase this cultural richness through contemporary products," shared Koki. 
Unique identity through experimentation and collaboration
Setting oneself apart in a Maldivian landscape teeming with craft studios and homeware brands demands unwavering passion and determination. Koki emphasises this notion as she explained, "Island Bazaar represents a lifestyle. Our designs exu Setting oneself apart in a Maldivian landscape teeming with craft studios and homeware brands inviting simplicity that captures the timeless allure of the Maldives' iconic visuals while integrating distinct twists. Alongside our bespoke designs, we wanted our collection to carry a curated selection of local artisanal products, pioneering collaborations previously untapped in the Maldives and creating styles that resonate with our shared vision of home." 
Island Bazaar has partnered with over 30 local artisans in the past eight years, curating, co-designing and retailing their products in boutiques, online stores and pop-up events. Koki elaborates, "Our collaborations solely feature Maldivian talents, encompassing photography, web and graphic design, fine arts and crafting. Both our Male' and AVANI+ Fares Maldives Resort stores are fully staffed by locals. Our team and collaborators are predominantly women (90%), many of whom are talented home-based artisans." 
Traditional craft meets contemporary interpretation
The Maldives is adorned with a cultural mosaic woven from timeless traditions, with traditional handcrafting techniques passed down across generations. 
"In the realm of hand-crafted offerings, eakle bangles stand out as remarkable examples. Handcrafted from young palm frond stems, artisan Hussain, a dedicated safari boat captain, meticulously molds them into captivating forms. Hussain is an avid craftsman of bangles, earrings and pieces of jewelry using eakle," Koki shared.
"Another artisan, Hidha, the creative mind behind Kasabu by Hidha, employs hand-woven threads and techniques reminiscent of the intricate necklines of traditional garments. Her innovative approach offers a contemporary reimagination of a cherished craft, resulting in truly unique creations," she added.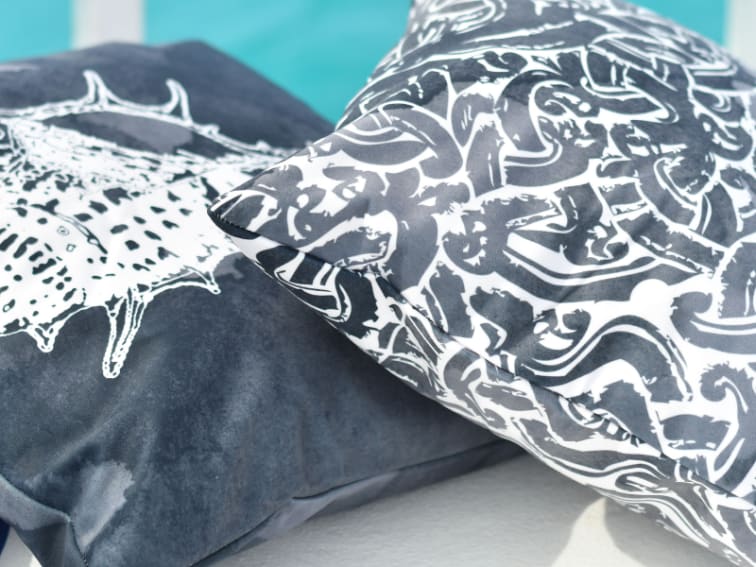 Accentuating Maldivian essence
Discussing signature products, Koki noted the significance of Island Bazaar's first creation, "Our journey began with cushion covers (pictured). Drawing on my background in interior design, my aim was to imbue spaces with bespoke touches. Our cushion covers embody almost all our collections. Additionally, I hold a special fondness for our Maldives Archipelago collection which comprises a puzzle, postcard, notebook, poster and magnet. The design focuses on a vividly illustrated map, a collaboration with local artist Azleina, which graced various items such as a postcard, notebook and poster and marking the inception of our very first puzzle."
"Working solely with local artisans and artists streamlines our process while enabling us to authentically tell a story. Every Island Bazaar product originates from our Male' studio, a canvas brushed by personal Maldivian experiences and explorations. We take pride in crafting products that embody Maldivian inspiration, as seen in designs like the 'fann mas' (pictured) or palm frond fish," Koki added. 
Climate change, urgency and sustainability
As a smaller nation, the Maldives has witnessed the effects of climate change first-hand, instilling an urgent need to preserve diverse ecosystems. Koki attested "We've made deliberate choices in our manufacturing processes. Our products primarily feature natural materials like cotton and linen, produced in small batches. Aligned with our values, we embrace a vegan-friendly approach by replacing genuine leather elements with faux alternatives. Our products and packaging steer clear of plastics and feature eco-conscious alternatives such as cotton envelopes and pouches."
"Our designs mirror facets of our environment, inviting engagement from followers, local clients, and international enthusiasts. Our seagrass design sarong is a testament to this commitment, catalyzing understanding and appreciation for these ecosystems," Koki added. 
Nurturing the local community
As natives of the Maldives, Island Bazaar places utmost importance on remaining rooted in their heritage by engaging with the local community. This includes contributing to growth and development.
"We consistently feature a curated range of local handcrafted and artisanal brands. Our current boutiques showcase around 12 such brands and individuals. Annually, we collaborate with at least two artists, directly influencing Island Bazaar designs—whether it's printed patterns or intricate 3D modeling for jewelry creations. Collaboration is the cornerstone of our brand ethos," Koki explained.
Furthermore, the brand introduced the Island Loop initiative in 2019, exemplifying their commitment to community giving. Through this initiative, they allocate 2% of their profits each quarter to a chosen local NGO, contributing to impactful causes such as Tiny Hearts of Maldives and the Cancer Society of Maldives. 
Crafting an enriching encounter at Avani+ Fares Maldives Resort
Stepping into a world where each product resonates with whispers of Maldivian tales is essential for Island Bazaar. Their first ever resort boutique called 'Drift by Island Bazaar' at AVANI+ Fares Maldives Resort narrates the essence of the country—an amalgamation of vibrant history, cultural intricacies and the breathtaking landscapes that define the nation.  
"The initial impression shared by most guests revolves around the ambience, a compliment that deeply resonates with me. My vision was to craft an immersive experience for every visitor, an environment unveiling an unconventional facet of the Maldives. We've even crafted a distinctive fragrance in collaboration with Maldivian brand Island Apothecary exclusively for this shop. My aspiration is for this space to seamlessly fuse the charm of a local bazaar with the intimacy of a museum or gallery," Koki described.
The boutique itself becomes a portal for comprehending the Maldives and its culture, often surprising guests with its diverse array of local products. Observing guests return, drawn to explore the space anew, warms the heart, each visit contributing to a deeper connection with the brand's narrative. 
Book direct with Avani+ Fares Maldives Resort, and we'll make your stay even better. Think exclusive rates, seasonal promotions and one-of-a-kind experiences.
BOOK NOW
Related Articles:
Maldives Luxury Guide
Over a million tourists visit these islands every year for once-in-a-lifetime experiences. Now it's your turn to experience Maldives, the gem of the Indian ocean to discover plenty of hidden treasures. You can experience different experiences of luxury in Maldives best resorts, mingling with celebs in your best beachwear, dining in style, and falling in love with the underwater world. For those seeking romance, the Maldives offers enviably luxurious private accommodation and indulgent spas. Maldives makes the best holiday experiences year after year after year.
Read More